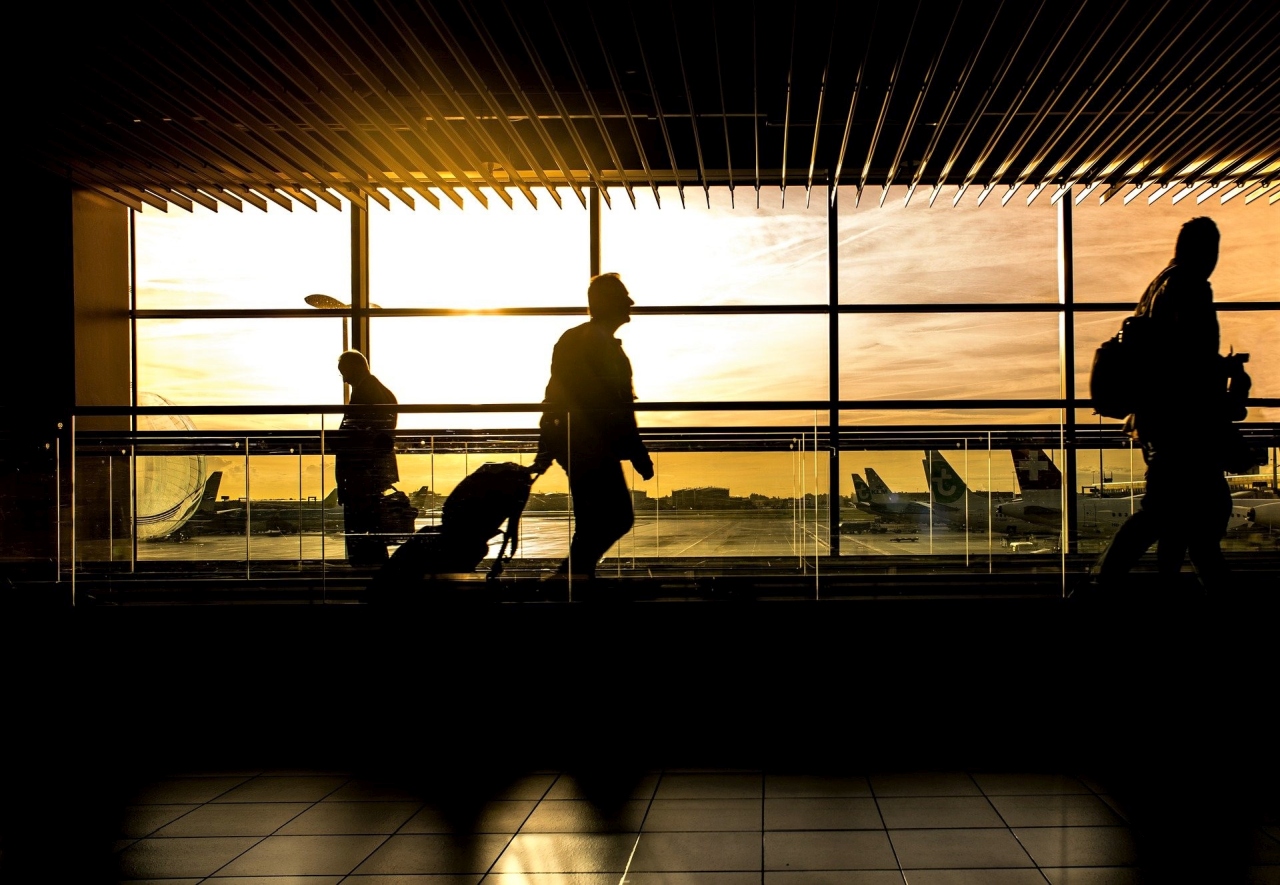 Athens Airport Hotels: Where To Stay Near the Athens Airport [ATH – Eleftherios Venizelos]
Last Updated on: February 24, 2021
Please read first:
Please bear in mind that due to Covid-19 the information that we present in our articles regarding the timetables of public transportation, hotels, restaurants, etc. may be subject to change. We highly advise you to double-check before proceeding with any bookings. Rest assured that we here at Athens By Locals are doing our best to keep up with these turbulent times and provide you with up-to-date travel information. Do not hesitate to reach out for any questions, we'll be more than happy to help!
It's no surprise that there are numerous hotels located near Athens Airport. Some tourists who visit Athens are only planning to stay there overnight before flying to a Greek island. Some others just want to stay near the Athens Airport on the last night of their trip to skip all that last-minute inconveniences before they head back home.
Whether you're having a long layover in Athens or just prefer to stay away from the noisy city center, these Athens Airport hotels should definitely be on your list.
Some of them are located right across the airport's departure terminal while others are set in an idyllic location by the waterfront, less than 30 minutes away from Athens International Airport Eleftherios Venizelos (AIA).
How To Get From Athens Airport To the City Center
Getting from the Athens airport to the city center is quite easy and straightforward. Depending on where your final destination is, you can choose between the metro (blue line) and the suburban railway.
In general, most visitors prefer the metro not only because it's faster but also because it runs through the city center and some of the most famous neighborhoods like Monastiraki and Syntagma.
From there, you can easily get to any place downtown in a few minutes. The metro station is located just across the terminal. The suburban railway, on the other hand, departs from the same platform but it's a bit slower and runs through different areas of the city. It will take you to the northern suburbs of Athens as well as the central railway station of Athens (Larisa Station).
There is also the option to take the bus (although we really wouldn't recommend it, as it's quite slower than the rest of your options).
However, if you arrive at the airport after 1 am and you want to travel to the city, the bus will, unfortunately, be your one and only choice. The ticket for the metro, the suburban railway, and the bus is the same and it costs 10 euros. Finally, you can always take a taxi and get to the city center of Athens in just about 20 minutes.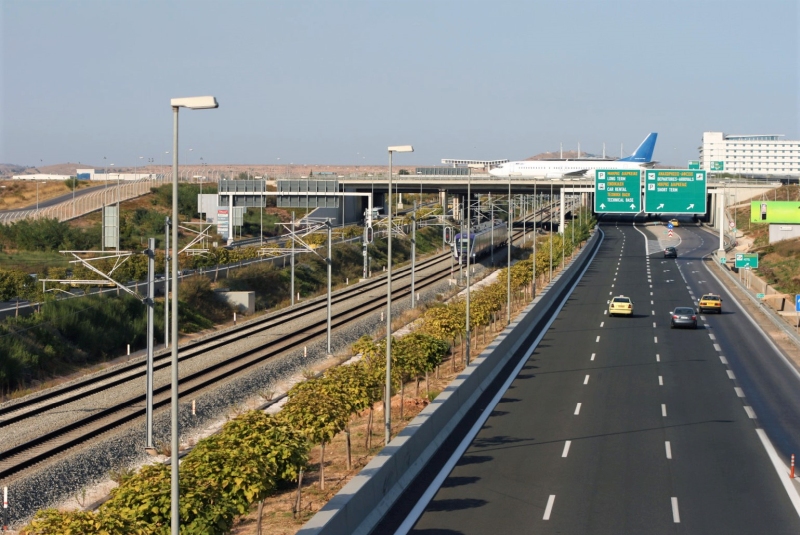 Why Stay Close To Athens Airport (Ath)
Staying at a hotel near the airport in Athens could -under certain circumstances- be the right choice for your trip to Greece. It's an excellent alternative for a business trip if you want to skip the tourist crowds and spend your time in Athens in peace.
Numerous of the hotels located near Athens airport are actually quite sophisticated and offer luxurious amenities. It's also the obvious choice if you're planning to fly out again after a day or two.
Staying near Athens airport will ensure that you will be on time for your flight.
No need to be alarmed but it's best that we warn you: even though the metro service in Athens is in general quite reliable, there are cases when public transportation in Athens comes to a halt for various reasons.
Heads up: Worried you might miss your flight? No need to panic. Avoid unreliable taxis on arrival or departure from Athens International Airport with a pre-booked transfer to the city center. Check some options here!
The Sofitel Athens Airport Hotel
Located 50 meters opposite the Athens International Airport, the Sofitel Athens Airport Hotel is a great choice for a layover. It is adjacent to the city's main highway, Attica Road offering quick and easy access to the city center by car or the metro.
The 5-star hotel features high-end facilities such as gourmet restaurants, two stylish bars, and a deluxe hotel spa providing a unique stay to its guests.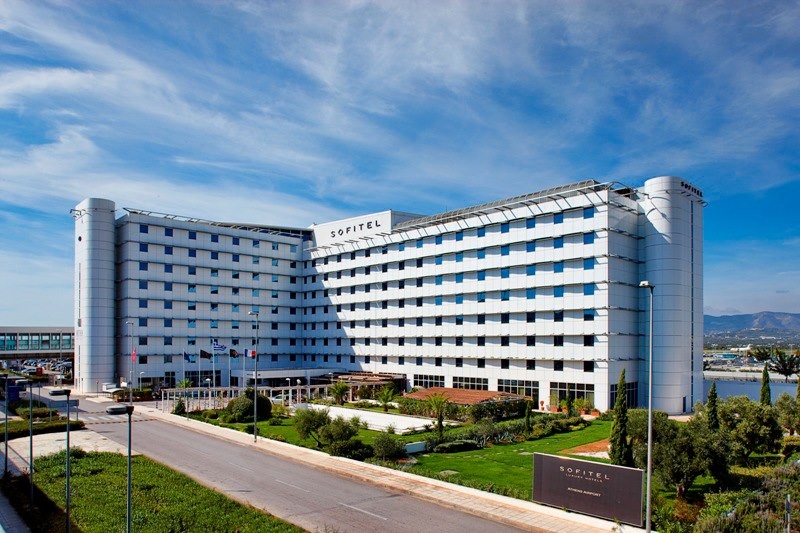 With 345 rooms, 2 executive floors, 12 suites, and 1 presidential suite, The Sofitel Athens Airport Hotel can satisfy travelers of all styles and budgets.
Holiday Inn Athens
Holiday Inn Athens is at a very close distance from Athens International Airport and just a 30-minute drive from the city center.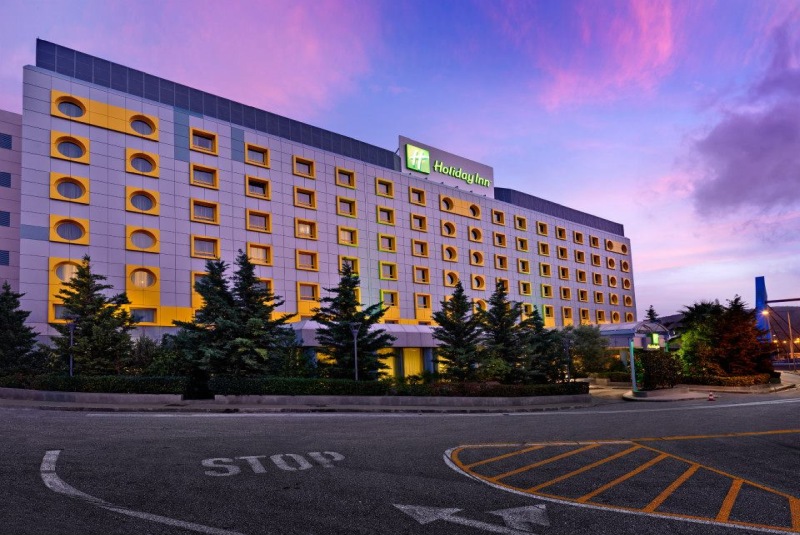 The luxurious hotel features 180 standard rooms, 11 executive rooms, and 3 suites as well as 6 meeting rooms, a fitness center, a pool, and a sauna. An elegant restaurant and a quiet bar complete the hotel's premises offering an ideal place to unwind after a long day.
A free shuttle service from and to the airport is available 24/7.
Pantheon Hotel Athens Airport
Set in the quiet town of Markopoulo, a 15-minute drive from Athens International Airport, Pantheon Hotel is a great place for business and leisure travelers looking for a tranquil accommodation away from the city.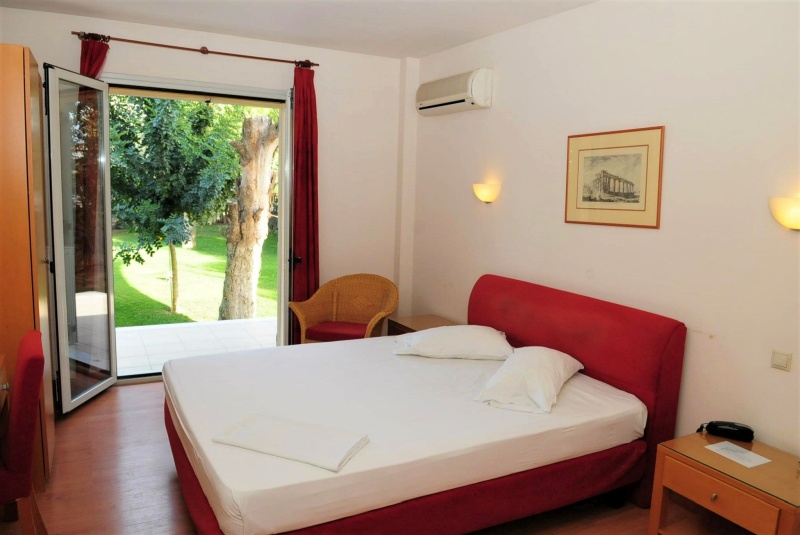 The 2-star hotel consists of 15 elegant rooms most of which have access to a private balcony or a backyard while all of them are fully equipped and comfortable.
4MS Flight Apartments Airport
Situated in the area of Spata, 15 kilometers away from Athens International Airport, 4MS Flight Apartments Airport offers two comfortable apartments for a relaxed stay.
Both the Deluxe and the Superior Apartment have access to a serene garden and a balcony ideal for relaxing and soaking up the sun.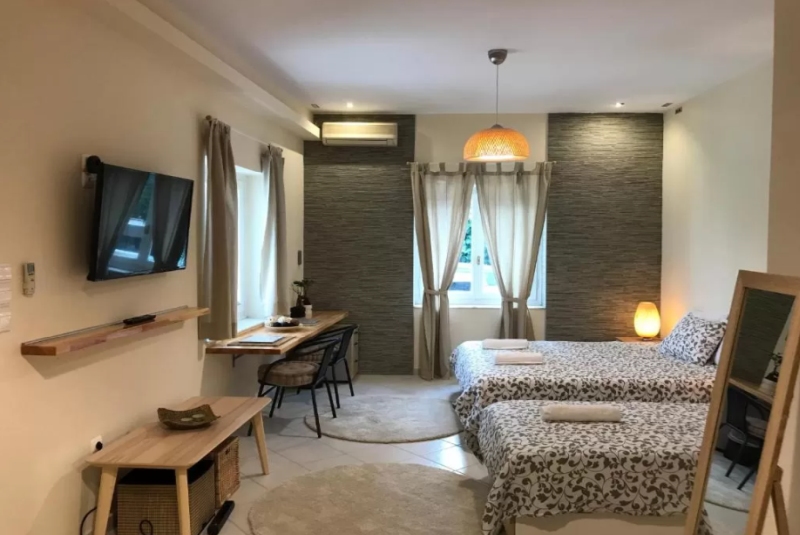 Featuring all the necessary amenities as well as an equipped kitchen,  Flight Αpartments Airport is ideal for families with kids. Plus, pets are allowed and no extra fee is required.
Dolce Attica Riviera
Dolce Attica Riviera is a luxurious retreat set in Brauron, a scenic town in the eastern suburbs of Attica.
Its privileged location, 5,4 kilometers from Athens International Airport and just one hour from Athens' city center makes it the perfect accommodation for travelers of all types.
Aside from a wide selection of rooms, bungalows, and suites, the high-end resort features a stylish restaurant, a sun-drenched pool bar, and a deluxe spa.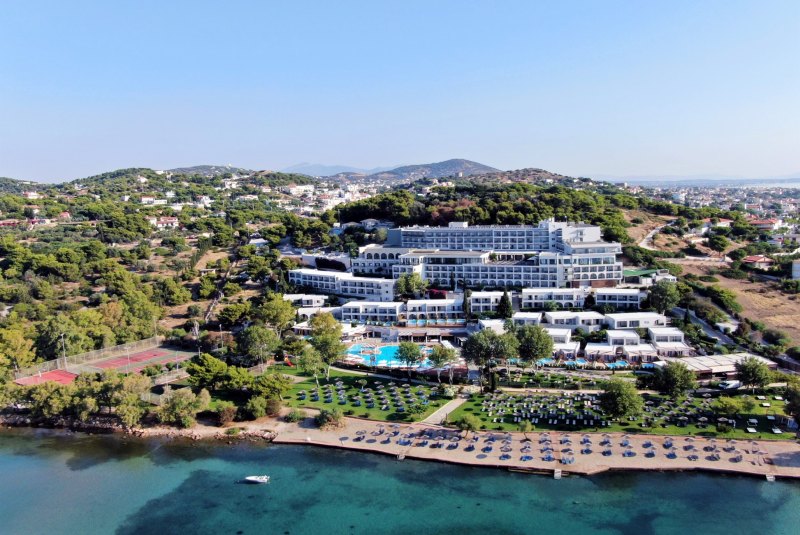 With 7 conference rooms and a fully-equipped business center, Dolce Attica Riviera isn't only a great choice for leisure travelers but also for those on a business trip.
Seasabelle Hotel
 Situated by the waterfront in Artemida's beautiful beach, Seasabelle Hotel boasts a serene and warm atmosphere. 
The stylish hotel features modern decorated rooms that overlook either the sea and or the mainland offering a great view.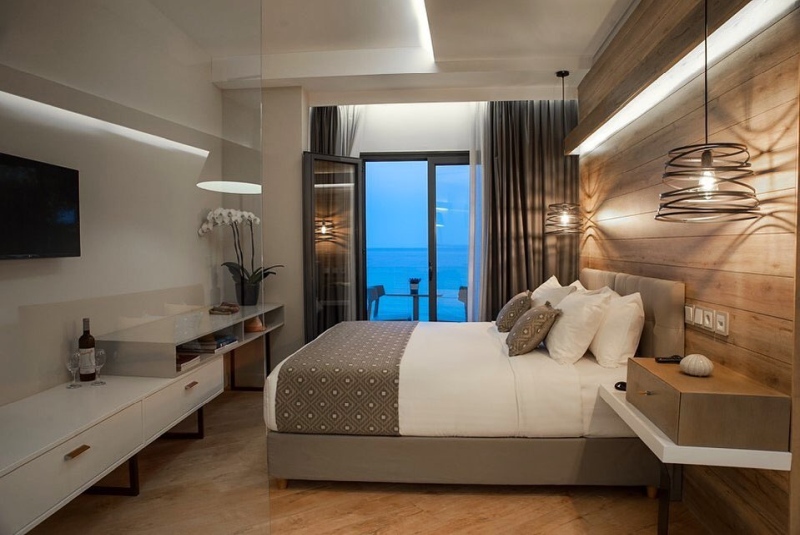 Athens International Airport is just 5 kilometers away from the cozy hotel, giving travelers on a layover the opportunity to take a glimpse of the Greek coast while at the same time being close to the airport.
The hotel's beach bar, roof garden wine bar, and Italian restaurant guarantee to make your stay in Seasabelle Hotel a unique experience.
Kiani Akti
Kiani Akti is a 2-star hotel located in the area of Porto Rafti, just 10 minutes away from Athens International Airport. Featuring 25 bright and spacious rooms with a majestic view over the sea, the cozy hotel offers a comfortable stay to travelers from all over the world.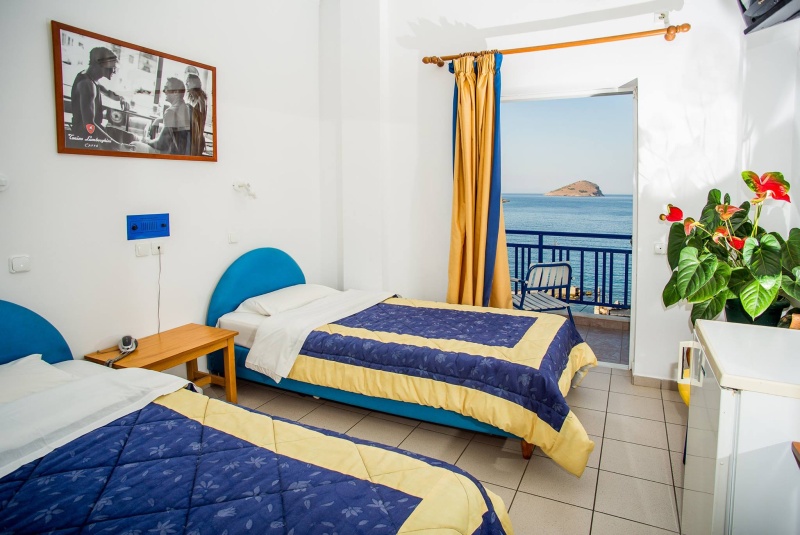 A local tavern, a café-bar serving beverages, drinks, and mouthwatering snacks, as well as a beach bar providing sun lounges and umbrellas, are available to the hotel's guests all day long.
Hotel Avra Rafina
In the eastern suburbs of Athens, in the charming town of Rafina lies Hotel Avra Rafina. With a wide range of room types all of which overlook the beach, the 4-star hotel offers a unique stay.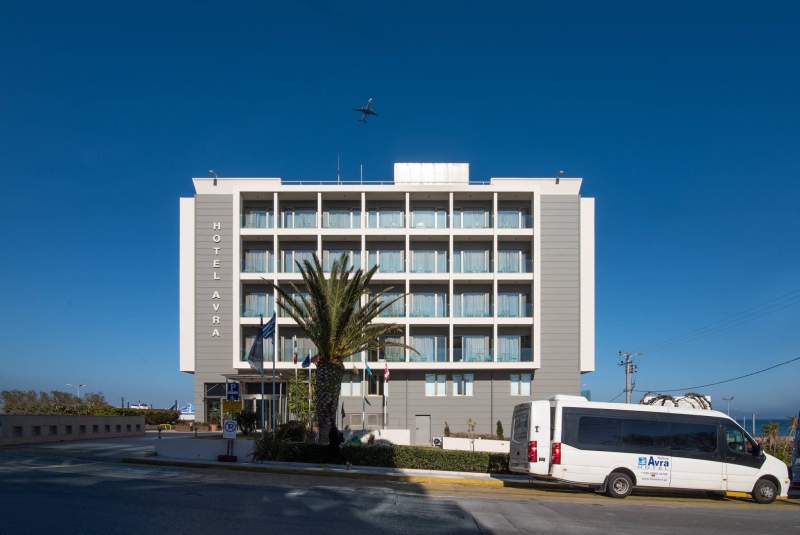 Its privileged location, 11 kilometers from Athens International Airport and close to the Port of Rafina as well as to the city's main attractions, make Hotel Avra a great place to spend your vacation in Athens.
Start your day with a nutritious breakfast at the hotel's buffet and in the evening relax with a refreshing drink at the modern hotel's bar.
Peri's Hotel
Peri's Hotel is situated just 10 minutes away from Athens International Airport in the seaside town of Loutsa (Artemida). The area's peaceful surroundings in combination with the hotel's comfortable and spacious rooms create the perfect atmosphere for a relaxing stay while visiting Athens.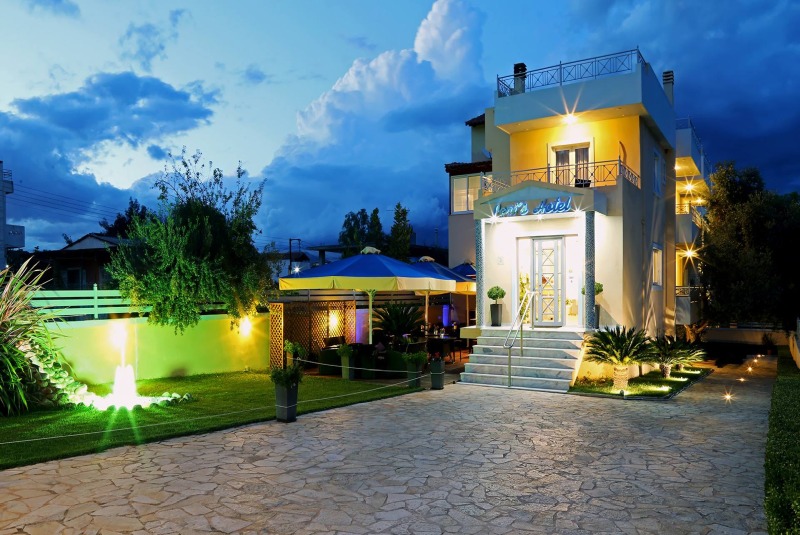 Shuttle buses to and from the airport are part of the services provided to each guest for free by the hotel's owners.
The hotel's 12 rooms are decorated in a stylish and modern way and feature all the necessary amenities for a pleasant stay.
Artemis GreenHill
A little further away compared to other Athens airport hotels, yet, in close distance, Artemis GreenHill is located 21 kilometers from Athens International Airport.
Each one of the hotel's rooms features a private balcony with a breathtaking view as well as access to a flourished garden and a serene terrace.
Artemis GreenHill's different types of rooms can accommodate from 2 to 6 persons and all of them have a private kitchen.
The Rest of the Hotels in Athens
Now, to be completely candid, if you don't have a good reason to stay at a hotel near Athens airport and if you can spare some time to experience the city, we strongly recommend that you make the trip downtown and stay close to the city center. Even if it's only for one night.
Now, you might be thinking that staying near the airport will save you all the hassle of researching online, browsing hotels, comparing prices, and reading reviews to make sure you make the right choice. We know that feeling very well.
That's why we created an extensive guide with all of our top picks for hotels in Athens. Here you will find all kinds of hotels; from five-star luxury resorts with Acropolis views to romantic boutique hotels and budget-friendly options in the most popular areas of Athens like Plaka, Koukaki, Monastiraki, Thission, and Syntagma.
If that still isn't enough, feel free to reach out for a tailor-made recommendation. We'll be happy to help!
Tips and Useful Information on Where to Stay Near the Athens Airport
Chances are that, apart from booking engines and websites, you'll find very limited information regarding the hotels located near Athens Airport online. After all, that's why we created this extensive guide. In this section, we'll try to cover some more ground and answer some questions that we bet are on your mind – before you even ask!
How far is Athens Airport from the city center?
The distance between the city center of Athens and the airport is approximately 35 kilometers. That means it would take about 30 minutes to make the trip by car.
How far are the hotels from the airport?
It all depends on which one you choose. Some of the hotels, like the Sofitel Athens Airport Hotel, are located less than 5 minutes away from the airport's terminals.
What is the name of Athens Airport?
The official name of the airport of Athens is Athens International Airport Eleftherios Venizelos. It was named after the very influential Greek statesman Eleftherios Venizelos. You will also often see the Athens airport initials written as AIA (IATA: ATH)
How much is a taxi from Athens airport to the city?
A taxi ride from the airport to the city center costs approximately 40 euros in the day and about 55 euros after midnight and until 5 am.
What is near Athens airport?
Unfortunately, the area around Athens Airport doesn't have much to offer from a tourist perspective. However, if you make a short trip towards the eastern coast of Attica (about 15 to 20 kilometers away from the airport) you'll find golden sand beaches and quaint towns that will make you think you arrived at a Greek island.
The bottom line is this: if you're on a layover, have a flight canceled or delayed and you're looking for comfortable accommodation to spend a day or two, this list with some of the best Athens Airport hotels will definitely come in handy.
Choose the one that fits your needs and styles best and enjoy a unique stay in Athens.
A Quick Reminder:
Remember that Athens By Locals is here to guide you with planning the perfect trip to Athens and help you every step along the way. If you didn't found what you're looking for, or need any recommendations about your trip to Athens, feel free to contact us and we will do our best to help you. Please be as more detailed as possible regarding your subject so as to help you better.
If you like what you read please scroll down at the end of this page and subscribe to Athens By Locals so next time to receive more articles like this straight forward to your email. Join us on Facebook for comments, photos, and other fun stuff. If you enjoy this article please share it with your friends on Facebook.