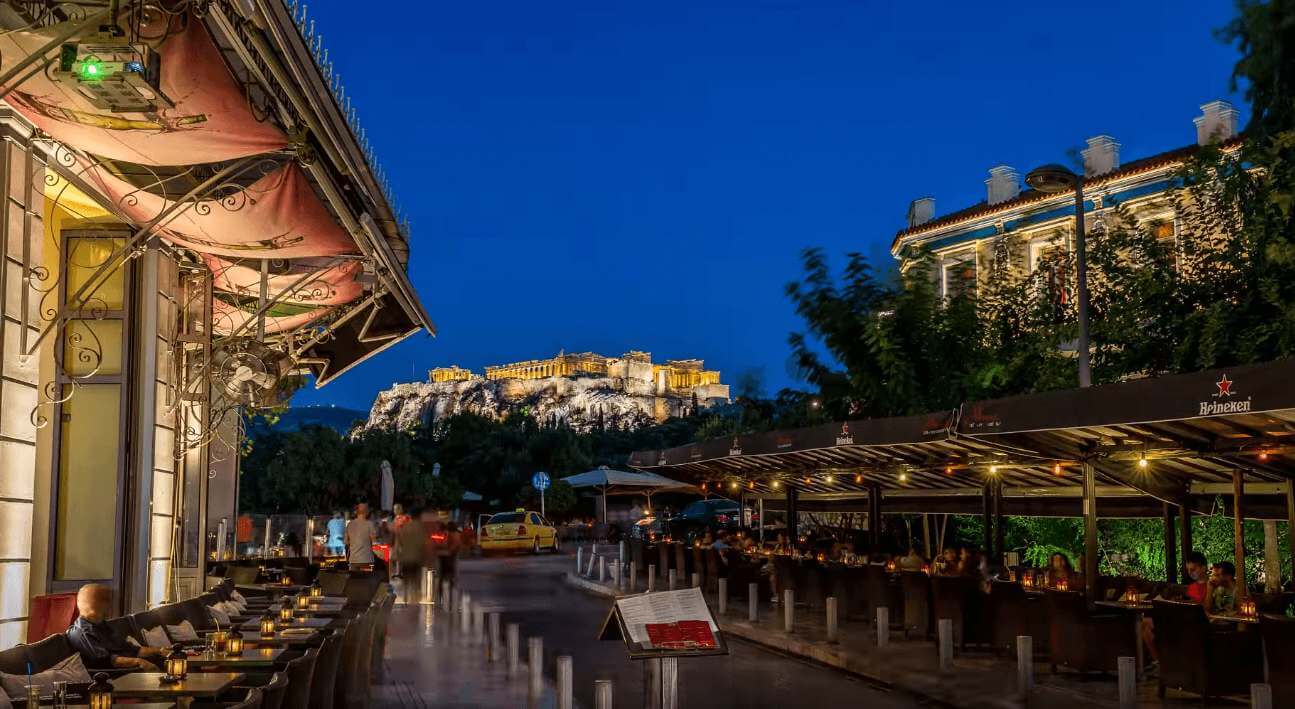 Athens for Couples: 11 Ideas for the Perfect Romantic Date
Last Updated on: November 19, 2021
Please read first:
Please bear in mind that due to Covid-19 the information that we present in our articles regarding the timetables of public transportation, hotels, restaurants, etc. may be subject to change. We highly advise you to double-check before proceeding with any bookings. Rest assured that we here at Athens By Locals are doing our best to keep up with these turbulent times and provide you with up-to-date travel information. Do not hesitate to reach out for any questions, we'll be more than happy to help!
Are you traveling to Athens with your significant other and want to organize the perfect romantic date? Follow these 11 tips and experience an unforgettable day in the Greek capital.
Even though Athens rarely tops the list of the world's most romantic cities, it has no shortage of things to do with your beloved one.
Watch the Sunset From Philopappos Hill
Philopappos Hill is a renowned tourist attraction, but head there at sunset with a picnic basket and a blanket and you'll forget you're atop an ancient site.
With the whole city at your feet and the colors of the falling sun painting the Athenian sky, the scenery is magical.
Make sure to have climbed up the Philopappos hill on time and stay until the sun has fully disappeared below the horizon.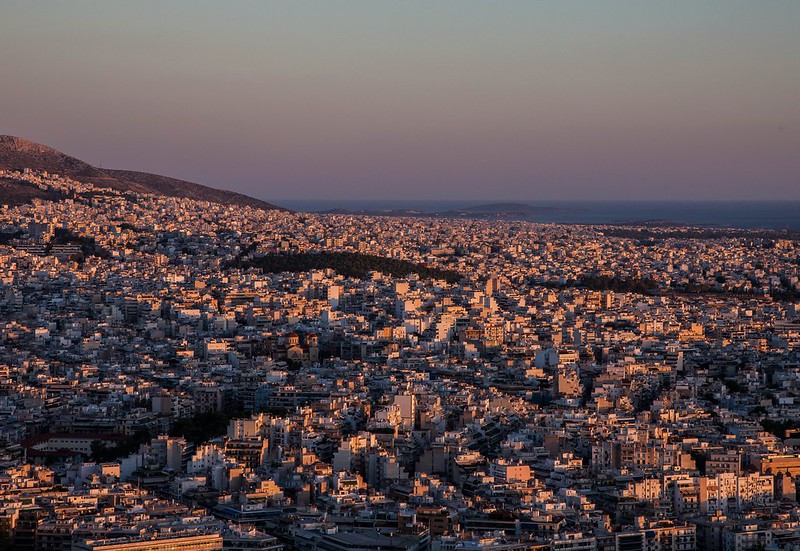 Enjoy a Dinner at Laika Bar – Resto
Nestled in a narrow pedestrianized street in the area of Votanikos, Laika is the perfect place for a romantic dinner away from the crowds.
The small and cozy resto-bar serves traditional dishes with a modern twist in a low-profile atmosphere.
With checkered and polka dot tablecloths, wooden chairs, and dim lighting Laika looks more like a French bistro than a traditional Greek restaurant. Plus, its bar serves drinks until 2 am.
See the Stars From the National Observatory
Take a look at the Athenian night sky at the National Observatory in Thissio.
Situated on the top of the Hill of the Nymphs, the National Observatory in Thissio is right opposite Acropolis's sacred hill and it consists of three buildings that date to the 19th century.
A refracting telescope and a meridian circle -both functioning- are available to visitors to observe Attica's sky.
If your significant other is an astronomy enthusiast make sure to also visit the Museum of Geoastrophysics. There, you'll find a great collection divided into 4 categories ("Time and space", "Astronomical observations", "Meteorology" and "Seismology") displaying instruments used in the 19th and 20th centuries.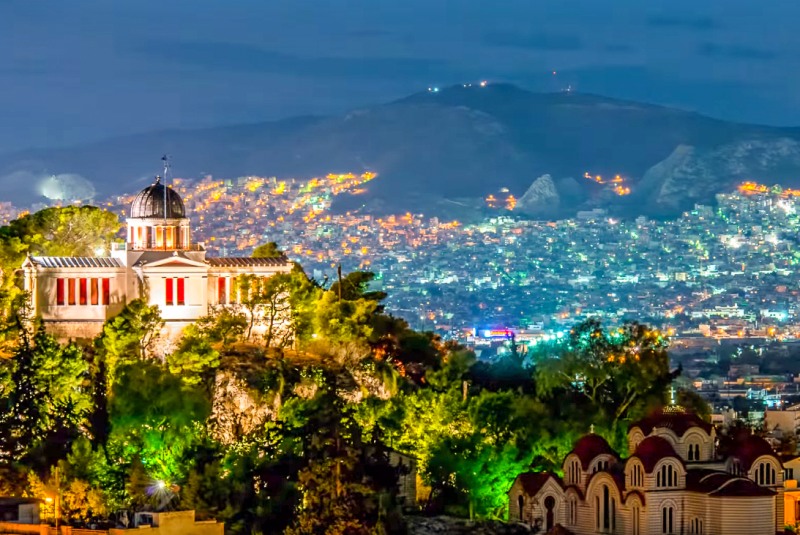 Take a Walk at Flisvos Marina
Marina Flisvos at Paleo Faliro is a part of the famous Athens Riviera and it spans 3.800 square meters of housing shops, restaurants, and cafés overlooking the Mediterranean sea.
Grab a pizza at Napolitivo while enjoying the spectacular view or savor a refreshing drink at Cruiser Exclusive Bar.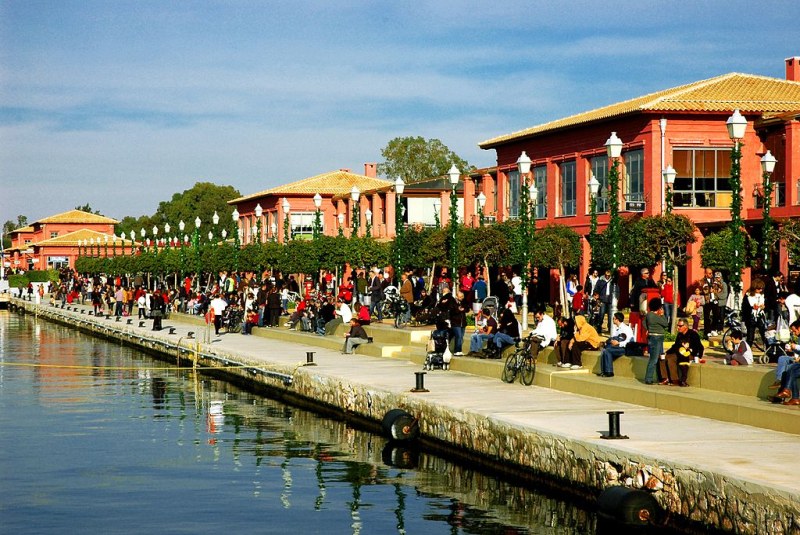 And if you're on a budget, worry not, you can still take your sweetheart to Flisvos Marina for your romantic date. 
Take a walk along the scenic promenade while enjoying a delicious ice cream from Haagen Dazs.
Catch a Movie at the Local Cinemas
Athens brims with small, old-fashioned cinemas that preserve their authentic atmosphere looking nothing like the modern multiplex. In other words, the perfect place to start your date.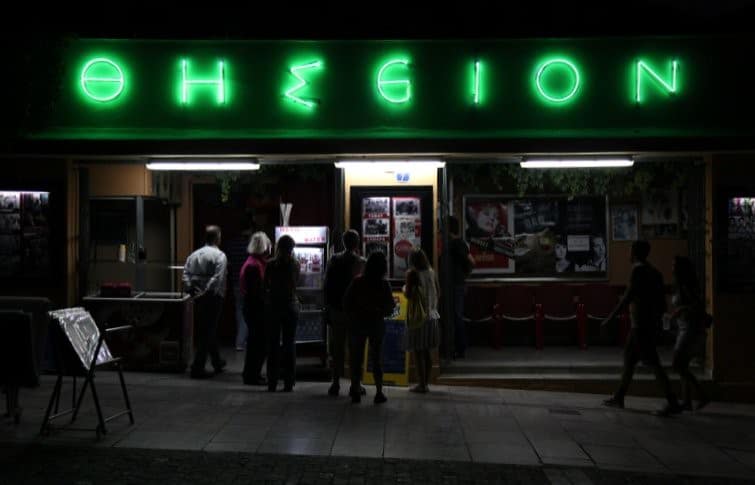 Historic cinemas such as Elli, Asti, and Ideal that were founded over 5 decades ago are still welcoming cinephiles to their halls screening old and new cinema masterpieces.
If you're in Athens in the summertime you should definitely catch a movie with your beloved one at the city's open-air cinemas.
Cine Thisio is the most popular as it is situated in the heart of the Thissio district but you'll find an abundance of choices all over the city center.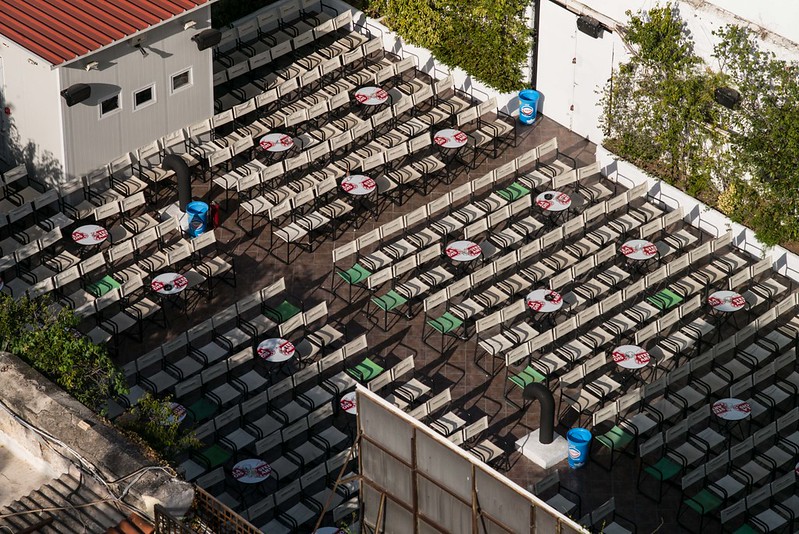 Enjoy a Cocktail at Speakeasy Athens
Spice things up by taking your date to the city's secret bar, Speakeasy.
Inspired by the legendary illicit bars of the Prohibition era in the United States, The Speakeasy Athens feels, sounds and tastes like a proper 20s and 30s "blind tiger."
Bands and DJs make sure that the air is always filled with jazz tunes while experienced bartenders serve a wide range of premium spirits including, of course, the quintessential Old Fashioned.
Even though the bar's address is now available online, playing by the bar's rules to spot its location will preserve the mystery.
Visit the Stavros Niarchos Foundation Cultural Center
The Stavros Niarchos Foundation Cultural Center offers free concerts, open-air screenings, exhibitions, and other cultural events throughout the year.
Keep an eye out on its official website for upcoming events and start your date with a dash of culture in the city's most modern cultural center. Plus, it houses a 21-hectare green park ideal for a relaxed walk.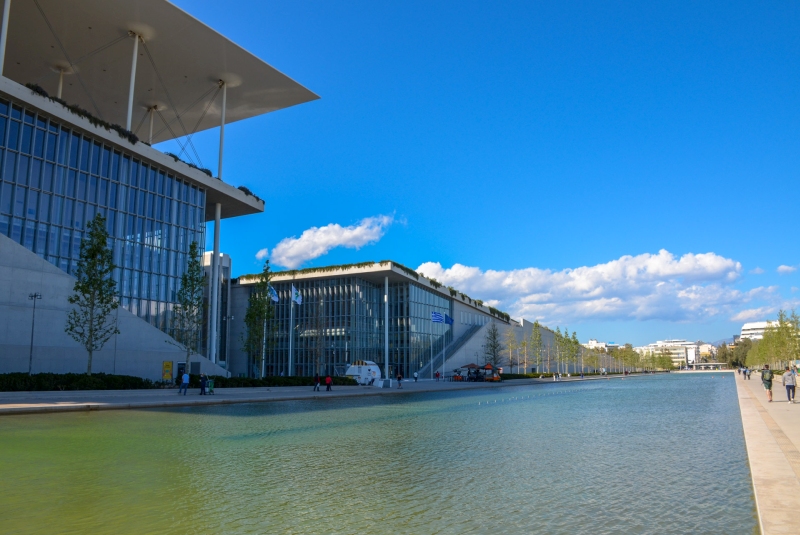 Hit One of the City's Rooftops
Whether you're going on a romantic date under the sunlight or late at night, the city's rooftop terraces are always a great choice if you're craving a refreshing drink.
There are many bars and restaurants around the city featuring rooftop terraces for all styles and tastes and all of them offer a captivating view.
GB Roof Garden and Galaxy Bar for a luxurious experience, Bios Rooftop for the alternative couple, and Couleur Locale if you're looking for a modern, stylish place.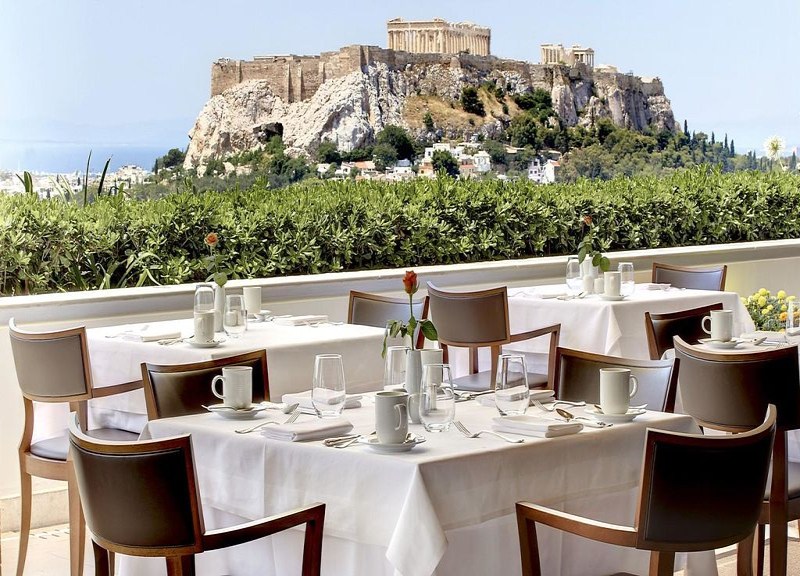 Take a Walk at the National Garden
The National Garden of Athens offers a tranquil and peaceful setting for a romantic walk in the heart of the city center.
The 15.5-hectare green oasis is situated right next to Syntagma square and it features 7,000 trees and 40,000 bushes of over 500 different plant varieties.
Once you've walked under Washingtonia palm trees, eucalyptus trees, and Chinese trees of heaven take your sweetheart to the garden's small, old-fashioned café for a traditional dessert accompanied by a cup of Greek coffee.
Dip in Lake Vouliagmeni
Located on the famous Athenian Riviera, lake Vouliagmeni is one of the hidden gems of Athens that not many visitors know about.
It's a natural lake formed by thermal springs with fresh water that has a mild temperature of around 25 degrees all year round, making it ideal for a romantic swim even if you're not traveling to Athens during summertime.
What's more, the lake is nestled amidst tall trees and rocky cliffs that will make for an idyllic backdrop to your romantic date. By the lake, you'll find a charming alfresco restaurant with sunbeds and sun umbrellas.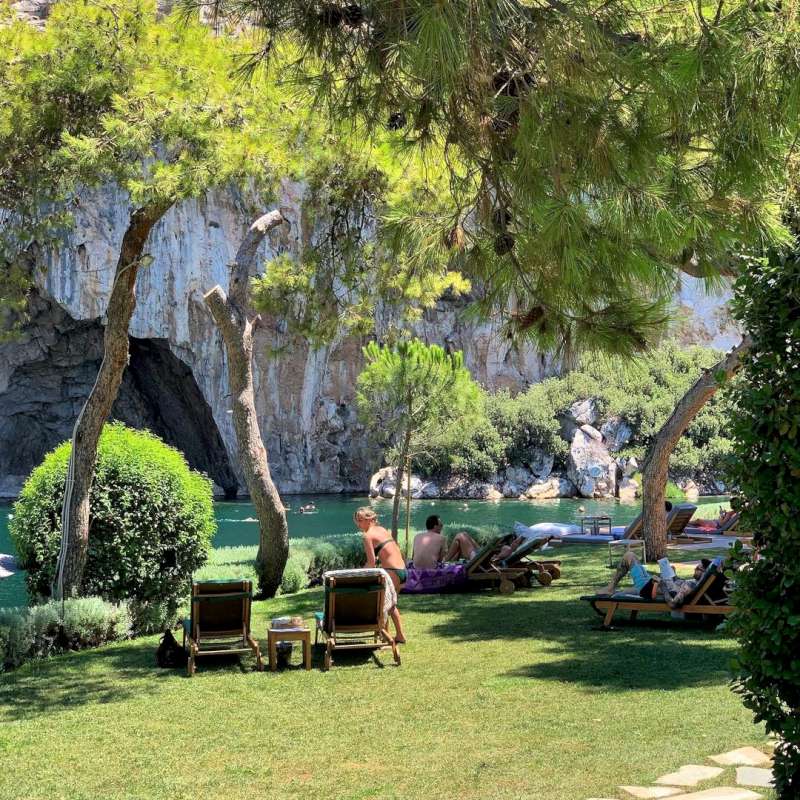 Marvel at the Sea Views at Cape Sounion
There's probably a no better idea for a romantic date in Athens than a day trip to Cape Sounion. Apart from enjoying a relaxing day sunbathing at the beach, you can walk through the Sounion National Park, stand in awe at the sight of the Temple of Poseidon and, of course, take in the breathtaking sea views.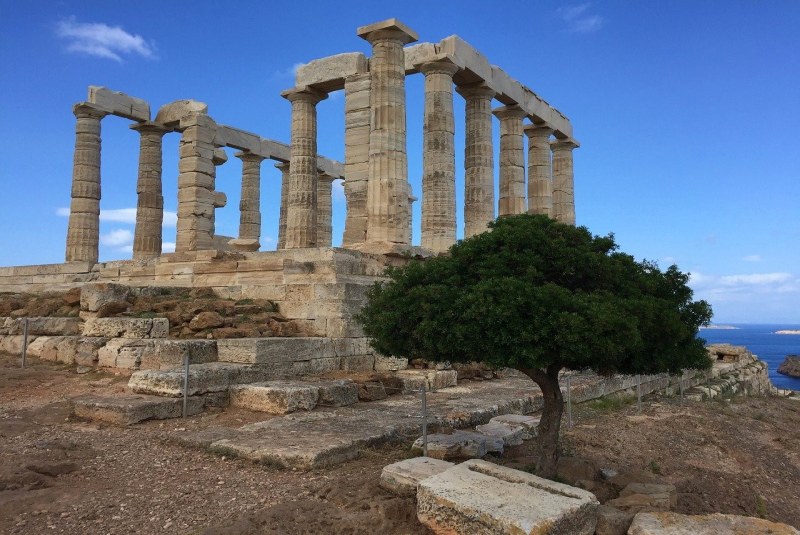 Nearby, you'll find several traditional tavernas and restaurants serving fresh seafood and a wide variety of local wines.
Find out how to organize the perfect day trip from Athens to Cape Sounion right below.
The Most Romantic Hotels in Athens
If you're planning a romantic escapade in Athens, then choosing a suitable hotel should be among your top priorities.
We highly recommend staying at the city center, close to all the main attractions of the city so that you can easily reach your hotel after a long day of sightseeing on foot. However, there are also some very impressive hotels on the Athenian Riviera that offer immaculate sea views and luxurious amenities.
So, one of our top picks for romantic hotels in Athens center is St George Lycabettus, which is located on top of the hill and provides an unobstructed view over the city. It also features a rooftop restaurant and cafe with its own swimming pool.
St George Lycabettus is one of the best hotels in Athens! Check photos and reviews on Booking.com
Another option is the O&B Athens Boutique Hotel located in the lively district of Psyrri and offering charming rooms with views of the Acropolis and an elegant contemporary design.
Couples particularly like the location — they rated it 9.2 for a two-person trip! Check it on Booking.com
For a true urban experience, have a look at Shila Athens in the chic area of Kolonaki. This hotel offers six elegant suites with a distinct bohemian character that will transport you to the Athens of the 1920s.
Shila Athens features suites for couples! See some photos on Booking.com
Finally, Athens 1890 Boutique Hotel & Spa is definitely worth a look if having a complete hammam and spa experience without even leaving your hotel sounds like a dream vacation.
Athens 1890 Hotel & Spa offers an à la carte breakfast. Breakfast is served in the rooms. Read what other travelers have to say on Booking.com
To sum it up, Athens is and always has been a very romantic city, ideal for short city breaks and dreamy vacations.
If you're planning your next trip to our city with your significant other and are now searching for the perfect date ideas, look no further than this guide. Pick the one that suits you best, remember to pick your hotel wisely, and get ready for the most romantic getaway in Athens.
A Quick Reminder:
Remember that Athens By Locals is here to guide you with planning the perfect trip to Athens and help you every step along the way. If you didn't found what you're looking for, or need any recommendations about your trip to Athens, feel free to contact us and we will do our best to help you. Please be as more detailed as possible regarding your subject so as to help you better.
If you like what you read please scroll down at the end of this page and subscribe to Athens By Locals so next time to receive more articles like this straight forward to your email. Join us on Facebook for comments, photos, and other fun stuff. If you enjoy this article please share it with your friends on Facebook.