The Most Popular Neighborhoods to Visit in Athens [Greece]
Last Updated on: January 26, 2021
Please read first:
Please bear in mind that due to Covid-19 the information that we present in our articles regarding the timetables of public transportation, hotels, restaurants, etc. may be subject to change. We highly advise you to double-check before proceeding with any bookings. Rest assured that we here at Athens By Locals are doing our best to keep up with these turbulent times and provide you with up-to-date travel information. Do not hesitate to reach out for any questions, we'll be more than happy to help!
The Greek capital is widely known for Acropolis and the Parthenon and all the other must-visit attractions downtown. Yet, the neighborhoods of Athens that compose the city center are rarely getting the recognition they deserve as distinct areas within the city.
But the truth is Athens' city center brims with scenic neighborhoods. Some bear witness to the capital's glorious past, being now the capital's most touristic areas while others still preserve their local atmosphere.
Walking around the different neighborhoods of Athens and discovering their diverse characters is not only the best way to learn more about the city but also to choose exactly the one that suits you best.
So put on your comfy shoes, discover the city's hidden corners, and get a proper taste of life in the Greek capital. Here are the best neighborhoods to visit in Athens!
Plaka Neighborhood
Being the most known Athenian district, the Plaka neighborhood occupies the top of "The things to do in Athens" lists luring hordes of tourists all year round so it is the first neighborhood on our list with the best neighborhoods to visit in Athens!
Its location on the foot of the Acropolis Hill in combination with the neoclassical buildings that adorn its narrow alleys are reasons good enough for the Plaka neighborhood to have gained a worldwide reputation.
Cobblestone streets, traditional souvenir shops, local taverns, and cozy cafés add their personal touch to the already captivating scenery.
Check some hotels in the Plaka neighborhood on Booking.com. Best prices and many hotels you can book and then cancel with no cancelation penalty.
Kydathineon and Adrianou are the area's main streets but if you don't get lost in the smaller passages you'll lose part of the magic.
Don't miss out on taking a stroll at Anafiotika the so-called Island Village in the heart of the city center.
With car-free alleys and small houses with cozy backyards, this area's surroundings resemble the Cycladic islands.
Monastiraki Neighborhood
Attached to Plaka you'll find the Monastiraki neighborhood, an iconic and historic area that nowadays combines the old with the traditional.
Start your exploration from Monastiraki square where you'll see the ruins of the historic Library of Hadrian, the ancient Church of Pantanassa, and the mosque of Tzistarakis Aga; three monuments that showcase the history of Athens city throughout the centuries.
On Ifestou street which spans from the mosaic-covered square, you'll find clothing, jewelry, shoes to vinyl stores, and second-hand bookshops.
Find a hotel in the Monastiraki neighborhood through our official partner Booking.com.
Ifaistou is the area's most widely-known alley and therefore is usually jam-packed with locals and tourists. Numerous rooftop bars are situated around Monastiraki square offering a great view of the city.
Psiri Neighborhood
Psiri neighborhood has been an integral part of Athens nightlife for a while now and even though a few years ago it lost some of its glory, it is now once again reviving.
The streets are lined up with second-hand clothing shops, artisans' stores, local bakeries as well as traditional taverns and takeaway restaurants.
When the night falls, the Psiri neighborhood this iconic Athenian neighborhood takes on a new life as the area's stylish bars and concert venues get packed with an enthusiastic crowd.
Check some accommodation options in the Psiri neighborhood through our official partner Booking.com.
Gazi Neighborhood
Next to our list with the best neighborhoods to visit in Athens, is another hip but less tourist district of Athens, the Gazi neighborhood!
Brimming with restaurants, cocktail bars, and LGTBQ friendly nightclubs, the trendy Gazi neighborhood is one of the most popular districts for a night out.
Especially during the summer months, when Technopolis, an old gas factory that nowadays has been transformed into a cultural center, opens its doors to hosting concerts and music festivals, the Gazi neighborhood is bustling with life.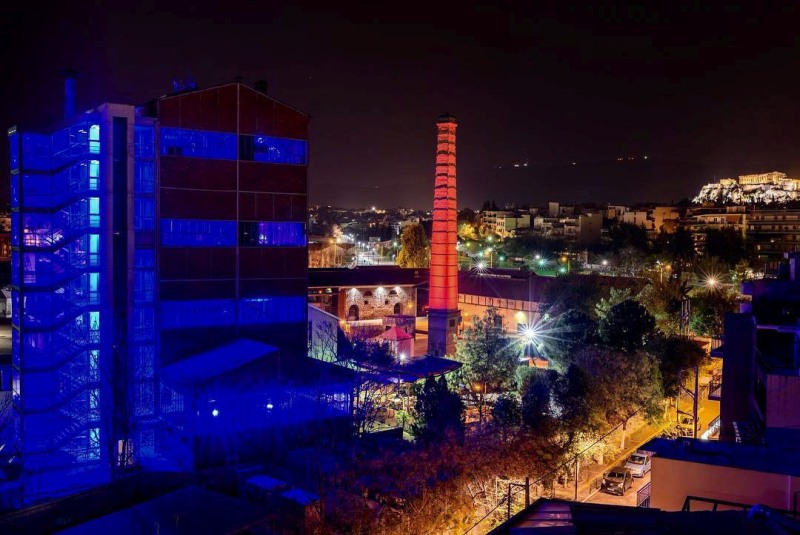 Getting to the Gazi neighborhood is very easy, as the Kerameikos metro station is situated on the district's main square.
Metaxourgio Neighborhood
Scrolling down to our list with the best Athens neighborhoods, you will find the Metaxourgio neighborhood!
Over the last decade, Metaxourgio has seen a transformation with more and more bars and restaurants popping up all over the area. However, it still preserves its local atmosphere and it rarely feels packed.
Here you'll find plenty of traditional taverns and local pubs serving the traditional drink raki as well as trendy cocktails bars and restaurants. This area attracts a mixed crowd of millennials and locals in their late 30s and 40s.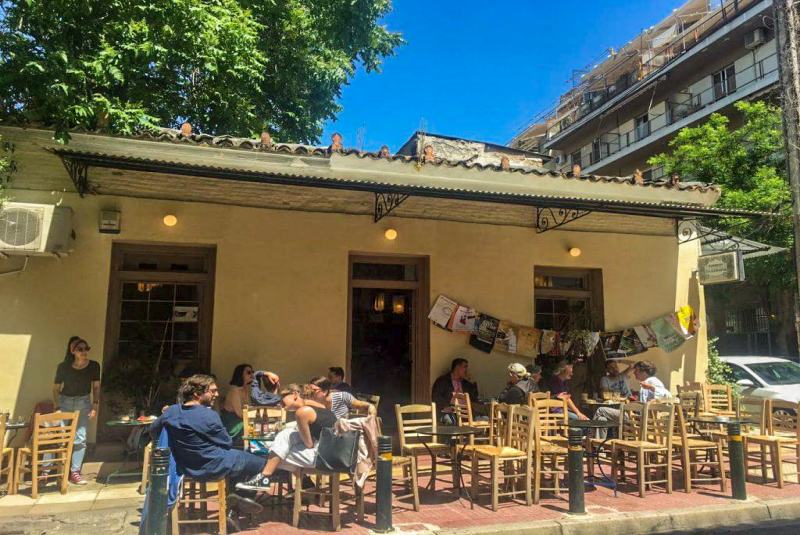 Metaxourgio neighborhood is also home to The Municipal Gallery of Athens, which houses artworks from almost all the Greek artists who shaped the history of Greek art and contributed to its development in the 20th century.
Check some hotels in the Metaxourgio neighborhood through our official partner Booking.com. Best prices and many hotels you can book and then cancel with no cancelation penalty.
Exarchia Neighborhood
With its graffiti-painted walls, the vintage clothing stores, and second-hand bookshops nestled in the area's streets, the Exarchia neighborhood has become known as Athens' underground area.
Already since the 70s, the Exarchia district was a hangout for students, artists, musicians, and writers and some of them are now the neighborhood's inhabitants.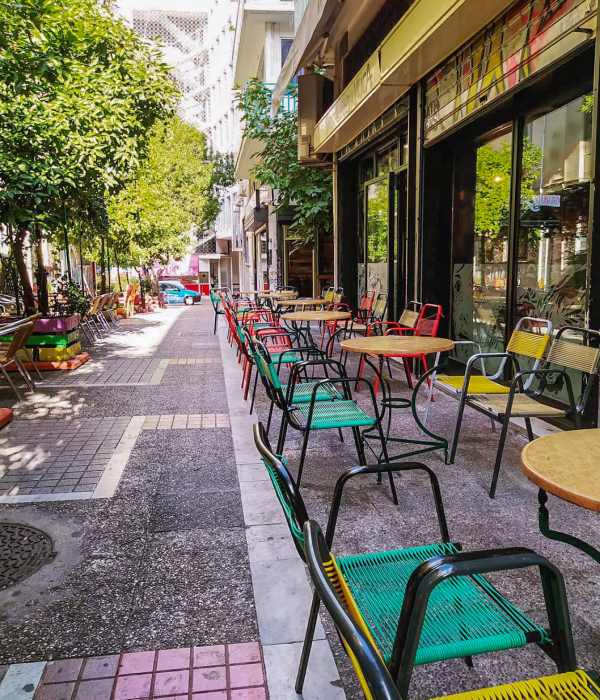 Live concert venues, local bars, and cafés are scattered around the neighborhood attracting the city's alternative crowd.
Find a hotel in the Exarchia neighborhood through our official partner Booking.com.
When you visit the Exarchia neighborhood and the weather is good, you will find an area in which people sit outside the colorful buildings sipping ouzo and eating meze dishes.
Petralona Neighborhood
Petralona neighborhood is one of the locals' favorite neighborhoods because even though it is situated in the Athens city center it feels like a suburb.
Whether you decide to take the train (read here how to get around Athens) and get off at Petralona station, walk from Kerameikos station in Gazi or go on foot all the way from Thiseio, the Petralona neighborhood is within easy reach.
The area is divided into Upper and Lower Petralona (Ano and Kato Petralona).
While both parts of the area are worth to be explored, if you have to choose one then you should head directly to the upper side.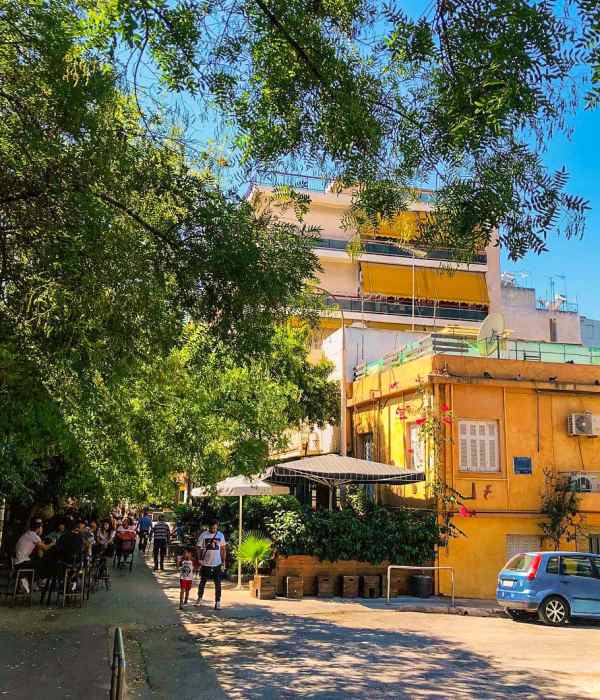 Nestled in the shadow of the historic Philopappos Hill, Ano Petralona's peaceful surroundings will captivate you with their beauty. As you take a stroll around the area you'll get a taste of a local Athenian neighborhood but you'll also find plenty of places for a traditional meal or a relaxed drink.
Find a hotel in the Petralona neighborhood through our official partner Booking.com.
Koukaki Neighborhood
Over the past few years, the Koukaki neighborhood has grown in popularity and is now one of the must-visit places in Athens.
Its location, on the foot of Philopappos Hill and close to the Acropolis, makes it the perfect area for a pitstop after a day of sightseeing.
Nowadays, you'll find an abundance of stylish cafés, vegan-friendly restaurants, and high-end bars.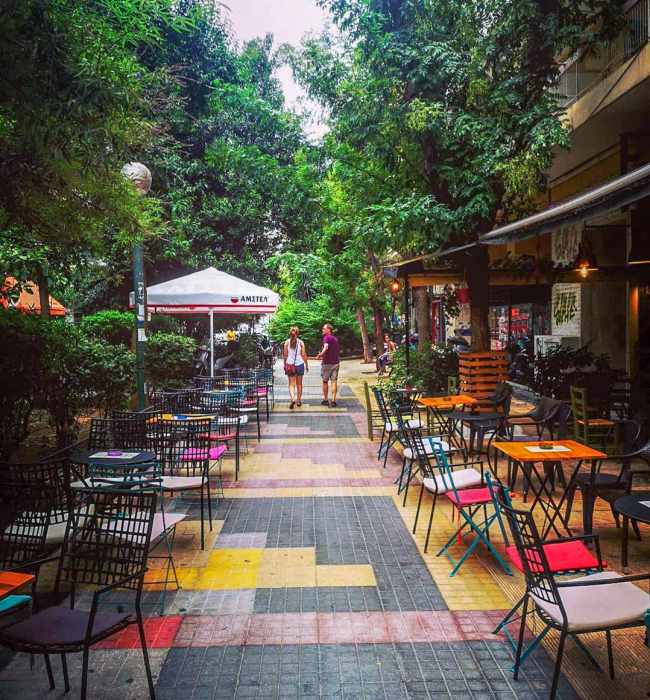 Even though Koukaki has become Athens' most touristic neighborhood, if you leave the district's main streets behind for a while and dive into the smaller alleys you can still see parts of Athens city that will take you on a journey back in the 60s.
Check some accommodation options in the Koukaki neighborhood on Booking.com
Syntagma District
Syntagma is located in the very heart of Athens and it's most known for being home to the iconic Constitution Square that lies right in front of the Greek Parliament House.
The latter was formerly a palace and the erstwhile abode of King Otto.
One of the tourists' favorite things to do when weather permits is to gather onto Syntagma Square to see the change of guard of the Evzones, the soldiers guarding the building who are dressed in traditional Greek uniforms.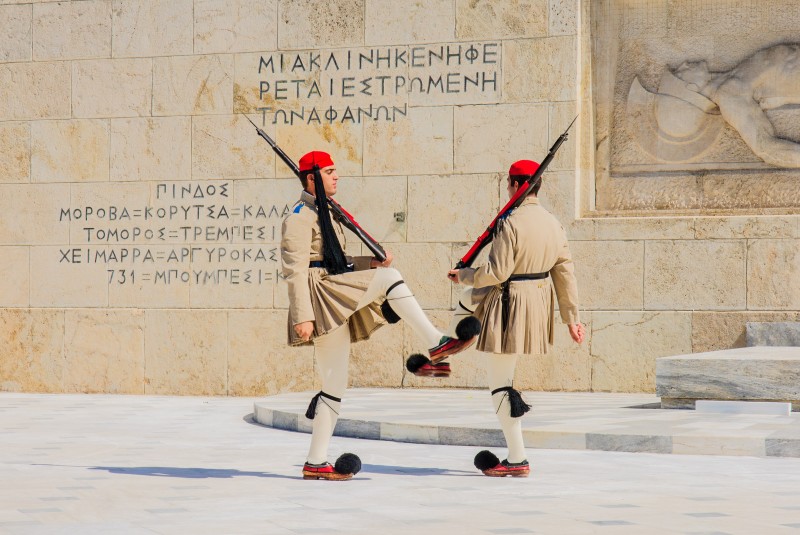 Syntagma is also home to an abundance of cafes, bars, and restaurants that are hidden in the narrow pedestrian streets running from Syntagma Square all the way down to Monastiraki. One of those is Ermou, the most famous shopping street in Athens.
Find a hotel in Syntagma on Booking.com.
Thission Neighborhood
Thission is the neighborhood that connects Koukaki, Plaka, and Acropolis Hill to Monastiraki.
Its central location, however, is not the only reason why it's popular among locals and tourists. Its most prominent feature is along and wide pedestrian street that runs all the way from the end of Ermou street in Monastiraki to the borders of Koukaki, passing right next to Acropolis Hill.
This street, named Dionysiou Aeropagitou brims with cafes, tavernas, and restaurants making it one of the busiest spots in the city.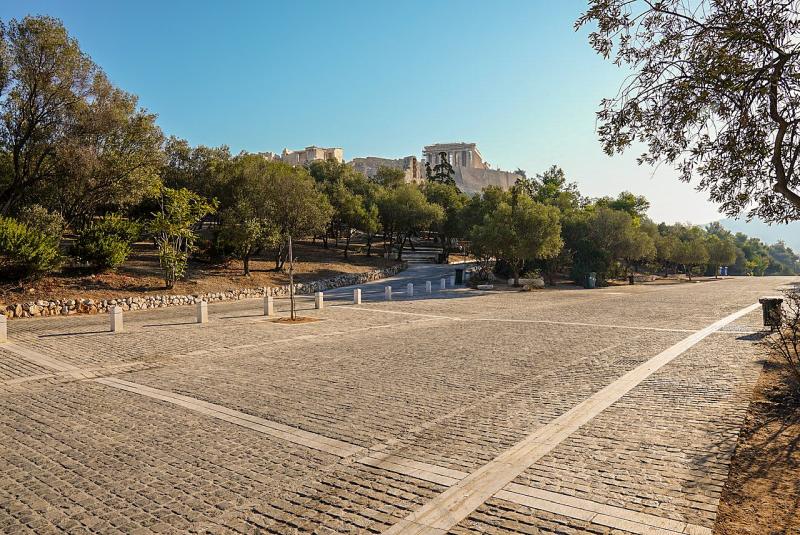 Here you will also find charming neoclassical buildings, street artists, small street vendors and if you keep walking towards Koukaki, you're bound to pass right outside the Acropolis Museum.
Here is a selection of hotels in the Thission neighborhood we picked for you on Booking.com. Best prices and many hotels you can book and then cancel with no cancelation penalty.
Kolonaki District
Centrally located and right next to Syntagma, Kolonaki is widely considered to be the most elegant and upscale neighborhood in Athens.
Its streets are dotted with fashionable boutique shops, chic cafes, charming bistros, and classy restaurants. Kolonaki is a hub for celebrities, artists, socialites, and public figures and it retains a "love it or hate it" bold cosmopolitan character.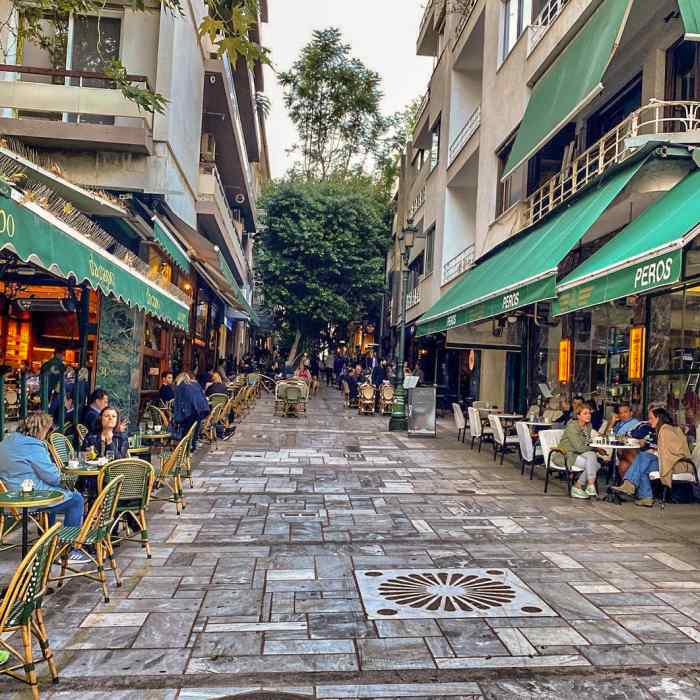 Getting to and from Kolonaki is not as easy as with the rest of the neighborhoods on this list, as there is no nearby metro. The closest one is that of Evangelismos.
Check some hotels in the Kolonaki district on Booking.com.
Pagrati District and Mets Neighborhood
Pagrati and Mets (Mets being the name of a smaller area within the neighborhood of Pagrati) are located right behind the Panathenaic Stadium.
The latter takes its name after a brasserie that opened its doors in the area in the late nineteenth century and was very popular with the locals.
Mets looks like it has remained relatively unaltered by the course of time with beautiful neoclassical buildings adorning its cobblestone streets.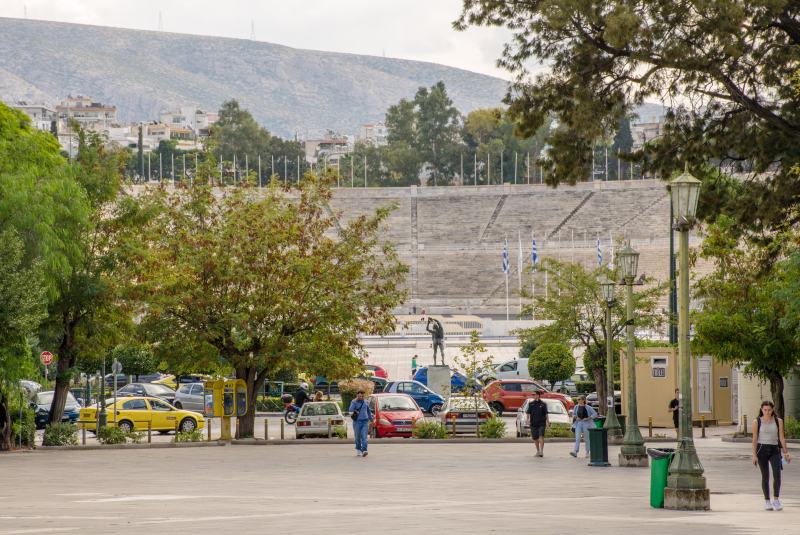 The rest of Pagrati is also worth a visit for a relaxing afternoon in a park, enjoying a nice meal in a local restaurant, or mingling with the locals in one of the bars on Varnava Square.
Find a hotel in the Pagrati neighborhood through our official partner Booking.com
Kypseli Neighborhood
Kypseli is one of the up-and-coming neighborhoods of Athens. Situated along Patission Street, one of the most famous streets of Athens that used to be the city's main shopping street before Ermou took the reigns, Kypseli is an area frequented by younger crowds.
Both Agios Georgios Square and the pedestrian street of Fokionos Negri are lined with cafes, small shops, and ethnic food joints.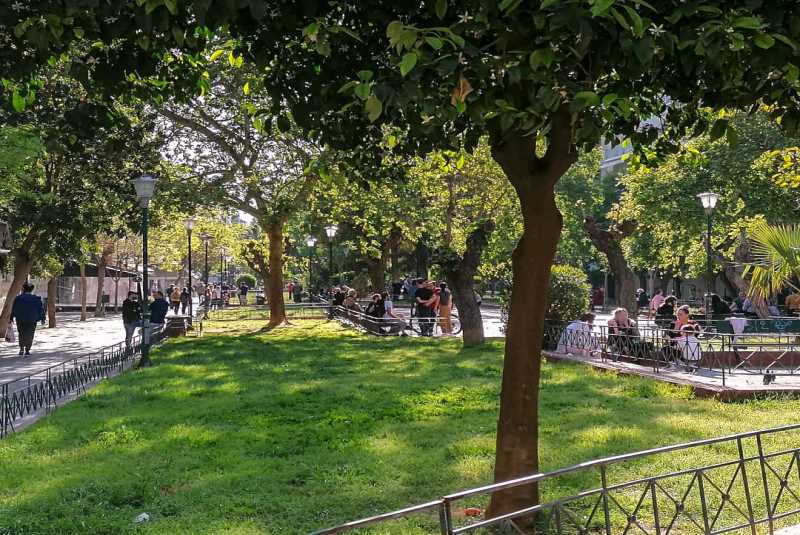 Kypseli is also an excellent choice to look for accommodation if you're traveling on a budget as there are numerous rental apartments in the area.
Check some accommodation options near Kypseli we found for you on Booking.com. Best prices and many hotels you can book and then cancel with no cancelation penalty.
Tips, Questions and Answers on the Best Neighborhoods in Athens
This short section will be dedicated to helping you get to know better some of the most famous neighborhoods of Athens by providing local insight in the form of tips on the best ways to experience the city. We will also answer some questions that our readers ask frequently in hopes that we will be assisting you in planning an amazing vacation in Athens.
What is the best neighborhood to stay in Athens?
All of the neighborhoods that are near and around Acropolis, like Plaka, Koukaki, Thission, Monastiraki, Syntagma, and Psirri feature numerous accommodation options. In addition, they are beautiful and perfectly safe.
What are the bad areas of Athens?
There are some areas in Athens that you should try avoiding or at least being extra careful while visiting. These are mainly the areas around Omonoia Square and the areas around the central railway station of Athens (Larissa Station). We would recommend avoiding visiting any of these late at night.
What is the center of Athens?
The center of Athens is widely considered to be Syntagma Square, where the Greek Parliament is located and where Ermou street, one of the most popular streets in the city, begins.
Is Athens good for a city break?
Athens is an ideal destination for any kind of city break. Whether you're looking for arts and culture, vibrant nightlife, exciting museums, or natural beauty, the Greek capital has something special in store for you.
Is Athens a dirty city?
Sadly, Athens is not a very clean city. However, during the past few years, steps are being taken to improve the situation and make the city more appealing and enjoyable to visitors.
Is Athens safe?
Athens is a fairly safe city. It's even safe for families and solo female travelers even at night. The city center and the areas that are located around the Acropolis are especially safe as their streets are full of people all day and night long.
Is Plaka in Athens safe?
Plaka is one of the most touristy neighborhoods in Athens and, as such, it's perfectly safe, night and day, all year round.
Where should I stay in Athens for one night?
If you're only staying in Athens for a night, we would recommend staying in one of the popular downtown neighborhoods like Plaka, Koukaki, Syntagma, or Monastiraki. That way, even if your visit is brief, you might get a quick glimpse of what the city looks like. Alternatively, you can choose to stay near the Athens International Airport (check here where to stay near the Athens Airport) if you are flying out the next day or near the port of Piraeus if you are planning to get on a ferry the following day.
Is Uber in Athens Greece?
Though Uber started operating in Athens a few years back, it recently ceased all its operations in Greece. However, there are numerous taxi apps you can use in Athens instead. You will also be able to easily catch a taxi at any of the major squares downtown.
In conclusion, if you're planning to visit Athens soon, we strongly urge you to look beyond the top attractions and delve into the city's culture by walking through its most famous neighborhoods.
Each neighborhood around Athens' city center has its own unique atmosphere attracting people of different styles and ages.
Just follow our guide on the best neighborhoods to visit in Athens and find the one that will perfectly fit your tastes to make your trip unforgettable.
Whether you want to experience the Athenian nightlife, explore the city parks, or just delve into the authentic side of the city, these are the Athenian neighborhoods you should know.
A Quick Reminder:
Remember that Athens By Locals is here to guide you with planning the perfect trip to Athens and help you every step along the way. If you didn't found what you're looking for, or need any recommendations about your trip to Athens, feel free to contact us and we will do our best to help you. Please be as more detailed as possible regarding your subject so as to help you better.
If you like what you read please scroll down at the end of this page and subscribe to Athens By Locals so next time to receive more articles like this straight forward to your email. Join us on Facebook for comments, photos, and other fun stuff. If you enjoy this article please share it with your friends on Facebook.