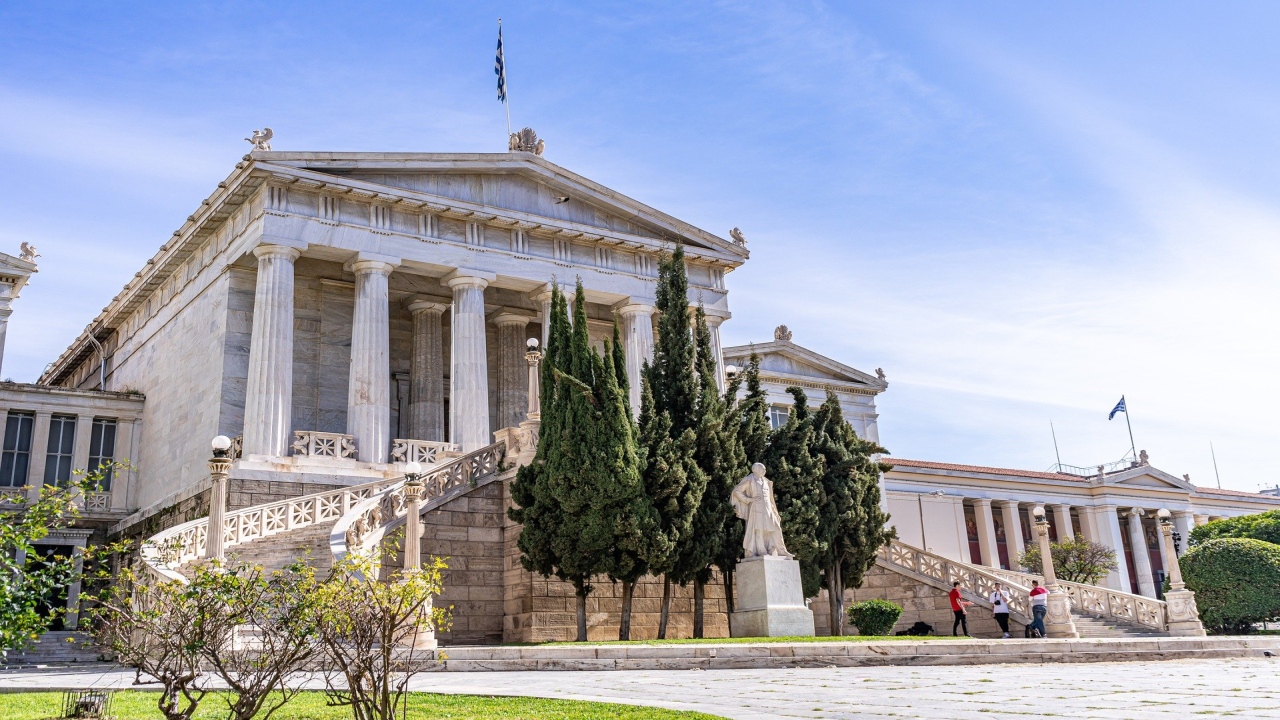 Explore Athens City Center
Last Updated on: April 24, 2021
Please read first:
Please bear in mind that due to Covid-19 the information that we present in our articles regarding the timetables of public transportation, hotels, restaurants, etc. may be subject to change. We highly advise you to double-check before proceeding with any bookings. Rest assured that we here at Athens By Locals are doing our best to keep up with these turbulent times and provide you with up-to-date travel information. Do not hesitate to reach out for any questions, we'll be more than happy to help!
Even though the Greek capital consists of different areas, it's mainly the center of Athens that attracts the crowds. Home to historical landmarks, bustling food markets, and scenic alleys, Athens' city center has its own unique charm.
Neighborhoods in the center of Athens aren't in apple-pie order like in other European capitals and that's what makes them so special.
The Athens city center is full of contrasts, hidden corners, and a vivid crowd. Dive into its scenic alleys and experience the city like a local.
The Historical Landmarks and Museums in the Athens City Center
The center of Athens is dotted with historical landmarks bearing witness to the city's glorious past.
The imposing Parthenon, the magnificent Philopappou Monument, and the Ancient Agora are located within a walking distance adding a dash of grandeur to the areas of Monastiraki and Thissio.
As you walk further, you'll come across three architectural masterpieces of great historical significance: Syntagma Square, home to the Hellenic Parliament, the Zappeio Hall, and the Columns of the Olympian Zeus.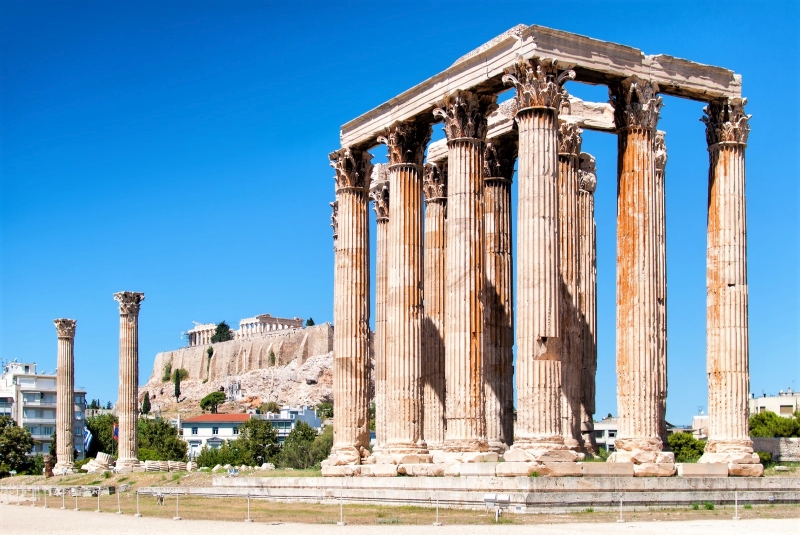 Aside from ancient landmarks, the center of Athens also brims with museums and art galleries displaying artifacts of different eras introducing culture buffs to Greek art.
The Acropolis Museum, the Museum of Cycladic Art, and the National Archaeological Museum shouldn't be missing from the 'places to visit list.
The Culinary Scene in the Center of Athens
Packed with restaurants and takeaways, the center of Athens is a paradise for foodies.
Whether you're looking for a local tavern to taste the traditional delicacies or a fancy international cuisine restaurant, chances are you'll find more than one place to fit your style.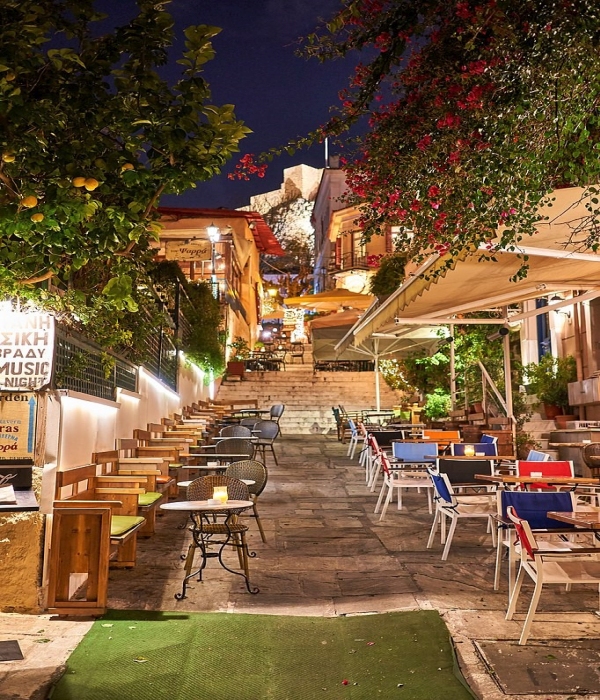 Over the past few years, Athens' gastronomy scene has been flourishing with Michelin star restaurants and vegan-friendly places popping up all over the city.
Nowadays, there are endless choices for a romantic dinner or a quick bite while roaming around the city center. 
And as Athens is a city that never sleeps, many of the eateries in the city center are open all day and all night long.
The Shopping Scene in Athens Center
From the luxurious boutiques in the area of Kolonaki to the vintage clothing shops in Monastiraki and Exarchia, the center of Athens' offers plenty of opportunities for shopping.
There is something for every taste and budget. All you have to do is discover the right area. A good starting point for exploring Athens' shopping scene is Ermou.
The pedestrianized street spanning from Syntagma square to Monastiraki Square is packed with stores of all kinds.
Here you'll see a mixed crowd of locals and tourists window shopping or just taking a stroll. Those looking for a more refined shopping experience should head to Attica. The classy department store is located just a stone's throw from Syntagma.
Kolonaki, Athens' upscale district, where world-class designers' boutiques line up with fancy jewelry shops is another great choice for fashionistas.
And as for the city's alternative crowd, Athens' shopping scene won't disappoint them either. Second-hand stores nestled in Monastiraki's and Exarchia's narrow alleys have a wide range of accessories, shoes, and clothes.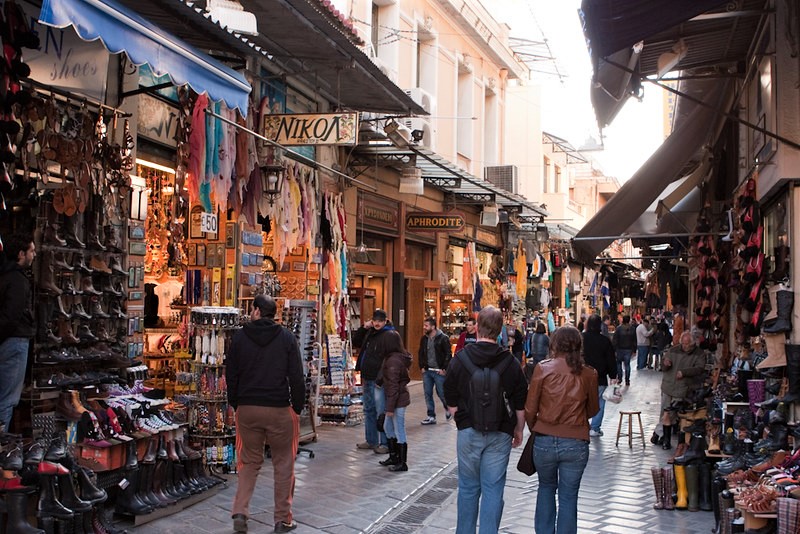 The Flea Markets in the Athens City Center
On the weekends' flea markets take place in many neighborhoods all over Athens. However, none of them compares to the atmosphere you'll find in Monastiraki on a Sunday morning.
Home to Ifestoy street (map), a narrow pedestrianized alleys lined up with thrift stores, local products, vinyl stores, and souvenir shops, Monastiraki is a magnet for bargain hunters any day of the week.
On Sundays though, when the Antique Market at Avissyias Square takes place, the atmosphere perks up further. Old furniture, antiques, and memorabilia of all types fill the scenic square as well as the pavement along Ermou street.
Usually, stands packed with jewelry, knick-knacks, and used items of all kinds are set all along Apostolou Pavlou street in Thissio. Once you've finished shopping, choose one of the numerous cafés in the area and soak up some sun.
Varvakeios Market (Athens Central Market)
Those eager to gain insight into locals' culinary habits should leave restaurants behind for a while and head to the city's food markets.
Athens Central Market, commonly called Varvakeios Market by locals, is a vibrant food market located halfway between Monastiraki Square and Omonia Metro Station.
It's the largest food market in the Greek capital and Athenians head to Varvakios to buy meat, fish, vegetables, herbs, and spices at cheap prices.
Here you'll find every Greek product and ingredient used in traditional dishes as well as nuts and traditional desserts.
Athens Central Market is bustling with flavors and smells and is the perfect place for travelers going off the beaten path.
Nightlife in the Athens City Center
The center of Athens is divided into different neighborhoods. Each one of them has its own unique atmosphere attracting night owls of all ages and styles.
There are stylish cocktail bars, underground music venues, classy rooftop terraces, and boisterous nightclubs all over the city center.
No matter if you're going out on a weekday or at the weekend, the streets in the center of Athens city are always packed with locals and tourists. After all, Athens' nightlife scene hasn't gained its reputation as one of the best in Europe without a reason.
Choose the district that suits you best and spend an unforgettable night out.
Athens' city center is bustling with life all day and all night long.
In the morning you'll see locals shopping at artisans' shops and food markets as well as tourists going on sightseeing.
When the sun sets and the stores are closed, the atmosphere changes completely. Athenians and travelers roam around the dark alleys mingling in the bars and dancing the night away.
A Quick Reminder:
Remember that Athens By Locals is here to guide you with planning the perfect trip to Athens and help you every step along the way. If you didn't found what you're looking for, or need any recommendations about your trip to Athens, feel free to contact us and we will do our best to help you. Please be as more detailed as possible regarding your subject so as to help you better.
If you like what you read please scroll down at the end of this page and subscribe to Athens By Locals so next time to receive more articles like this straight forward to your email. Join us on Facebook for comments, photos, and other fun stuff. If you enjoy this article please share it with your friends on Facebook.