Christmas in Athens: Weather – Tips – Where to Go and What to Do
Last Updated on: February 22, 2021
Please read first:
Please bear in mind that due to Covid-19 the information that we present in our articles regarding the timetables of public transportation, hotels, restaurants, etc. may be subject to change. We highly advise you to double-check before proceeding with any bookings. Rest assured that we here at Athens By Locals are doing our best to keep up with these turbulent times and provide you with up-to-date travel information. Do not hesitate to reach out for any questions, we'll be more than happy to help!
If you're considering spending Christmas in Athens as an idea for an upcoming trip, you're in the right place. This article will present you with useful tips, provide local insight, and give you all the information you need to spend a magnificent Christmas vacation in Athens.
From mid-December, Athens is glimmering with Christmas lights and ornaments, local people get into the festive mood, and smells of traditional sweets linger in the air.
As Christmas day approaches several events and markets start taking place all over the city boosting up the already joyful atmosphere. Athenians start shopping for the festive table wishing Kala Hristougenna (Merry Christmas) to one another.
Here are our tips and recommendations on how to spend Christmas in Athens.
What is Christmas Like in Greece?
Being quite a religious country, Christmas is probably the most widely celebrated holiday in Greece. Locals are always happy to uphold traditions that have been around for decades or even centuries.
Christougenna, as Christmas is called in Greek, is celebrated on December 25. Typically, the holiday is a time when families come together for a celebratory dinner with traditional roasted stuffed turkey often being on the menu.
The Christmas festive period in Greece typically lasts for 14 days, starting from Christmas Eve and ending on January 6, the day of the Feast of the Epiphany.
Much like most of the rest of the world, Greeks exchange presents both on Christmas day and during the festive period and decorate their houses with Christmas trees and lights.
There's also the Greek version of Santa Claus called Ayios Vasilis or Saint Bill who delivers gifts to children through the chimney on Christmas Eve.
Is December a Good Time To Visit Athens?
Yes. December is actually a great time to visit Athens.
There is a reason that Athens sees so many visitors all year round, and that reason is that the city is truly magnificent no matter what time of the year or which month you choose to visit.
Athens in December is especially impressive as its city center is decorated with Christmas lights and it teems with all kinds of events, outdoor markets, and festivities.
Furthermore, there aren't as many tourists as in summertime, meaning that popular attractions are far less busy and much more enjoyable.
Weather in Athens in December
Athens boasts a mild Mediterranean climate that makes it ideal for a Christmas trip compared to all the other major European destinations.
The average temperatures in December in Athens range from 5 degrees Celsius to 15 Degrees Celsius.
That doesn't necessarily mean, however, that you should expect a lot of sunshine on your Christmas trip to Athens or that you should pack light. There's a fair amount of rainfall in December and, on very rare occasions, a bit of snow.
Nevertheless, you can expect to feel quite comfortable walking around the city in a plain winter jacket.
Where to Stay in Athens at Christmas
In general, most of the events and Christmas festivities in Athens take place downtown.
With that in mind, we recommend that you choose a hotel in the center of Athens so that you can always be close to the action.
Moreover, most of the hotels feature festive menus in their restaurants specially designed for the Christmas period which are absolutely worth a try.
Besides, by booking a stay downtown, for example, at a hotel in Plaka (check some of them on Booking.com) or a hotel near Syntagma (hotels in Syntagma on Booking.com) or Monastiraki, you will also be right next to the city's most popular attractions like the Acropolis museum and the Panathenaic Stadium.
Below you will find our top picks among the hotels in Athens that are located in the city center and which would make for an unforgettable Christmas trip in Athens.
Grande Bretagne Hotel
The Grande Bretagne hotel enjoys one of the most privileged locations in Athens, just across Syntagma square and the House of Parliament as well as the popular shopping street called Ermou.
It's one of the most famous 5-star luxury hotels in Athens, offering a rooftop restaurant, a spa, and multiple types of rooms and suites to accommodate individuals or families.
If you're looking for a luxury stay on your Christmas trip to Athens, you can check the availability of the Grande Bretagne Hotel and plan your stay on Booking.com.
King George, a Luxury Collection Hotel
Presenting a unique and distinct neoclassical style that makes it stand out among the rest of the hotels in Athens, King George Hotel is situated in a very sought-after location; right between the Parliament building on Syntagma square and Voulourestiou street.
This luxurious hotel features a restaurant with astonishing panoramic views over the city, a fitness center, and lavish rooms with balconies that open up to breathtaking views of the Acropolis.
If you want to book a hotel that will make your Christmas break in Athens memorable, check the King George Hotel on Booking.com.
Hotel Coco-Mat Athens
Located in the upscale area of Kolonaki, just a few minutes away from Syntagma square, Hotel Coco-Mat Athens is one of the most popular and modern hotels in Athens.
Its contemporary chic design, luxurious amenities, and elegant rooms with balconies that offer views of the Acropolis rightfully make it one of the top hotels in Athens
Want to spend your Christmas holidays in luxury and style? Book your stay with Hotel Coco-Mat Athens on Booking.com.
If you like to check some more accommodation options in Athens, read the article below.
Where to Eat in Athens at Christmas
If you're lucky enough to spend Christmas in Athens, you will -literally- be in for a treat. The choices for where to eat in Athens at Christmas are countless.
Of course, there are many Christmas delicacies to try such as the melomakarona and the honey rolls as well as all the famous Greek cuisine dishes that you should not miss out on.
Nevertheless, bear in mind that Christmas is a very traditional holiday in Greece and that most of the restaurants in the city might be closed down on Christmas day.
The rest are -naturally- extremely busy. It's always best to make restaurant reservations well in advance. Below you will find our recommendations for the best places to eat in Athens at Christmas.
2Mazi Restaurant
2Mazi restaurant is housed in a magnificent neoclassical building that is situated in the famous area of Plaka, just a few minutes away from Syntagma Square. It offers traditional Greek cuisine with a creative twist that will surely make your Christmas dinner one to remember.
Address: Nikis 48 Plaka, Athens 105 58 Greece (Map)
Telephone: +30 21 0322 2839
Spondi Restaurant
Spondi restaurant is probably the most well-known gourmet restaurant in Athens and the first one to receive a Michelin star back in 2002. It wasn't much later that its second star followed suit, establishing it as the spearhead of Greek gastronomy.
It's located at a charming neoclassical building in the neighborhood of Pangrati.
Address: 5 Pyrronos, Pangrati, 116 36, Athens, Greece (Map)
Telephone: +30 210 756 4021
Oinopoleion
If you want to pair a special Christmas menu with traditional Greek live music, then Oinopoleion is the place to be on Christmas day.
This charming restaurant is tucked away in the popular tourist area of Psyrri, very close to Monastiraki Square. It offers a blend of Greek and Mediterranean cuisine that will undoubtedly set the mood for a festive Christmas day in Athens.
Address: 12 Aishylou Psirri, Athens 105 54 Greece (Map)
Telephone: +30 21 3008 1461
If you like to check some more places to eat in Athens, please read the article below.
The Best Things To Do in Athens at Christmas
Below you'll read some suggestions about what to do in Athens at Christmas.
Visit Syntagma square
Syntagma square is the perfect starting point to set you in a festive mood.
Every year at the beginning of December, the city's largest Christmas tree is set at Syntagma square and the whole place brightens up with ornaments and lights decorating the square.
Mimes, street artists, and street vendors roasting chestnuts and corn add their own touch to Athens' main square perking up the atmosphere.
Throughout the Christmas season, Syntagma square hosts several events and live concerts while every year an ice skating rink or a carousel is placed in the middle of the square.
Savor hot chocolate in one of the decorated cafés
Every neighborhood around Athens is decorated with Christmas trees, wreaths, and illuminating lights but the city center stands out.
Dotted with cafés, scenic squares, and narrow alleys, the center of Athens is twice as charming.
And while every café-bar and restaurant is embellished with Christmas trinkets, there are some places that just look like they are straight out of a fairytale.
Little Kook in the area of Psirri is widely known for its extravagant theme decorations.
In December, star-shaped lights, Christmas mistletoes, huge red-and-white lollipops, and every item that comes to mind when you think of Christmas adorn the café both outdoors and indoors.
Karaiskaki, the street where you'll find Little Kook (map) gleams with myriads of lights and gold Christmas knickknacks.
Noel Holiday Bar in Kolokotroni street (map) should definitely be on your list if you're spending Christmas in Athens.
The bar's name already gives you a hint that the people behind it love Christmas time, a fact proven by the place's festive decoration all year round.
When December kicks in, they go wild with the Christmas ornaments placing fir garlands, lights, Christmas balls, you name it all over the place, creating majestic scenery.
Explore the Christmas markets of Athens
One of the best things about Christmas in Athens is the Christmas market.
Not only because you can indulge yourself in endless shopping but also because their jolly atmosphere guarantees to get you in the Christmas spirit.
Athens features several pop-up markets that take place in cafés and cultural spaces.
The most popular is The Christmas Factory, which takes place every year in Technopolis from the end of November until the beginning of January.
Featuring Santa's house, a toy factory, and over 25 stalls packed with items, The Christmas Factory is every kid's Merryland.
Another favorite market that takes place on selected dates at Christmas is the Meet Market. Make sure to keep an eye out on their Facebook page for this year's dates because it's an experience you don't want to miss
Go for Christmas shopping
Aside from the numerous fashionable markets, Athens provides plenty of opportunities for shopping.
Ermou is the city's most popular shopping street brimming with life all year round. When Christmas arrives, the pedestrianized street gets jam-packed as most locals head here to buy gifts for their beloved ones.
If Ermou feels too overcrowded just walk towards Syntagma square and enter the refined Attica department store. From here, Voukourestiou street is just a short jaunt.
Being Kolonaki's most expensive shopping street, Voukourestioy features only designers' boutiques and high-end jewelry stores.
Even if you can't afford to buy your Christmas gifts here, take the time to take a stroll as it's one of the most beautifully decorated streets in Athens.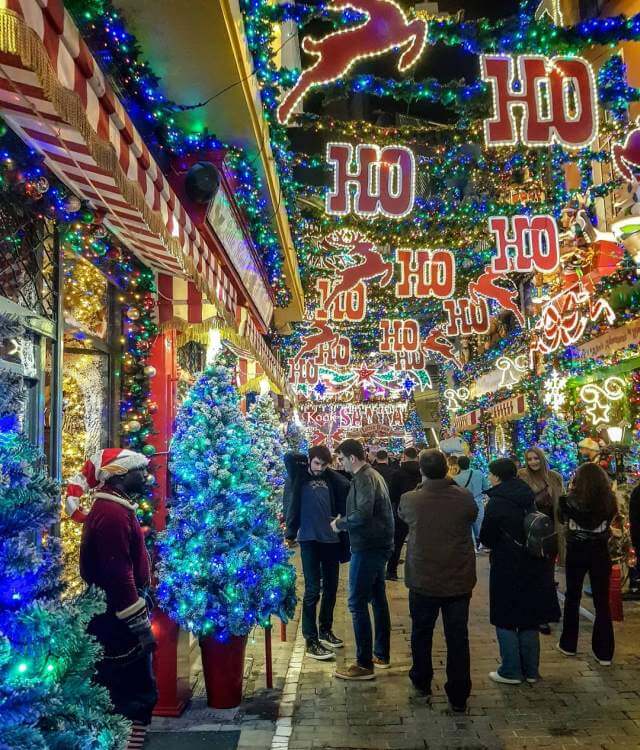 Visit the city's Ice skating rinks
Ice rinks are set up all around Athens throughout the winter months bringing a piece of the snowy sceneries in the sunlit Greek capital.
The 1,000 square-meters ice rink in Athens Heart Mall in Pireos street is the city's largest indoor ice rink and operates from September until May.
Athens Concert Hall (Megaron) has its own ice rink placed every year in the cultural space's outdoor area.
Finally, close to the metro station Eleonas you'll find Icenskate, an ice skating rink operating all year round.
Taste the traditional Greek Christmas delicacies
Christmas in Athens has the smell of melomakarona and kourabiedes.
It's a tradition to make the mouthwatering traditional sweets around December and they never miss local people's festive tables.
Melomakarona are cookies made with honey and other spices and kourabiedes are butter-cookies topped with icing sugar.
Aside from these two typical Greek sweets, you'll find an abundance of Christmas delicacies that it's a custom for Greeks to make only during this time of the year.
The Greek honey rolls, known as diples, the Saint Basil's Cake (Vasilopita) that local people eat on New Year's Day, and Christ's bread (Christopsomo) are the most known.
Watch a Christmas show
Watch a Christmas show or catch a festive event in Athens' theatres and cultural spaces.
Christmas Theater hosts several interesting shows in winter 2019 including Tchaikovsky's Nutcracker which will be performed by The Bolshoi Ballet Academy from December 23 to December 29.
Even though Athens city doesn't look like a typical winter destination of Northern Europe, it won't fall short of your expectations if you decide to spend Christmas here.
The Greek capital wears its festive costume from early December with myriads of lights and festive ornaments decorating the streets around the city center.
Even though chances are you won't be surrounded by a snowy landscape, the Greek capital will reward you with the smells of traditional sweets, the sound of Christmas carols, and the vibrant Christmas markets.
Tips, Suggestions, and Recommendations on How To Spend Christmas in Athens
Although spending Christmas in Athens has been gaining in popularity as a vacation idea during the past years, you may find that there are actually limited resources online to help you prepare for the trip.
Luckily for you, in this section, we are going to answer some of the most frequently asked questions by our readers in order to help you plan the most amazing Christmas trip to Athens.
What do people wear in Athens in December?
Most of the locals dress quite light in December compared to other northern countries, since the weather most usually allows for it. A couple of normal winter outfits and a plain winter jacket will be more than enough for your jaunts around Athens. However, in order to be extra safe, we recommend that you also pack a pair of gloves and a scarf in case it happens to rain during your visit.
What do Greeks eat for Christmas?
There is really no such thing as a quintessentially traditional Greek recipe for Christmas that you will see everywhere around you if you visit Athens at Christmas. Some locals have stuffed turkey, while others prefer oven-baked meat, usually lamb or pork as the main course on the Christmas table. Whatever the case may be, you will find that locals really go all out with their dinner menus that include many traditional Greek dishes, salads, and of course the typical Christmas sweets called melomakarona and kourabiedes.
What is Santa Claus called in Greece?
Santa Claus is actually called Ayios Vasilis in Greece. However, apart from the name, the concept remains the same. Ayios Vasilis is a cheerful old man with a white long beard that generously places gifts under the Christmas tree for young kids on Christmas Eve.
How long does Christmas last in Greece?
Traditionally, the Christmas festive season in Greece lasts for 14 straight days. It starts on Christmas Eve and it ends on the day of the Feast of the Epiphany which is on January 6. Keep in mind that, since Greece is one of the countries that follow the Gregorian Calendar, Christmas day is celebrated on December 25.
Why do Greeks decorate boats for Christmas?
Instead of a Christmas tree, you may see some houses decorated with the traditional Christmas boat during your Christmas trip to Athens. This was used to express gratitude towards the sailors that devoted their lives to the sea and as a token of remembrance of those family members that are far away from home on Christmas day. Sadly, this tradition is slowly vanishing and decorative Christmas boats get rarer by the year.
How do you say Merry Christmas in Greek?
Kala Christougenna. If you decide to spend Christmas in Athens, make sure to try and wish Merry Christmas to locals in their native tongue. They'll surely love it and you'll get the chance to socialize and have a laugh about it.
Does it snow in Athens Greece?
During the past few years, seeing snow in Athens is not terribly uncommon, even if it is for only a few days. On average, Athens sees approximately 4.5 days of snow each year. However, do not expect to find Athens covered in a white cloak upon your arrival. It's highly improbable that it will snow long enough for the streets to turn white.
A Quick Reminder:
Remember that Athens By Locals is here to guide you with planning the perfect trip to Athens and help you every step along the way. If you didn't found what you're looking for, or need any recommendations about your trip to Athens, feel free to contact us and we will do our best to help you. Please be as more detailed as possible regarding your subject so as to help you better.
If you like what you read please scroll down at the end of this page and subscribe to Athens By Locals so next time to receive more articles like this straight forward to your email. Join us on Facebook for comments, photos, and other fun stuff. If you enjoy this article please share it with your friends on Facebook.