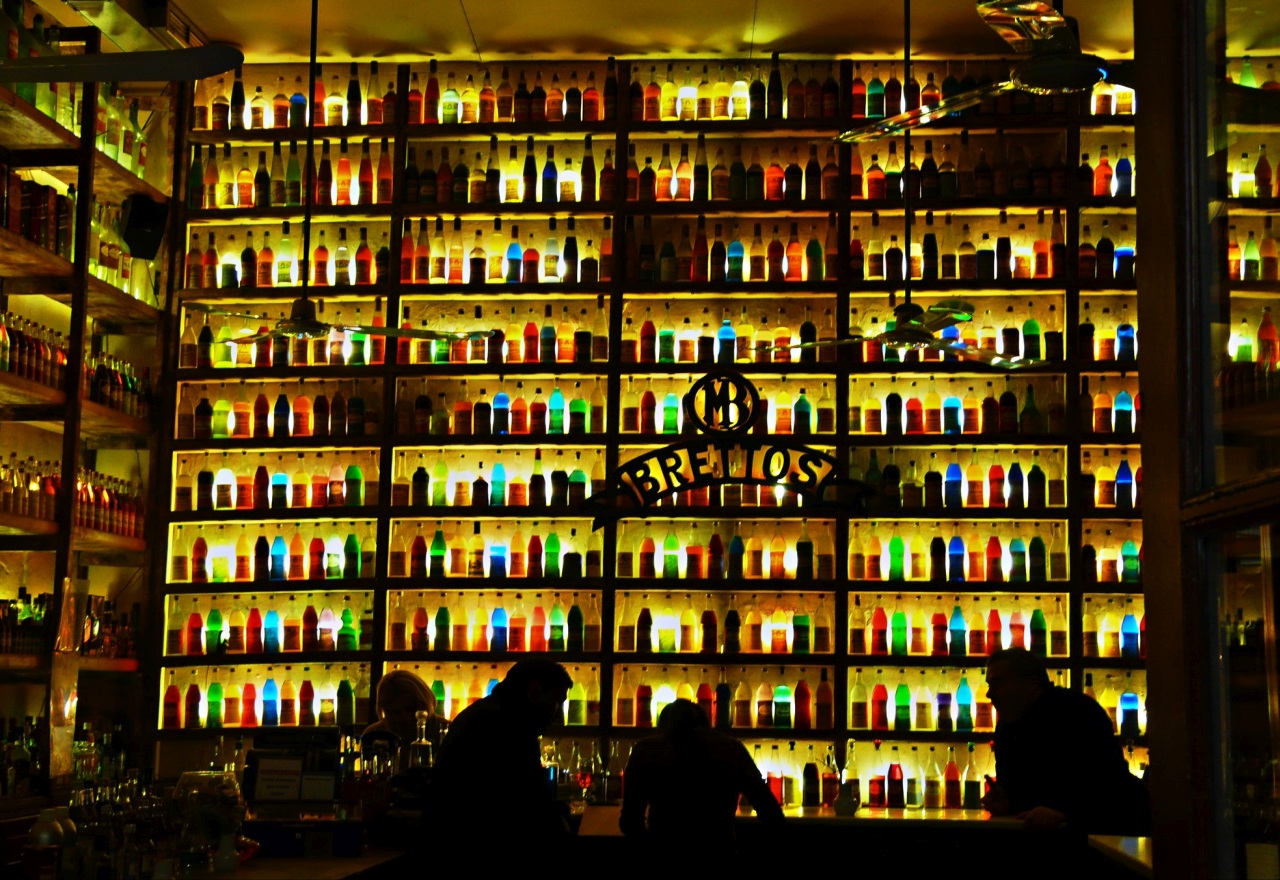 The Most Popular Areas to Nightlife in Athens
Last Updated on: August 9, 2021
Please read first:
Please bear in mind that due to Covid-19 the information that we present in our articles regarding the timetables of public transportation, hotels, restaurants, etc. may be subject to change. We highly advise you to double-check before proceeding with any bookings. Rest assured that we here at Athens By Locals are doing our best to keep up with these turbulent times and provide you with up-to-date travel information. Do not hesitate to reach out for any questions, we'll be more than happy to help!
For those of you visiting for the first time, you should know that nightlife in Athens is probably quite different than anything you have experienced in any other major European destination. And we mean that in the best possible way. For those of you returning to Athens, you know very well what we are talking about.
Athens is notorious for having an uproarious nightlife scene with countless music venues, bars, and drinking joints opening their doors at sundown and not letting any steam out until the very first hours of the morning.
The kind of entertainment you can expect to find when exploring Athens by night largely depends upon what area you choose to visit, as every neighborhood in Athens has its own distinct culture and attracts the respective crowds.
And that is probably what makes the nightlife in Athens so unique.
Depending on which neighborhood or area of the city you choose for your night out, you are going to come across entirely different venues and types of entertainment. And Athens being such a vast city means that you will easily be able to find exactly the type of nightlife you are looking for.
From traditional tavernas and laid-back bars with alfresco seating areas to upscale restaurants and vibrant nightclubs, Athens has it all.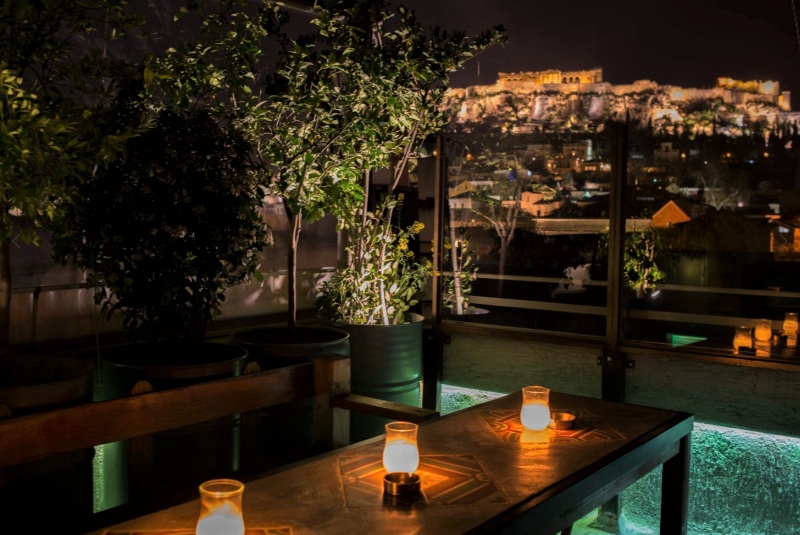 Below we will try to give you an idea of what going out in Athens is all about by breaking down the most popular nightlife spots in the city and presenting you with a few local tips for each.
So here's your ultimate guide to nightlife in Athens that will help you decide which nightlife scene suits you best and set you out on the most splendid night out in Athens city.
Nightlife in Thission
Located right next to Acropolis and the Ancient Agora of Athens, Thission is one of the most popular areas of Athens for locals and tourists alike.
It's the place you will most likely find yourselves at after a long walk around the city center without even realizing it.
Luckily, the charms of Thission do not fade away after sundown. The neighborhood brims with fancy rooftop restaurants, outdoor cafes, ice cream shops, and inviting traditional tavernas.
This abundance of options makes Thission a perfect choice for travelers of all ages who want to get a first impression of the Athenian nightlife before delving deeper into other, less famous areas.
What better way to end your day than having a refreshing drink along the bustling pedestrian streets of Thission while gazing at the Parthenon from afar? We can't really think of any.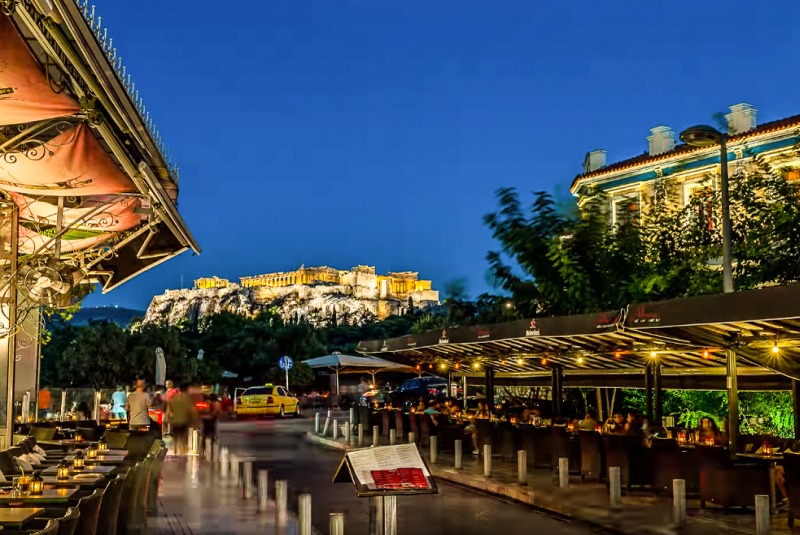 What is more, Thission is just a few minutes away from some of the most famous outdoor places in Athens, so it will fit right in your itinerary whatever your plans are.
Nightlife in Plaka
Plaka is beyond any doubt the most popular neighborhood of Athens for tourists; there's a good reason for that.
Experiencing a night out among the labyrinthine cobblestone streets of the area while having Acropolis Hill within your grasp is something you will not be forgetting soon.
Nightlife in Plaka might be considered to be defined by the area's touristic character but that's not entirely true.
If you look further than the well-polished facade and the souvenir shops, you'll find tiny dimly-lit wine bars and cozy bars filled with locals.
The "neighborhood of the Gods" is an exceptional place for unique liquor tasting with a side of local gastronomy in a setting that is regarded as the most beautiful area of Athens.
To top it off, Plaka's central location most likely guarantees that you will be just a few minutes away from your hotel when the dust settles and the sun comes up.
Nightlife in Monastiraki
Monastiraki is one of those areas in Athens that simply cannot afford to miss.
In fact, you'll most likely be passing through Monastiraki square while you are out sightseeing whether you have planned it or not. It's one of the most central locations in downtown Athens.
What makes Monastiraki perfect for a night out, however, apart from its location, is the vast majority of options.
Here you'll find luxurious rooftop bars with amazing views over Acropolis Hill, chic cocktail bars and cozy pubs as well as several kinds of street food joints that remain open until the first morning hours.
Nightlife in Monastiraki is tailored around visitors of all ages who enjoy mingling with the crowds and socializing while bar-hopping along the beautiful pedestrian streets.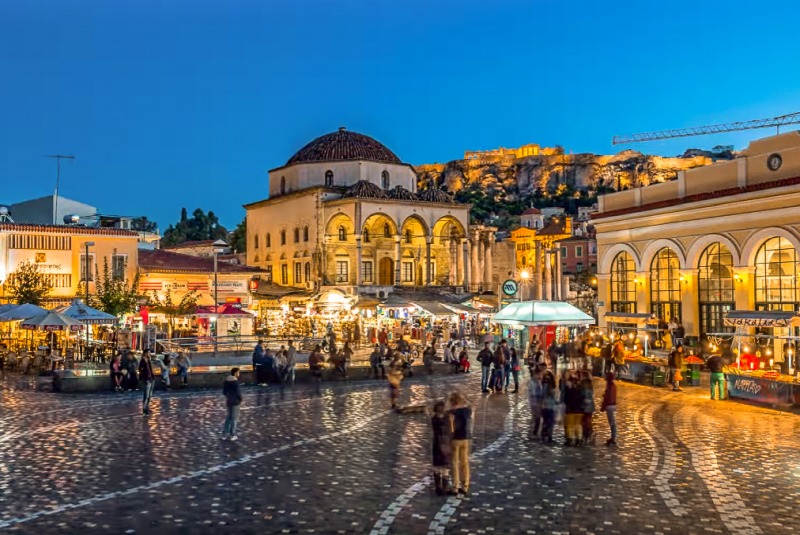 And it gets even better: Monastiraki is home to numerous shopping streets filled with all kinds of shops that are open until late in the evening. Why not combine your night out with some souvenir hunting beforehand?
Nightlife in Exarchia
Exarchia is an amazing neighborhood when it comes to the affairs of cheerful drinking, partying, and spending all night on a dancefloor.
The area is home to virtually hundreds of bars that all have a unique style and yet all share the same distinctive off-beat aura.
You'll be surprised to discover that even the smaller bars and pubs have their own DJs that often seem to cater to very specific music tastes. No matter how niche your favorite musical genre is, just ask around and you'll soon find a place playing it.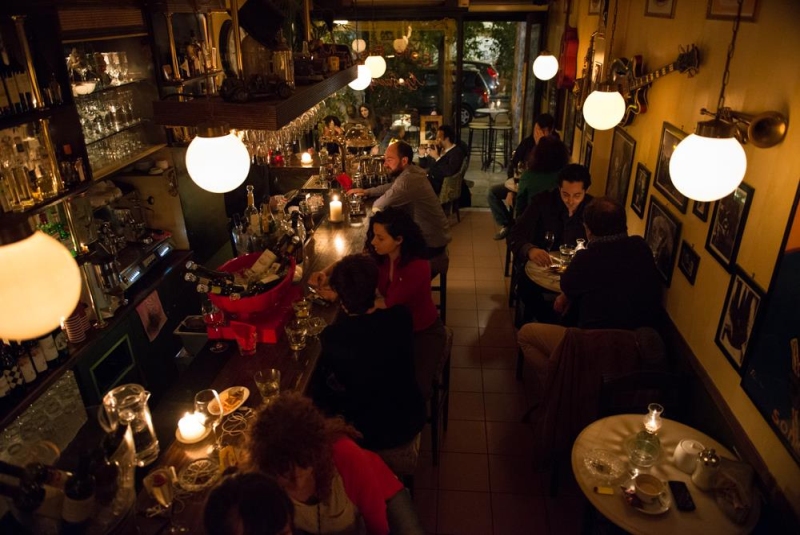 Exarchia is an ideal option for younger and older travelers who want to quickly get in the city's vibe and spark up a conversation with the locals.
Before embarking on your nighttime venture, make sure to visit one of the many restaurants at Exarchia for a typical Greek pre-party warmup of mezedes and wine.
Is your mouth already watering? Why don't you learn a bit more about the restaurant scene in Athens before you make your way to Exarchia?
Nightlife in Psyrri
Psyrri is perhaps the oldest nightlife hotspot in Athens.
For decades now, it has been accommodating younger local people on their first nighttime escapades and providing a serene refuge for everyone looking to get away from the city's hustle and bustle and spend some time unwinding.
It's located right next to Monastiraki and its meandering streets hide all kinds of hidden spots.
Taverns with traditional food and live folk music, funky bars, concert venues, and street food stalls have Psyrri's alleys filled with people of all ages every day of the week until sunrise.
Here you'll get the chance to witness what a traditional Greek-friendly gathering looks like. Enjoy delicious treats under the sound of a swinging bouzouki and then head over to one of the hip bars to finish off your night with a refreshing cocktail.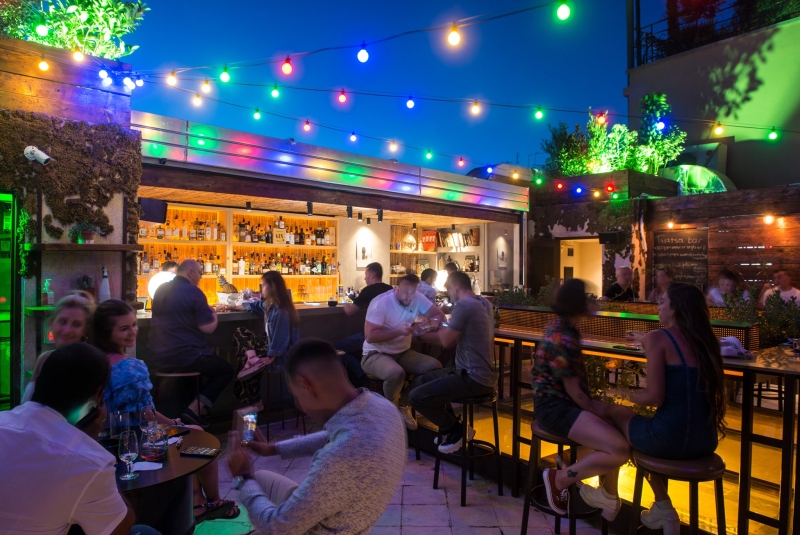 And that's not all! Psyrri is actually notorious for being home to some of the most well-hidden gems of Athens. Are you wondering what kind of secrets Athens might be hiding from you? Just take a look right below.
Nightlife in Syntagma
At first glance, visitors might think that Syntagma is more of a commuting center and a shopping district than it is a nightlife spot.
Indeed, Syntagma's charms are well-hidden and it's only by walking its streets after nightfall that you'll start noticing large groups of people disappearing in small alleyways and narrow pedestrian streets.
Syntagma is actually full of pubs and bars of all kinds, but since the main street Ermou is primarily occupied by stores and shops, you'll have to dig around to find the right one for you.
There are several small cafes with outdoor seating to start the night off with a cool glass of local wine or beer before heading over to the main course.
In Syntagma you'll find more sophisticated bars that serve top-shelf drinks, many of which specialize in only one specific kind of liquor.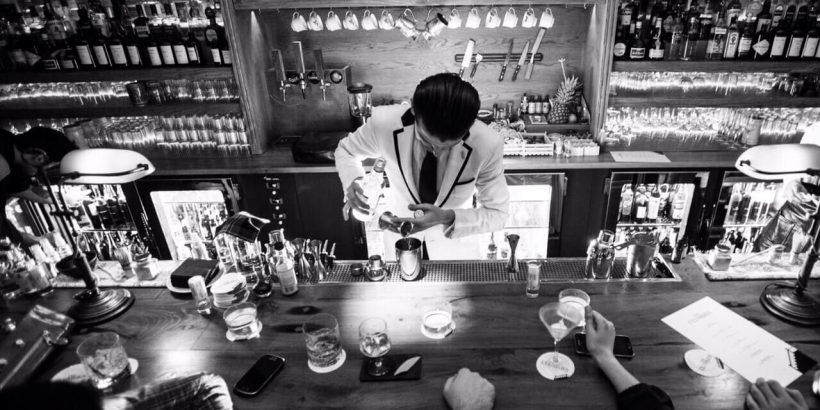 Fancy whiskey bars, extravagant gin bistros and elegant rum lounges with expert bartenders and tens of labels on offer are waiting to be discovered just around the corner.
And the best part? Syntagma is the most central location in downtown Athens, meaning that getting to and from the area will be a breeze. Especially if you have just spent your whole afternoon strolling and shopping in Athens.
Nightlife in Gazi
Gazi is the newest addition to Athens's sprightly nightlife scene.
It was once the site of the old gas factory that gave power to street lights all over the city, a working-class residential area with an infamous backstreet culture.
Once the need for the gas factory was deemed outdated, however, the neighborhood started transforming rapidly. While the kilns were still cooling off, a different type of crowd started swarming the streets of Gazi.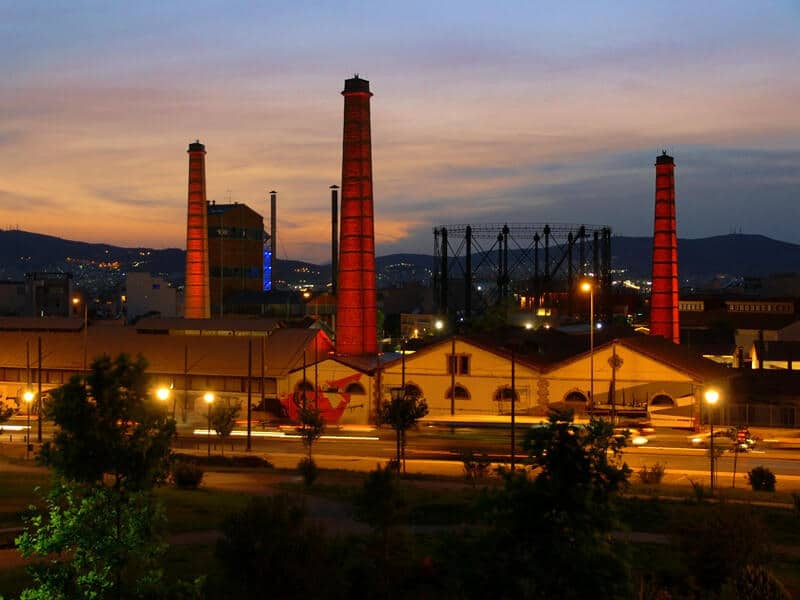 The concerts and events that were being organized on the premises of the old factory were very popular with locals and soon many bars and nightclubs started popping up.
Today, that exact spot is named Technopolis and it hosts various events and concerts all year round and Gazi is probably the most popular place in Athens for a fun night, filled with pubs and clubs that are full of both locals and tourists.
Most of the smaller bars are around Persefoni square, while the larger nightclubs are located on Iera Odos, an avenue just a few minutes away.
In case you're wondering why you should choose Gazi for your night out in Athens, let's just say that this charming small area has it all.
Here you can party like there's no tomorrow, relax at a cozy cafe or even have the most romantic date night of your whole trip in Athens.
Nightlife in Metaxourgeio
Similar to Gazi, Metaxourgeio has only just recently become one of the trendy neighborhoods of Athens to wine and dine at.
It was only after Gazi's boom that it saw a significant rise in visitor numbers as well. Yet, Metaxourgeio has developed a totally different character and identity than its neighbor.
Metaxourgeio is an ideal place to head for if you want to skip the clubbing and partying crowds in favor of a relaxing night with moderate drinking and lighthearted conversations.
Here you'll find some hybrid places that are both taverns and bars with outdoor seatings, serving traditional food and drinks at great value for money prices.
Metaxourgeio is the place locals escape to when Monastiraki and Gazi get too hectic for live music, socializing, and tasty tidbits.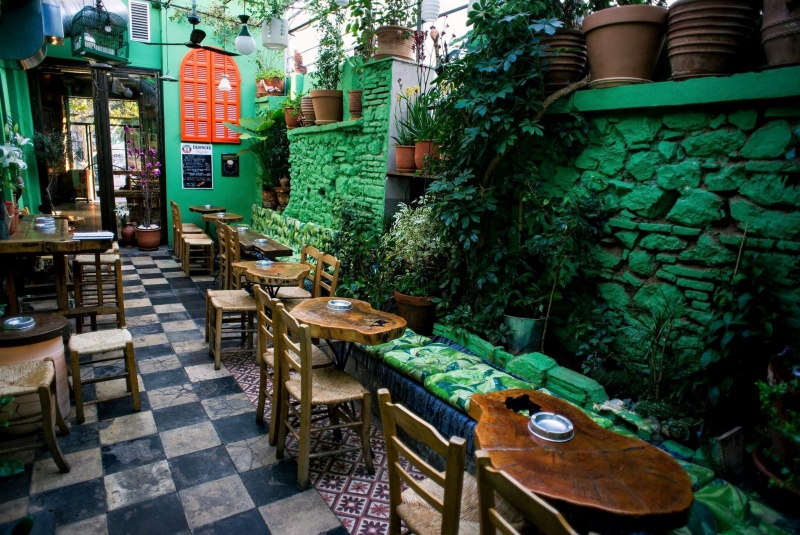 Think about it: wouldn't you like to experience Athens the way locals do? Why not head for one of the Metaxourgeio taverns locals love and see what the fuss is all about?
Nightlife in Kolonaki
Kolonaki might share a border with Exarchia, but that does not necessarily mean that the two neighborhoods also share a similar identity.
On the contrary, Kolonaki might just be the poshest place in Athens, famous for its affluent crowds, prosperous shopping streets, and plush eateries.
If you're looking for an opportunity to dress up during your visit to Athens, Kolonaki will provide the perfect excuse.
An array of fancy bars and restaurants around the square make for a busy catwalk through which habitués leisurely move from one place to another with a dazzling see and be seen attitude.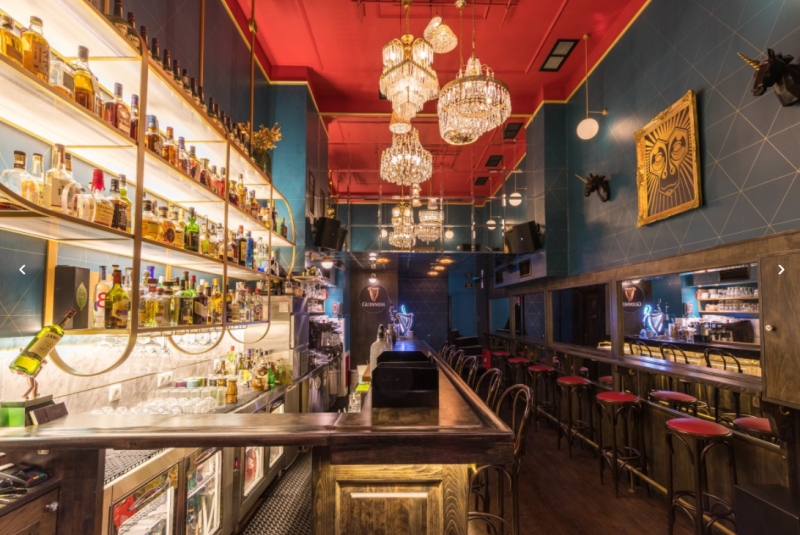 Kolonaki is frequented by local celebrities and prominent figures and offers a great chance for visitors to get in touch with the more luxurious side of Athens where you least expect to find it – hidden in plain sight in the heart of the city center.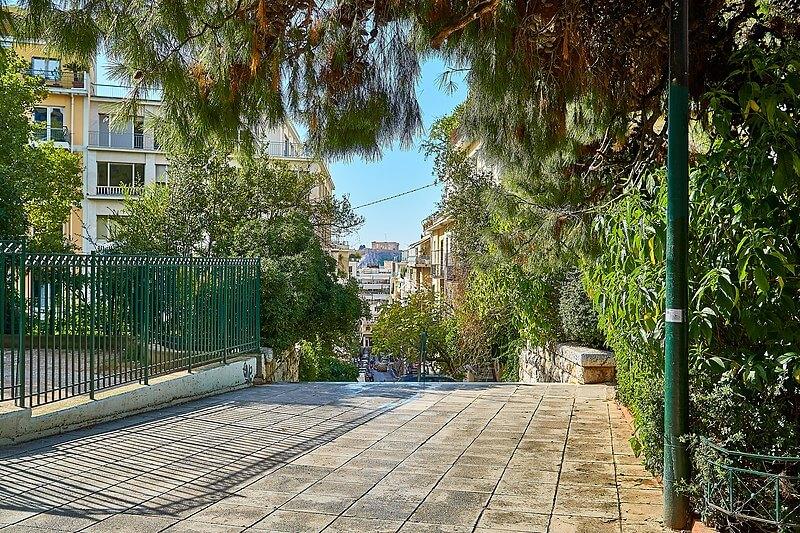 Nevertheless, we have to warn you: Kolonaki is not as easily accessible as the rest of the neighborhoods on this list.
But you're in luck! We have gathered here all the taxi services that operate in Athens which can take you to and from Kolonaki in comfort at the tap of a button.
Nightlife in Koukaki
It comes as no surprise that Koukaki is one of the top places in Athens for nightlife. After all, who would mind enjoying a refreshing cocktail after a long day of sightseeing without having to walk more than five minutes?
Koukaki is conveniently located right next to Acropolis hill and it has got everything you could ask for an entertaining night.
Considerably more upscale than either Exarchia or Metaxourgeio, but still more laid back than Syntagma and Kolonaki, Koukaki offers the best of both worlds.
Cozy bars and mellow taverns filled with local patrons are found across the street from ritzy wine bars and flashy gourmet restaurants.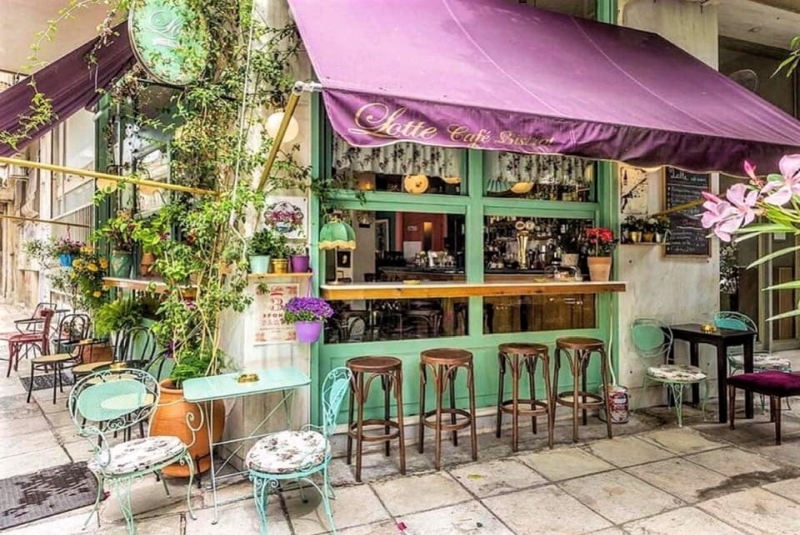 In essence, Koukaki is a great place to test the waters of the Athens nightlife scene and get acquainted with the way locals spend their nights in Athens city before starting to explore every other neighborhood.
And the best part? Koukaki is within walking distance from most of the top attractions in Athens!
Tips and Suggestions for Nightlife in Athens
In this short section, we will attempt to help in making the most out of your nights in Athens by providing a few useful tips and answering the most frequently asked questions by our readers regarding nightlife in Athens.
Does Athens have good nightlife?
Without a doubt, Athens boasts a splendid nightlife that makes it one of the most exciting destinations in Europe if staying up late and partying after sundown is what you are looking for in your vacation. Apart from all the party places, in Athens, you will also find charming cafes, high-end restaurants, fancy cocktail bars, and even numerous open-air cinemas that will make your night out in the city unforgettable.
Is Athens a party place?
Athens has gained a reputation of being quite the party place and rightfully so. The Greek capital teems with all kinds of bars, pubs, nightclubs, and buzzing tavernas. In addition, come summertime, Athens city is full of outdoor concerts, street parties, music festivals and all kinds of events.
Where can I go at night in Athens?
When going out in Athens at night, we recommend that you stay within the city center where all the action is. Every neighborhood in downtown Athens has its own distinct charm, so you will have no trouble finding the one to suit your preferences. In particular, all the areas near and around Acropolis Hill like Koukaki, Thission, Monastiraki, and Syntagma brim with bars, pubs, restaurants, and traditional tavernas.
Where should I stay in Athens for nightlife?
There are quite a few areas in Athens that combine excellent hotel options with great nightlife right outside your door. The most popular choices among them are Plaka, Koukaki, Monastiraki, Thission, and Syntagma.
Is it safe to walk in Athens at night?
Walking around Athens at night is quite safe. Especially in the busy central touristic areas like Syntagma, Monastiraki, Psyrri, and Koukaki where people usually go out at night, you will have no trouble walking around even very late at night.
What is the safest area to stay in Athens?
All of the touristic areas in downtown Athens are safe to stay at and walk around any time of the day. Especially the neighborhoods that are located around Acropolis, including Syntagma, Monastiraki, Koukaki, Thission, Plaka, and Psyrri.
What should I avoid in Athens?
There are a few areas that you should avoid when going out in Athens at night. We recommend avoiding Omonoia square and the area around the central station (Larissa Station) at night. Also, avoid drifting off to the suburbs when walking around, as you will not find much to see there and you will probably have a hard time returning to the city center on foot.
Is Athens expensive?
Athens is fairly cheap compared to other famous European capitals. Even in the most touristic areas like Plaka and Koukaki, you will be able to have a meal or enjoy a few drinks at moderate prices.
Do they speak English in Greece?
A large part of the population in Athens will have no trouble speaking English on a conversational level. Especially younger people tend to be fluent not only in English but also in other languages like French and Spanish.
Is Plaka safe?
Plaka is one of the safest areas in Athens. Its central location and proximity to the Acropolis guarantee that there are always people around, no matter the time of day.
To sum it all up, nightlife in Athens is an unforgettable experience.
Whether you're looking for a relaxing night out at a cozy bar, all-night partying at an extravagant nightclub, wine tasting at a sophisticated wine bar, or a romantic dinner with a view of the Acropolis, you will not be returning to your hotel room disappointed.
The only thing left for you to do is choose the neighborhood that best fits your tastes. So follow our nightlife in Athens guide, choose wisely, and get ready for an amazing night out in Athens.
A Quick Reminder:
Remember that Athens By Locals is here to guide you with planning the perfect trip to Athens and help you every step along the way. If you didn't found what you're looking for, or need any recommendations about your trip to Athens, feel free to contact us and we will do our best to help you. Please be as more detailed as possible regarding your subject so as to help you better.
If you like what you read please scroll down at the end of this page and subscribe to Athens By Locals so next time to receive more articles like this straight forward to your email. Join us on Facebook for comments, photos, and other fun stuff. If you enjoy this article please share it with your friends on Facebook.