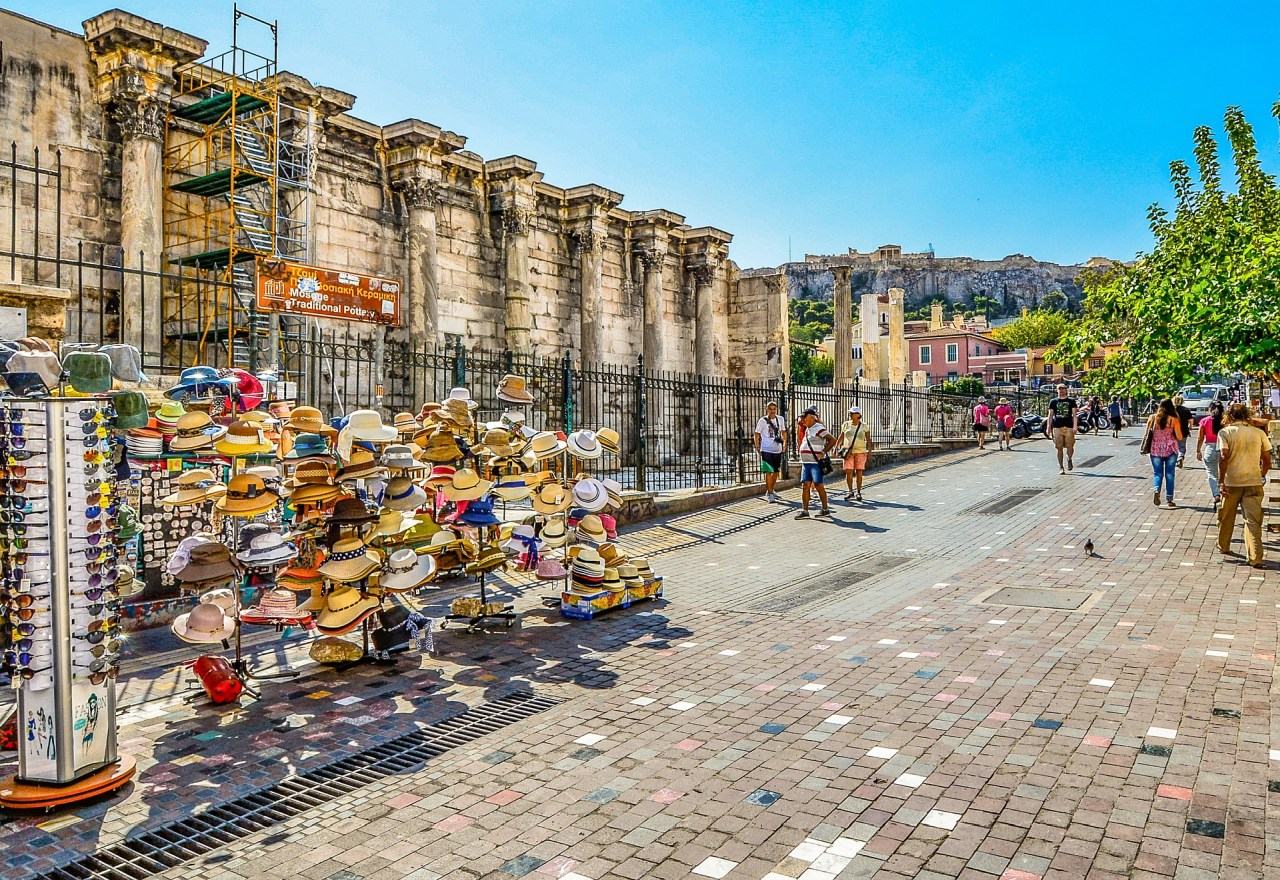 A Local's Guide to Shopping in Athens
Last Updated on: October 12, 2021
Please read first:
Please bear in mind that due to Covid-19 the information that we present in our articles regarding the timetables of public transportation, hotels, restaurants, etc. may be subject to change. We highly advise you to double-check before proceeding with any bookings. Rest assured that we here at Athens By Locals are doing our best to keep up with these turbulent times and provide you with up-to-date travel information. Do not hesitate to reach out for any questions, we'll be more than happy to help!
Shopping in Athens is one of the things that is rarely mentioned on online travel guides among the best things to do in the city. And yet, the main shopping streets of Athens are often filled with tourists holding bags filled with all kinds of memorabilia, clothes, food, spices, and all kinds of goodies.
Athens has an abundance of shops and boutiques of all kinds, for all tastes and budgets. Whether you're looking to buy a souvenir that will always remind you of your trip to the Greek capital, the traditional-style Greek sandals, or just enrich your clothing collection, the Greek capital won't disappoint you.
Just follow this guide and roam its local neighborhoods and polished department stores and dive into the city's most popular areas to plan a perfect day of shopping in Athens.
Ermou Street
Ermou street couldn't but occupy the top of our shopping in Athens guide as it is Athens' most renowned shopping street.
Stretching from Syntagma square all the way to Pireos street in the Kerameikos area, the cobblestone street is 1,5 kilometers long.
Most stores and boutiques are found between Syntagma to Monastiraki Square and therefore, this part is usually jam-packed.
Zara, Pull & Bear, Bershka, and other renowned international brands, as well as local clothing boutiques and beauty product stores, offer plenty of opportunities for shopping in Athens.
At Christmas, the renowned Ermou street in Athens is decorated with myriads of lights and is filled with food stalls with local delicacies. Keep in mind though, that this time of the year, the scenic street gets particularly overcrowded.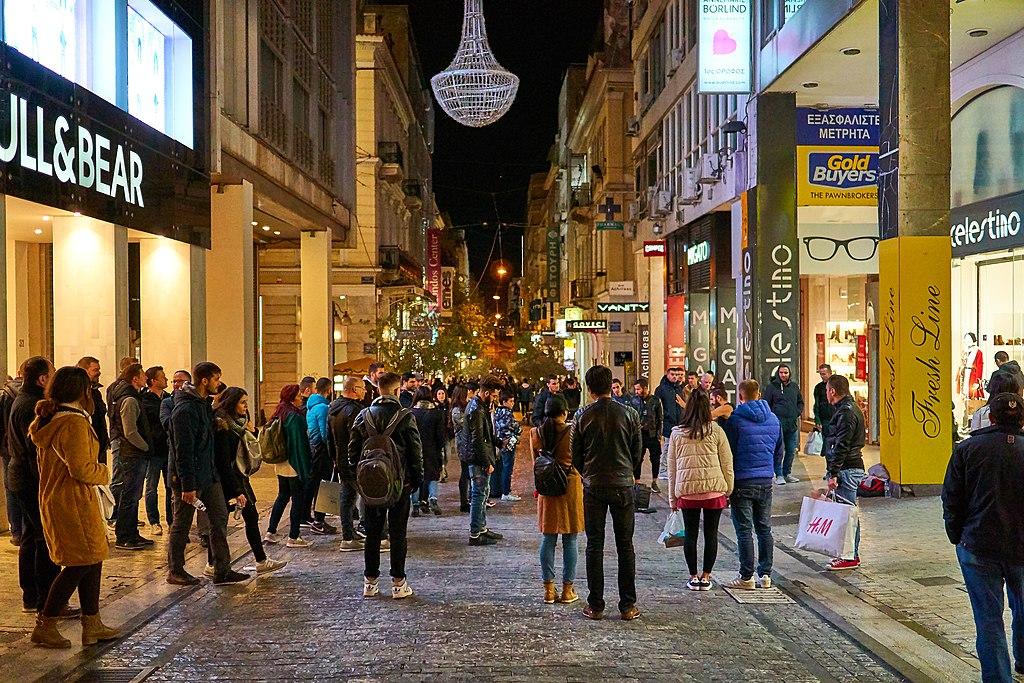 Ermou street is best for shopping: major brand clothing, shoes, beauty products, and personal accessories like sunglasses.
Kolonaki
Kolonaki is Athens' upscale neighborhood and thus it is well known for its high-end boutiques, designer's stores, and fancy beauty salons.
There are many shops scattered in the neighborhood and around Kolonaki Square but Voukourestiou holds the reputation of the city's fanciest shopping street.
Here you'll find deluxe jewelry stores such as Cartier, Lalaounis, and Zolotas as well as luxurious clothing boutiques.
Even if you don't afford to buy something from the lavish stores, it is worth your time to take a walk along the pedestrianized alley and rummage the stylish shop windows.
Kolonaki is best for shopping: designer clothes, Greek designer products, art, premium souvenirs, home decor.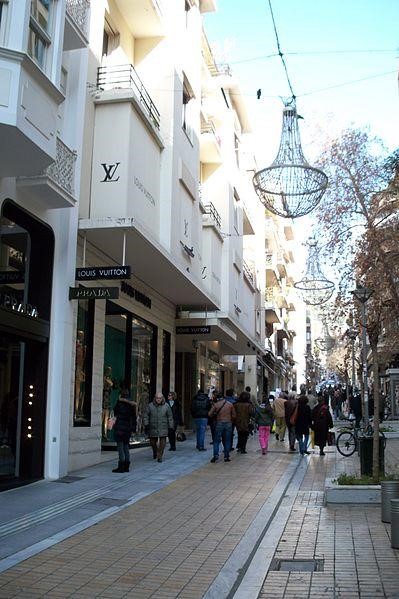 Monastiraki
Most tourists in Athens are familiar with Monastiraki square, one of the main attractions in the Greek capital.
Surrounded by narrow alleys filled with souvenir shops, clothing, and shoe boutiques as well as second-hand shops, Monastiraki square is usually the starting point of a long shopping in Athens walk.
Ifestou street is one of the most scenic alleys in Athens city packed with vintage stores and old furnishing, handmade sandals, and vinyl stores.
Even though it is one of the most tourist spots in Athens, the cobblestone alley attracts both locals and travelers. Go on a Sunday and discover antiques and knick-knacks at the open flea market which takes place at Abyssinia Square.
Monastiraki is best for shopping: street food, memorabilia, souvenirs, edible souvenirs, cheap clothing, shoes, handicrafts, traditional Greek products, spices, and herbs.
Shopping Malls
If you don't want to waste much of your time for shopping in Athens but still want to buy one thing or two, then head to the city's shopping malls.
Attica is the most renowned and stylish department store in Athens city. Its privileged location in the heart of Athens' city center just a stone's throw away from Syntagma square makes it the perfect choice for a short shopping break while exploring downtown.
You'll find over 850 brands of clothes, shoes, and accessories for women, men, and children spread on its 5 floors.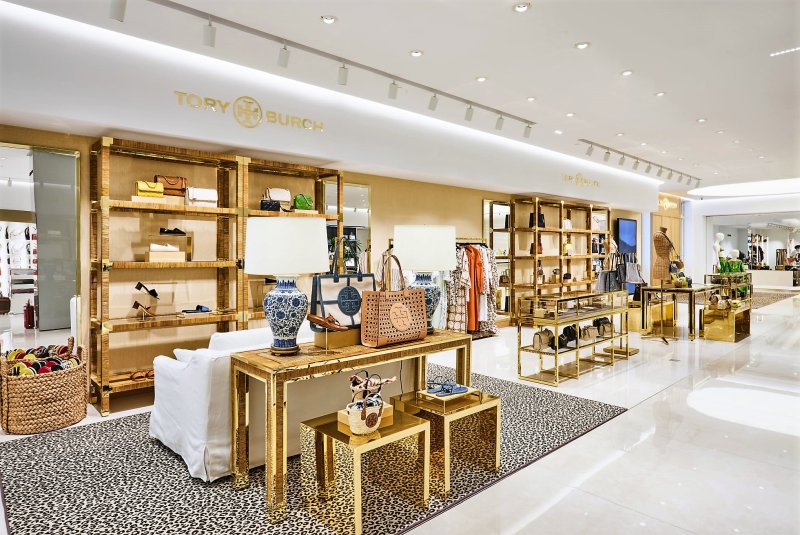 On the 6th floor, lies a cozy café-restaurant ideal for a pitstop before you hit the streets again in search of Athens' landmarks.
Athens Mall in Marousi
The Mall Athens is the second most popular department store in Athens and is a favorite among locals.
Located close to Nerantziotissa station in Marousi, the Athens Mall is around 20 minutes from the city center by train.
Its 4 levels host shops for all styles, ages, and budgets attracting Athenians from different areas around the city.
Athens Heart Mall
Athens Heart Mall features 4 floors full of clothing shops, bookstores, toy shops, you name it.
It's located on Pireos street, close to the city center, and is easily accessible by means of public transportation.
Some of the brands you'll find in Athens Heart Mall are Adidas, United Colors of Benetton, and H&M.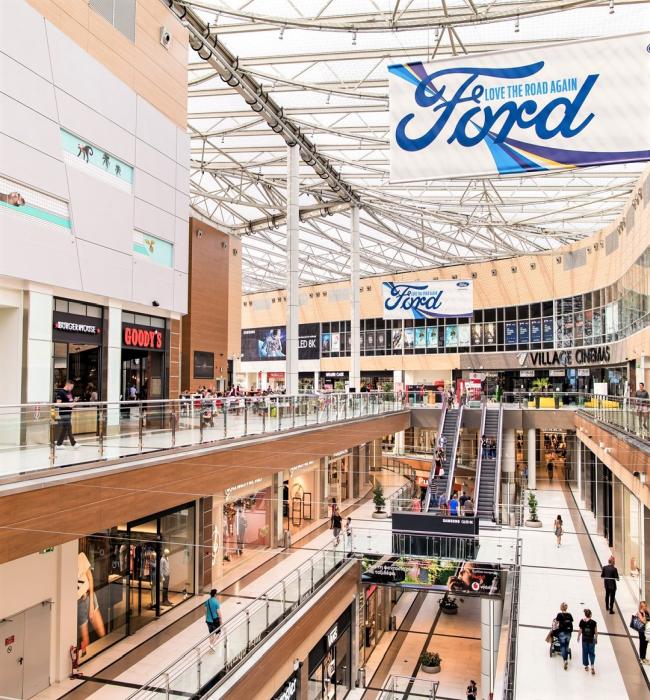 Athens Golden Hall
Athens Golden Hall is located just a few minutes away from Athens Mall in Marousi.

What makes it different from its counterpart is the fact that the shops of Athens Golden Hall are selling almost exclusively clothes, accessories, and other products of upscale premium brands. An excellent choice if you're looking for some luxury shopping in Athens.
Here you will also find a few coffee houses and high-end restaurants to give you a few moments of relaxation if you want to take a break from your shopping spree.
Shopping Malls are best for shopping: clothes of all kinds, affordable clothes, shoes and accessories, jewelry, electronics, gadgets, books, art, furniture, and home decor.
Second-Hand Stores
Over the past few years, stylish second-hand stores keep appearing in Athens' city center adding their unique touch to the already fascinating shopping scene.
Guadeloupe and Like Yesterday's in Protogenous street in the area of Psirri, are two of the most popular second-hand clothing shops and chances are you'll come across them if you're roaming around the city center.
In a short walk from here, on 120 Ermou street, you'll find Kilo-Shop, another renowned vintage shop that has clothes and accessories that are from the '50s until the '90s.
However, the city's oldest second-hand clothing shop is located in the Exarchia neighborhood.
Yesterday's Bread is known for its funky collections of clothes, accessories, and shoes that come directly from the Netherlands.
Second-hand stores are best for shopping: affordable clothes and accessories, vintage clothing, art, handicrafts, souvenirs, music records, and memorabilia.
Glyfada
If your accommodation lies in the Athenian Riviera or you're just visiting Athens' seaside area and you're in the mood for shopping in Athens, the area of Glyfada is the place to look for.
Trendy shops, deluxe beauty salons, and spas, as well as upscale boutiques, found nowhere else in the city, comprise the district's shopping scene.
Grigoriou Lambraki street is known for featuring international and Greek designers' boutiques as well as jewelry shops.
Some of the most renowned stores found in Glyfada's streets are Soho-Soho, Boutique 52, and A La Mode.
Glyfada is best for shopping: high-end clothing, shoes and accessories, art, furniture, and home decor.
Aiolou and Agios Markos Streets
Aiolou and Agios Markos Streets are two pedestrianized streets spanning in the heart of the city center nearby Monastiraki station.
Don't expect to find international brands and stylish boutiques here. Instead, you'll discover small local shops selling fabrics, curtains, and sewing items to cheap clothes, bags, and accessories.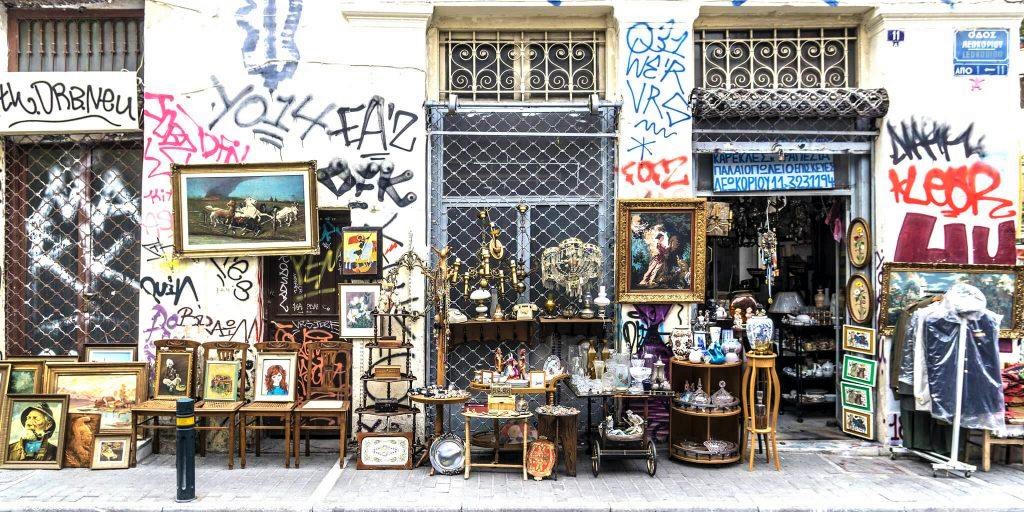 Even though you might not find something to buy, it is worth taking a stroll and take a taste of an authentic Athenian shopping street.
Aiolou and Agios Markos Streets are best for shopping: traditional Greek products, affordable clothing, shoes and accessories, spices, and herbs.
Exarchia
Even though Exarchia is best known for being a popular nightlife area that brims with bars, pubs, after-hour clubs and street food joints, it's actually a great shopping spot if you're looking for more niche products or small local shops with an artistic flair.
In the labyrinthine streets of Exarchia, you'll find tiny thrift shops, numerous record stores (which are quite hard to find elsewhere in Athens), musical instruments shops, hip clothing stores and small shops with homemade artifacts, art, paintings, and all kinds of knick-knacks.
Exarchia is best for shopping: music records and CDs, art, handicrafts, vintage clothing, musical instruments. Psirri, Athinas Street and Evripidou Street.
Psirri, Athinas Street and Evripidou Street
Located just a few steps away from Monastiraki Square and the famous Ermou Street, both the area of Psirri and the streets called Athinas and Evripidou offer an altogether different shopping experience.
If you're out for shopping in Athens and you're looking for something more authentic than the cookie-cutter "I love Athens" t-shirts and factory-made gift baskets, these are the places to be.
Make sure to pay a visit to the traditional Varvakeios Market and the Athens Central Market (also known as Dimotiki Agora); you'll discover a foodie's paradise.
Fill up on spices, herbs, cold-cut meats, and cheese and bring a touch of Greek cuisine to your cooking at home.
Has your mouth started watering? How about checking out what the most famous local products of Athens are to prepare your shopping list accordingly?
Psirri, Athinas Street, and Evripidou Street are best for shopping: spices, herbs, Greek traditional products, edible souvenirs, ouzo, and other alcoholic drinks.
Plaka and Thission
Let's go back to the classics.
Whichever area you choose for shopping in Athens -or otherwise- there's no chance you won't find yourself walking through the pedestrian streets of Plaka and Thission.
In Plaka, you'll get the chance to discover numerous tiny shops filled with souvenirs and memorabilia including the trademark white statuettes modeled after ancient Greek statues standing next to tall bottles of virgin olive oil and ouzo.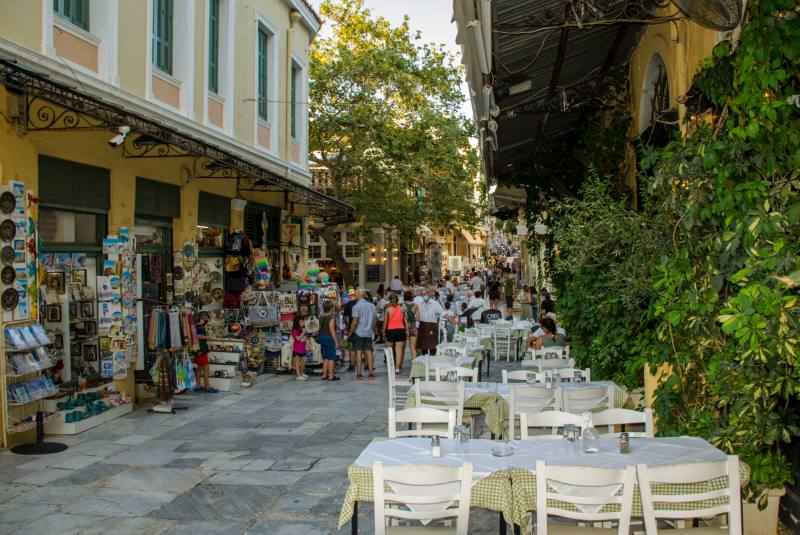 When you're done shopping, take a break at one of the charming alfresco cafes and admire the neoclassical buildings of the neighborhood.
On the other hand, in Thission, you'll be able to do all your shopping on the street while marveling at the view of the Acropolis.
The main pedestrian street of Thission is full of street vendors selling handmade art, paintings, jewelry, handbags, and imaginative souvenirs.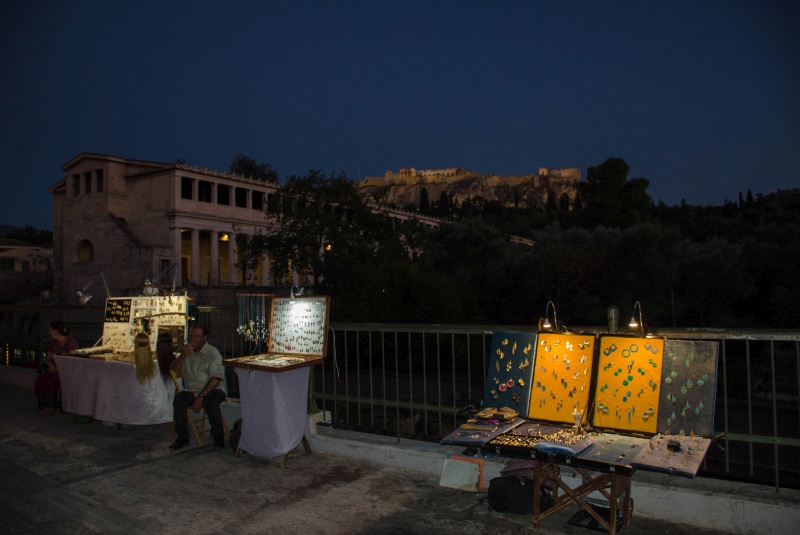 Overall, both Plaka and Thission are excellent for souvenir shopping if you're looking for some quirky gifts for your friends back home.
Plaka and Thission are best for shopping: souvenirs, home decor, edible souvenirs, handbags, wallets, art, handicrafts, and jewelry.
Kifissia
Kifissia might be a bit far from the main shopping streets of the city center of Athens, but it's definitely worth a spot on your shopping in Athens itinerary.
This upscale area is located in the northern suburbs of the capital and has rightfully earned a reputation as one of the most exclusive neighborhoods of the city.
Kifissia brims with high-end clothing boutiques, designer stores, and chic bistros that will make the trip to the outskirts of the city worth your while.
The best part is that all these stores are found on pedestrian streets that run beside lush inviting green parks.
After you're done with all your shopping, make sure to enjoy an artisanal cafe or a meal at one of the famous high-end restaurants for the ultimate shopping experience in Athens.
Kifissia is best for shopping: high-end fashion, luxury brand clothes, shoes and accessories, home decor, and art.
Opening Hours of Stores, Shopping Malls and Shops in Athens
Before heading out for a shopping day in Athens, you need to know that the opening hours of businesses in Athens may differ greatly depending on the area and type of store.
You can find some useful information regarding the opening times of shops in Athens below.
However, we recommend that you check the websites of the shops you are interested in to make sure you won't be disappointed upon getting there.
In general, most shops and stores in the city center of Athens open at 9 am and close at 3 pm on Mondays, Wednesdays and Saturdays. On the rest of the weekdays, they remain open from 9 am until 2 pm in the morning and then reopen from 5 pm until 9 pm in the evening. All shops are closed on Sundays with the exceptions of a few Sundays per year when the annual sales take place.

Shops and stores that are located in famous tourist areas like Plaka, Thission, Monastiraki and Syntagma are commonly open from 9 am to 9pm on weekdays and from 9 am to 5 pm on Saturdays. They are also open on Sundays from 9 am to around 9 pm all year round.

Shopping Malls in Athens typically remain open from 9 am to 9 pm on weekdays and from 9 am to 5 pm on Saturdays. Like the rest of the stores, they are usually open during seasonal holidays on Sundays.

Street vendors in Athens -naturally- have no fixed opening hours but you will typically see them set up shop around 9 am and close down at approximately 7 or 8 pm.

Seasonal sales in Greece take place a few times a year with the exact dates varying every year. Winter sales usually take place during the first ten days of November and during the second half of January and the first half of February. Summer sales usually take place in the first ten days of May and during the second half of July and the first half of August.

Restaurants and cafes in Athens have different opening hours from shops and stores. In most cases, you'll see cafes opening around 8 am and closing around 9 pm, while restaurants open around 12 pm and close around 1 am. Of course, it's not uncommon for restaurants and tavernas (especially those that have live music) that are located in the tourist areas in the city center to remain open later than 1 am.
In essence, though underrated, shopping in Athens is a unique experience in its own right. We get it. Visiting the Acropolis Museum, the Parthenon and all the other famous attractions will always be on the top of your list.
Still, we urge you to save a few hours of your trip for strolling around and shopping in Athens.
Discovering a city's shopping scene is always an interesting experience not only because you can find memorabilia that will always remind you of your trip but also because you discover a part of a city's culture.
Athens has a variety of shopping centers spread in different neighborhoods and each one of them has its own character.
Find the one or more that suits your style best and enjoy a day of shopping in the Greek capital.
A Quick Reminder:
Remember that Athens By Locals is here to guide you with planning the perfect trip to Athens and help you every step along the way. If you didn't found what you're looking for, or need any recommendations about your trip to Athens, feel free to contact us and we will do our best to help you. Please be as more detailed as possible regarding your subject so as to help you better.
If you like what you read please scroll down at the end of this page and subscribe to Athens By Locals so next time to receive more articles like this straight forward to your email. Join us on Facebook for comments, photos, and other fun stuff. If you enjoy this article please share it with your friends on Facebook.