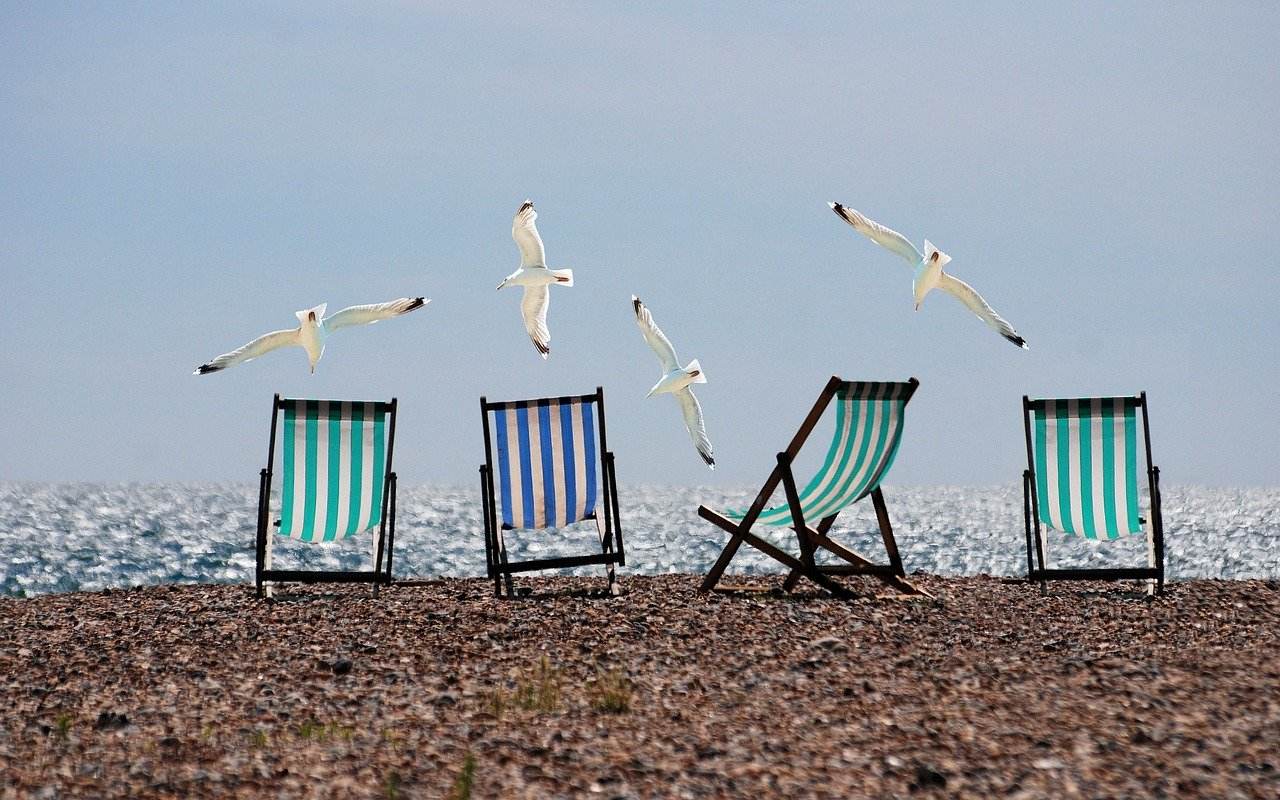 The 10 Best Beaches in Athens
Last Updated on: February 15, 2021
Please read first:
Please bear in mind that due to Covid-19 the information that we present in our articles regarding the timetables of public transportation, hotels, restaurants, etc. may be subject to change. We highly advise you to double-check before proceeding with any bookings. Rest assured that we here at Athens By Locals are doing our best to keep up with these turbulent times and provide you with up-to-date travel information. Do not hesitate to reach out for any questions, we'll be more than happy to help!
What are the 10 best beaches in Athens? Just a few kilometers south of Athens' city center, spans a breathtaking coastline ideal for a refreshing dip during the hot summer months.
Lined up with resorts, nightclubs, and organized beaches, Attica's western coastline which stretches from Faliro to Sounio, the southernmost tip of the Attic peninsula, has become known as the Athenian Riviera.
Whether you'll decide to explore the southern suburbs or head to the peninsula's eastern coastline you'll discover numerous sandy beaches with crystal clear waters where locals and tourists head for a short break from the city's noise.
So, here is our rundown of the 10 best beaches in Athens, Greece!
Edem beach in Palio Faliro – Alimos
Edem is the first beach you'll come across during your visit to the Athenian Riviera.
Due to its proximity to the city center and the fact that it is easily accessible by tram, the sandy beach is usually crowded from June to August. Unlike other beaches in the Athenian Riviera, Edem isn't an organized beach and doesn't have an entrance fee.
It isn't the most exotic beach you'll find around Athens, but its great location and clean waters make it a great choice for a quick swim.
Astir Beach in Vouliagmeni
If you want to give yourself a special treat, Astir Beach in Vouliagmeni is the place to look for.
Known as one of the most luxurious organized beaches in Athens, Astir lures the city's upscale crowd. Comfortable sun lounges, a stylish beach bar with modern cabanas, and a classy restaurant situated right by the waterfront are some of the things you'll find at the high-end beach.
If you want to enjoy Astir's amenities and high-quality services you have to pay a fee that differs depending on the time of the year.
The highest price is €25 on the weekdays and €40 on the weekends during the peak season (01.07-31.08) and the lowest is €6 during the winter season.
Varkiza Resort in Varkiza
In the heart of the Varkiza area lies the beach park Varkiza Resort formerly known as Yabanaki Beach.
Aside from sun lounges and umbrellas, the organized beach offers a wide range of activities such as beach tennis, beach volley, free aqua aerobic classes, water sports including windsurfing, and water skiing as well as beauty and spa treatments.
On weekdays the entrance fee is €5 including a sun lounge while on the weekends you'll have to pay €6 plus €5 for a sun lounge.
The sandy beach is ideal for families with kids as well as for sports enthusiasts.
Lagonissi Beach
Further down the Attic peninsula, you'll find Lagonissi.
Whether you choose to hit Grand Beach and enjoy the amenities Grand Resort Lagonisi Athens (check it on Booking.com) has to offer or set your beach towel on the less crowded Kalivia beach, the area's cerulean waters are bound to enchant you.
You'll find plenty of choices for a traditional meal or a refreshing juice by the sea.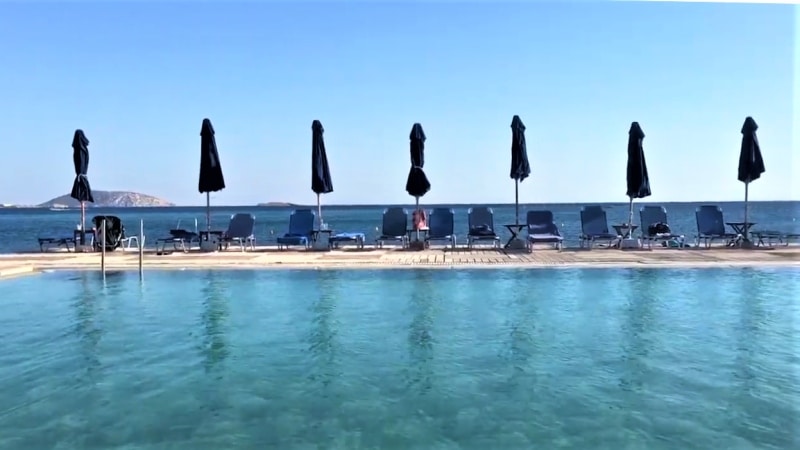 Sounion Beach
Widely known for being home to the Temple of Poseidon, Sounion is one of the most popular areas around Athens.
With the ancient temple proudly standing atop the cliff of Cape Sounion surrounded by the sea, the landscape here is mesmerizing.
The small beach nestled at the feet of the cliff is an ideal choice for soaking up the sun and cooling off from the summer heat.
There are more beaches around Sounion some of which feature umbrellas and sun lounges while there are numerous local taverns serving local delicacies.
It is even possible to combine your day at the beach with a tour in the temple of Poseidon (check here how to get there from Athens).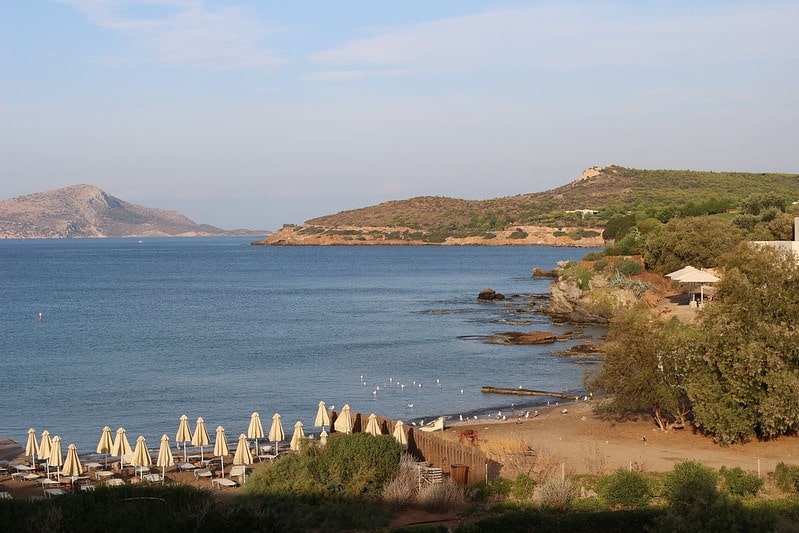 Legrena Beach
Legrena is one of the less-known beaches in the Athenian Riviera and therefore it's rarely crowded.
With its majestic emerald waters and the white sand beaches which are lined up with trees, the southeastern Athenian suburb boasts a scenery similar to what you'll find on an Ionian island.
There aren't fancy resorts and stylish cafés here so this is the ultimate place for those eager to explore the unspoiled side of Athens away from the tourist crowds.
Limanakia beach in Vouliagmeni
Limanakia is a series of coves along the road leading from Vouliagmeni to Varkiza.
The scenic inlets are surrounded by rocky formations which in combination with Saronic Gulf's turquoise waters compose the captivating scenery.
The small picturesque covers offer great photo opportunities and they're one of the most popular Instagrammable places in the Athenian Riviera.
There aren't any cafés and taverns here only Lefteri's canteen which serves coffee and other ice-chilled beverages.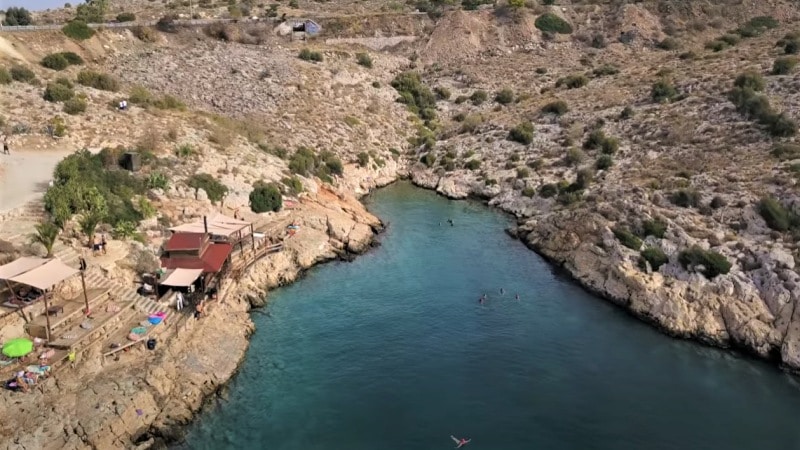 Kavouri Beach
Kavouri is a coastal region in the area of Vouliagmeni.
The two main beaches, Mikro Kavouri and Megalo Kavouri are covered in golden sand and due to their shallow waters are particularly popular among families with kids.
In Kavouri there are both organized beaches with sunbeds and umbrellas as well as beaches with free entrance.
As there are many hotels and resorts in the area, (check some of them on Booking.com), the beaches can get jam-packed during the summer months but if you don't mind doing the extra mile you'll find several less crowded coves.
Schinias Beach
Around 45 kilometers northeastern from Athens' city center and close to Marathon, lies Schinias, one of the locals' most favorite seaside areas.
Schinias boasts an around 3-kilometers long sandy beach which is lined up with pine trees and is known for its shallow crystal clear waters.
There aren't so many restaurants, hotels or cafés here but you'll still be able to find some places to buy some snacks and refreshments.
Porto Rafti Beach
Another seaside area locals love to visit in the summertime is Porto Rafti.
Situated on the western coast of the Attica peninsula and around 35 kilometers from the city center, Porto Rafti is within easy reach.
The most popular beach in the region is Erotospilia which translates to Love Cove and is a small inlet with emerald green waters.
As it's a small beach it gets easily packed but it is worth trying your luck before heading to the area's organized beach, Avlaki.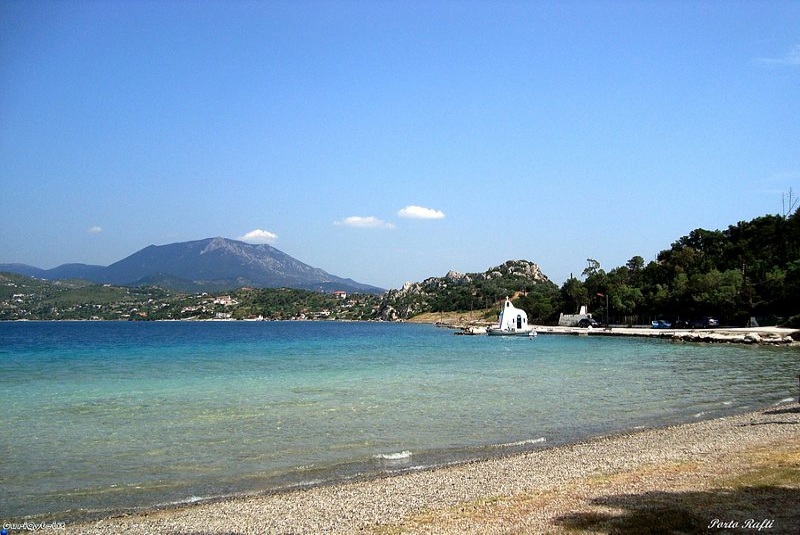 The Attic peninsula offers endless choices for those moments you want to take a break from sightseeing and explore the city's natural sites.
Whether you're into fancy organized beaches where upbeat music comes from the speakers all day long or want to enjoy a peaceful day by the sea, these are the 10 best beaches in Athens you should look out for.
A Quick Reminder:
Remember that Athens By Locals is here to guide you with planning the perfect trip to Athens and help you every step along the way. If you didn't found what you're looking for, or need any recommendations about your trip to Athens, feel free to contact us and we will do our best to help you. Please be as more detailed as possible regarding your subject so as to help you better.
If you like what you read please scroll down at the end of this page and subscribe to Athens By Locals so next time to receive more articles like this straight forward to your email. Join us on Facebook for comments, photos, and other fun stuff. If you enjoy this article please share it with your friends on Facebook.