A Hidden Foodie Oasis: Visit the Athens Central Market
Last Updated on: August 5, 2021
Please read first:
Please bear in mind that due to Covid-19 the information that we present in our articles regarding the timetables of public transportation, hotels, restaurants, etc. may be subject to change. We highly advise you to double-check before proceeding with any bookings. Rest assured that we here at Athens By Locals are doing our best to keep up with these turbulent times and provide you with up-to-date travel information. Do not hesitate to reach out for any questions, we'll be more than happy to help!
Athens is certainly a lot more than just age-old monuments and a plethora of museums. So, if you need a break from touring historical sites, Athens Central Market is a definite place to visit! The busy central market of Athens (or as called by locals: "Varvakios", or "Dimotiki Agora") is a perfect demonstration of how the Athenians enjoy life and what the traditional side of Athens looks like.
The Central Market is filled with all kinds of exotic smells of food that a foodie's heart could ever desire in a colorful environment that makes for a one-of-a-kind experience.
The Dimotiki Agora also holds a rich historical significance, with vendors selling in this market for decades. The best part is that you actually don't even need an entry ticket for entering it!
Today, the Varvakios market has become one of the most popular tourist spots in Athens; people from throughout the world visit it and are left wonderstruck. They are astonished by the splendors of the market, which truly reflect the culture and vibrancy of the city of Athens itself.
If you are in Athens or planning to be there anytime soon, Athens Central Market is certainly a spot that deserves to be explored!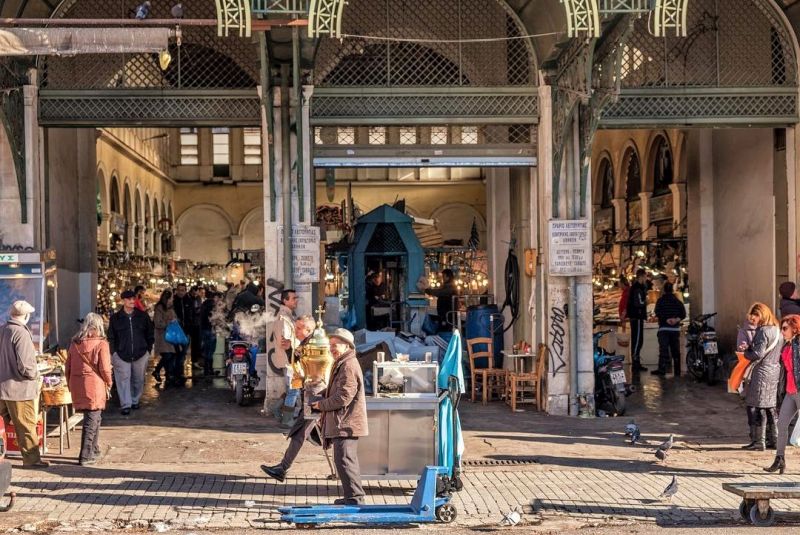 What's so special about the Athens Central Market?
Meat, Spices, Herb, tea, olives, dried fruits, nuts, and legumes; Athens Central Market has it all!
Vendors from across Athens, have been setting up stalls in the market for several decades, and are providing a diverse range of fresh and local food products to more than 30 thousand travelers and locals who pass by every day to sample local products, buy groceries and try out exciting new flavors.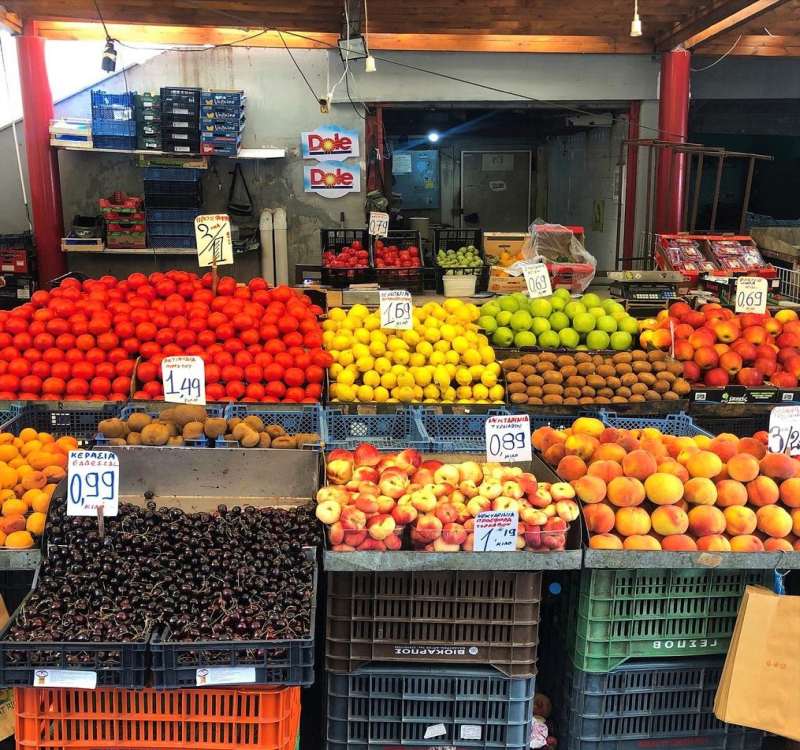 But the Athens Central Market offers much more than just local delicacies.

All the hustle and bustle of the people coming and going, the loud sales calls of the vendors, the sounds of butchers' blocks and fishermens' chopping boards, the sight of hundreds of different colorful products on display will guarantee an experience that you can't find anywhere else.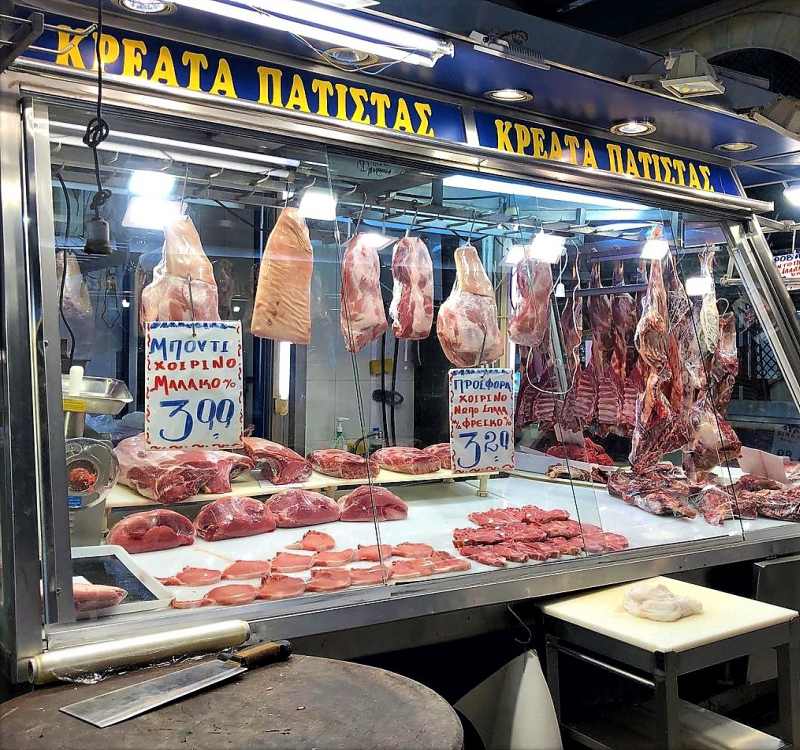 Stroll through the narrow rows between the vendor stalls, get some groceries, discover spices you never knew existed, or even get some edible souvenirs for your friends and family back home (remember it's ok to ask for small samples) such as the famous "Feta cheese" and fresh olives.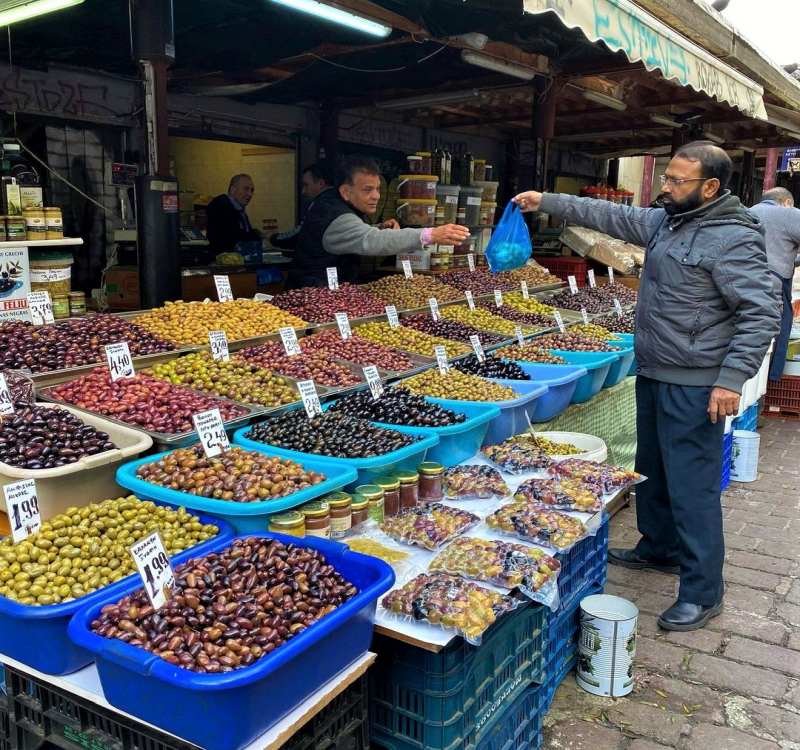 The best part is that everything you'll find here is actually very cheap. In fact, even though the Athens Central Market has gained a reputation as the busiest market in the city, it's also known as the most affordable one as well.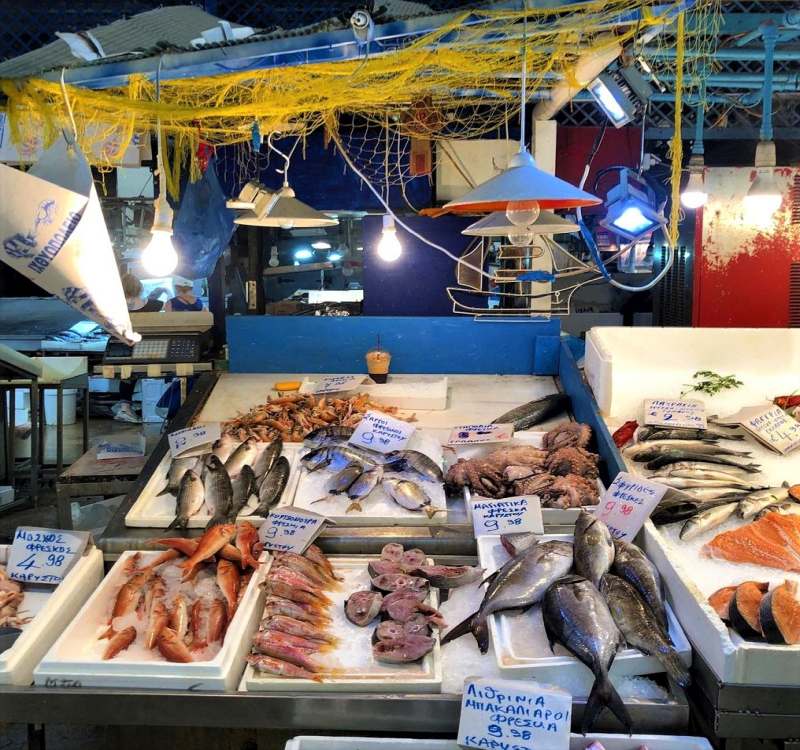 The Dimotiki Agora is especially spectacular during Christmas and Easter when locals are feverishly preparing for festive dinners and celebrations.
if you are looking for an alternative way to make a visit to Athens Central Market, check some options for a guided tour that we found for you on GetYourGuide.com! Discover Athens through its food culture! Enjoy authentic Greek food, visit traditional food stores and try mouth-watering Greek desserts!
What you can expect to find at the Athens Central Market
The Athens Central Market is home to more than 100 butchers' stalls, around 80 fresh fruit and vegetable stands, and more than 150 seafood stalls.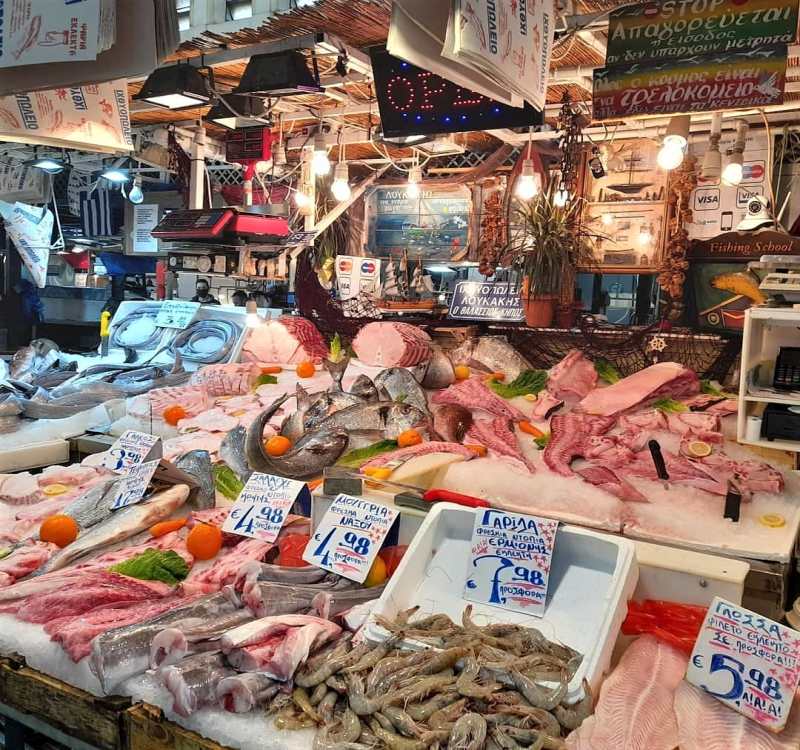 Each stand is tended to by at least 4 people who can be seen running around frantically to serve customers, restock their supplies and -of course- yell out their offers.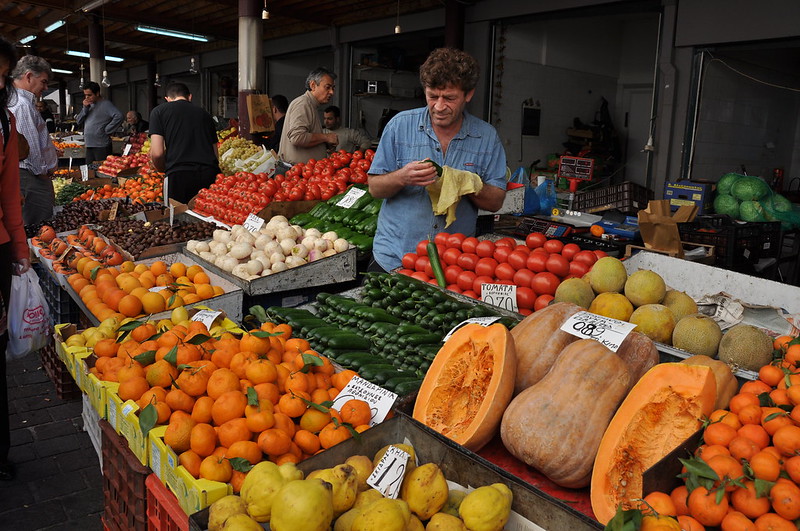 The halls of the market are quite narrow and the vendors work almost while brushing shoulders which gives the feeling that the market is a small unique village hidden in the heart of Athens.
Most businesses in the Athens Central Market are family-owned which also adds to the friendly atmosphere.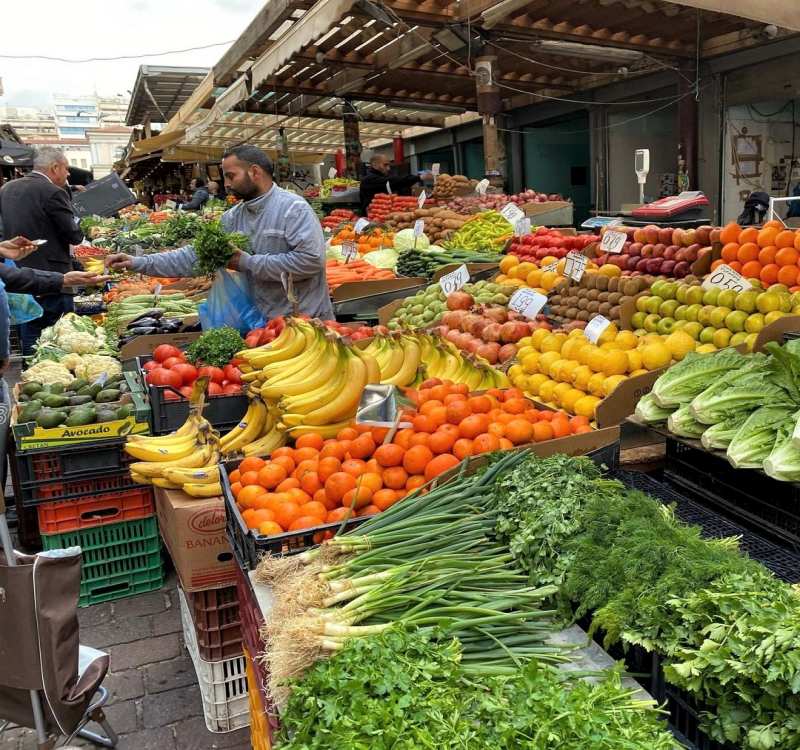 Fresh fish, spices, and vegetables are the first things you'll see when entering the Athens Central Market.
The most prominent section of the market is the sea-food section that offers a wide range of fisheries and catches of Mediterranean and Aegean including octopus, squid, and cuttlefish.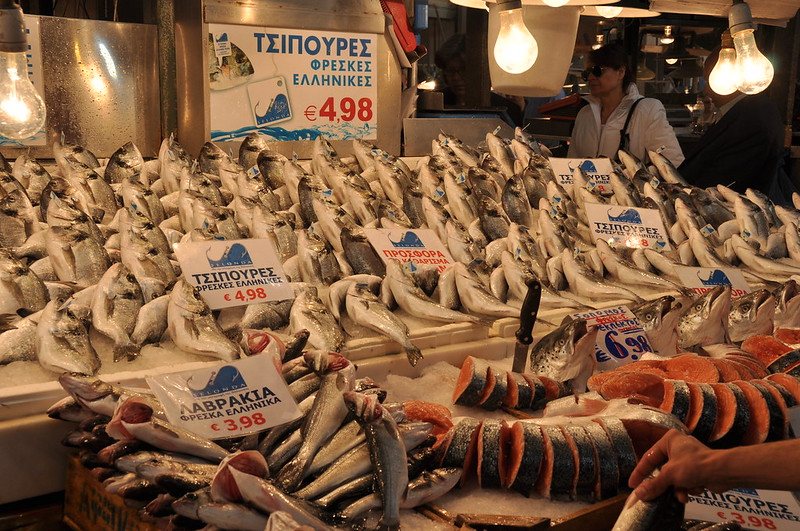 You will find the butchers' stalls at an adjacent building to the main hall that is connected by walkways.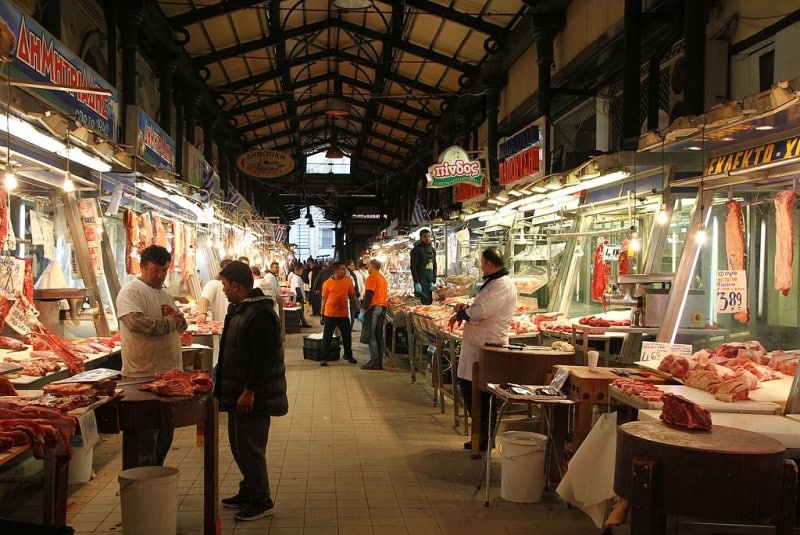 And that's not all. The Athens Central Market is also home to a few remarkable restaurants, ideal for quick pit stops away from the crowds.
The Restaurants of the Athens Central Market
The restaurants in and around the Athens Central Market are exceptional not only due to their unique location and atmosphere but also for the food they serve.
There's a high chance that the smell of one of their dishes will lure you in while walking around the market.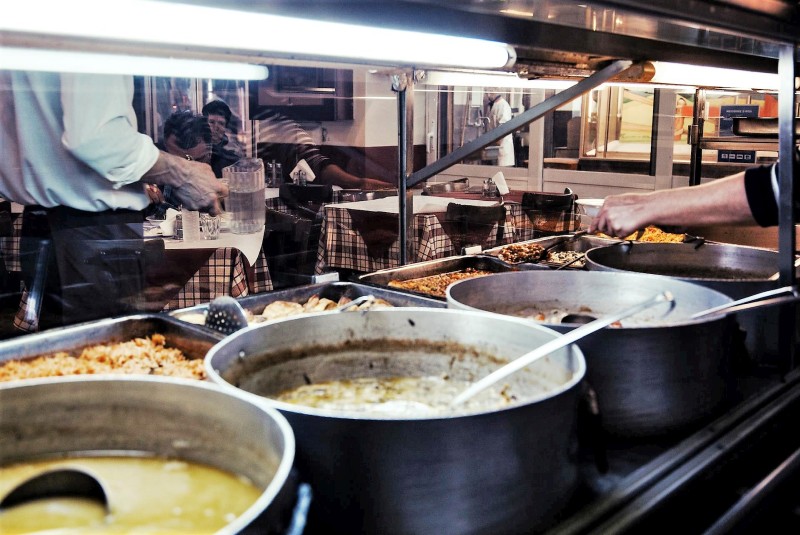 There are two restaurants to be found within the market as well as a "secret" underground restaurant in the basement of the vegetable market next to the olive stalls.
If you happen to visit any of them, don't be alarmed when a pitcher full of wine lands on your table without you asking for it; it's a custom that has been surviving for decades.
Make sure to pay a visit to "Karayiannis" for a few mezedes (the Greek equivalent of tapas) and the famous restaurant called Epirus that has gained international fame and has been visited by world-acclaimed chefs like Jamie Oliver and Anthony Bourdain.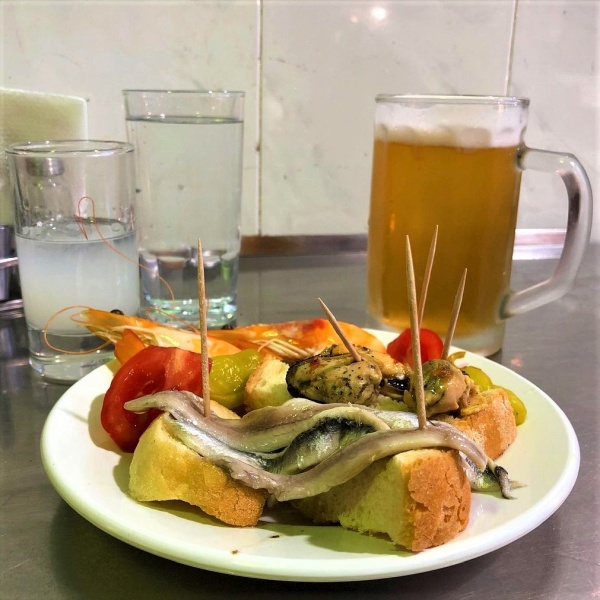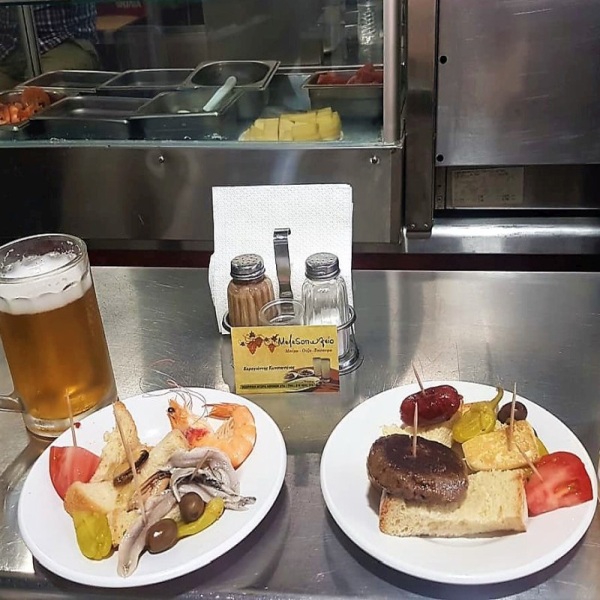 If you're feeling gastronomically adventurous, try out "Patsas", a local traditional soup that is made with the tripe (stomach lining) and feet of a pig or cow and accompanied by vinegar and chili flakes. Beware though! Patsas has a particularly strong meaty smell. We'd only recommend it to hardcore meat lovers.
A Brief History of the Athens Central Market
In order to trace the origins of the Athens Central Market, we have to go way back.
Hundreds of years ago, food merchants and vendors used to lay down their goods around the Ancient Agora in the shade of Acropolis Hill.
In 1875 however, the mayor of Athens, Panagis Kyriakos, decided that it was time to move the makeshift market indoors and ordered the construction of a neoclassical building that would open its doors ten years later with the name Varvakios Agora.
The market took its name after Ioannis Varvakis, a merchant and benefactor who fought in the Greek War of Independence.
The Athens Central Market underwent an extensive renovation just before the Olympic Games held in Athens in 2004 and since then it has been one of the most popular attractions of the city.
Where is Athens Central Market Located?
The Athens Central Market is located on Athinas Street, very close to the neighborhood of Psirri in downtown Athens.
It's between the squares of Omonia and Monastiraki and is very easily accessible. For more information, you can have a look at this map.
Athens Central Market (Varvakios) Opening Hours
The Dimotiki Agora opens every day except for Sundays and National Holidays, from 7 am – 3 pm (Although, some shops remain open late, up until 6 pm).
Therefore, it can be visited at any time in between. However, we would suggest visiting it in the early hours of the morning, before the heat intensifies.
How To Get To Athens Central Market
The Central Market of Athens is located in the heart of the city and is easily accessible both by metro and by foot.
The easiest way to get there is by taking the metro and getting off at Monastiraki Station (green and blue line) or Omonoia Station (green and red line).
Then, getting to the Athens Central Market on foot takes approximately 20 minutes from Omonoia Square and about 10 minutes from Monastiraki Square.
Alternatively, you can always take a taxi. A ride of fewer than 10 minutes through downtown Athens would cost less than 10 euros and you can get off directly at the market's entrance.
Insider Tips for Visiting the Athens Central Market
The floor in the market, especially in the sea-food hall, is usually very slimy. Make sure to wear solid shoes or boots with a good grip. Slippery footwear such as sandals or flip-flops should be avoided at all costs.
If you are accompanying small children that could be (or if you are) uncomfortable around raw meat, consider carrying a mask with you, as it gets very smelly particularly in the meat section. Also, keep in mind that you are most likely to see some live butchering displays in the market's meat section.
It's ideal to visit Athens Central Market, in the early hours of the day as unlike other markets, most of the vendors wrap up by late afternoon.
Visiting early in the day is also a good idea because the market tends to get very crowded and hot, especially during the rush hour of the summer months.
In conclusion, the Dimotiki Agora or the Athens Central Market offers much more than just an opportunity to shop or go souvenir hunting.
It's a place where you can experience Athenian culture like a true local wrapped in a cloak of bright and exotic colors, flavors, and aromas.
A Quick Reminder:
Remember that Athens By Locals is here to guide you with planning the perfect trip to Athens and help you every step along the way. If you didn't found what you're looking for, or need any recommendations about your trip to Athens, feel free to contact us and we will do our best to help you. Please be as more detailed as possible regarding your subject so as to help you better.
If you like what you read please scroll down at the end of this page and subscribe to Athens By Locals so next time to receive more articles like this straight forward to your email. Join us on Facebook for comments, photos, and other fun stuff. If you enjoy this article please share it with your friends on Facebook.