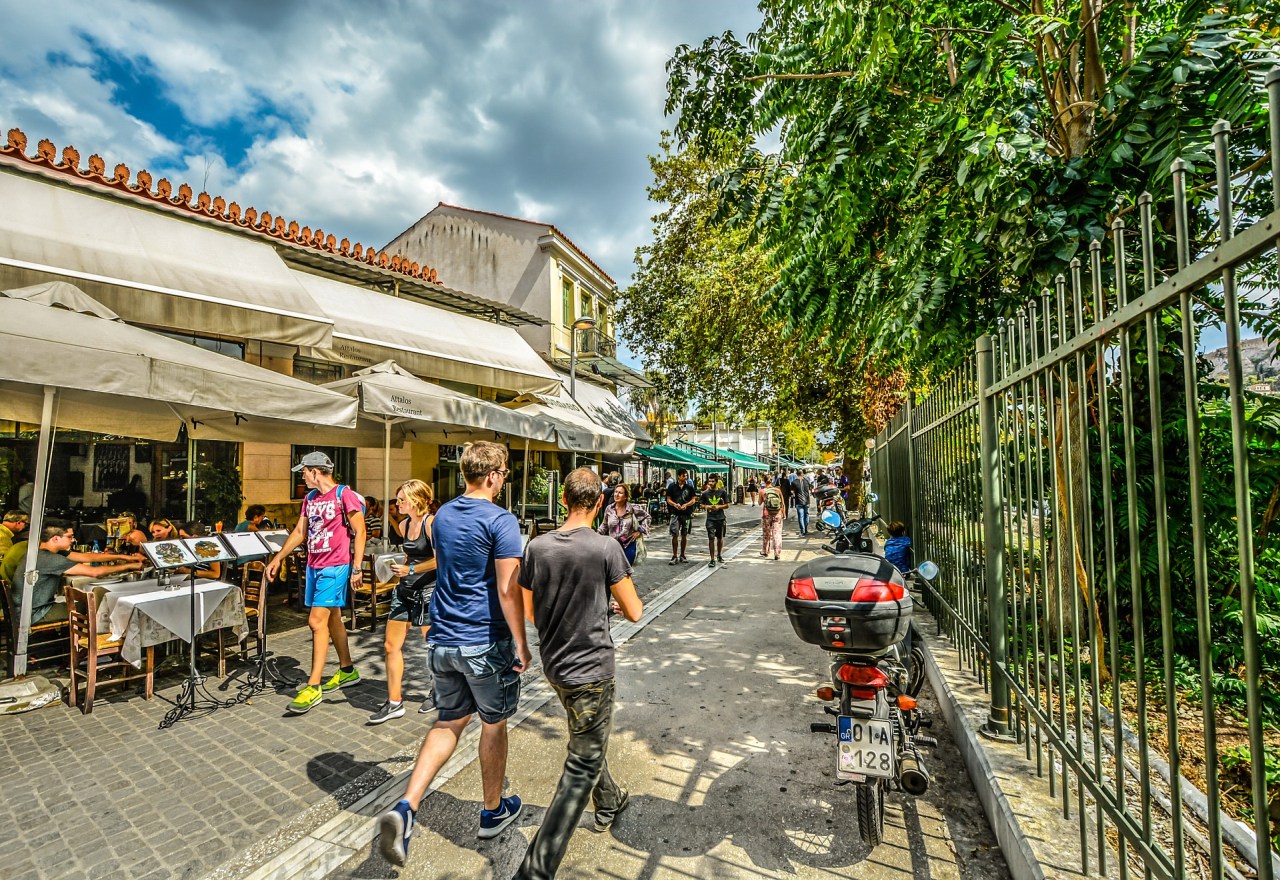 The Ultimate Itinerary for Spending One Day in Athens
Last Updated on: July 2, 2021
Please read first:
Please bear in mind that due to Covid-19 the information that we present in our articles regarding the timetables of public transportation, hotels, restaurants, etc. may be subject to change. We highly advise you to double-check before proceeding with any bookings. Rest assured that we here at Athens By Locals are doing our best to keep up with these turbulent times and provide you with up-to-date travel information. Do not hesitate to reach out for any questions, we'll be more than happy to help!
What is the best way to spend one day in Athens? This question has come up more times than any other by travelers that want to visit Athens for the first time. Answering has never been an easy task but, in this article, we'll do our best to plan the perfect day in Athens for your maiden voyage to Greece.

Athens is a city full of contrasts, home to several museums and ancient sites as well as touristy and underground neighborhoods. However, many travelers choose to spend only one day in the Greek capital before heading to the magical islands. And even though 24-hours in Athens isn't long enough to properly see this diverse city if you spend every minute here wisely you'll get a proper taste.
Follow our itinerary for spending one day in Athens and we bet you'll be back here sooner than you think.
Visit the Acropolis of Athens in the Morning (8.30 am – 11 am)
Start your day in Athens with a visit to the Acropolis, Athens' sacred rock. See the Greek world-class landmarks that date to the 5th century BC including the Parthenon, the Erechtheion, and the Propylaia.
Continue your exploration into ancient Greece's civilization at the Acropolis Museum. It's located within a 10-minute walk and it displays artifacts and statues excavated from the slopes of the Acropolis.
Follow the scenic Dionisiou Aeropagitou street to reach the Acropolis Museum. The route will reward you and before you'll know it you'll be entering a high-class museum.
A tour of the Acropolis and the Acropolis Museum is a must when in Athens! Check some great options we found for you on GetYourGuide.com
Get a First Taste of Greek Gastronomy at Noon (11 am – 1 pm)
Now, that you've taken the first taste of Athens, it's a good time to take a break and have your first culinary experience in the city. Besides, it's brunch time.

The vibrant neighborhood of Koukaki is located around 1 kilometer from the Acropolis Museum and it takes around a 10-minute walk to get to its most busy district, Veikou street. Choose one of the numerous places here or walk a bit further and enjoy a filling dish at Bel-Ray.

Once you've recharged your batteries take a walk around the neighborhood and grab the metro or a bus from Sygrou-Fix station with direction to Syntagma square.
If you choose to take a bus on the way to Syntagma you'll come across the Columns of the Olympian Zeus.
Visit Syntagma Square and see the Evzones Guards (1 pm – 3 pm)
In less than 10 minutes you'll be standing in front of the Hellenic Parliament on Syntagma square, a place soaked in history. Watch the Evzones in their distinctive uniforms guarding the parliament.
From here you can either choose to take a walk in the National Garden where you'll also find the Zappeion Hall or head to Benaki Museum.
In any case, your next stop for lunch should be in Monastiraki. In order to get here head back to Syntagma square and take the metro, or walk along Ermou, Athens' popular shopping street.
Lunch Time at Monastiraki in the Afternoon (3 pm – 5 pm)
If it's your first time in Greece, you probably don't know that, in contrast to the rest of Europe, locals usually have lunch late in the afternoon, especially during summertime when it's too hot to move around the city for a few hours
The area around Monastiraki square brims with restaurants and local taverns of all kinds. Even though, many of them are super touristy if you dive into the area's hidden alleys you'll find many choices.
For high-quality seafood dishes head to Atlantikos in Avliton street, for traditional dishes look for Kuzina in Adrianou street while for a more refined dining experience search for Fouar in Hristopoulou street.
The more you leave the area's central streets behind the higher the chances to discover the city's hidden gems. Don't be afraid to get lost as it is part of the magic of exploring the city center.
Explore the Picturesque Neighborhoods of Athens (5 pm – 7 pm)
Even though you're still in the heart of the city center you'll feel like you're miles away. And if you're actually heading to a Greek island you'll have taken a first taste of the scenery.
As you can understand, a guided tour in Plaka is strongly recommended. We suggest you click on our tours and tickets page, scroll down to the sightseeing section, and select the one that is best for you!
Go Souvenir Hunting in the Evening (7 pm – 9 pm)
Finish your evening walk in Athens' historic center at Thissio. It will take you around 15 minutes to get there on foot but the route is magnificent and the destination will reward you.
Take a stroll along Apostolou Pavlou street and rummage at the numerous stands selling all kinds of stuff. Especially, if you're visiting Athens in the summertime, you'll find everything from used cameras and other electronic devices to jewelry, accessories, and art paintings.
Weather permitted, (check some info about the Athens weather) grab a table at the cafes' outdoor areas or at Thissio View rooftop terrace and indulge in a refreshment while enjoying the view of the Acropolis.
Dive Into the Lively Athenian Nightlife (9 pm – 11 pm)
Visiting Athens and not experiencing its vibrant nightlife would be an oversight. And Thissio lies close to two of the city's most lively nightlife areas: Gazi and Psirri.
Deciding which one you'll choose is entirely up to you but both places have an abundance of bars and nightclubs.
Psirri, which is situated close to Monastiraki square is around one kilometer from Thissio. You can get there either on foot via Ermou street or by train from Thissio station. Read here about how to get around Athens.
Here you'll find a mixed crowd of locals and tourists of all ages. Choose one of the hip bars such as Tranzistor or a local tavern serving the traditional raki accompanied with meze.
If however, you prefer to see another part of the city head to Gazi.
This district is accessible both on foot (a 15-minute walk) or by taking the train from Thissio station and changing to the blue line at Monastiraki station.
This area is known as Athens' gay-friendly area and is home to a great number of nightclubs. There are plenty of bars though, for a relaxed drink and some of them even feature a rooftop terrace.
Top Things to Do in Athens in One Day
Maybe you have already visited some of the places we have mentioned above, or maybe the charms of Athens have made you change your plans to stay a few days more in the city. In any case, we are going to list some of the top things to do in Athens below so that you never run out of ideas – even if you are only visiting Athens for one day.
The Athens Riviera
Yes. Athens actually has beaches! No need to travel all the way to the islands to get a suntan by the water. Just head on down to the Athenian Riviera and spend a relaxing day by the sea, get the chance to sample some fresh seafood, and explore Vouliagmeni Lake, one of the hidden gems of Athens.
Check out our complete guide to the Athenian Riviera right below.
The National Archaeological Museum
This one is for all the history buffs reading this article. Sure, the Acropolis Museum might be the most famous museum in Athens but if you want to learn more about the city's rich history and cultural heritage, a visit to the National Archaeological Museum is a must.

Are you interested in museums? You're in luck! We have put together the most extensive list of museums in Athens in a single article. Check it out.
Philopappos Hill
If walking outdoors and enjoying great panoramic views of the city is what you are after, then Philopappos Hill is definitely the place for you. The best part is that this green space lies hidden in the city center of Athens just a few minutes away from the Acropolis Museum.

If you're an outdoor type, you'll certainly enjoy this article with the best outdoor places in Athens.
Stavros Niarchos Foundation Cultural Center
The ultramodern cultural center is home to the National Library of Greece and the Greek National Opera as well as a few amazing parks and an artificial seawater canal that runs through them. All in all, an excellent choice for a day out with the family.

Read our complete guide to the Stavros Niarchos Foundation Cultural Center right below.
Akadimia Platonos (Plato's Academy)
Akadimia Platonos is one of the lesser-known gems of Athens. It's the erstwhile home of Plato's Academy that was founded around 380 BC. Today, on the same spot you can find a small digital museum and an archaeological park that has become a favorite hangout for locals.

Want to drift off the beaten track? These are the secret attractions of Athens you won't hear about anywhere else.
Odeon of Herodes Atticus
Built in 161 AD and still standing seemingly unaffected by the course of time, this majestic monument is a must-include in your one-day in Athens itinerary.

The theater of the Odeon of Herodes Atticus often hosts concerts, theatrical plays, and other events that will make for a once-in-a-lifetime experience.
Panathenaic Stadium
Time to play Olympic track star. Where else in the world would you get the chance to run on the actual tracks of a celebrated ancient stadium that used to host the Olympic Games? Include the Panathenaic Stadium to your to-see list and get some insight into the culture of Athens and some exercise at the same time.
The Temple of Olympian Zeus and The Arch of Hadrian
Both of these attractions will urge you to take the camera out of your bag and start snapping. The Temple of the Olympian Zeus is a millennia-old monument dedicated to Zeus that used to be the largest temple of the ancient world. The Arch of Hadrian is a majestic triumphal arch that stands tall as a reminder of the city's past in downtown Athens.

Want to learn more? We have this article at the ready just for you.
The Dimotiki Agora: Athens Central Market
No, we have not forgotten all about our foodie readers. Our suggestion for you is the Athens Central Market where you can enjoy local delicacies and buy some local products to take with you back home. All while getting a real feel of what everyday life in Athens looks like.

You can find more details on how to get to the Athens Central Market and what you'll find there on this guide.
The Archaeological Site of Kerameikos
The Archaeological Site of Kerameikos combines sightseeing, culture, and amazing views of the Acropolis and the Parthenon. Here you'll find the ancient cemetery of Kerameikos, the archaeological Museum of Kerameikos, and the Benaki Museum of Islamic Art all in one place.

If this all sounds too confusing, take a look at our special guide for the site of Kerameikos right below.
Where to Stay in Athens if you are Visiting for One Day
So you're visiting Athens only for one day. You might be thinking that your accommodation is not going to be the most important part of your trip since it will only be a night.

However, choosing the right hotel will be crucial for your sightseeing plans if you really want to fit a few of the options above in a single day. Most importantly, the hotel's location will be key to having a perfect day in Athens.

We recommend that you only opt for hotels that are located in the city center and preferably in the areas of Syntagma, Monastiraki, Psirri, Koukaki, or Thission.
Now, we know that choosing the right hotel is one of the most tedious tasks of travel planning. That's exactly why we have carefully examined and selected a few accommodation options to list in this article.

As far as budget-friendly hotels in Athens go, your options are far from limited. Start by having a look at the three-star Arethusa Hotel for a comfortable stay near Syntagma Square. Check the Arethusa Hotel on Booking.com

A few meters away, there's also Amalia Hotel that combines an excellent location with comfortable modern rooms. See the Amalia Hotel on Booking.com

Finally, Acropolis Select, which is located near the Museum of Acropolis, offers more than the basic amenities and is definitely worth a look. Check it on Booking.com

Mid-range hotels in Athens are probably the best option if you want to combine a great location and a comfortable stay at an affordable rate.

Before anything, we recommend booking with Attalos Hotel which is widely regarded as one of the best value-for-money hotels in the city. Attalos Hotel is a great choice, see it on Booking.com

Alternatively, book your stay with Elia Ermou Athens Hotel that is located only a breath away from the Acropolis Museum. Not to miss, check it on Booking.com

If you can't imagine spending even a single day in Athens without getting the chance to return to a luxury hotel to rest overnight, then King George won't disappoint you. This extravagant hotel is located right on Syntagma Square and boasts incredible views of the Parthenon. See photos and read reviews about the King George Hotel on Booking.com

In case that one was already on your radar, make sure to also check out Athenaeum Intercontinental that is situated on the other side of Acropolis Hill, near the Acropolis Museum. Check it on Booking.com

Finally, if you are planning to board a ferry to a Greek island early next morning, Piraeus might be the wisest choice for your stay. Check some budget-friendly accommodation options in Piraeus on Booking.com
Tips and Recommendations on How to Spend One Day in Athens
In this final section of the guide, we'll give you some insider tips on how to make the most of your visit to the city if you are planning to only spend one day in Athens and answer some of the questions asked the most by first-time visitors that arrive in our emails daily.
This 24-hour itinerary for spending one day in Athens includes some of the most significant Greek sites as well as the city's hippest neighborhoods. The goal of our guide is to help you plan ahead and give you the chance to see both the touristy and the lesser-known side of the city.

We hope that one day in Athens will be enough time for you to fall in love with our city.
A Quick Reminder:
Remember that Athens By Locals is here to guide you with planning the perfect trip to Athens and help you every step along the way. If you didn't found what you're looking for, or need any recommendations about your trip to Athens, feel free to contact us and we will do our best to help you. Please be as more detailed as possible regarding your subject so as to help you better.
If you like what you read please scroll down at the end of this page and subscribe to Athens By Locals so next time to receive more articles like this straight forward to your email. Join us on Facebook for comments, photos, and other fun stuff. If you enjoy this article please share it with your friends on Facebook.