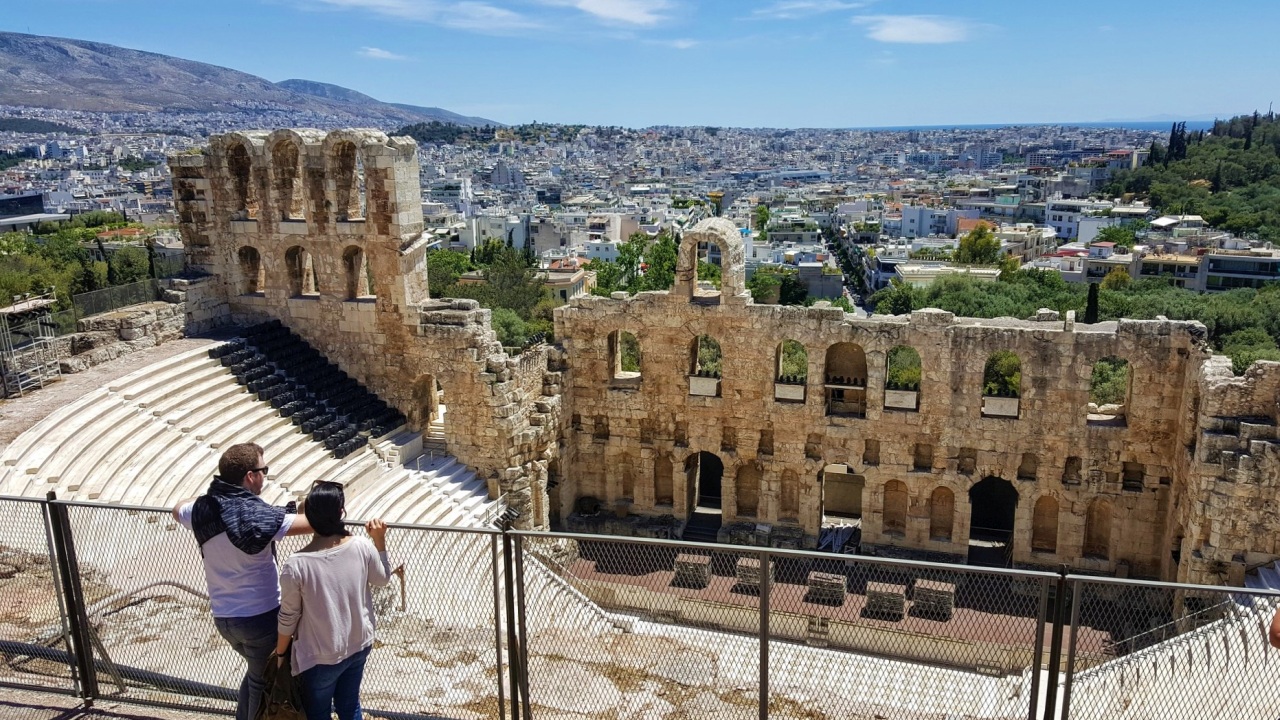 Top 10 Attractions to Visit in Athens
Last Updated on: May 4, 2021
Please read first:
Please bear in mind that due to Covid-19 the information that we present in our articles regarding the timetables of public transportation, hotels, restaurants, etc. may be subject to change. We highly advise you to double-check before proceeding with any bookings. Rest assured that we here at Athens By Locals are doing our best to keep up with these turbulent times and provide you with up-to-date travel information. Do not hesitate to reach out for any questions, we'll be more than happy to help!
Athens is a city full of wonders. A place where the history, architecture, and culture developed over thousands of years meets modern design, contemporary museums, and natural beauty.
In fact, even us here at Athens By Locals have had a tough time deciding which of the most famous attractions of Athens should make it on the top 10 list.
Boasting numerous World Heritage monuments, architectural wonders of times long gone, charming churches, renowned museums, and picturesque neighborhoods, the Greek capital teems with exciting attractions to satisfy even the most demanding visitors.
So, after some elaborate thought, here's our rundown of the top 10 attractions to visit in Athens.
Acropolis Hill
It's hard to think of Athens without the majestic hill of Acropolis and the imposing temple of Parthenon immediately coming to mind.
Acropolis hill is beyond any doubt the city's most iconic landmark and by far its most popular attraction. If a few hours is all you have to spend in the Greek capital, then this is the place to head to.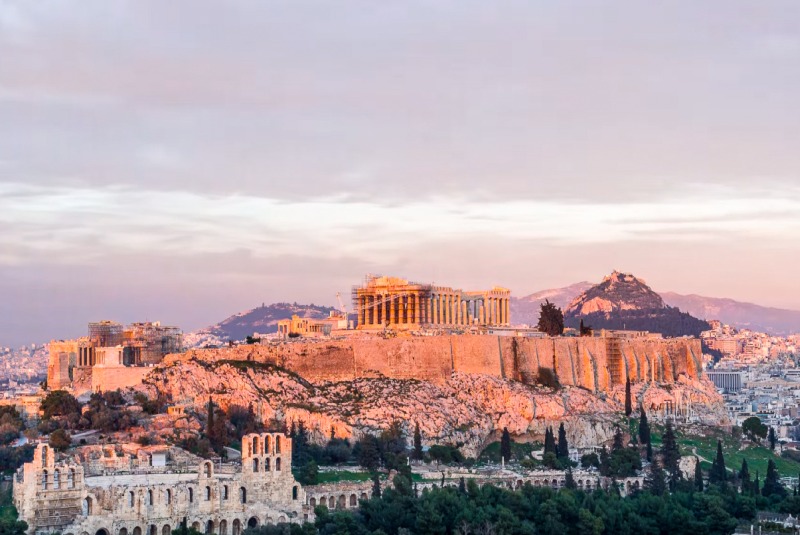 The monuments that have been perched on top of the Acropolis for well over two thousand years are the most prominent examples of the architecture of Greek antiquity, celebrated throughout the western world.
A tour of the Acropolis is a must! Check some great options for a small group guided tour in Acropolis from GetYourGuide.com.
If you're visiting Athens from November to March, keep in mind that admission to the Acropolis is free on the first Sunday of each month.
The Acropolis Museum
The Acropolis Museum is the most modern jewel in Athens city. Designed by architects Tschumi and Photiades and located on the foot of the Acropolis hill, the spectacular museum is the ideal complement to the ancient monuments.
After marveling at the ruins on the hill, a visit to his museum will provide valuable historical and cultural insight into Classical Greece and its golden era.
Its impressive collections include surviving sculptures, artifacts, as well as the famous Caryatids and other exhibits from several different periods housed in a dazzling building offering views to the ruins below through a transparent glass floor and the Acropolis itself through sloped ceiling windows.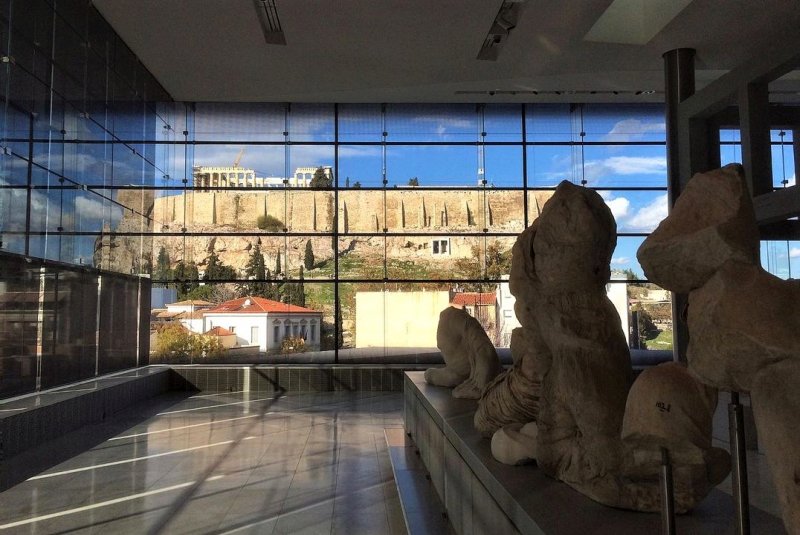 Inside the museum, you'll also find a few shops, a reading lounge, and a restaurant with astonishing views.
Heads up: Get your Acropolis museum ticket online now, and when you'll visit the museum you'll skip the line through an express security check!
Do you consider yourself to be a museum lover? A history buff perhaps? We do have a treat for you! Just click below for the ultimate guide including each and every one museum in Athens.
The Museum of Cycladic Art
Located in the upscale scenic neighborhood of Kolonaki in the center of Athens, the Museum of Cycladic Art is one of the most interesting attractions in the city.
It's home to more than three thousand exhibits, remnants of the ancient Cycladic, Cypriot and Greek civilizations. The exhibits include sculptures, vases, weapons, marble figurines, and other artifacts presented on four spacious floors.
On the fourth floor, modernity and antiquity meet with an exhibition called "Scenes from the daily life in antiquity" that presents visitors with visual art in the form of photography recreations that are used as the backdrop to the museum's objects.
After relaxing at the museum's stylish cafe, you can also visit the neighboring mansion that houses contemporary art exhibitions.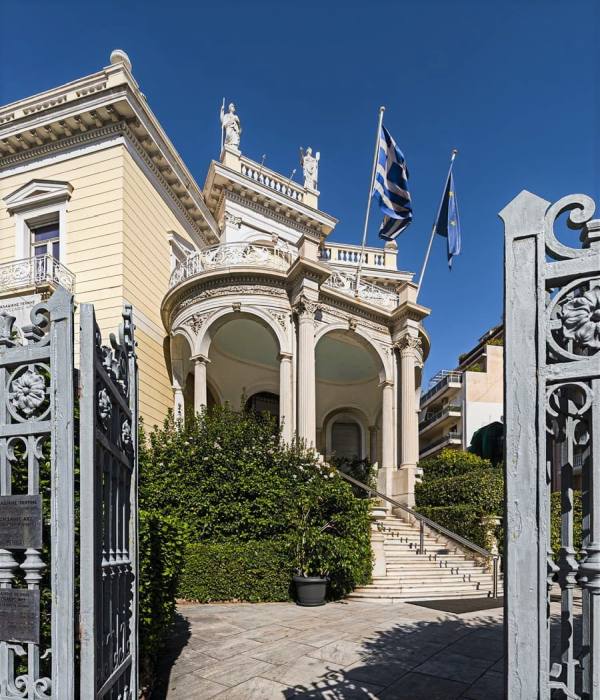 The National Garden
Nestled in the very heart of Athens, the National Garden offers an opportunity to get away from the crowds and the city's busy streets to enjoy a relaxing morning in a small natural heaven.
The charming royal gardens were commissioned by the first queen of Greece Amalia in the nineteenth century and it includes several gravel paths that wind among the tall trees and duck ponds, a small zoo with peacocks and goats, a colorful playground for the younger visitors, and a cozy cafe for the older ones.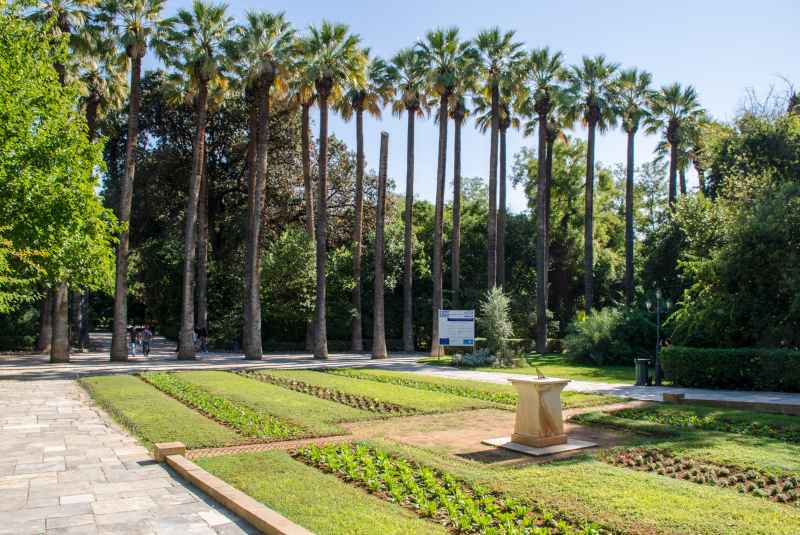 There are several entrances to the gardens from side to side. While there, do not omit to also visit the Zappeion exhibition hall and its gardens that lie just a few minutes away from the national garden.
Lycabettus Hill
Translating to "Hill of Wolves" in Greek, Lycabettus Hill is one of the several hills overlooking Athens and the Attica basin, a great place to get a feel of the vast urban landscape below and one of the most instagrammable spots in the city.
To get there, you can choose between taking your time to hike up the hill from Kolonaki or riding the cable car to the top.
Apart from the stunning panoramas, on Lycabettus hill, you'll find the picturesque chapel of St. George as well as a small café, a lavish restaurant, and the famous open-air theater.
If you're visiting Athens during summertime, make sure to check out the theater's schedule for concerts and events.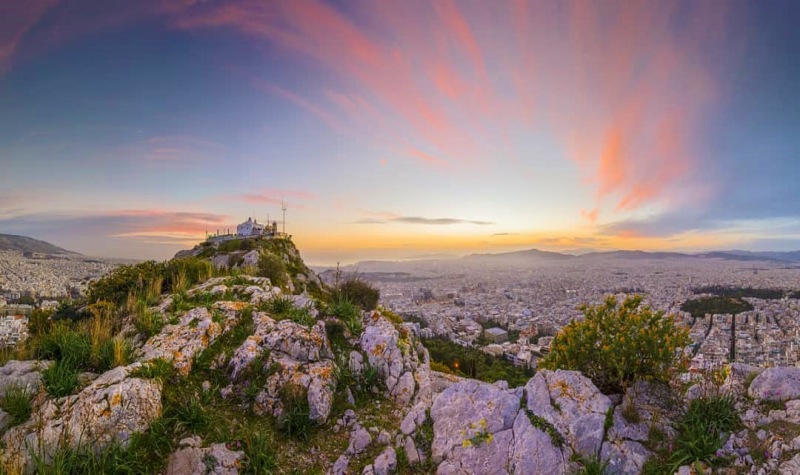 Now you might be asking yourself: what other outdoor places in Athens are worth a visit? Luckily for you, you can check them all out right below.
Plaka Neighborhood
Plaka is probably the most iconic neighborhood of Athens and one of the oldest neighborhoods in Europe. It stretches just below Acropolis hill and it's extremely popular with visitors and locals alike.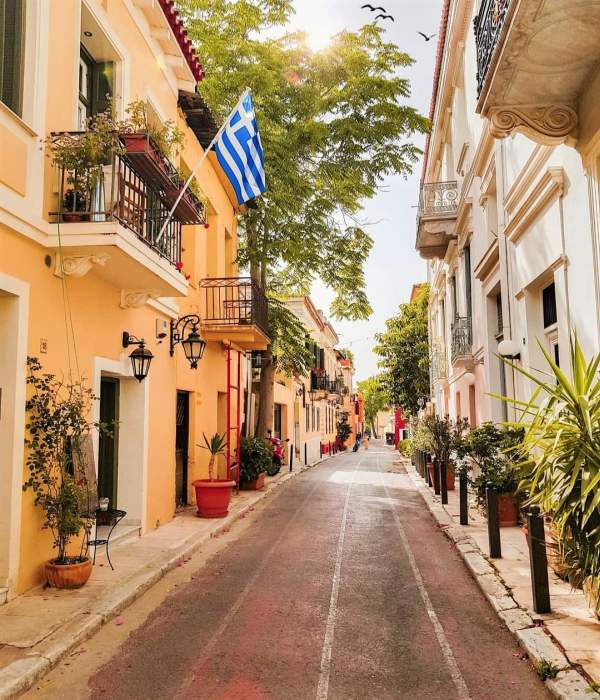 Charming narrow cobblestone alleyways, small hidden squares with traditional restaurants and ice cream shops, intriguing museums, beautiful churches, and open-air cinemas are only a few of the gems you'll discover in Plaka.
It's a great place to get acquainted with the Greek capital's remarkable architecture and the local gastronomy and nightlife scene. Along the way, you'll come across numerous street vendors selling souvenirs and all kinds of colorful knickknacks and ornaments.
When you visit Plaka, be sure to stroll through the adjoining neighborhood of Anafiotika as well that resembles a Greek island village.
Stavros Niarchos Foundation Cultural Centre
Only a few kilometers away from the loud and busy city center of Athens, the Stavros Niarchos Foundation Cultural Center is a true urban oasis.
It opened its doors in 2017 and instantly became one of the most impressive attractions of the city.
Its main building stands atop a hill overlooking Faliron Bay and the lush park that surrounds it stretches for an impressive 170.00 square meters encompassing an artificial canal, lavish gardens, cafés, and playgrounds as well as the Greek National Opera and the National Library's buildings.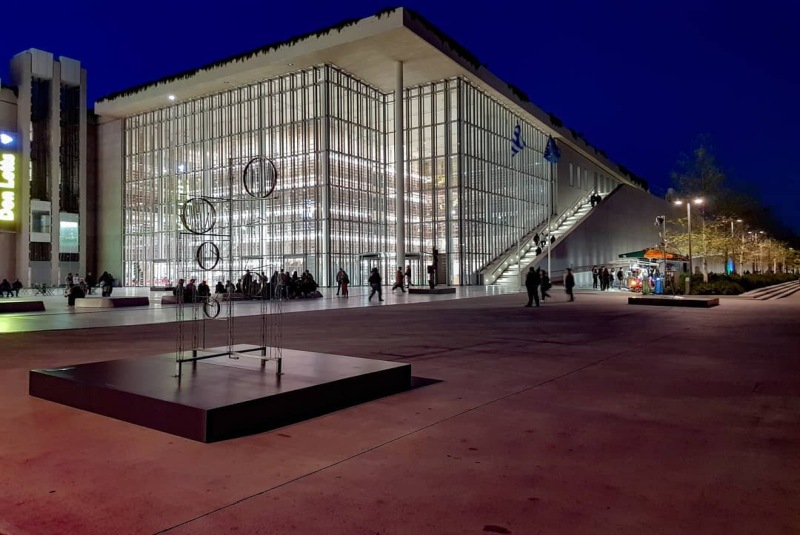 There are several cultural events, concerts, and parties taking place within the complex all year round with thousands of locals flocking in to enjoy hot evenings by the sea. The easiest way to get there is by tram or the shuttle bus that departs from Syntagma square.
The Stavros Niarchos Foundation Cultural Center is also an excellent place for a romantic walk on an evening date.
Are you looking for a touch of romance on your trip to Athens? Here are some ideas you may find interesting.
Odeon of Herodes Atticus
The Odeon of Herodes Atticus is a wide amphitheater that lies on the southern slope of Acropolis hill. It was built in 161 AD and named after the homonymous affluent Athenian citizen who was its founder.
Having undergone a complete restoration process in the '50s, the famous auditorium can seat up to five thousand people and it hosts a large number of cultural events like art festivals, concerts, and even stand-up comedy acts.
The theater is most famous as the official venue of the world-renowned Athens & Epidaurus Festival.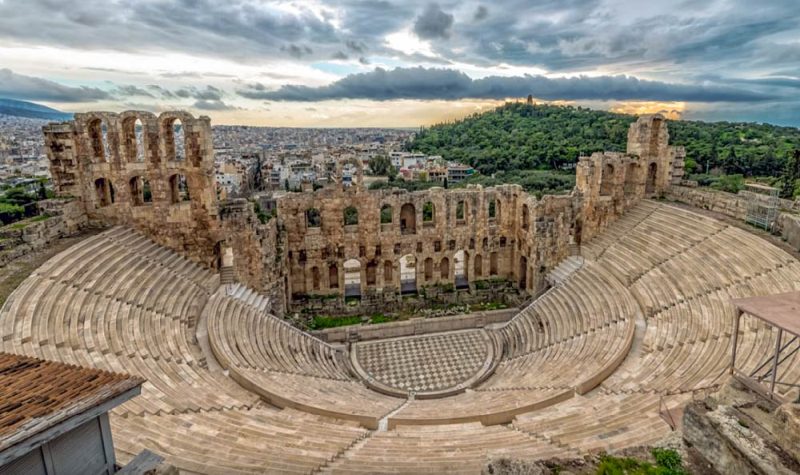 Even though you can visit the monument any day, it is highly recommended to attend an event taking place in the theater to fully grasp its atmosphere and impeccable acoustics.
Benaki Museum of Greek Culture
Benaki Museum of Greek Culture is perhaps the city's most popular museum among those who want to gain an understanding of Greek history, arts and culture from prehistoric times up to the modern age.
It was founded by Antonis Benakis in the 19th century and it has been constantly attracting thousands of visitors annually ever since.
The museum's building complex displays virtually countless exhibits – artifacts from the Bronze Age, sculptures from Classical Greece, Byzantine artworks, Islamic art, World War II uniforms, traditional costumes, old furniture, and modern paintings.
Art lovers that like to take their time when exploring museums might even need to schedule multiple visits to this one in order to be able to go through all the collections.
Panathenaic Stadium
It's almost impossible to visit this ancient stadium without instantly getting an inexplicable urge to start running along its tracks like a true Olympian athlete amidst the roar of an imaginary crowd.
Panathenaic Stadium was built in the 4th century BC and was originally used for a series of athletic events and contests. It was completely restored for the very first modern Olympic games in 1896 and has been a popular attraction since.
Nowadays, it serves as a venue for concerts and events with a capacity of 70.000 seats.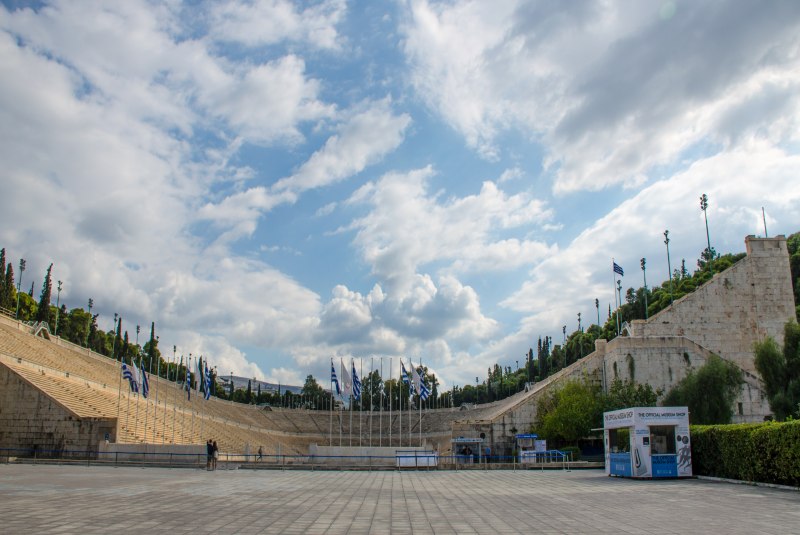 Visiting this monument should definitely be on your Athens bucket list if you want to play track star and get a glimpse into the rich history of athletics in ancient Greece.
Tips and Useful Information Regarding the Top Attractions of Athens
Here you will find some useful information about visiting the top attractions of Athens along with some of our suggestions and a few local tips. We will also answer the questions asked most frequently by our readers to help you plan ahead and make your next vacation in Athens unforgettable.
What should I not miss in Athens?
There are plenty of attractions worth visiting in Athens. But if there is one that you should absolutely not miss that is the Acropolis. If you still have time, pay a visit to the Acropolis museum as well to learn more about the city's rich history and culture.
What is Athens famous for?
Athens is most famous for being the birthplace of Democracy, for having an uninterrupted history of more than 2,500 years, and for being home to the Parthenon, one of the most iconic landmarks on the planet.
What are the three famous places in Athens?
Athens is full of attractions and famous landmarks. If we had to choose only three of them, however, we could say that the three most famous places in Athens are the Acropolis, the Temple of Olympian Zeus, and the Ancient Agora.
How many days in Athens is enough?
No matter how many days you choose to spend in Athens, there will always be exciting things to do and see. Having said that, you will need at least 3 days to see the most popular attractions and visit the most famous places in the city.
Is Athens worth visiting?
What to do in Athens in 3 days?
If you only have 3 days to spend in Athens, we strongly recommend visiting the Acropolis and the Parthenon, the Acropolis Museum, the Temple of Olympian Zeus, the Ancient Agora of Athens as well as walking through the neighborhoods of Koukaki, Monastiraki, Thission, and Syntagma.
What are 5 facts about Athens?
If we had to choose only 5 facts about Athens, those would be the following:
Athens is the birthplace of democracy.
Athens was the first European capital of culture.
The first modern Olympic Games were held in Athens in 1896.
Athens holds the record for the highest recorded temperature in Europe ever.
Athens has the most theatrical stages in the world.
Is Athens older than Rome?
Yes. Athens is actually the oldest capital in Europe preceding Rome for hundreds of years.
What's the best area to stay in Athens?
In general, the most sought-after locations in Athens are the areas that are closest to the Acropolis. These include Thission, Monastiraki, Syntagma, Koukaki, Plaka, and more. These neighborhoods feature numerous hotels and other accommodation options of all types and for all budgets.
Is Athens walkable?
Athens is a massive city. However, the city center of Athens, where most of the top attractions are located, is quite easy to walk through. You can actually see quite a few of the city's most famous sights with just a couple of hours of walking.
How much time do you need for the Acropolis?
A complete tour of the Acropolis takes approximately 2 hours. Keep in mind, however, that if you're visiting during summer, 2 hours on top of the hill in the hot weather can be rather exhausting.
How hard is the walk up to the Acropolis?
No, it's not hard at all. It's actually quite easy to climb Acropolis Hill. With a normal pace, it shouldn't take more than twenty minutes, while there is also an elevator for people with disabilities. Also, there are a few places where you can stop and rest on the way up.
Is Acropolis free on Sundays?
Yes but only during the winter season. Entry to the Acropolis is free on Sundays from 1st November to 31st March.
Is it easy to get around Athens?
Athens has three different metro lines, a tram, and numerous buses and trolleys running throughout the city. Getting around Athens -and especially the city center- is quite easy. However, the metro and tram service stops around midnight.
All in all, visiting Athens for a few days might pose a challenge. The city features so many unique attractions that you will have a hard time choosing which to include in your itinerary.
Follow this guide and make sure you fit in as many of the top attractions of Athens as possible to make the most out of your trip.
If you have more than a few days to spend in this marvelous city, we strongly recommend you tick all those boxes.
Whatever the case may be, we are certain that you will be feeling the awe and grandeur that has made Athens a favorite travel destination for travelers around the globe.
A Quick Reminder:
Remember that Athens By Locals is here to guide you with planning the perfect trip to Athens and help you every step along the way. If you didn't found what you're looking for, or need any recommendations about your trip to Athens, feel free to contact us and we will do our best to help you. Please be as more detailed as possible regarding your subject so as to help you better.
If you like what you read please scroll down at the end of this page and subscribe to Athens By Locals so next time to receive more articles like this straight forward to your email. Join us on Facebook for comments, photos, and other fun stuff. If you enjoy this article please share it with your friends on Facebook.