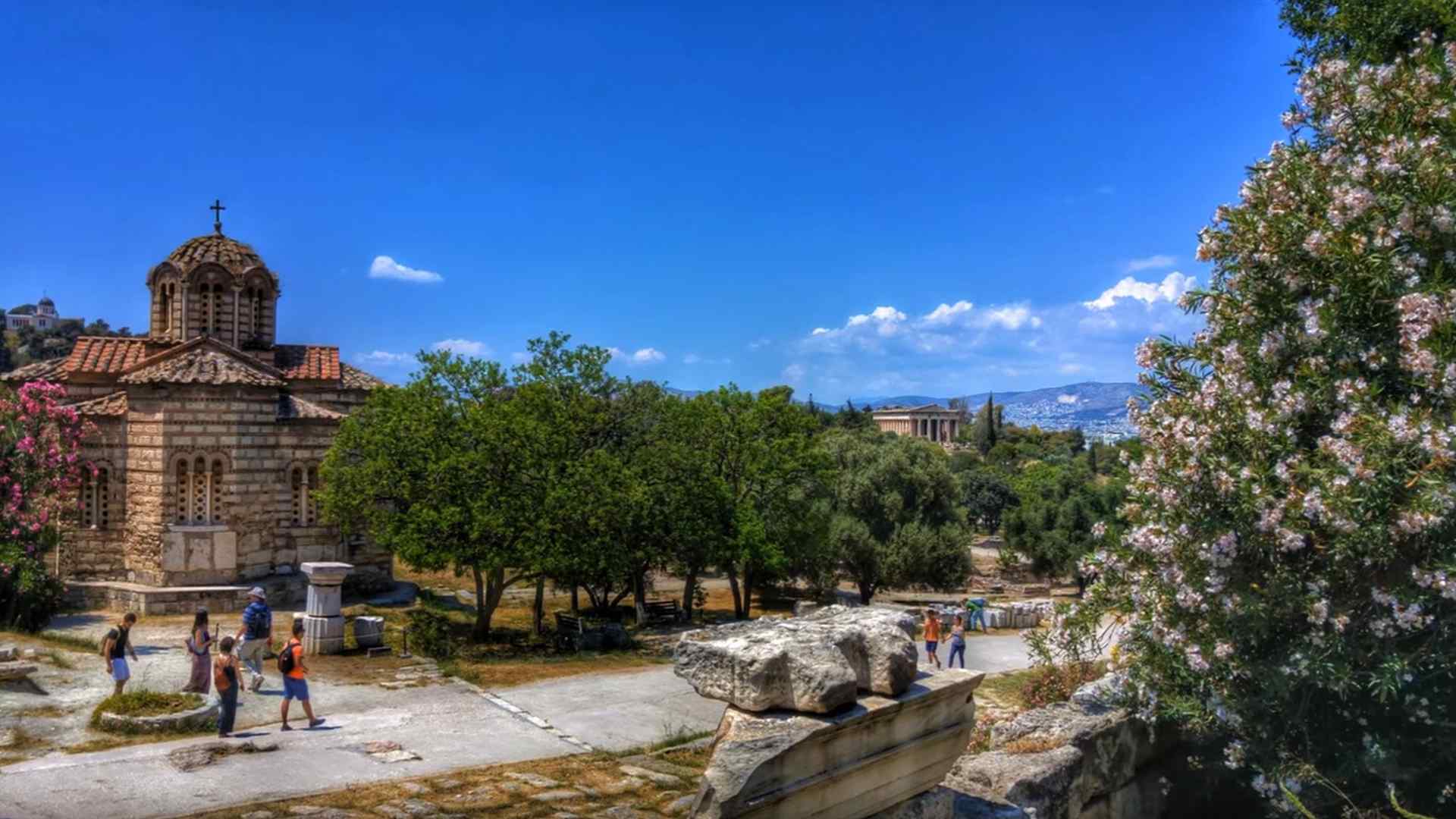 Travel to Athens With Kids: The Best Things to Do, See and Eat
Last Updated on: November 20, 2021
Please read first:
Please bear in mind that due to Covid-19 the information that we present in our articles regarding the timetables of public transportation, hotels, restaurants, etc. may be subject to change. We highly advise you to double-check before proceeding with any bookings. Rest assured that we here at Athens By Locals are doing our best to keep up with these turbulent times and provide you with up-to-date travel information. Do not hesitate to reach out for any questions, we'll be more than happy to help!
All you need to know for an unforgettable family trip to Athens: food the kids will love, family-friendly hotels, and the best things to do in the Greek capital. Boasting a mild Mediterranean climate and offering all kinds of educational museums and archaeological sites as well as a wide array of fun outdoor activities, Athens is a great family vacation destination.
So, if you're traveling to Athens with kids and want to make your trip a unique experience for your little ones keep reading. These are the best things to do, the most interesting activities, and fun tours for families traveling with kids to Athens.
Add at least some of them to your itinerary and enjoy an unforgettable holiday in the Greek capital.
The Acropolis
Climbing on top of Athens' sacred hill, Acropolis should definitely be on top of your to-do list even if you're traveling with kids and you worry that you'll struggle to keep their interest alive.
You can take a guided tour with your family to the Acropolis and let the experienced guide spark up your little ones' imagination. The view from the hill's summit offers a spectacular view that guarantees to keep the whole family captivated for at least a while.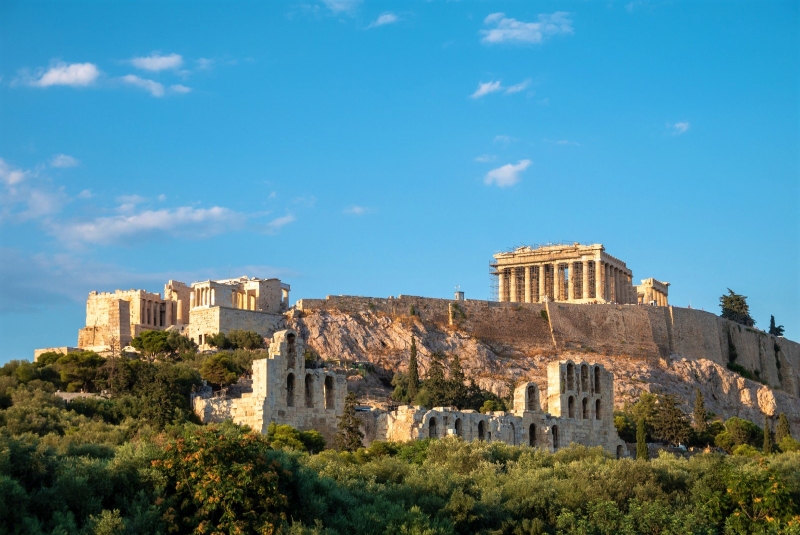 A tour of the Acropolis is a must! Check some options for a guided tour we picked for you from GetYourGuide.com. Most of them are combined with a skip the line ticket!
Tip: Download The Acropolis 3D app (android & iPhone) and see the Parthenon, the Propylaia, and the Erectheion exactly the way they looked in the 5th century.
The Acropolis Museum
A visit to Acropolis Hill can't be complete without a complimentary visit to the Acropolis Museum that's located on the foot of the sacred hill.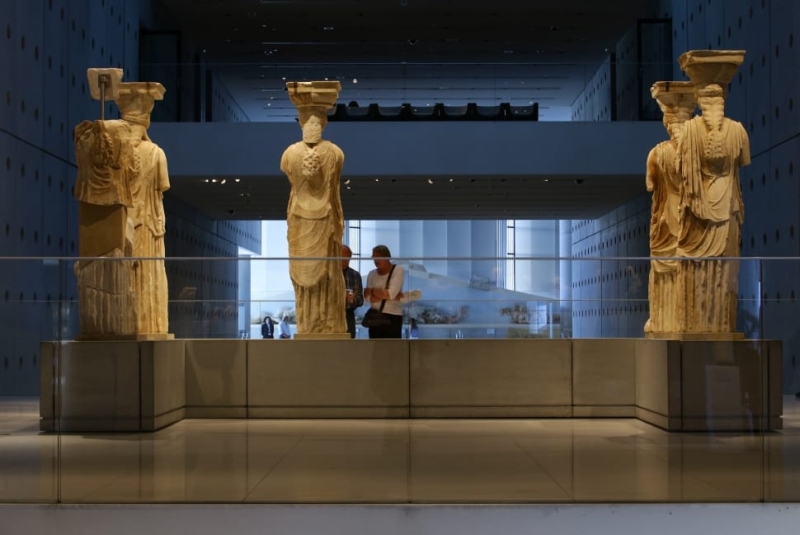 Even though many kids might resent museum visits on a vacation, this one is going to be all too different. Just grab a "family backpack" at the museum's reception and get ready to be amazed.
The goodie bag includes all kinds of fun exhibition-based activities that will guide you through the museum in an entertaining and educational way.
While there, don't miss the huge LEGO model of the Acropolis on the second floor. Also, make sure to pick up a couple of kids' illustrated books about ancient Athens from the museum's shop.
Allou! Fun Park
Being Athens' largest amusement park, Allou! Fun Park offers a wide range of activities and rides for kids of all ages. Power carts, a huge wheel offer a panoramic view of the city and train rides are some of the things you'll find in Allou! Fun Park.
Moreover, there are numerous restaurants, cafés, and food stalls serving local delicacies and snacks.
Athens Happy Train
Starting from Syntagma Square and passing through the historic city center and the Acropolis Hill, Athens Happy Train is a great vehicle to explore the city with kids.
With its old-fashioned design and red-colored carriages, Athens Happy Train looks straight out of a fairytale.
The route lasts for 40 minutes which is enough time to see Athens' main attractions without allowing your kids to get bored.
Tours run from 9.00 am to 9.00 pm and a bilingual guide is always on board narrating the history of each place.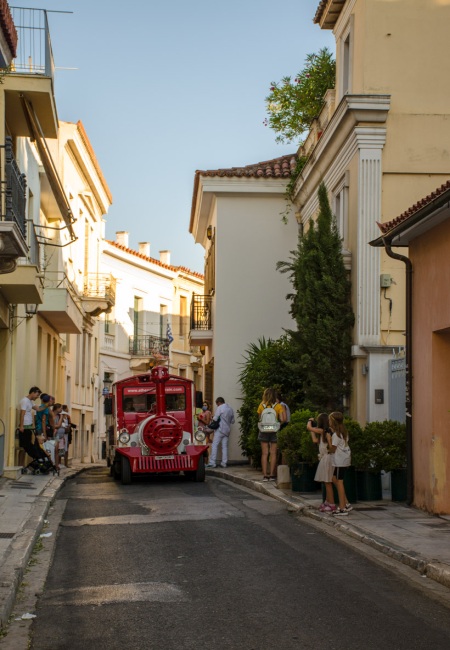 The Museum of Greek Children's Art
The Museum of Greek Children's Art is one of the few museums worldwide displaying artworks made by kids between the age of 4 and 14.
Boasting a collection of over 10,000 paintings and handmade items, The Museum of Greek Children's Art aims to inspire kids and boost their creativity.
Plus, it's located in Anafiotika, one of the most beautiful neighborhoods of Athens, where you can stroll through the narrow picturesque streets and go souvenir hunting or spend a relaxing afternoon in one of the cozy cafes.
9 Kodrou str., Plaka, 10558, Athens

Τ: 210 3312621, 210 3312750
Email: [email protected]
website: www.childrensartmuseum.gr
The Cultural Park
Spanning for 25,000 square meters, the Cultural Park in Keratea is a green oasis full of educational activities and fun games.
Vineyard and winemaking Units, olive traditional extraction units, a water mill house, and a domed wood oven are some of the things found in the park's flourished area.
A Greek Folk Museum that resembles a small traditional village introduces visitors to life in the Greek countryside while a farm and a herb garden bring kids close to nature.
Visitors will also find exhibits of faithful representations of life-size at the Environmental Education Program: "The Age of the Dinosaurs."
Lavriou Avenue, 16th km. Extension of Attiki Odos to Lavrio, Keratea, 190 01
T: 22990 42100, +30 210 9211812
Email: [email protected]
Ways of Access: Private car & KTEL (stop Cultural Park, outside Keratea)
Hop on Hop off Tour
Hop on Hop off tours are an easy and fun way to explore Athens' attractions.
Sit back on the bus's comfortable red seats and see the Greek capital's landmarks while savoring a refreshing beverage.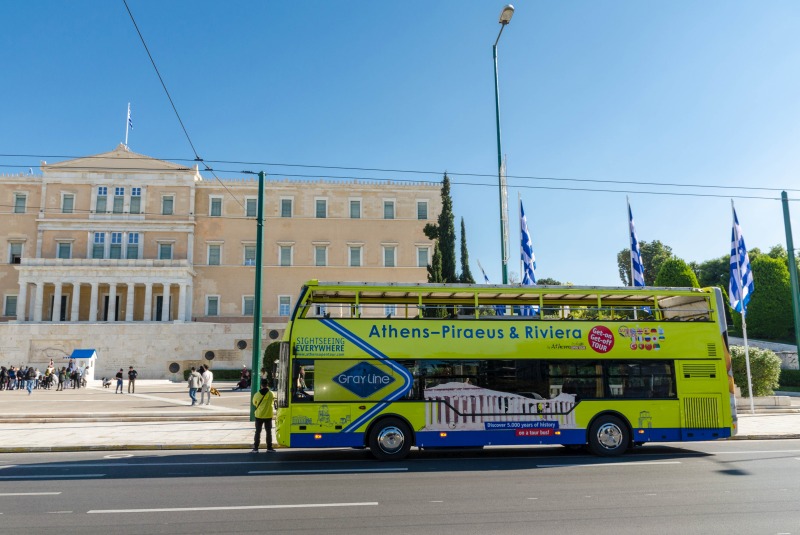 There are several tours to choose from including the Athens Line, the Athens & Piraeus Line, and the Athens & Beach Riviera Line.
All of the tours provide commentary in 12 languages and offer 2 free escorted walking photo tours.
Even if the kids aren't interested in learning the history of the Hellenic Parliament or Hadrian's Arch architectural style, seeing the city from the comfort of their seat while soaking up the sun will definitely keep their interest alive.
Museum of Cycladic Art
Every weekend, from October to May, The Museum of Cycladic Art holds special family programs that include interactive tours, creative workshops, theatre, and music.
Divided into groups based on the kids' ages, these programs aim to introduce little ones to the Museum of Cycladic Art.
Even though most programs address native speakers, there are specific programs suitable for English-speaking and bilingual kids.
The Children's Museum
The Children's Museum houses a vast collection of 5,000 items that fall under different categories and their aim is to inspire and educate kids of all ages.
From materials collected from the forests and the seas that introduce kids to nature to radios and other electronic devices from the past and present, the museum's collection covers the different aspects of daily life in the most fascinating way.
The National Garden
Spend a morning with your family strolling around the National Garden of Athens.
Spanning for 15.5 hectares, the majestic garden features a wide range of plants and trees offering an ideal backdrop for some moments of fun and relaxation away from the city's noisy streets.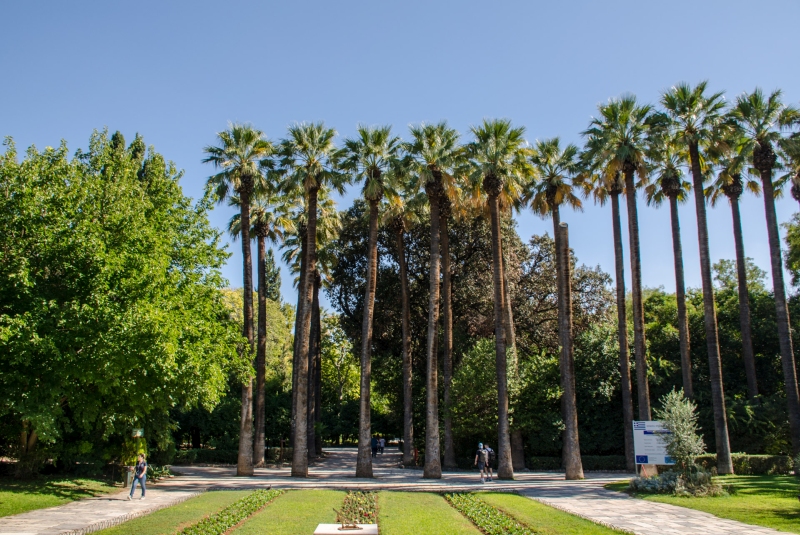 Aside from its vast vegetation, the National Garden of Athens is also well-known for being home to antiquities, a sundial as well as monuments and sculptures.
Close to the garden, you'll also find the neoclassical Zappeion Hall.
Go Swimming
If you're visiting Athens in the summertime you can't miss out on spending a day at the beach. It is a great activity for the whole family and chances are kids will love it.
There are numerous beaches in the Athenian Riviera suitable for every style and budget. Some of them have an entrance fee while others are free but all of them are kids-friendly.
For a more high-end experience, head to Astir Beach or at The House Project- Balux Cafe.
Here you'll find comfy coaches and sunbeds, refreshments, a playroom, a volley court as well as changing rooms and hot showers.
Evzones and the Changing of the Guard in Syntagma
On Syntagma Square, you'll notice two soldiers with traditional Greek uniforms standing still in front of the Tomb of the Unknown Soldier.
These are called the Evzones, the guards of the monument that wear the iconic white kilts called "fustanella".
Watching the changing of the guards and the ceremonial walk is really popular among younger visitors.
Guards change every hour but there is an official ceremony every Sunday at 11 am with a grand parade passing through Syntagma Square.
Make sure to be there at least half an hour before to secure a good spot.
Panathenaic Stadium
Are your kids usually hyperactive on the holidays? Have they ever dreamt of being international track stars and taking part in the Olympic Games?
If the answer is yes, then a visit to the Panathenaic Stadium is a must for your family.
This impressive ancient marble stadium will allow kids to run on the same tracks that Olympic athletes used to run in ancient Athens while giving them the chance to learn a bit more about the city's history at the same time.
Stavros Niarchos Foundation Cultural Center (SNFCC)
Located in the southern suburbs of Athens and just a short ride from the city center, the Stavros Niarchos Foundation Cultural Center is the most recent addition to the rich cultural scene of Athens.
The complex is home to the National Opera and the Library of Greece while it also encompasses magnificent outdoor spaces with playgrounds, flower gardens, and an artificial canal.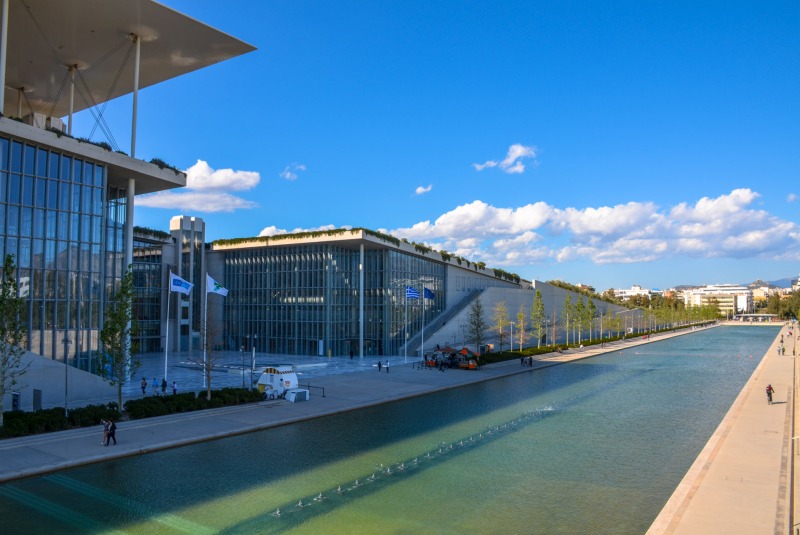 Here you can enjoy a sunny afternoon by biking, taking sailing lessons, or even ice-skating in the winter.
A definite must if you are traveling to Athens with kids.
The Averoff Battleship at Flisvos Marina
Flisvos Marina is located in the coastal area of Faliro in southern Athens and it's known as one of the most upscale areas of the city, complete with high-end restaurants and cafes lined up in front of luxurious superyachts.
So why is it a suitable place for kids, you might ask? The answer takes the form of a colossal battleship-turned-museum that is called Averoff.
After surviving the Balkan Wars and WW2, the impressive ship is now open to visitors who can explore its decks, cabins, and quarters while learning about the country's history.
Plus, there is a colorful waterfront playground on the marina where the kids can unwind while you enjoy a refreshing beverage.
The Lycabettus Hill Funicular
Lycabettus Hill is the highest peak of Athens, offering the most magnificent views over the city center, the Panathenaic Stadium, and the Acropolis.
What makes a visit to the charming hilltop especially enjoyable for children is the cable car ride that will take you all the way to the top.
Unfortunately, you can't really enjoy the views from the funicular. However, if you're feeling up to the challenge, you can also choose to trek up the hill.
At the top, you'll find the picturesque church of St. George as well as a charming cafe and a modern restaurant called Orizontes.
The Eugenides Foundation Planetarium
The magnificent digital planetarium of the Eugenides Foundation is a great place to play, learn and marvel at the wonders of the universe.
Its massive 25-meter dome screen will make you believe that you are really stargazing into the night sky.
The planetarium features all kinds of projections on different topics that are bound to fascinate kids.
Right next to it you'll find the Science and Technology Center of the foundation that has interactive educational exhibits revolving around astronomy, physics, robotics, biology, and more.
Website: https://www.eef.edu.gr/en/
Address: 387 Syngrou Avenue, Palio Faliro, 175 64
Phone: +30 210 946 9600
Food for Kids in Athens
Eating out with kids while on a vacation sometimes requires a lot of research, especially if the young ones are not accustomed to the local cuisine and seek familiar tastes.
Well, we're certain that in Athens you will have no such problem.
Traditional Greek cuisine is universally loved both by younger and older visitors and the delicacies you'll be coming across on your way to the famous sites will undeniably prove it.
Still, we wouldn't want you to miss any of the classics, so here's a shortlist of all the local treats you have to try with your kids:
Souvlaki
Keftedes (beef or pork meatballs)
Tyropita (cheesepie)
Bougatsa (cream-filled pie)
Greek frozen yogurt
Handmade ice-cream
Loukoumades (the famous deep-fried dough balls with honey)
You'll be able to find most of the above anywhere in the city center at small shops and street food stalls. Don't hesitate to try.
The best places for a quick self-guided food tour are Monastiraki and Plaka where you can find small artisanal shops every few steps along the way.
If you're looking for a truly local foodie experience, make sure to pay a visit to the Central Market of Athens (or "Varvakeios" as locals call it).
There, you can shop and taste all kinds of local products including dried fruits, fresh fish, cold cuts, olives, spices, and more.
Finally, save a couple of hours to spend at Little Kook, a marvelous cafe in the neighborhood of Psyrri that has seasonal themes and looks like a real-life fairy tale.
Family-friendly Hotels in Athens
Picking out where to stay in Athens when traveling with kids is no easy task. The options are many but figuring out which hotel is ideal for your stay can be really time consuming.
First off, you should be paying attention to the hotel's location.
We highly recommend choosing a hotel in one of the city's main tourist areas in the city center like Plaka, Monastiraki, Syntagma, Thission, Koukaki, or Petralona.
These are the safest but also the most convenient neighborhoods for walking around town and sightseeing.
Have a look at Grecotel Pallas Athena that features rooms for kids with colorful paintings on the walls that the young ones will love. Its restaurant also has a specialized kids menu.
Just a few minutes away, also in Plaka, you'll find Hermes Hotel, one of the best value-for-money hotels in the city that offers interconnecting rooms, its own playroom as well as babysitting services.
Finally, if you are not traveling on a strict budget and wouldn't mind splurging on your accommodation, book a family room at Hilton Athens and enjoy spending time at the lush outdoor swimming pool, the indoor spa pool, and the play area.
If you like to see some more accommodation options and read more about in which area to stay in Athens and why, please read our detailed article right below.
When is the Best Time to Travel to Athens with Kids
There is no right or wrong time to travel to Athens with the whole family.
It's true that Athens is considered to be a summertime destination and some would argue that summer vacation is the best option when traveling with kids but the truth is that it all depends on what kind of trip you are planning.
Indeed, the summer months are ideal if you want to explore the coastal areas of the city like the Athenian Riviera or go swimming at the beaches in and around Athens.
On the other hand, wintertime is the best time to do some sightseeing and visit the city's museums away from the tourist crowds.
Finally, autumn and spring offer mild temperatures that are ideal for strolling around the city's neighborhoods, enjoying outdoor spaces and alfresco restaurants and cafes, as well as planning day trips.
All in all, Athens is an exceptional choice for a family vacation.
The city provides amazing opportunities for kids to learn about both local and world history as well as fascinating attractions, beautiful outdoor spaces, and mouthwatering food that will make the trip unforgettable for the young ones.
Just follow our guide and plan the best itinerary for kids in Athens. We're sure they'll love it.
A Quick Reminder:
Remember that Athens By Locals is here to guide you with planning the perfect trip to Athens and help you every step along the way. If you didn't found what you're looking for, or need any recommendations about your trip to Athens, feel free to contact us and we will do our best to help you. Please be as more detailed as possible regarding your subject so as to help you better.
If you like what you read please scroll down at the end of this page and subscribe to Athens By Locals so next time to receive more articles like this straight forward to your email. Join us on Facebook for comments, photos, and other fun stuff. If you enjoy this article please share it with your friends on Facebook.