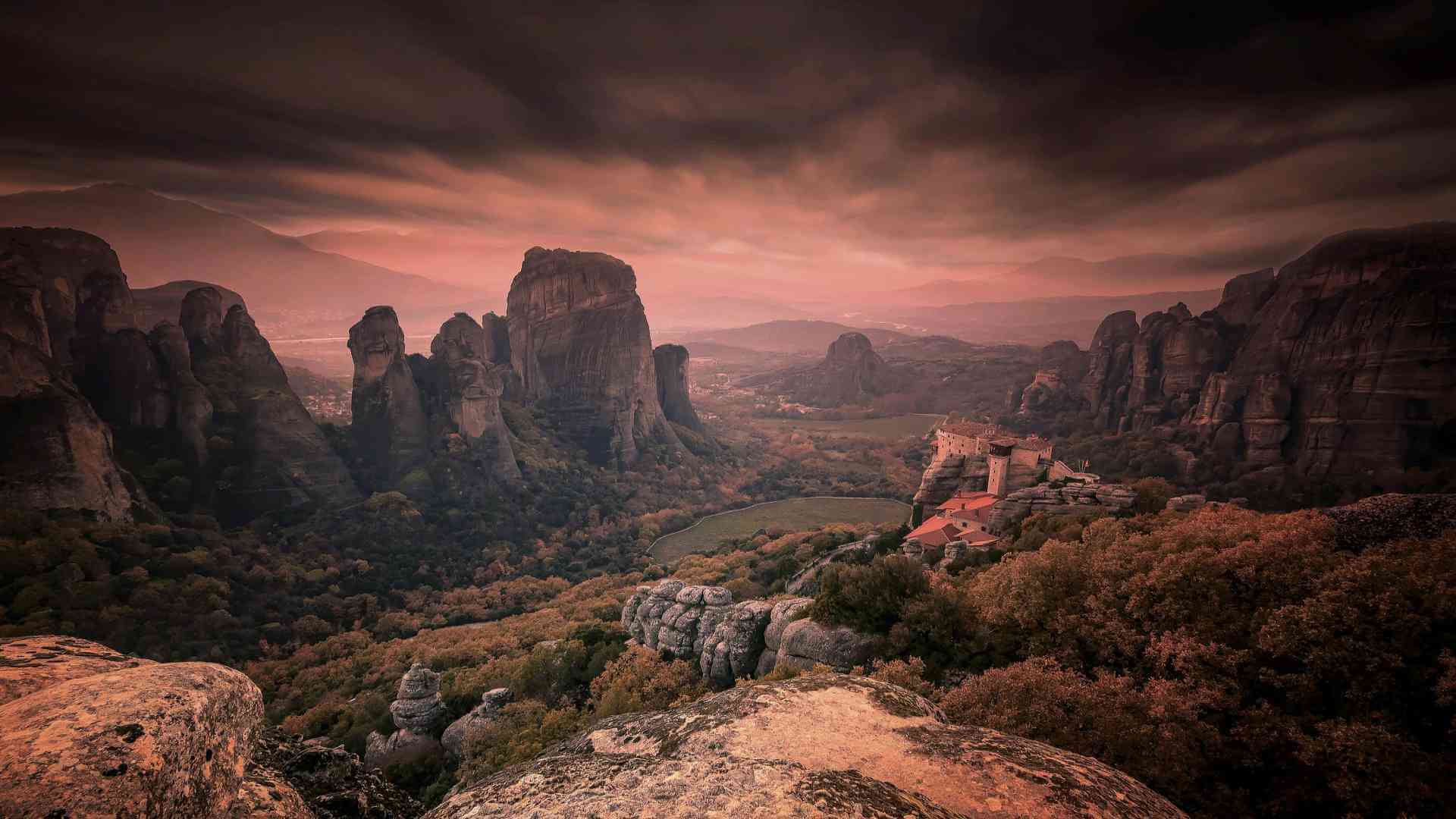 How To Organize the Perfect Trip From Athens to Meteora
Last Updated on: December 1, 2021
Please read first:
Please bear in mind that due to Covid-19 the information that we present in our articles regarding the timetables of public transportation, hotels, restaurants, etc. may be subject to change. We highly advise you to double-check before proceeding with any bookings. Rest assured that we here at Athens By Locals are doing our best to keep up with these turbulent times and provide you with up-to-date travel information. Do not hesitate to reach out for any questions, we'll be more than happy to help!
A trip from Athens to Meteora is among the top priorities of travelers who chose to visit the Greek capital but don't want to spend their whole vacation in the city.
Located in central Greece and only a few hours away from Athens, Meteora is a unique place that features amazing natural beauty and stunning views of mountainous landscapes as well as the famous Meteora monasteries.
Its rich cultural heritage and extraordinary sites are the main reason why Meteora sees so many visitors in both summer and winter and why a short trip from Athens to Meteora should not be missing from your itinerary.
Is Meteora a Good Destination for a Trip From Athens?
You might be wondering why you should choose Meteora for a trip from Athens over any other destination if you only have a few days to spend in Greece.
Granted, there are many locations near Athens that would make for a great trip. But Meteora is probably the only one that combines history, religion, architecture, gastronomy, and natural beauty in a single place.
Visiting Meteora will give you valuable insight into the country's history and culture without that meaning that you will be stuck in a museum or on a common sightseeing tour. Quite the contrary.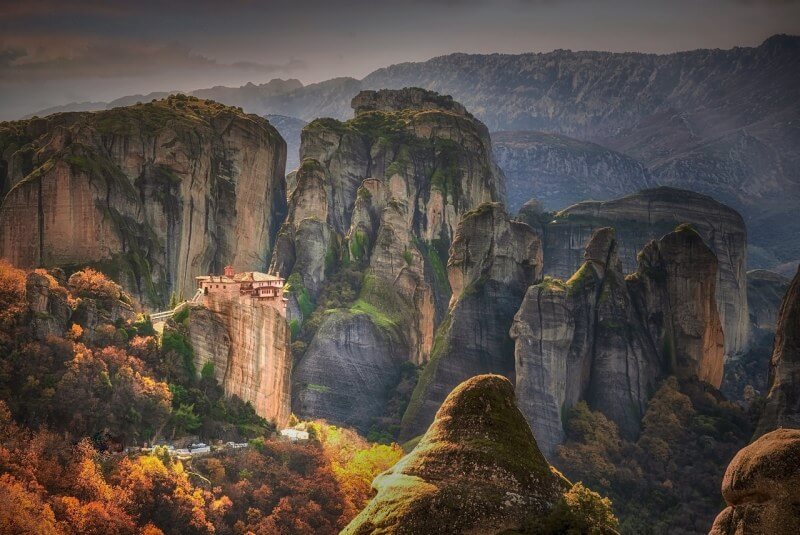 Why Should you Visit Meteora?
Still not convinced?
What if we listed all the highlights, sites, and activities that a day trip to Meteora from Athens is going to cross off your bucket list?
Here are the top 5 reasons why you should visit Meteora:
A visit inside the world-famous Meteora monasteries. The vast majority of them still operate today and you can enter and see what the everyday life of nuns in Greece is like.
To test your strength and stamina by climbing 300 steps to reach the highest peak of Meteora and the Great Meteoron.
A visit to cave Theopetra, the site where some of the oldest human footprints in the world were discovered.
To experience authentic Greek gastronomy, the way you would only in rural Greece, in the shade of the colossal rocks.
To go hiking on the rocks over the town of Kalampaka and experience an amazing sunset from an extraordinary vantage point.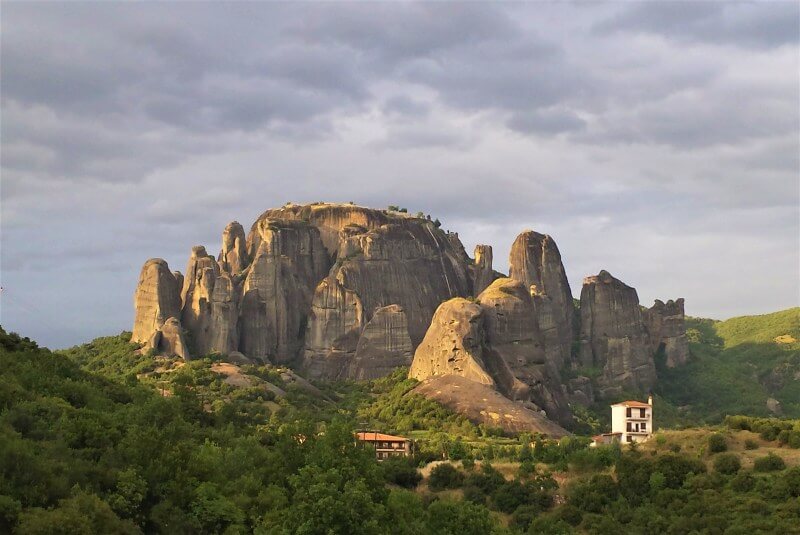 How Many Days Do You Need in Meteora?
Even though Meteora features an abundance of exciting sights and things to do, we strongly believe that a stay longer than a couple of days will not be necessary.
Spending just one or two days in Meteora is enough to experience the town's charms, explore the famous monasteries and take in the views.
If you plan ahead, you will be able to fit in your schedule all the things that you want to do there while still having enough time to spend in the city, or even go on another day trip from Athens, like a cruise to the Saronic islands.
Is it Possible to Visit Meteora from Athens on a Day Trip?
Yes, it's definitely possible. In fact, you will find quite a few organized tours for a day trip to Meteora from Athens.
However, keep in mind that a one-way journey lasts approximately 4 to 5 hours.
So a day trip would mean heading off really early in the morning and coming back to Athens quite late at night.
If you have enough time to spend in Athens and want to enjoy your trip to Meteora at a more leisurely pace, we recommend staying overnight at Meteora before heading back.
How to Get from Athens to Meteora
There are actually several ways you can get from Athens to Meteora.
You can hire a private taxi service or join one of the guided tours that will not only get you there but also have everything planned out for your visit.
You could also choose to travel by train or by bus, but note that the online resources for schedules and itineraries are scarce and sometimes can be found only in Greek.
Luckily for you, we have gathered all the information you need to get from Athens to Meteora easily and conveniently.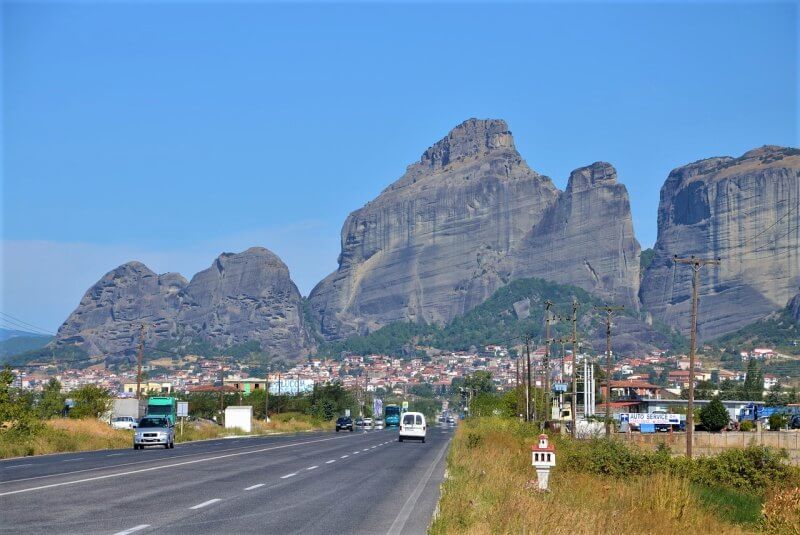 How Far is Meteora from Athens?
The distance from Athens to Meteora is approximately 360 kilometers or around 224 miles.
Getting to Meteora from Athens by a rented car (check Rentalcars.com) or a private taxi would take about 4,5 hours.
Athens to Meteora by Train
Getting to Meteora from Athens by train is probably the best way to travel if you want to enjoy the scenic route.
The most important thing you should be aware of when trying to book your train ride to Meteora is that the train station closest to Meteora is not named Meteora as you would expect but Kalampaka or Kalambaka.
Don't be alarmed. Kalampaka is the name of the town nestled just under the rocks of Meteora.
There are two trains traveling directly between Athens to Kalampaka every day.
Train 884 goes from Athens to Kalampaka. It departs at 07:20 in the morning from Larissa Station or Larissis Station, the central train station of Athens.
The easiest way to reach Larissa Station is by Metro 2 (red line).
Train 885 goes from Kalampaka to Athens. It departs at 17:15 from Kalampaka train station.
The duration of the train ride between Athens and Meteora is approximately 4,5 hours.
Train tickets from Athens to Kalampaka can be booked online via the website of trainose or bought at Larissa Station.
The tickets cost approximately 29 euros if you want to travel in the first class and about 24 euros if you choose to travel in the second class.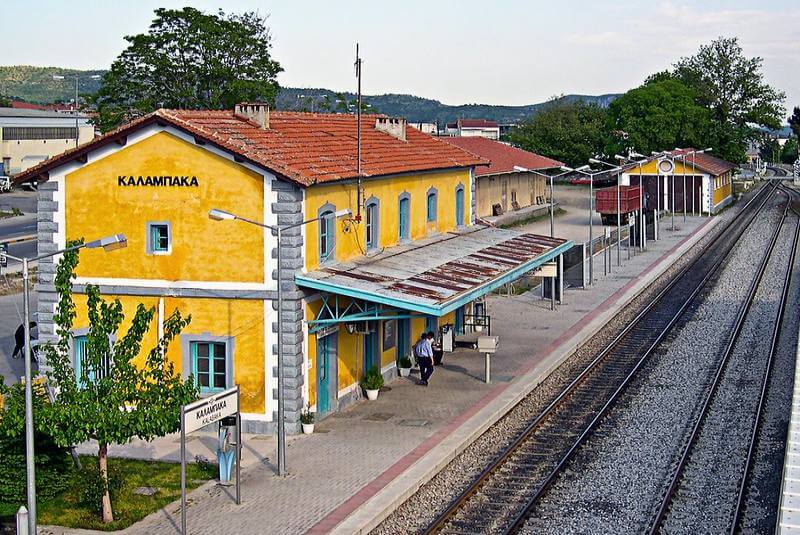 Athens to Meteora by Bus
Getting to Meteora from Athens by bus is slightly more complicated than one would expect.
Do not let that discourage you, however.
The central bus station from where you can hop on a bus to Meteora is located on Liossion street near the train station of Kato Patissia (green line). Visit our Athens maps page to download for free the map of the Athens Metro
From the train stop, you will need to walk about five to ten minutes to reach the bus terminal.
Next comes the tricky part.
There is no direct bus from Athens to Meteora.
Instead, you have to get on a bus to Trikala, a small town located near Kalampaka and Meteora, and then get on another bus from Trikala to Kalampaka.
There are several buses (or ktels as locals call them) going from Athens to Trikala daily.
The journey lasts approximately 5 hours and we would recommend booking your tickets at the bus station to avoid mistakes. You will almost always find a place on the bus. We recommend you to read our detailed guide on how to get around Athens.
Athens to Meteora With a Group Guided Tour
If you value convenience and you want to really travel in comfort without having to worry about booking tickets or catching the train too early in the morning then we recommend reserving a place in a small guided group heading on a trip to Meteora from Athens.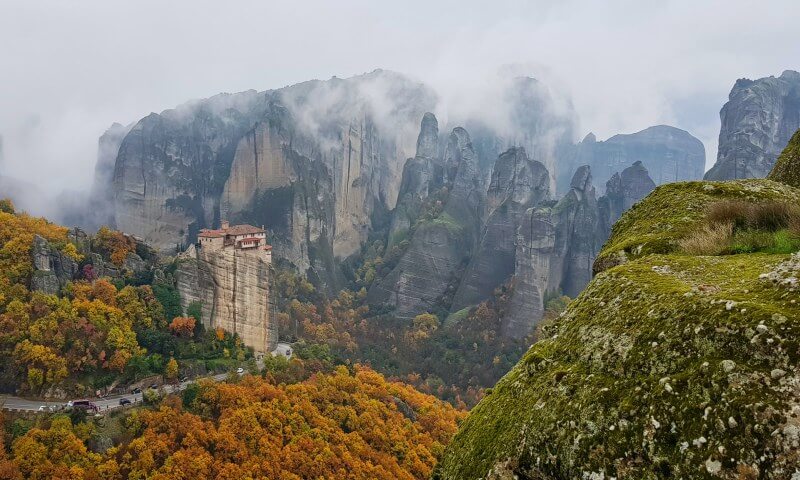 There are quite a few operators and agencies organizing guided trips to Meteora and the quality of the tours can vary.
Luckily for you, we have screened your options and selected the best guided tours from Athens to Meteora for you.
Things to See and Do in Meteora
Meteora is beyond doubt one of the most extraordinary destinations in Greece, if not in the whole continent of Europe.
Due to their religious and cultural significance and rich history, the magnificent monasteries of Meteora have been declared a World Heritage Site by UNESCO.
Apart from the high rocks of Meteora, Kalampaka, the town located right beneath is also worth a visit.
In the case that you are going from Athens to Meteora on a day trip, however, that means that your time will be quite limited so you will have to choose wisely.
Here are our picks for the most interesting things to see and do in Meteora: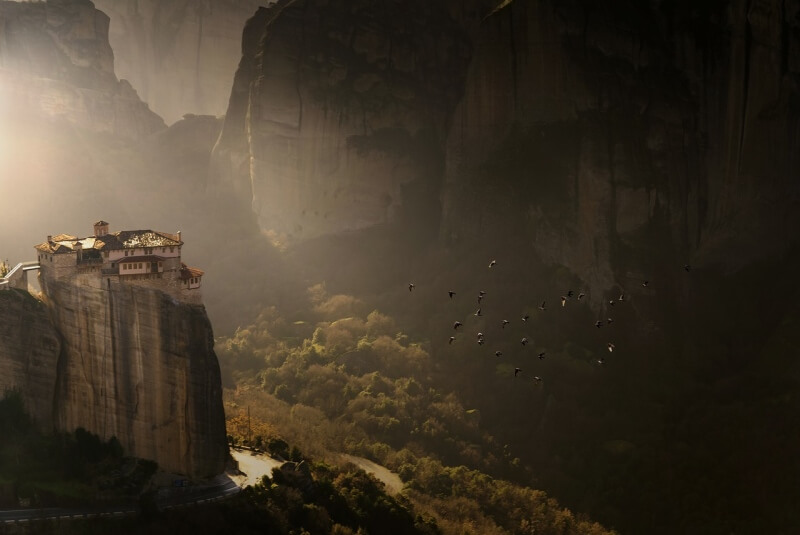 Visit the 6 famous active monasteries
Let's start with the obvious choice. The very best thing you should do in Meteora is to visit the six active monasteries.
They are probably the reason why you are there in the first place anyway.
These monasteries were perched atop the rocks to ensure privacy and absolute seclusion but you can still get there via bridges and long staircases.
The monasteries are:
The Great Meteoron Monastery. Or simply the Great Meteoro or Holy Monastery. Dating back to the 14th century, this one is both the oldest and the largest monastery among the six.
The Holy Trinity Monastery. Famous as the backdrop to a James Bond movie (For your eyes only), this monastery is the hardest one to reach but offers views that will reward you.
St. Nikolaos Anapafsas Monastery. This monastery also dates back to the 14th century but it's quite different from the rest as it was surprisingly built vertically with multiple levels on top of each other.
Varlaam Monastery. This one is the second largest monastery standing right across the Great Meteoro.
St. Stephen's Monastery. This one is the most visited monastery as it is the most easily accessible thanks to a small bridge. It's also one of the two monasteries that are inhabited by nuns.
Roussanou Monastery. This monastery dates back to the 16th century and like St. Stephen's monastery, it's inhabited by nuns.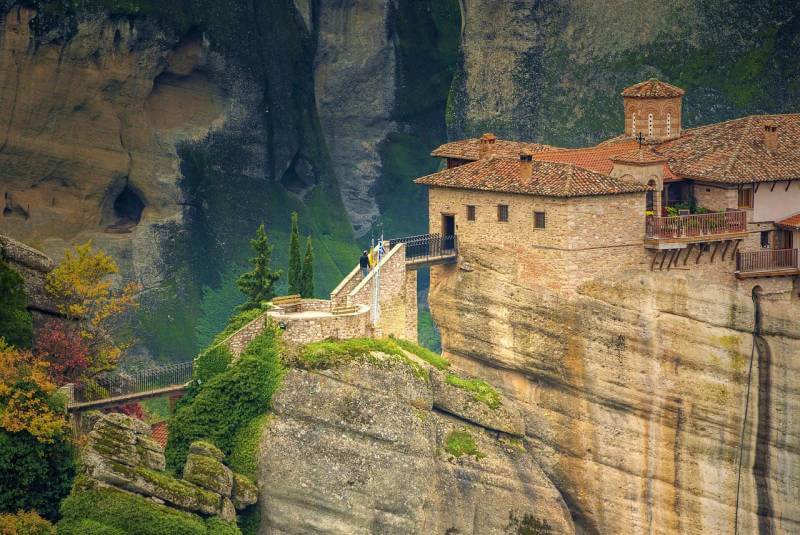 Go hiking
Join a hiking tour and explore the rocks of Meteora. There is an extensive complex of paths and trails around the area.
If you're feeling adventurous you can also try some rock climbing or scramble hiking.
From Kalampaka: 5-Hour Hiking Tour of Meteora! Take a guided morning hike in Meteora
On your journey, you may come across the rock forest of Meteora, a dazzling landscape with otherworldly rock formations as well as several abandoned monasteries.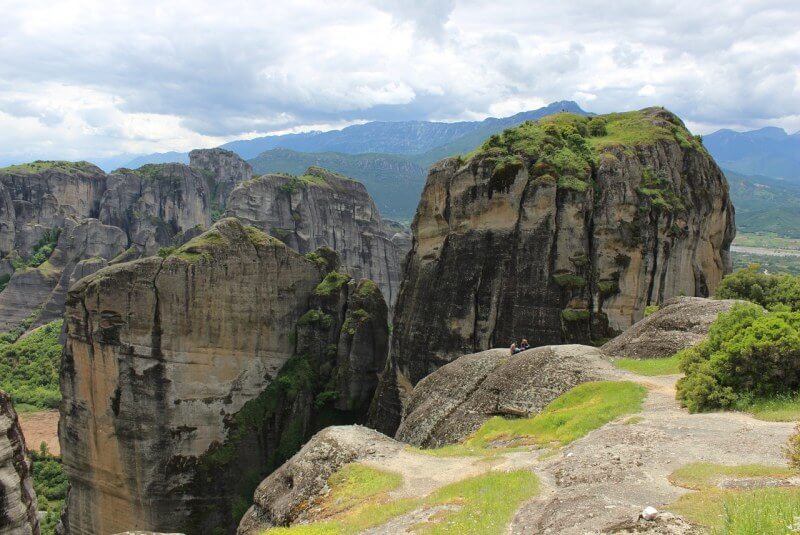 Stroll through the village of Kastraki
Just a couple of kilometers away from the town of Kalampaka you'll find a charming small village called Kastraki.
It's a typical rural traditional village with narrow alleyways, beautiful churches, alluring alfresco cafes, and magnificent views over Meteora.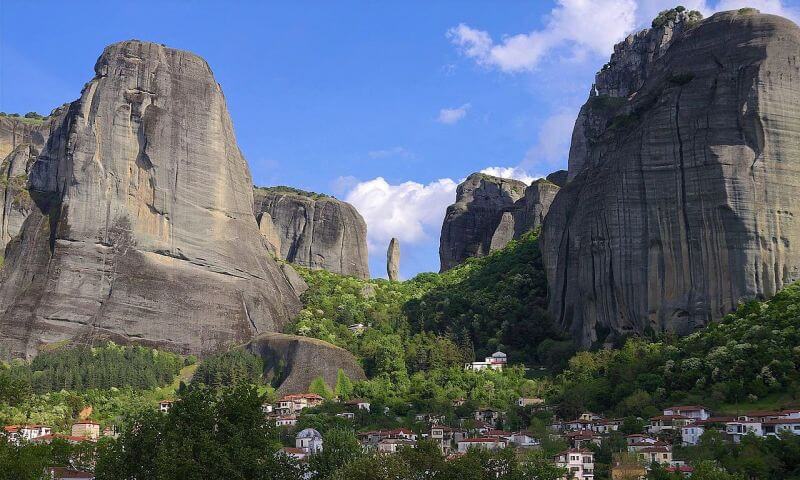 Visit Theopetra Cave
Literally translating to 'God's Stone', Theopetra cave is located about 5 kilometers away from Meteora and you can reach it either by road or by rock climbing.
This cave is located beneath a massive rock that emerges from the side of the road.
It's the famous site where human footprints that date back hundreds of thousands of years were discovered.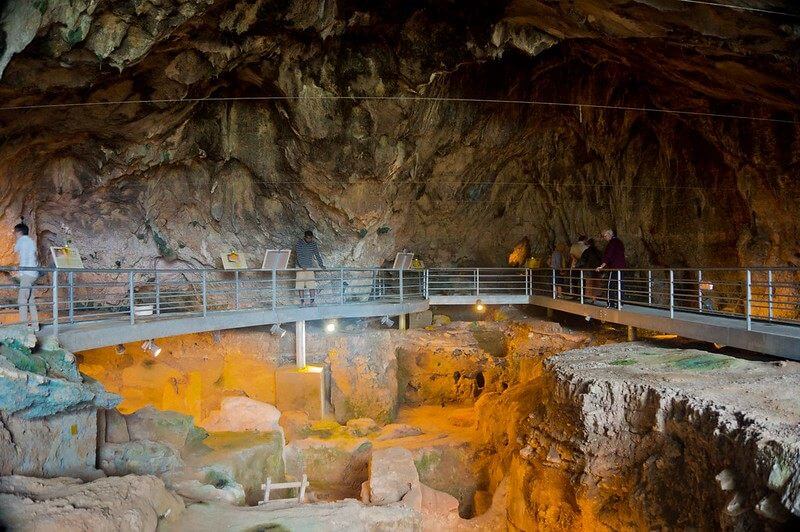 Taste local gastronomy
In both Katsraki village and the town of Kalampaka, you will find numerous cafes and traditional tavernas that serve typical Greek cuisine dishes as well as local delicacies.
Note that vegetarians and vegans might have limited options on the menus of the tavernas but there definitely will be at least a few dishes with no meat and dairies.
Enjoy the sunset views
The unique landscape of Meteora is ideal for sunset watching.
Whether you're up the rocks of Meteora, the town of Kalampaka, or Kastraki village when the sun sets, you are bound to be fascinated by the colorful skies and the astonishing sunset views.
Majestic Sunset on Meteora Rocks Tour from Kalampaka! Experience an amazing sunset in Meteora on this VIP minibus tour.
Tips and Recommendations for a Trip From Athens to Meteora
In this section, we will list some of our tips for your day trip from Athens to Meteora as well as brief answers to some of the most frequently asked questions of our readers.
What is the best period to visit Meteora?
Meteora is a year-round destination but if you want to avoid the high temperatures of summer and the strong winds of winter we suggest choosing late Spring (March to May) or Autumn (September to November).
Which Meteora Monasteries to visit?
We recommend visiting all six active monasteries: the Great Meteoron, the Holy Trinity, St. Nikolaos Anapafsas, Varlaam, St. Stephen, and Roussanou. However, if you don't have enough time or don't want to visit all of them, visit only the Great Meteoron if you have the strength to go up the 300 steps or St. Stephen's monastery which is the most visited.
Is there an entrance fee to the monasteries?
Yes. Each one of the six active monasteries of Meteora has an admission fee of 3 euros.
What do you wear to Meteora monasteries?
The Meteora monasteries have a strict dress code, as they are considered to be holy places. Ladies will be required to wear pants or long skirts. Sleeveless clothes and shorts are prohibited. Some monasteries have clothing at the entrance for those that don't meet the dress code requirements.
How many steps do the monasteries at Meteora have?
The Great Meteora and the Holy Trinity monasteries have over 300 steps. Varlaam, St. Nikolaos and Rousanou monasteries have an average of 140 steps. Finally, the monastery of St. Stephen is the most accessible as it's connected with the road with a small bridge.
Whatever your interests are, there is one thing for certain; a trip from Athens to Meteora will give you unforgettable memories from your holiday in Greece.
A Quick Reminder:
Remember that Athens By Locals is here to guide you with planning the perfect trip to Athens and help you every step along the way. If you didn't found what you're looking for, or need any recommendations about your trip to Athens, feel free to contact us and we will do our best to help you. Please be as more detailed as possible regarding your subject so as to help you better.
If you like what you read please scroll down at the end of this page and subscribe to Athens By Locals so next time to receive more articles like this straight forward to your email. Join us on Facebook for comments, photos, and other fun stuff. If you enjoy this article please share it with your friends on Facebook.