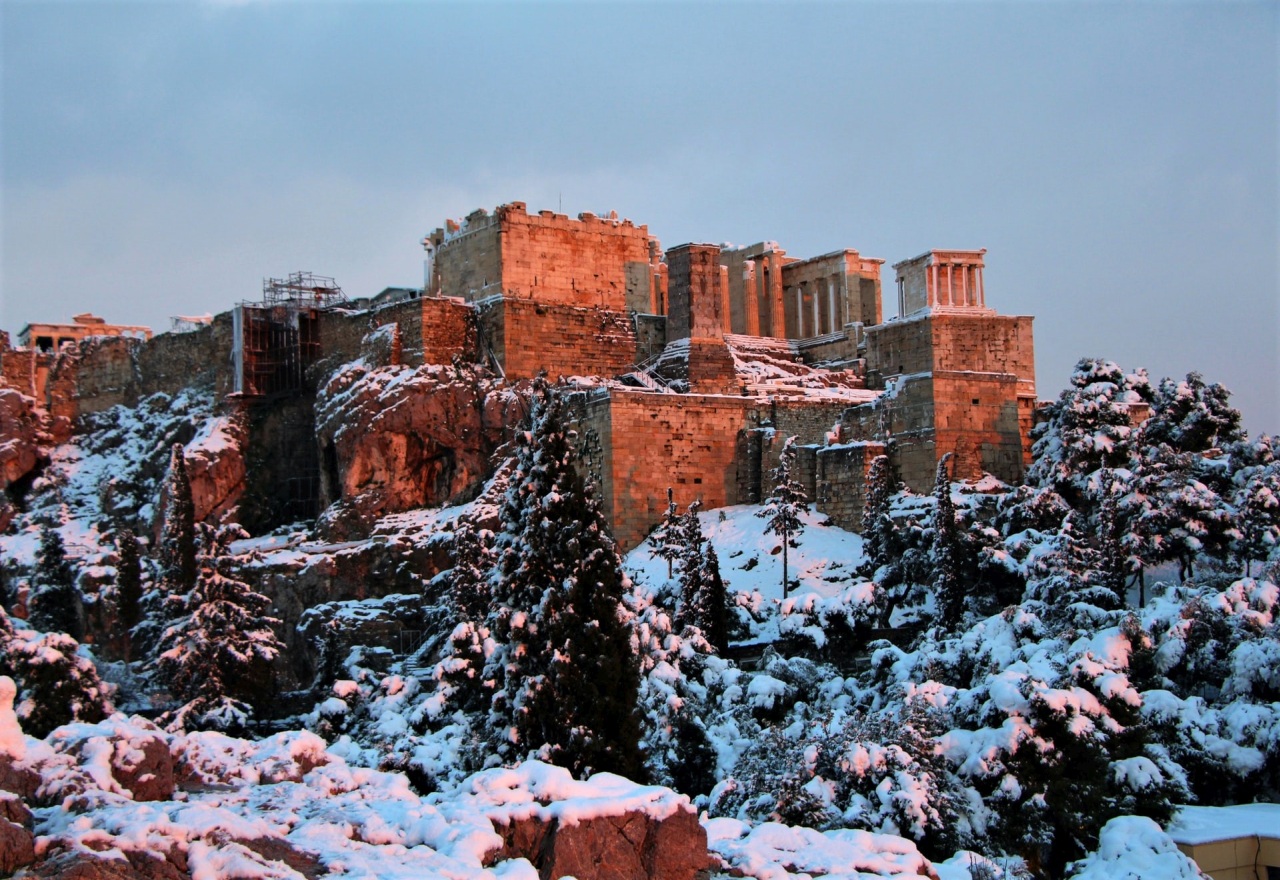 Visiting Athens in the Winter: Weather – What to Pack – Things to Do
Last Updated on: November 10, 2021
Please read first:
Please bear in mind that due to Covid-19 the information that we present in our articles regarding the timetables of public transportation, hotels, restaurants, etc. may be subject to change. We highly advise you to double-check before proceeding with any bookings. Rest assured that we here at Athens By Locals are doing our best to keep up with these turbulent times and provide you with up-to-date travel information. Do not hesitate to reach out for any questions, we'll be more than happy to help!
Visiting Athens in the winter is not an idea that comes up very often among travelers. Mostly known as a summer destination, Athens lures hordes of travelers from May until the end of August.

However, few know that the Greek capital is equally charming in the wintertime offering plenty of choices for things to do. In fact, if you want to see the city without the tourist crowds, the perfect time of the year to visit Athens is from November until the end of March.
Here are what you should know about visiting Athens in the winter and a few ideas to add to your to-do list.
Athens Weather in the Winter
Even though temperatures are significantly lower in winter than during the summer months, the weather in Athens is still quite pleasant.
January and February are the coldest months of the year with temperatures ranging between 13 and 5 degrees celsius.
However, days start getting chiller already since November. Rainfalls aren't uncommon during these months but usually, they don't last long.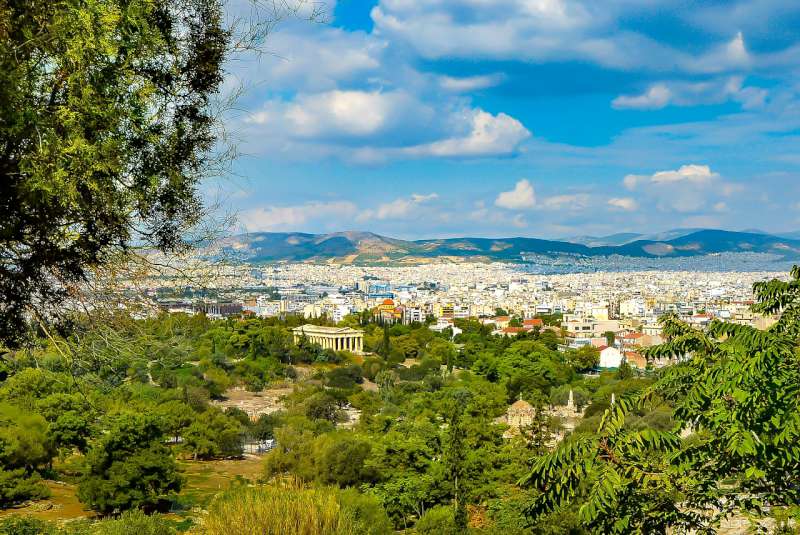 Chances are that you'll get your vitamin D dose even if you're visiting the Greek capital in the heart of winter.
If you like to know more about what is the best season to visit Athens, please read our detailed guide here.
Athens Temperatures in the Winter
| | December | January | February |
| --- | --- | --- | --- |
| Avg. Temperature °C / °F | 9.9 °C / 49.8 °F | 8.2 °C / 46.8 °F | 9 °C / 48.3 °F |
| Min. Temperature °C / °F | 6.9 °C / 44.4 °F | 5 °C / 41 °F | 5.4 °C / 41.8 °F |
| Max. Temperature °C / °F | 13 °C / 55.5 °F | 11.6 °C / 52.8 °F | 12.7 °C / 54.9 °F |
| Rainy days | 6 | 6 | 5 |
| Average Hours of Sunshine | 5.5 | 5.7 | 6.5 |
| | | | |
Weather facts regarding Athens in winter
What Clothes to Pack for Your Trip to Athens in the Winter
Now, that you have an idea of what the weather is like in Athens in the winter, you know that you have to leave your flip flops and shorts back home.
Don't worry though, you don't need to master the art of layering to survive the cold in Athens. A sweater and a jacket will be more than enough for keeping warm while visiting the Greek capital.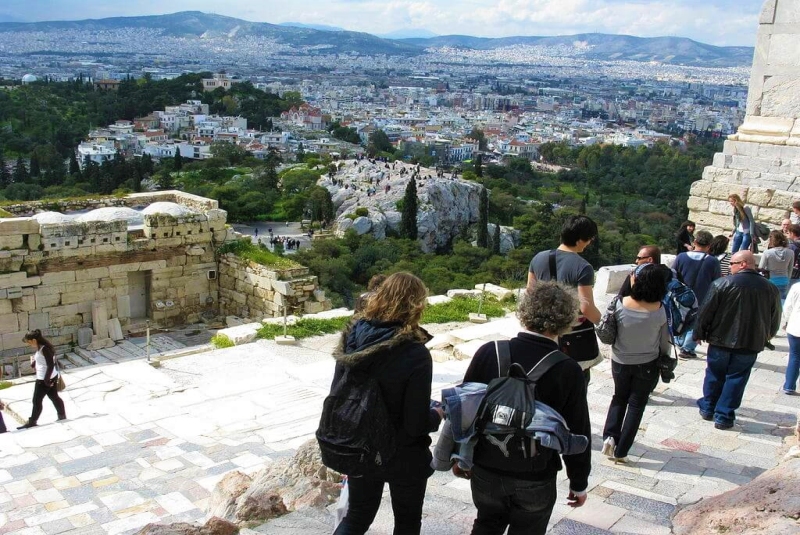 Especially, if you're coming from a northern European country you'll probably cope with the weather quite easily.
Having said that, here are a few suggestions for your winter in Athens packing list:
Warm clothes (Jackets, gloves, scarves, winter hats, etc)
A raincoat for the rainy days
Comfortable footwear for getting around and sightseeing
Extra pairs of socks. Rain in Athens is rare and usually brief but very sudden
Sunglasses and sunscreen. Even in winter, Athens is very sunny
Mosquito repellent. Especially if you're planning to take a seaside trip
A body wallet to avoid pickpockets
An international power adapter
A power bank and extra chargers
Still need help? You're in luck. We have put together the ultimate travel checklist for Athens. Check it out right below.
Why Visit Athens During Wintertime
Book a flight and a hotel room at a lower price
As winter is the off-peak travel season in Athens, prices drop. From November until the beginning of March you can find low-cost flights from several European cities. Moreover, accommodation in Athens is much cheaper compared to summer. Hotel rooms and Airbnbs can be found at lower prices even in the center of Athens. Plus, in many landmarks, prices are reduced during the winter months. For example, the Acropolis entrance fee is €20 from the 1st of April to the 31st of October and €10 from the 1st of November to the 31st of March.
Pleasant weather for outdoor activities
In the summer, temperatures often hit 40 degrees Celsius in the daytime. Walking around the city or doing one of the numerous outdoor activities Athens offers can become very difficult under the heat of the sun. In winter though, especially in December, the weather allows you to explore the great outdoors. On a sunny winter day, you can, for example, easily walk on top of Mt Lycabettus, or go hiking at Philopappos Hill.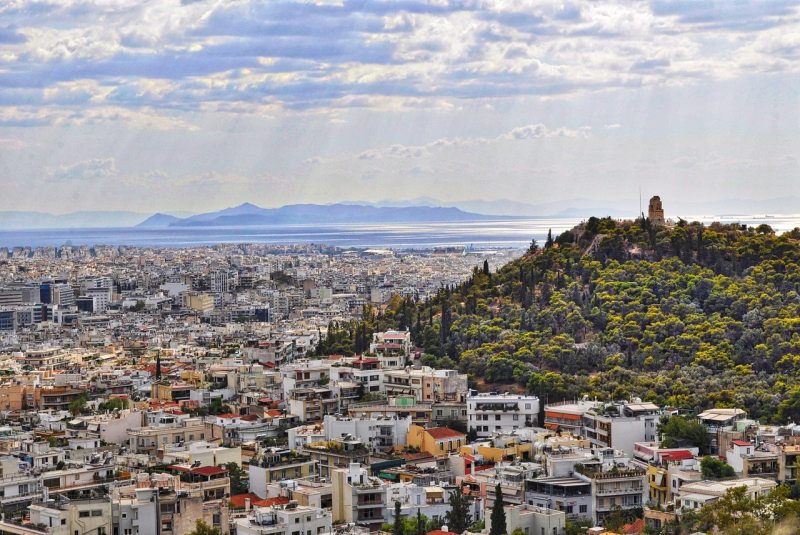 Escape the tourist crowds
One of the best things about visiting Athens in the winter is that there are significantly fewer tourists.
Not only you'll see the authentic side of the city but you'll also avoid the long queues at the city's archeological sites and museums.
Imagine being able to visit the most famous attractions like the Parthenon or the Acropolis museum at your own pace without having to squeeze through hundreds of people just to get a nice photo.
Taste authentic Greek winter food
Greek food and the gastronomy of Athens are two of the main reasons why travelers love visiting the city again and again. But did you know that visiting Athens in the winter will make for a completely new culinary experience? Greek cuisine is very seasonal means that there are quite a few dishes that can be only enjoyed in wintertime. Make sure to try fresh wild greens, lahanodolmades (the famous cabbage rolls), and rakomelo (boiled raki with honey and carnation). Also, if you're visiting during Christmas, dig deep into a plate of melomakarona (honey biscuits) or diples (deep-fried dough with honey).
Experience Christmas and New Year's Eve in Athens
Like most religious holidays, Christmas in Greece is traditionally a family affair.
Most of the shopping streets, museums, and archaeological sites close down on Christmas Eve and the city starts looking as real as it can get.
Grab this opportunity to explore crowded places like Anafiotika and Dionysiou Aeorpagitou street and you'll immediately feel like a local.
On the other hand, New Year's Eve in Athens is probably the busiest day of the year. There's a lot of shopping, numerous events, fine dining, and a lot of drinking taking place all day long.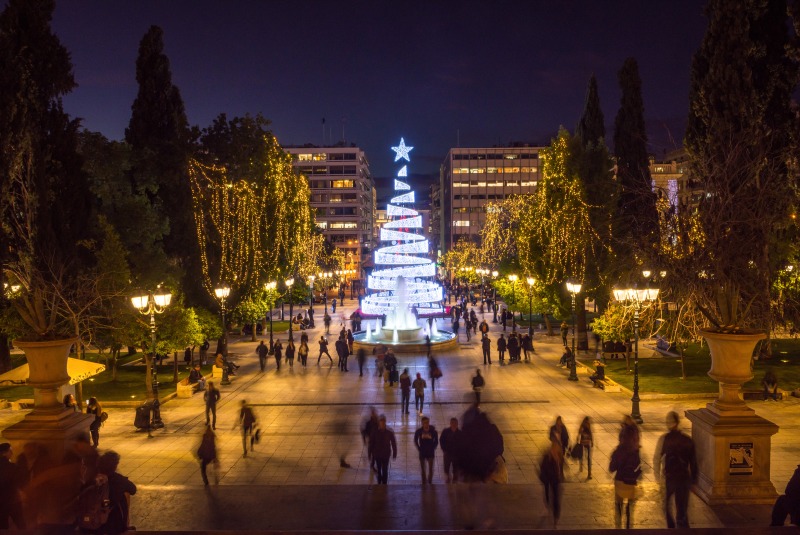 After sundown, the city turns into a great party and locals hang around until the morning.
Planning to visit during the Christmas holidays? Then you need to take a look at this guide right below.
Things To Do in Athens in the Winter
Explore Plaka and Anafiotika
Now is your chance. You'll never be able to see either Plaka or Anafiotika more comfortably without the hordes of tourists passing by.
Get lost in the narrow pedestrian streets, enjoy a cup of Greek coffee and do some souvenir shopping while admiring the picturesque alleys and neoclassical buildings that will make you believe you are strolling through a postcard.
Visit a museum on a rainy day
Don't worry if it happens to rain while you're in Athens. You were bound to visit a few museums at some point anyway.
Apart from all the obvious choices like the Acropolis Museum, the National Archaeological Museum, and the National Art Gallery, you could also try something more peculiar like the Museum of Greek Popular Musical Instruments or The Museum of Cycladic Art.
And if you get tired of browsing through the exhibits, you can always have a break to enjoy some coffee and the sounds of rain.
After all, there's only one thing better than a museum on a rainy day: museum restaurants and cafes.
Explore the Stavros Niarchos Foundation Cultural Center
Just a few minutes away from downtown Athens, the Stavros Niarchos Foundation Cultural Center is not only a must-visit attraction but also a great option for a winter walk.
Within the beautiful complex, you'll find the National Library of Greece, the Greek National Opera, and huge green open spaces with an artificial canal.
There's even a bus you can get from the city center to SNFCC completely free of charge.
Take a seaside trip to the Athenian Riviera
The Athenian Riviera is one of the most beloved places in the city among locals.
Granted, a stroll down the beach is not quite the same in wintertime, but you'll still be able to enjoy breathtaking views, exquisite food, and shopping at the most famous southern suburbs of Athens like Voula and Glyfada.
Climb up Lycabettus Hill
Lycabettus is the tallest and most popular hill of Athens that overlooks the Attica basin offering immaculate views over the city.
You can either walk up the hill or ride the cable car that goes all the way to the top starting from the foothill of Lycabettus in the upscale neighborhood of Kolonaki.
It runs every half an hour and the ride is quite enjoyable. Tickets cost 7 euros for a round trip.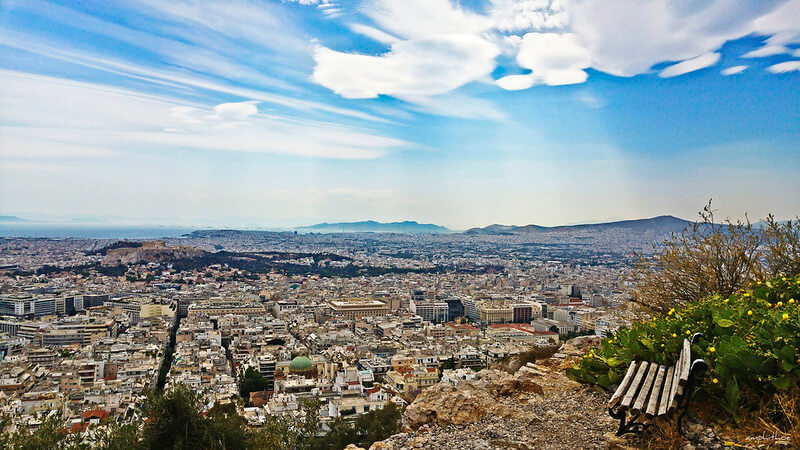 Explore the National Gardens of Athens
The National Gardens of Athens in Syntagma are an exceptional choice for a winter walk as well.
You can easily get there just by walking a few minutes from the Parliament on Syntagma Square.
Just grab a cup of coffee and walk through gardens, do a bit of birdwatching and discover peculiar monuments and old buildings hidden among the labyrinthine pathways.
See the Parthenon on Acropolis Hill
We've mentioned it a few times in this article already but we can't stress this enough: visiting Athens in the winter is the best time to go see all the famous ancient sites that are swarmed with people any other time of the year.
And so, the Parthenon couldn't be missing from this list. The walk up the hill to admire the magnificent temple will be the highlight of your trip.
Visit the city's markets
Even though markets take place all year round, in the winter there are more options as during the summertime many vendors go on holiday.
Food markets like the Athens Central Market, antique markets, and fashionable markets pop up all around the city center.
Most of them are held on the weekends or on Sundays attracting locals and tourists.
Hammam Experience
There isn't a better way to warm up on a winter day than a traditional hammam experience. Hammam Baths in the Thissio neighborhood features traditional hammam rooms ideal for some moments of pure relaxation. Moreover, the luxurious and cozy space offers massage services as well as manicure, pedicure and body hair removal, and facial cleansing services.
Go Ice Skating
Even though it rarely snows in Athens, there are some ice rinks around the city that will set you in a wintery mood. Ice n skate close to Eleonas Metro station, the 1,000-square-meters ice rink close to the department store Athens Heart Mall and Ice Arena at Athens Concert Hall (Megaron) are the best places for honing your ice-skating skills.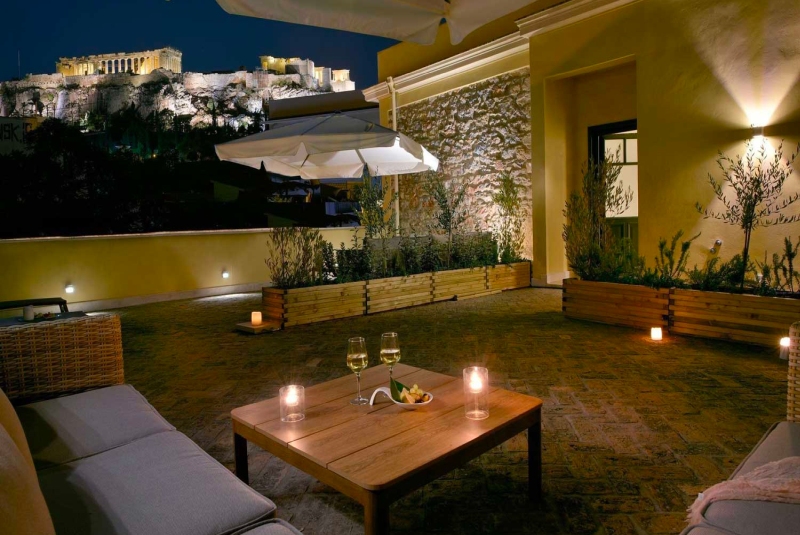 Take a day trip from Athens
Even though Athens has a lot to offer, we would highly recommend taking a day trip to delve deeper into local culture and get a taste of rural Greece.
Still, we would suggest you stay clear of any seaside destinations like the Saronic Gulf islands, as life in these islands tends to be very slow in the winter.
Instead, you can admire the astonishing monasteries with a trip to Meteora or learn more about the history of Greece with a day trip to Ancient Olympia.
If you want to see some other great options for a day trips destination from Athens, read the article right below.
Where to Stay in Athens in the Winter
Choosing a hotel in Athens if you're visiting in the winter is going to be a much easier task compared to looking for one during peak season.
Still, you should be looking for the best location if you want to have all the famous attractions within walking distance from your hotel.
We would recommend choosing a hotel in the city center and specifically in the areas around the Acropolis: Koukaki, Thission, Monastiraki, Petralona, and Syntagma.
In short, all the sought-after areas where it's almost impossible to find availability in the summer.
And the best part? Hotel rates in the winter are significantly lower too! You can search and compare hotels, and find all the rates on Booking.com, the largest booking platform worldwide.
Frequently Asked Questions about Visiting Athens in the Winter
Should I visit Greece in winter?
Definitely yes. Visiting Greece in the winter is an altogether different experience than visiting any other time of the year.
Is Athens worth visiting in December?
December is actually the warmest winter month in Athens. We would highly recommend visiting in December, especially if you are planning to spend Christmas in Athens.
Is Athens worth visiting in January?
January is one of the slower months when it comes to tourism, but that's exactly why it's a great idea to visit then.
Is Athens warm in winter?
Athens is quite warm in the winter with an average temperature of 9 °C (48.3 °F) and a minimum temperature of around 6 °C (42.8 °F).
Does it snow in Athens in December?
Snow is very uncommon in Athens, especially in the city center. It normally snows only a few days a year. Still, you may see snow in Athens if you are lucky enough.
What's the coldest month in Athens?
The coldest month in Athens is January.
Which area of Athens is best to stay in during winter?
Any area in the city center and close to the Acropolis like Syntagma, Monastiraki, Koukaki or Thission would be an excellent choice.
What do you wear in Athens in the winter?
Athens is rarely extremely cold. A normal winter jacket and jeans would be enough most of the time. However, make sure to pack some warm winter clothes just in case temperatures drop below normal levels during your trip.
To sum it up, Athens is a great city for a short getaway in the heart of the winter.
This guide aims to introduce you to the wintery side of the Greek capital and present you with the most important things to keep in mind before you start looking for hotels and booking your tickets.
A Quick Reminder:
Remember that Athens By Locals is here to guide you with planning the perfect trip to Athens and help you every step along the way. If you didn't found what you're looking for, or need any recommendations about your trip to Athens, feel free to contact us and we will do our best to help you. Please be as more detailed as possible regarding your subject so as to help you better.
If you like what you read please scroll down at the end of this page and subscribe to Athens By Locals so next time to receive more articles like this straight forward to your email. Join us on Facebook for comments, photos, and other fun stuff. If you enjoy this article please share it with your friends on Facebook.