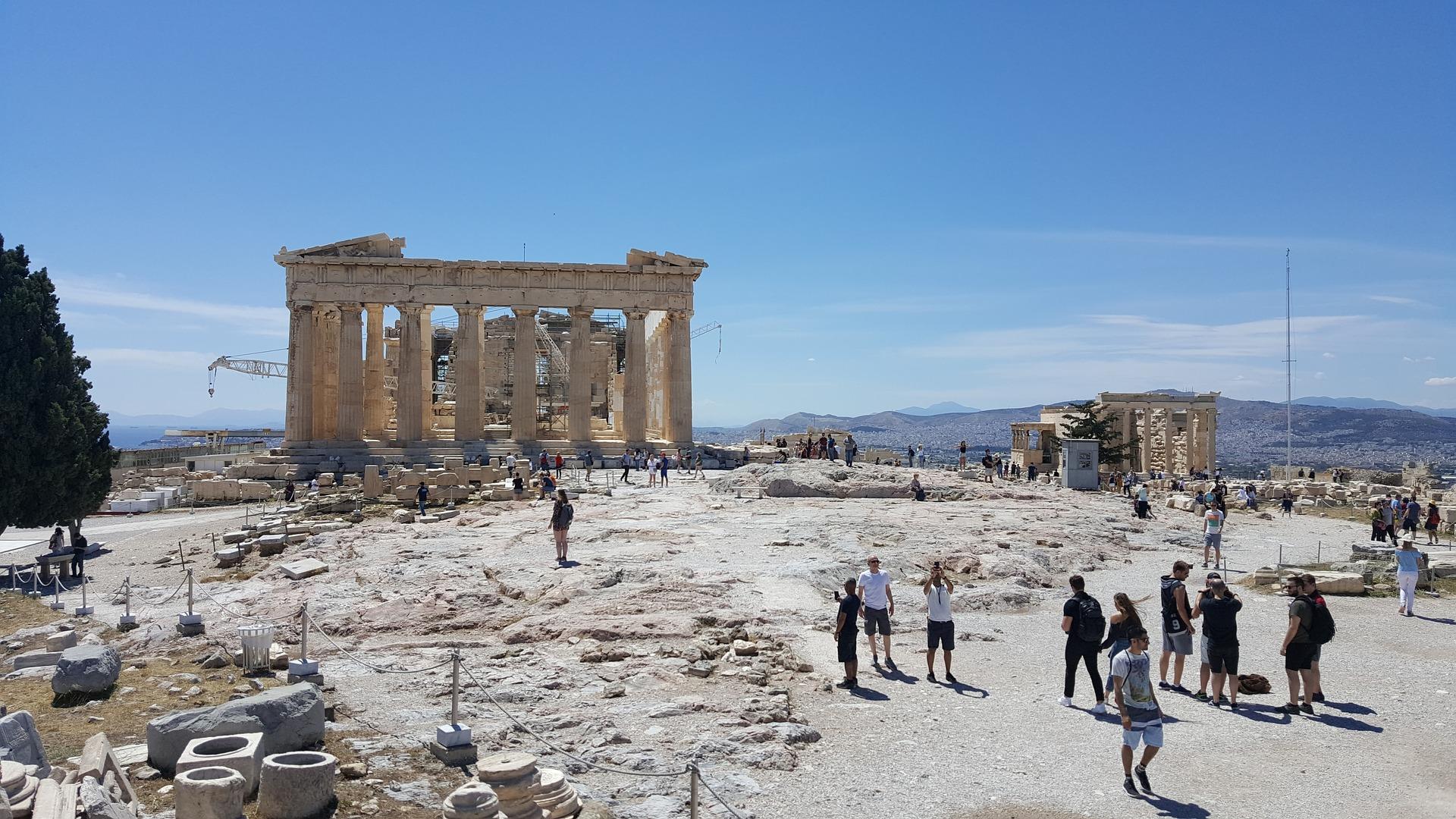 Best Time of Year to Visit Athens: Months – Weather – Sightseeing
Last Updated on: May 12, 2021
Please read first:
Please bear in mind that due to Covid-19 the information that we present in our articles regarding the timetables of public transportation, hotels, restaurants, etc. may be subject to change. We highly advise you to double-check before proceeding with any bookings. Rest assured that we here at Athens By Locals are doing our best to keep up with these turbulent times and provide you with up-to-date travel information. Do not hesitate to reach out for any questions, we'll be more than happy to help!
Despite its reputation as an exclusive summertime destination, Athens has been lately evolving into a popular year-round destination. Which, in turn, will inevitably beg the question: when is the best time to visit Athens? Well, to be completely candid, there is no clear answer to this question.
Ultimately, it all depends on what kind of vacation you are after and what your interests are. Bustling with life all year round, Athens is a great destination whether you're looking for a short city break in the winter or a place to spend your summer vacation.
This roundup with what you should expect to find in the Greek capital each month of the year will certainly help you decide when is the best time of year to visit Athens.
Visit Athens in January – February
While Greece is popular for its sun-soaked islands with endless sandy beaches, the Mediterranean country experiences winter too.
In fact in some places in Northern Greece it even snows and temperatures drop below zero. Luckily, that isn't the case in Athens.
During January and February temperatures in Athens range from 10°C to 0°C and there are low to no chances of snowing. A good pair of shoes, a jacket and an umbrella for those few raindrops are all you need to pack in your suitcase.
February usually marks the beginning of the Greek carnival (Apokries) which lasts for around three weeks and ends on "Clean Monday", (Ash Monday).
Parties, parades, and festivities take place around the city during the carnival but the biggest celebration is held on the final weekend.
Travel to Athens in March – April
March signals the beginning of spring in Greece. The days get sunnier and temperatures vary from 20°C during the daytime to around 10°C at night.
As it is the low season, the hordes of tourists haven't arrived yet, making it easier to visit the city's sites without having to wait in long lines.
And as it happens with every city around the world during the low season, hotel prices are lower and plane tickets are cheaper.
When April kicks in, the weather in Athens gets even better and the days become longer. It's a great time of the year to visit Athens if you want to avoid the crowds and still experience the county's sunny weather.
Keep in mind though that Greek Easter usually falls in April. That means that many locals leave the capital and head to the countryside and many shops and bars are closed for a few days.
But what if you were really looking forward to that shopping spree you were imagining in downtown Athens? No reason to worry. Check out this ultimate shopping in Athens guide and make sure you will always be at the right place at the right time.
A Trip to Athens in May – June
While May is a spring month, in Athens it starts feeling like summer. With temperatures reaching up to 25°C, locals and tourists head to the seaside areas also known as the Athenian Riviera and some even dare to take the first dip of the year.
Outdoor tables pop up in some of the capital's hip neighborhoods breathing new life into the city.
If you're in Athens on the 1st of May grab the chance to explore the city's outdoor places and make a May Day wreath as the tradition requires.
On the other hand, you're visiting Athens in June be prepared to get a taste of the Greek summer.
Temperatures are higher than in May but they don't soar above 30°C as it happens in July and in August. June's weather is ideal for all day long sightseeing and relaxed evening walks around the historic center.
Summer's first month also marks the beginning of the summer festival season which lasts until the end of July. The city's cultural agenda is filled with all kinds of events including numerous outdoor concerts.
Little known fact: Athens is actually home to tens of exciting festivals. Be it music, culture, arts or just plain entertainment, you are sure to find a festival to suit your tastes.
Visit Athens in July – August
July and August are the hottest months in Greece and therefore most locals and tourists decide to hit one of the numerous majestic Greek islands like Mykonos, (check here how to get there from Athens) or Santorini (best ways to travel from Athens to Santorini).
A fact that makes many travelers wonder whether the two last months of the summer is a good time to visit Athens.
Well, it all depends on what you're looking for during your trip. The first and most important is that in August most Athenians leave the city for the islands. Especially during the last half of the month, Athens feels quite empty and many bars, cafés, and restaurants are closed.
If the capital's nightlife isn't on your list with the reasons to visit Athens, then you'll probably like Athens city in August. You'll still find many places for a quick bite, a mouthwatering dinner, or an ice-chilled cocktail.
The other thing you have to consider before booking your flight tickets for August is the temperatures.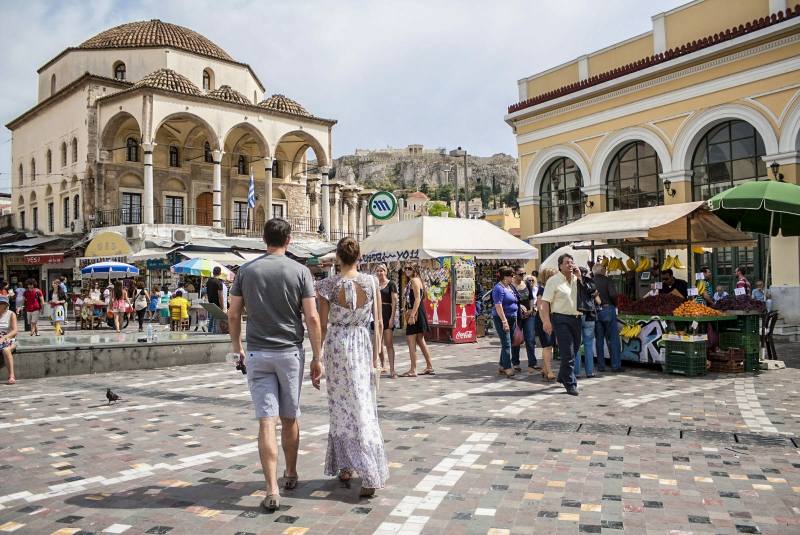 The Greek summer might have gained a great reputation making millions of tourists flocking to the country every summer but it isn't all that pleasant in the city center.

With the thermometer often showing 40°C and above, sightseeing in Athens can become really hard. The same goes for the last half of July. However, in July the city is still quite vibrant as most locals go only on short weekend getaways.

And here's the best part; the location of Athens makes it ideal for some astonishing day trips to places that you'd never thought you could reach for the city.
Travel to Athens in September – October
Τhe first autumn breeze comes in mid-September and usually, it isn't accompanied by the season's typical raindrops, allowing locals to savor the year's last summer drinks in rooftop bars and outdoor spaces. The weather is still very pleasant and warm enough for a swim at the nearby beaches.
September is also a great month to catch one of the cultural events at the historic Odeon of Herodes Atticus. The summery mood still lingers in the air as most people have just returned from their vacation and a not very negligible number of tourists still roam around the city.
Life in Athens gets back to pace officially in October. And even though we're in the heart of autumn temperatures are still quite high with an average of 20°C in the daytime.
During this time of the year, the number of tourists has decreased significantly so if you want to see some hidden gems or the less-touristy side of the city, a trip to Athens in October is a great idea.
A Trip to Athens in November – December
While in November it gets cooler compared to September and October, it is still much warmer than in other European countries. This time of the year sunny days alternate with rainy weather but the temperature goes up to 15°C.
Unlike northern European cities, Athens doesn't boast huge Christmas markets and snowy landscapes but you'll find many events that will put you in a festive mood.
Take a stroll around Syntagma square, or visit Ermou, the city's pedestrianized shopping street and taste the local Christmas delicacies served in the numerous stalls, attend a theatrical play at Badminton Theater, or a performance at Megaron (Athens Concert Hall).
Wondering what Christmas in Athens could look like? We got you covered. Here's everything you need to know about spending your Christmas holidays in Athens.
Suggestions and Useful Tips on When Is the Best Time To Visit Athens
We will dedicate this short section to answering all the questions we assume you might have about when the best time to visit Athens is. We will try to provide useful tips and recommendations as well as shed some light on the issues most frequently brought up by our readers. Keep reading to make sure that you make the right decision before making that flight booking you have been postponing for so long.
What is the best time to visit the Acropolis?
Even though the climb up to Acropolis is quite easy, you have to keep in mind that Athens tends to be quite hot during summertime. So, even spending a couple of hours outdoors, under the hot sun may prove to be quite exhausting. The best time of the year to visit Acropolis is either autumn or spring when the temperatures are mild and there are fewer tourists up on the iconic hill.
What is the best time of year to go to Greece?
Don't be fooled by the popularity of Greece and its islands enjoy during the late summer. If you want to avoid both the high season and the high prices you might want to consider booking your trip to Greece in spring or early autumn when there are no heatwaves and the most famous places are more accessible.
Is Greece warm all year round?
The mild Mediterranean climate Greece boasts means that there are no extreme temperatures during the winter months. Even though winter in the northern parts of the country tends to be quite cold and snowy, Athens and the rest parts of the southern country enjoy mild winters with temperatures that rarely drop below 5 °C.
How hot is Athens in summer?
Athens can be extremely hot during summertime, especially in times of heatwaves. In some cases, temperatures can reach close to 45 °C especially in July and August. If you're planning some outdoor sightseeing during those months, we recommend you check the weather forecasts ahead to avoid going on long walks on days with excessive heat.
What is the coldest month in Greece?
The coldest month in Greece is January with an average temperature of 10 °C and quite high chances of rain during the daytime. So, if you're planning to visit Greece in January, make sure to pack accordingly and be sure to take a raincoat with you.
What is the hottest month in Greece?
The hottest month in Greece is August with an average temperature of about 30 °C. This might sound mild, but it is not uncommon at all for temperatures to surpass 40 °C during the daytime, especially during heatwaves.
Which is the peak season in Greece?
The visitors of both Greece in general and Athens, in particular, reach their peak numbers during summertime when the weather is hot and there are many international flights arriving and departing from the capital city. Especially the months of July and August are incredibly popular among travelers who spend a few days in Athens before heading towards one of the Greek islands.
What is the rainy season in Greece?
The rain season in Greece lasts from November to February with frequent rains and fairly high humidity. However, the winter temperatures of Greece are fairly mild, so you can easily go sightseeing and spend time outdoors with just basic winter clothing.
What is the cheapest time to go to Greece?
In terms of air flight bookings and hotel reservations, the cheapest time to go to Greece is in autumn. You'll find that the prices of airfares and hotels are considerably cheaper in September and October. On the contrary, the most expensive period to travel to Greece is summertime.
How many days do you need in Athens?
Athens is an incredible destination that offers countless options for sightseeing, arts, history, culture, nightlife, and entertainment. We recommend that you spend at least 3 or 4 days in Athens to cover the most popular sights like the Acropolis and get a general feel of what life in the Greek capital is like.
So, When Is the Best Time of Year To Visit Athens?
The best times of year to visit Athens are between March and May and from September to early November. But you have to know; no matter which time of the year you choose to visit Athens, you will always find more than enough interesting things to see and do around the city.
With its historic sites, the flavorful traditional cuisine, and the bustling nightlife that makes you feel that this city never sleeps, the Greek capital is bound to enchant all year round.
The main question you have to figure out before you determine the right time of year for your vacation is whether you prefer to experience Athens during winter or summer.
After that, just follow our guide, pick the right period according to your interests, and let yourself indulge in the experiences that this magical city has in store for you.
We bet you won't be disappointed.
A Quick Reminder:
Remember that Athens By Locals is here to guide you with planning the perfect trip to Athens and help you every step along the way. If you didn't found what you're looking for, or need any recommendations about your trip to Athens, feel free to contact us and we will do our best to help you. Please be as more detailed as possible regarding your subject so as to help you better.
If you like what you read please scroll down at the end of this page and subscribe to Athens By Locals so next time to receive more articles like this straight forward to your email. Join us on Facebook for comments, photos, and other fun stuff. If you enjoy this article please share it with your friends on Facebook.