Roman Agora of Athens
Last Updated on: July 6, 2021
Please read first:
Please bear in mind that due to Covid-19 the information that we present in our articles regarding the timetables of public transportation, hotels, restaurants, etc. may be subject to change. We highly advise you to double-check before proceeding with any bookings. Rest assured that we here at Athens By Locals are doing our best to keep up with these turbulent times and provide you with up-to-date travel information. Do not hesitate to reach out for any questions, we'll be more than happy to help!
They say Athens is the eye of Greece, the mother of arts and eloquence. A key component, which contributed a lot to this fame earned by Athens, was the Roman Agora of Athens. The literal meaning of the word Agora is an assembly or gathering place.
As you can guess, these places were the major central public places, found in most of the ancient Greek cities. Athens was no exception to this, with the Roman Agora being its most famed public place.
In this article, we are going to go down memory lane and learn a bit about the history of the ancient Roman Agora of Athens a must-see attraction for those that want to learn more about the ancient history of Athens and gain a deeper understanding of the city's modern culture.
History of the Roman Agora
Contrary to the Ancient Agora which was a gathering place meant for political debates among Athenians, the Roman Agora was an open marketplace.
It was constructed during the first century BC, due to the benevolent contributions of none other than two of the most famous Roman Emperors: Julius Ceasar and Ceasar Augustus.
In its golden era, the Roman Agora featured a large courtyard with a fountain and public latrines surrounded by all kinds of shops.
Later on, when Hadrian took control of Athens, the Roman Agora was paved and a large library was built which would become known in later centuries as the Library of Hadrian and which is still one of its major attractions nowadays.
The Roman Agora soon became both a commercial and administrative center due to its location and historical significance.
Yet, the centuries that followed brought inventions by Venetians and Ottomans who gradually destroyed the agora and turned the site into a common residential area complete with houses, shops, and temples.
The Fethiye Mosque (or Fethiye Cami) which can still be seen today in the Roman Agora is one of the last remaining monuments of the site's turbulent past.
Where is Roman Agora Located
The Roman Agora occupies a very significant location in the heart of Athens, between the imposing monuments of Acropolis Hill and the busy pedestrian streets around Monastiraki Square.
Its location, though very convenient for tourists, has posed some very peculiar problems to local urban planners.
There are two entrances to the Roman Agora. The first lies on the western side, marked by the Gate of Athena Archegetis, a magnificent columned Doric gateway that was dedicated to Julius Caesar.
The other entrance is found next to the Tower of the Winds on the far end of the agora, next to Aiolou street, right between Monastiraki and Plaka.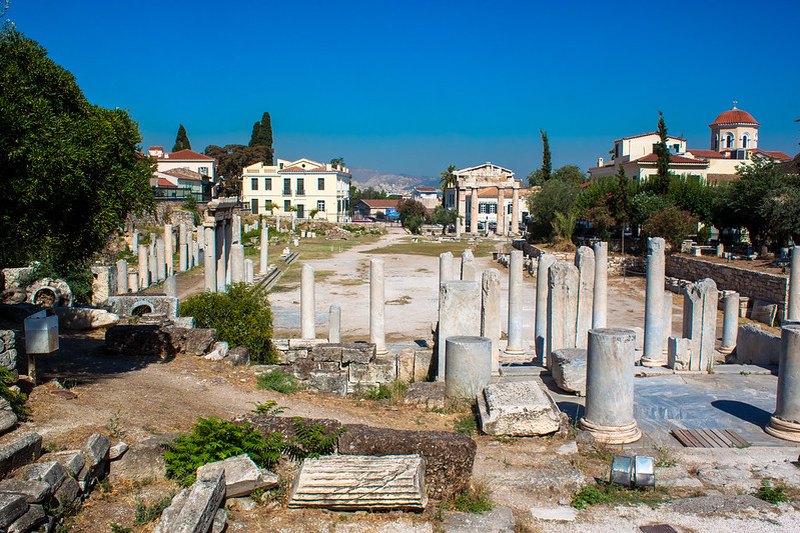 Roman Agora Sights
This isn't an ordinary market. The Roman Agora of Athens is a place riddled with structures of historical significance that reflect the artistic intellect of Athenians.
We mentioned the Gate of Athena Archegetis earlier, but there are some more fascinating sights in Roman Agora that you simply can't afford to miss.
The Tower of the Winds, an elegant polygonal marble building, is probably the most famous building found in the Roman Agora.
However, this isn't just some ordinary marble tower. It is an eight-sided structure, which used to serve as a water clock, a sundial, and a weathervane.
This magnificent structure was built by Andronicus of Cyrrhus, who was a Macedonian astronomer.
Apart from being a major tourist attraction in Athens, the Tower of the Winds is also a popular subject for painters who come from all over the world to admire and draw its shape on the canvas.
Over the centuries, the famous tower has been used by the Ottomans as a hangout spot, a place for the Sufis to dance, and a chapel.
Then there is the Fethiye Mosque, which sits on the northern side of Roman Agora. This Turkish mosque has been a witness to some of the key historical events and has been a part of a few itself.
How to Get to The Roman Agora?
There are four ways by which you can reach the Roman Agora in Athens.
These include:
The simplest and cheapest way to get there is by metro. Just get off at the Monastiraki station (green and blue line) and you'll be just a few minutes away from the entrance.

Alternatively, you can easily get to the Roman Agora on foot from anywhere in the city center. Note that there are also buses that can take you to Monastiraki Square, but we highly recommend taking the metro since the traffic on the streets around Monastiraki tends to be heavy, especially during summertime.
If you like to know more, read our detailed guide about how to get around Athens.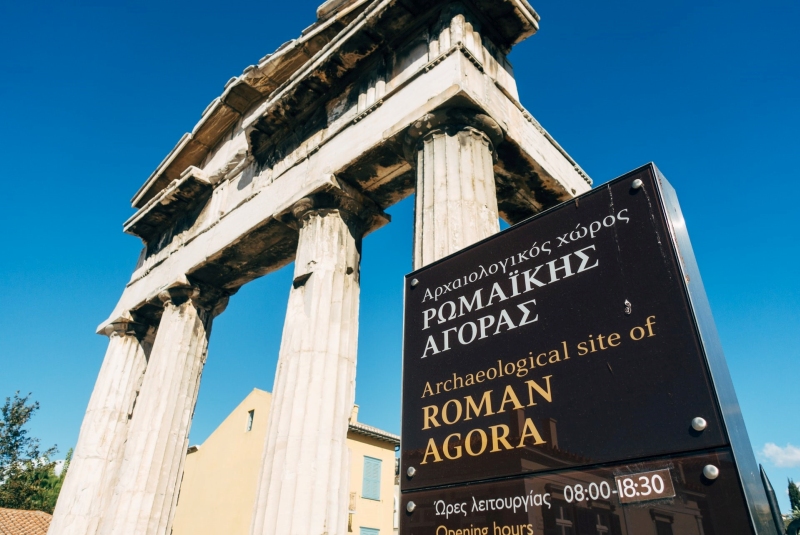 Roman Agora Ticket Prices and Opening Hours
In winter, the opening hours are 8:30 am to 3:00 pm. However, in summer, the Roman Agora is open for visitors from 8:00 am to 7:30 pm.
With just one ticket, you can visit not only the Roman Agora but other archeological sites as well. Some of these include major tourist attractions like the archaeological site of Kerameikos, the Theatre of Dionysus, the Temple of Olympian Zeus, and certain museums.
The price of this united ticket is 12€.
There is a free entrance for the minors who have a certified ID with them at the time of the visit.
The mystique nature associated with the ancient Roman agora can get you hooked at first sight. Find a budget-friendly place to stay through Booking.com, and then visit this shrine of Greek secrets with a mindset to learn more about ancient Athens.
All in all, the Roman Agora of Athens is an attraction you definitely can't miss if you want to dig deeper into the city's past.
Its location makes it ideal for a few hours of sightseeing before continuing your walk through the city center of Athens and discovering all the other treasures it has to offer.
A Quick Reminder:
Remember that Athens By Locals is here to guide you with planning the perfect trip to Athens and help you every step along the way. If you didn't found what you're looking for, or need any recommendations about your trip to Athens, feel free to contact us and we will do our best to help you. Please be as more detailed as possible regarding your subject so as to help you better.
If you like what you read please scroll down at the end of this page and subscribe to Athens By Locals so next time to receive more articles like this straight forward to your email. Join us on Facebook for comments, photos, and other fun stuff. If you enjoy this article please share it with your friends on Facebook.