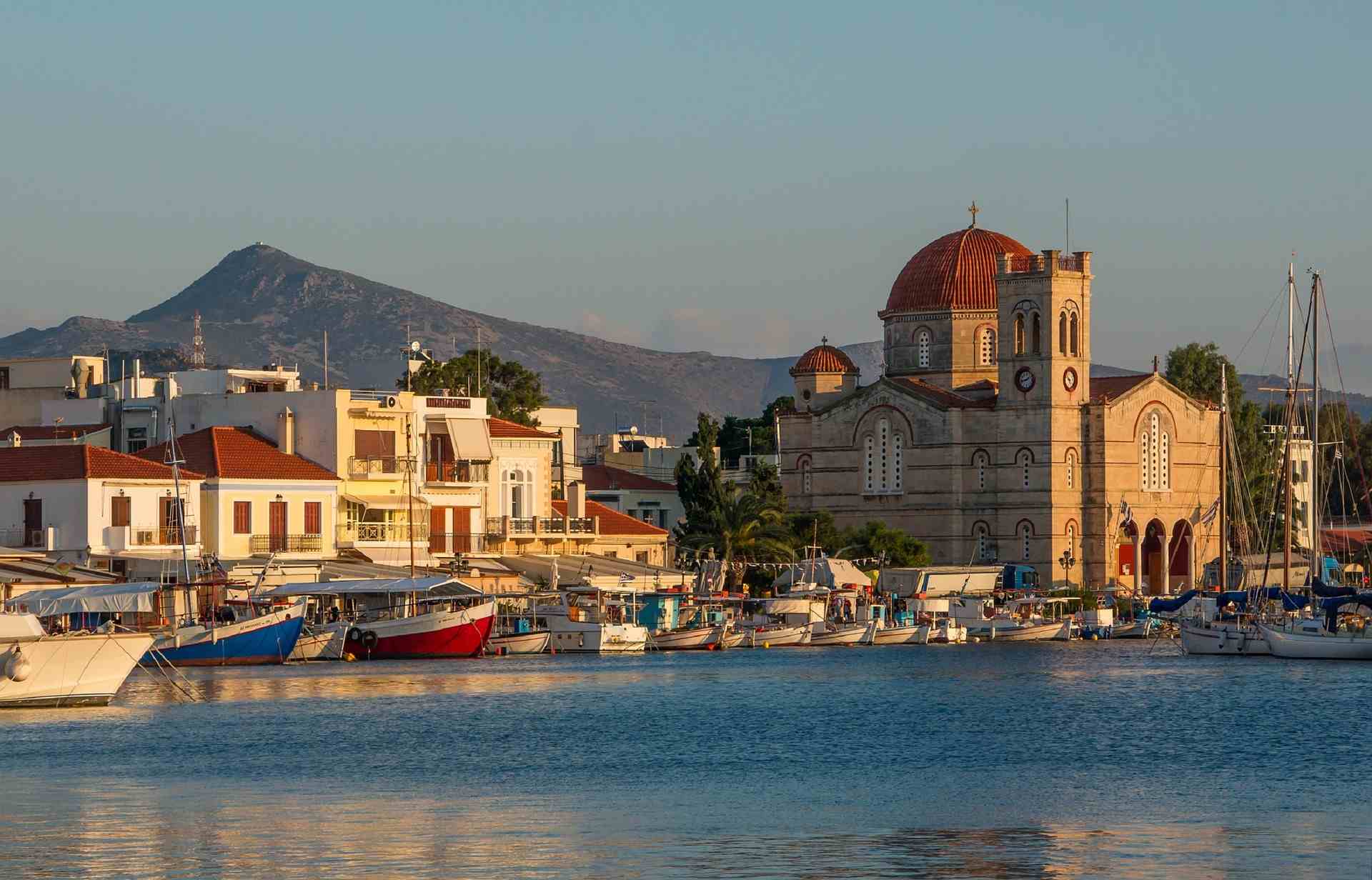 One Day Trip from Athens to Aegina Island
Last Updated on: July 30, 2021
Please read first:
Please bear in mind that due to Covid-19 the information that we present in our articles regarding the timetables of public transportation, hotels, restaurants, etc. may be subject to change. We highly advise you to double-check before proceeding with any bookings. Rest assured that we here at Athens By Locals are doing our best to keep up with these turbulent times and provide you with up-to-date travel information. Do not hesitate to reach out for any questions, we'll be more than happy to help!
A one-day trip from Athens to Aegina island always sounds like a great idea. While Athens contains many treasures from the Ancient Greeks, many visitors can be a little overwhelmed by the modern city.
The city's traffic, hectic downtown streets, and busy neighborhoods are definitely charming but you may find yourselves looking for a quick getaway after a few days.
Fortunately, travelers do not have to travel too far from Athens to get a few hours or even a night away from the busy modern city.
A day trip to the island of Aegina, just an hour and a half away across the sea can be a good choice for those craving a little peace and quiet.
Read on to learn all about this small charming island, find out how to get there, what the best things to do in Aegina are, and when is the best time to visit.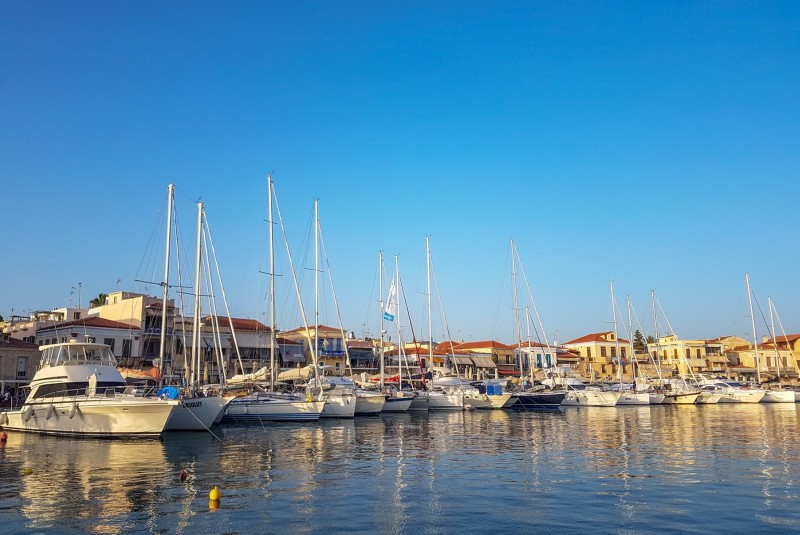 A Brief History of Aegina Island
Apart from being an excellent destination for a short getaway from Athens with a charming town and calm azure beaches, Aegina Island is also a great place for sightseeing.
This small picturesque island has a long history and holds more secrets than it lets on.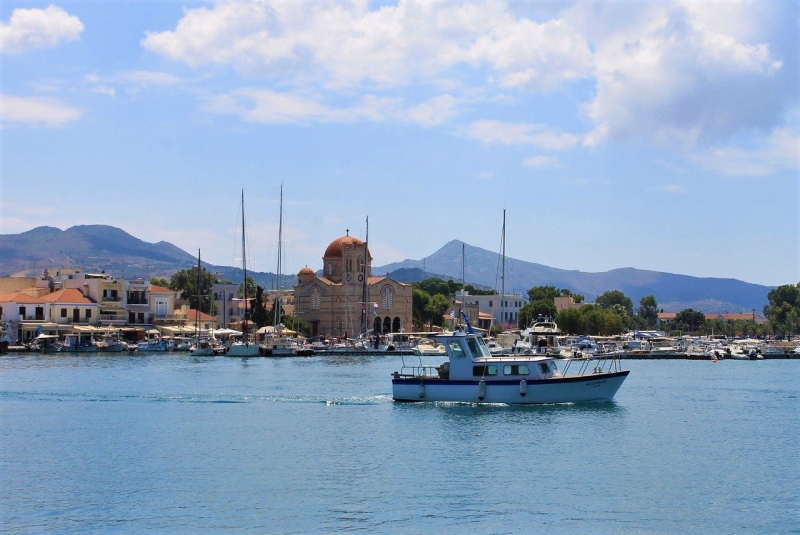 According to Greek mythology, Aegina takes its name after the nymph Aegina who was seduced by Zeus and taken to the small island.
There, the nymph gave birth to Aeacus who would become the king of Aegina and father to the legendary Greek warrior Achilles.
Μost archaeological finds on the island attest to the fact that the history of Aegina starts as early as the Neolithic period, around 3000 BC.
During the second millennium BC, Aegina developed rapidly and became one of the most significant naval powers in the area.
It was then that the island's inhabitants decided to build the magnificent temples, the remnants of which can still be seen on the island, like the ancient Temple to Apollo and the temple of Athena Aphaea, marking the golden era of Aegina.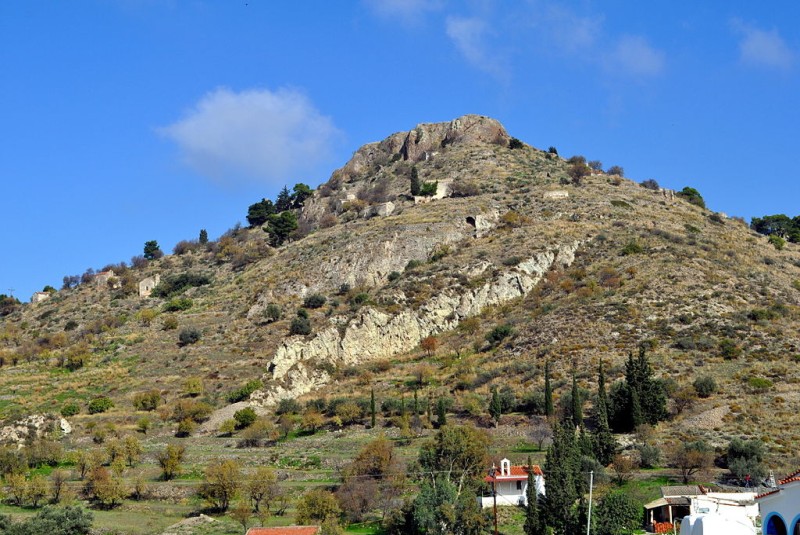 The following centuries brought a war with Athens, the reign of Alexander the Great, the Roman rule, the rise of the Byzantine Empire, and finally the Greek revolution of 1821 in which the small island played a significant role and even became a temporary capital of the newly-founded Greek state.
How Far is Aegina Island From Athens?
The distance between the city center of Athens and Aegina island in a straight line would be approximately 35 kilometers or 21 miles.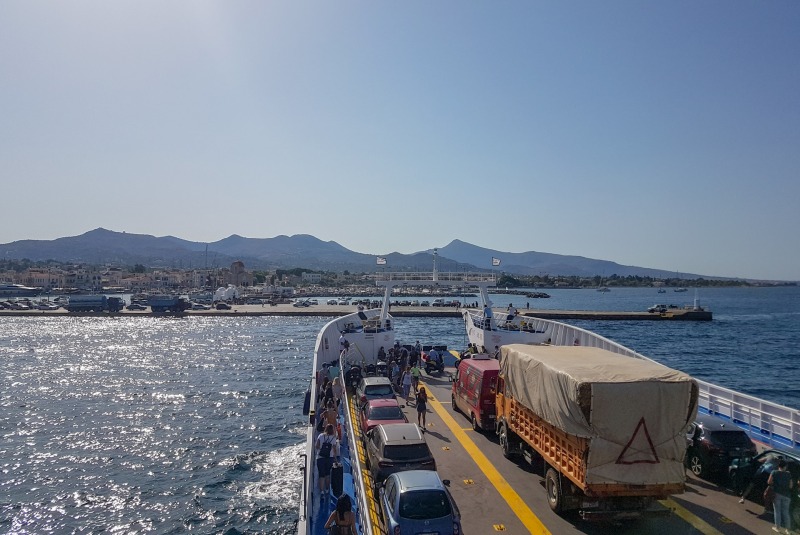 Of course, there is no driving route that would take you directly there. The ferry trip from Athens to Aegina may take from 40 minutes to an hour and a half depending on the type of ferry you decide to book.
Tip: Our preferred website to compare and book our ferry tickets is Ferryhopper. Here, you can see all the ferry schedules and easily book your Greek ferry tickets online. Check prices and book your ferry tickets now!
How To Get To Aegina Island
Due to its proximity to the city, Aegina is one of the most popular destinations for day trips from Athens among locals.
The easiest way to get from Athens to Aegina is by boarding one of the ferries that depart daily from the port of Piraeus.
There are several options to choose from with ferries departing approximately every hour from 7 am to 7 pm.
You can choose between two types of ferries: the traditional ferry that can also carry cars and vehicles and the one that locals call the "flying dolphin", a fast type of catamaran.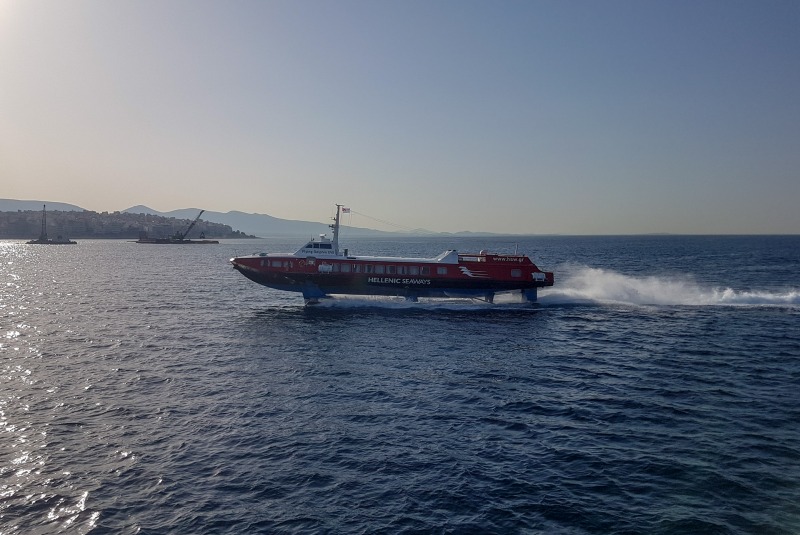 A ticket for the traditional ferry costs a little less than 10 euros (one way) for a trip that lasts a little over an hour.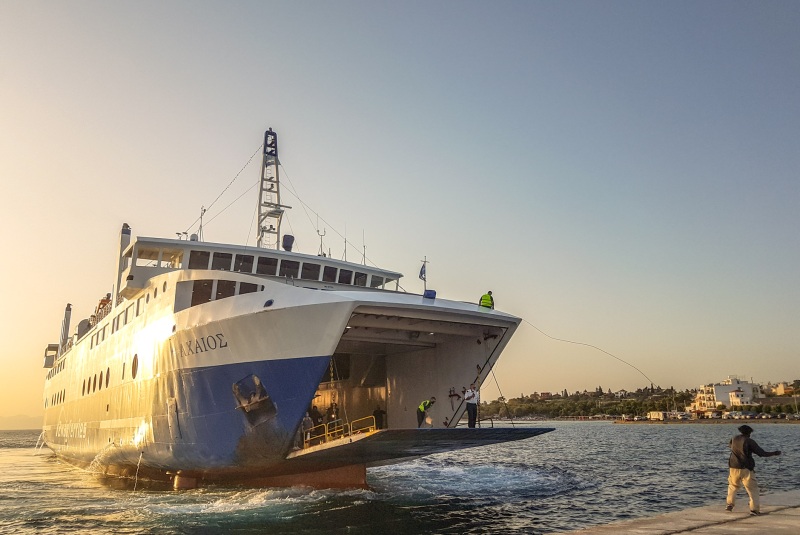 The flying dolphin is a little bit more expensive at 13 euros (one way) for a trip that lasts about 40 minutes.
Alternatively, you can get to Aegina by ferry from the neighboring Saronic Gulf island called Agistri or the small town of Methana in Peloponnese.
Aegina has no airport so there's no possibility to fly there. If you want to get to Aegina directly from the Athens International Airport (which is the closest airport to the island) you'll have to get to the port of Piraeus via metro.
A great way to visit Aegina island is to book a guided day trip. Enjoy a fantastic day out at sea, all along with the mesmerizing Saronic Sea and its islands!
Best Things to Do and See On Aegina Island
So, you have finally decided that Aegina is the place you were after for a day trip from Athens. You already read some interesting facts about the island's history and information on how to get there.

Well, here comes the fun part where you discover all about the charming villages, the enchanting town, the sandy beaches, and the gastronomy scene of the island.
Here are the best things to see and do on Aegina Island.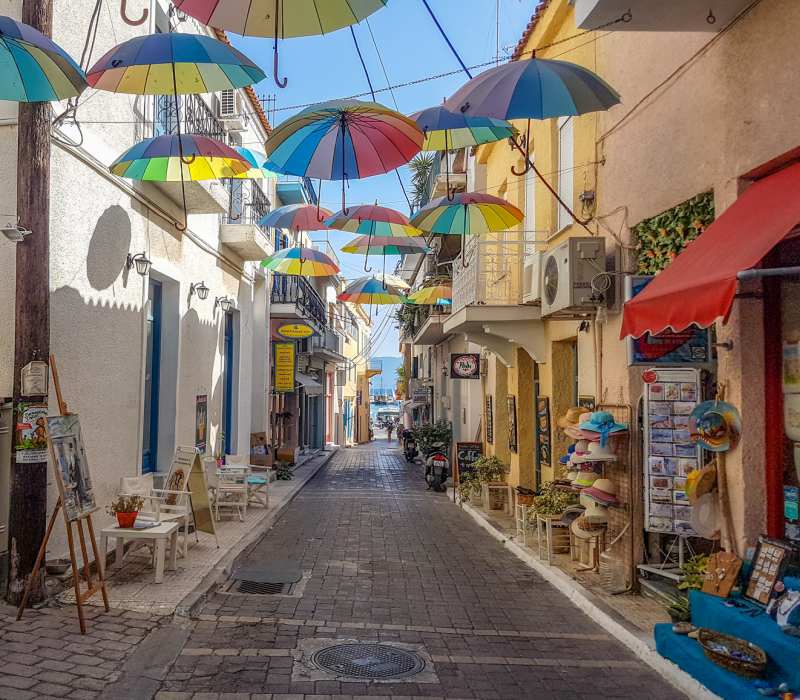 Stroll through Aegina Town
Serving as both the capital and the main port of the island, the town of Aegina is where you find yourselves after getting off the ferry.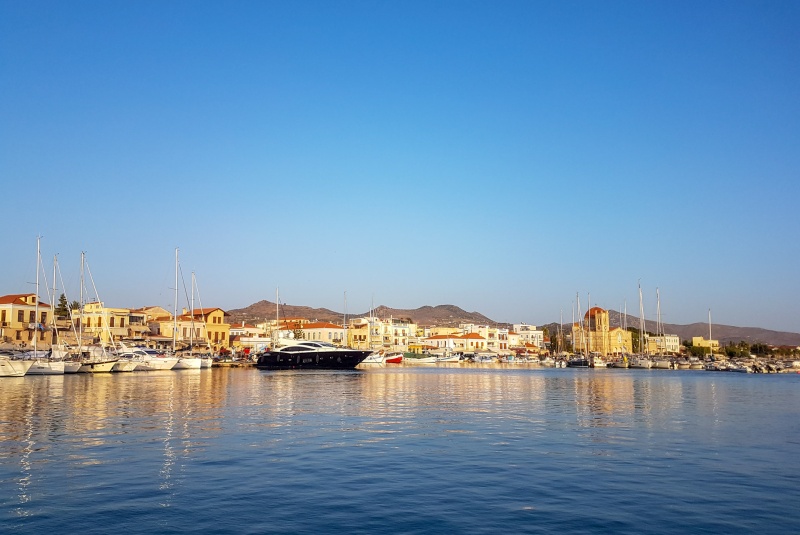 And there is no doubt you'll be thrilled to find a beautiful waterfront town with colorful neoclassical buildings, traditional fish taverns, and small squares unfolding at your feet.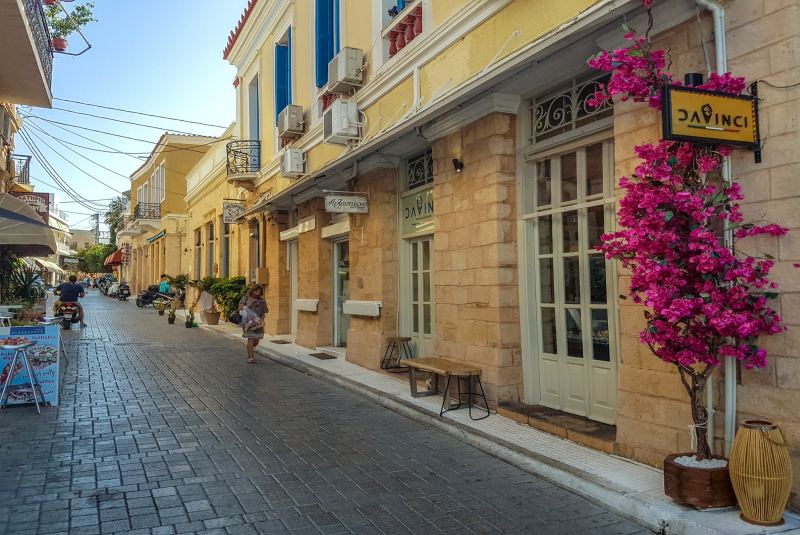 Here you will also find the temple of Apollo or "Kolona" that used to be the ancient acropolis as well as the house where the legendary novel Zorbas the Greek was written.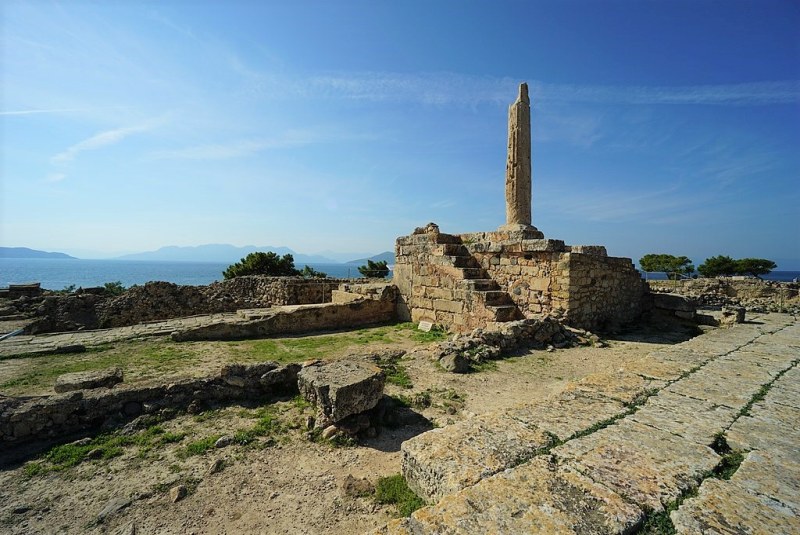 Marvel at the Athena Aphaia Temple
Built in 480 BC, the temple of Athena Aphaia was one of the wonders of the ancient world.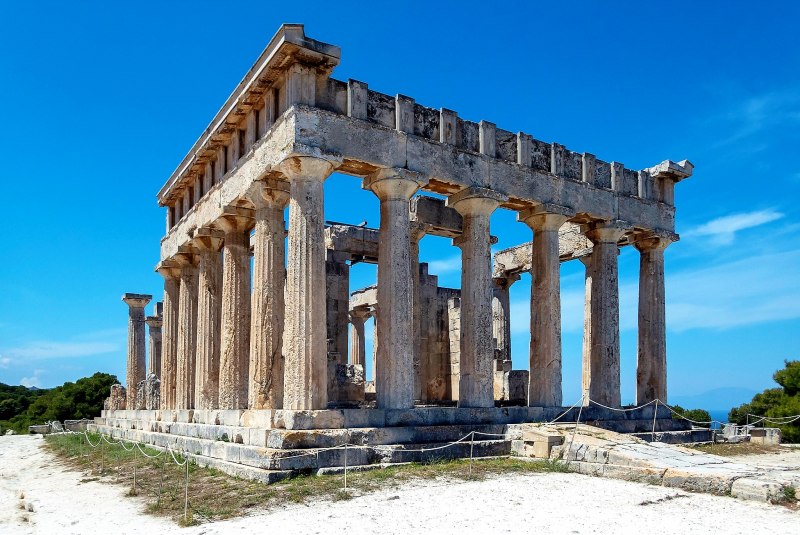 It's located around 12 kilometers east of Aegina town in a sanctuary that encompasses the temple itself and an altar as well as the remnants of ancient buildings and 25 of the temple's original 32 columns.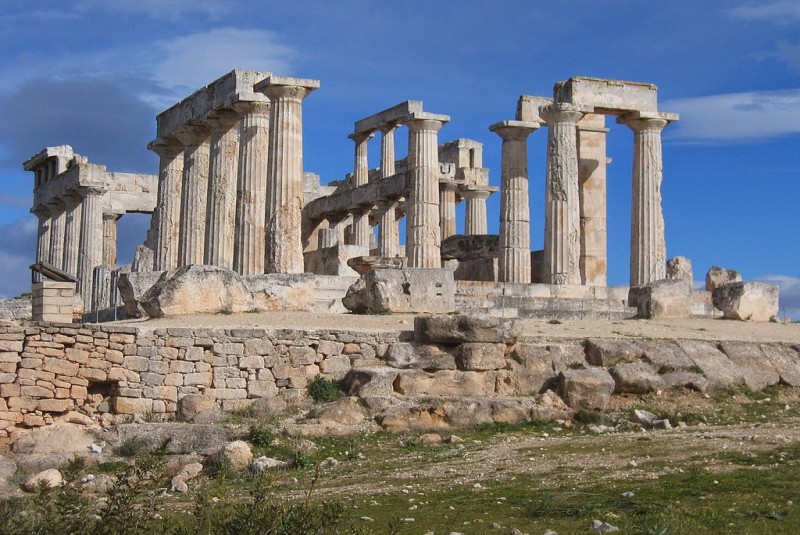 Here's a fun fact: The Acropolis of Athens, the temple of Poseidon in Sounio, and the Athena Aphaia temple form an almost perfect isosceles triangle.
It is believed that the locations of the temples were chosen with some kind of astronomical purpose in mind, but to this day the true intentions of ancient Greeks remain a mystery.
Visit the Aegina Archaeological Museum
Founded by the first governor of Greece, Ioannis Kapodistrias, in 1828, the archaeological museum of Aegina is housed in a modern building in the town, near the temple of Apollo.
Its exhibits include fascinating archaeological finds from around the island such as ancient marble statues, large parts of columns, vases, artifacts, inscriptions, and much more.
Take a short trip to Moni Island
You might already be on a short island escape, but how about another one?
Moni is a tiny uninhabited islet located just off the south coast of Aegina that will be an unforgettable experience.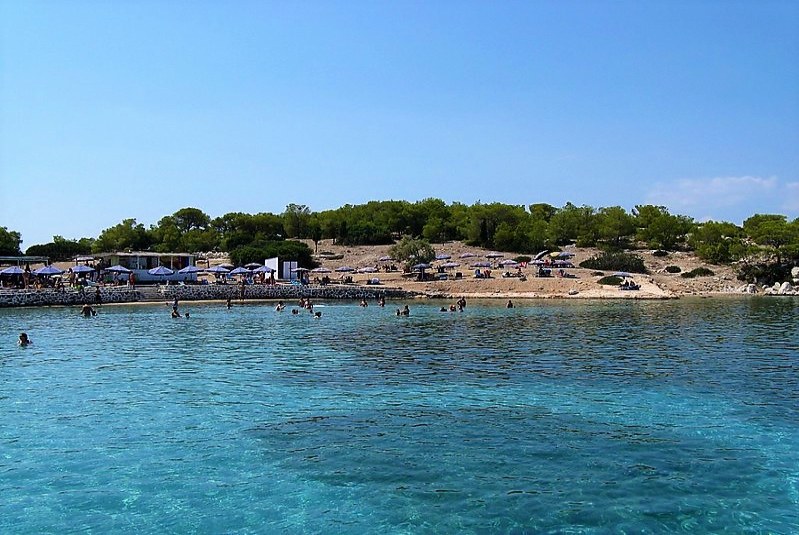 Its lush nature, sandy beaches, aquamarine waters, hiking paths, and pine forests are one of a kind. You can get there with a 10-minute boat ride from Perdika village.
If you plan to visit, make sure to take all necessary supplies with you.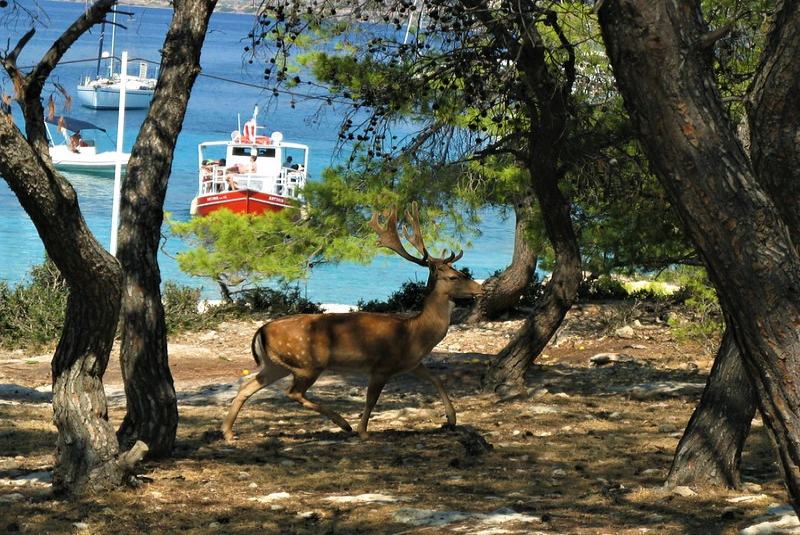 Soak the sun up on the beach
We've left the best for last. After all, we already know what you really want to do on your day trip to Aegina: enjoy your time swimming and sunbathing on the beach.
The island might be small but you'll have quite a few options for a beach excursion.
The four most popular beaches in Aegina are Souvala, Marathon, Agia Marina, and Perdika.
Souvala and Agia Marina are usually the most crowded, lined with fish taverns, watersport rental hubs, hotels, and cafes.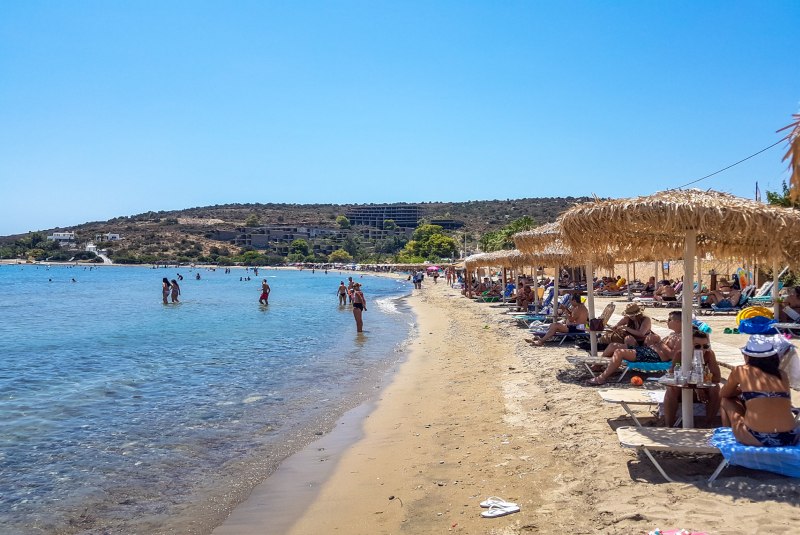 Perdika and Marathon, on the other hand, are more secluded and ideal if you're looking for a more peaceful spot.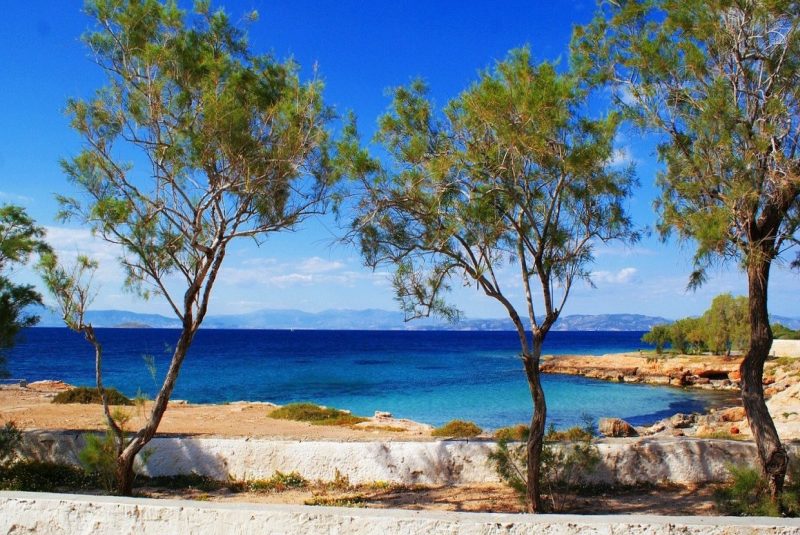 Getting around Aegina Island
There are many exciting spots to explore around Aegina island and it's certain that at one point or another you are going to need some kind of transportation.
There are quite a few ways you can get around the island.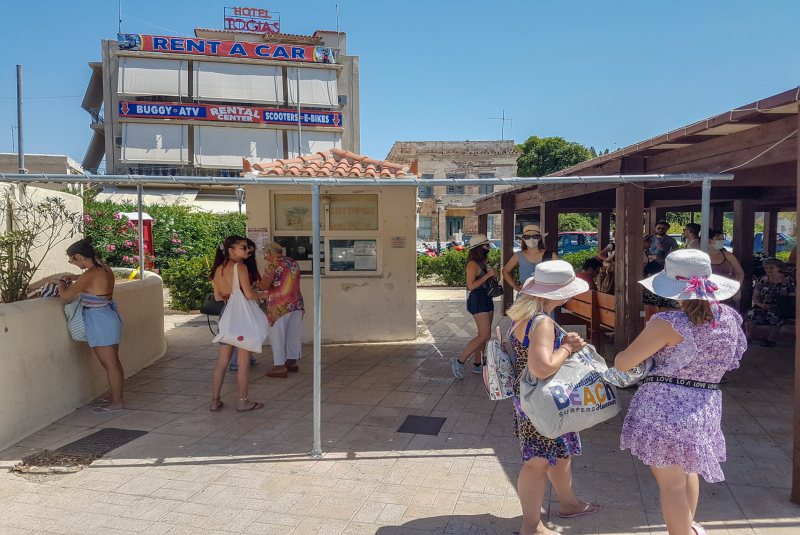 Public buses: A cheap but also quite convenient way to get around Aegina. Get to the central bus station in Aegina Town and check out the bus schedules when you get to the island. There are bus routes to almost every corner of the island and all the popular beaches.
Taxis: Even though a more costly option than public buses, taxis will take you wherever you want easily and quickly. You can normally find taxis in all the main touristy spots of Aegina Town.
Water taxis: A water taxi might not be the cheapest or fastest, but it's definitely the most fun way to get around the island. You can also get to remote beaches or tiny islets off the coast like Moni. Head to the water taxi information kiosk at the port of Aegina Town for more information.
Tips for a Trip From Athens to Aegina Island
Below you'll find useful information and our answers to the most frequently asked questions by our readers about Aegina island. Go through our tips and trivia and start planning your own trip from Athens to Aegina.
Is Aegina the closest island to Athens?
Even though the rest of the Saronic Gulf islands come close, Aegina is the island closest to Athens, only one hour away from the port of Piraeus by ferry.
How big is Aegina?
Compared to the rest of the islands in the Saronic Gulf, Aegina is considered to be a relatively large island with a surface of approximately 87 square kilometers or 34 square miles.
What is the population of Aegina?
The island of Aegina is home to approximately 13 thousand people.
What was Aegina known for?
In ancient times, Aegina was known as a significant naval power of the Aegean Sea, with a navy that helped its trade flourish and its inhabitants prosper. The island is famous for creating one of the first coins in Greece that eventually circulated throughout the Mediterranean Sea.
What is Aegina known for today?
Today, Aegina is known as a popular summertime destination and also as one of the most significant producers of pistachio peanuts in the country.
Can you drink tap water in Aegina?
Drinking tap water in Aegina is not dangerous but we recommend sticking to bottled water while there as tap water contains a high percentage of salts and some visitors find its taste a little strange. However, it is clean and perfectly fine for showering and washing.
Is Aegina expensive?
Aegina is as expensive as any other island in the Saronic Gulf. You can expect to pay around 50 or 60 euros a night for a mid-upper range hotel and around 10 or 15 euros per person for a meal at a restaurant or tavern.
All in all a day trip to Aegina island is a great place to spend one day away from Athens.
On the other hand, you can visit all the Saronic Gulf islands in just one day too! The decision is up to you.
A Quick Reminder:
Remember that Athens By Locals is here to guide you with planning the perfect trip to Athens and help you every step along the way. If you didn't found what you're looking for, or need any recommendations about your trip to Athens, feel free to contact us and we will do our best to help you. Please be as more detailed as possible regarding your subject so as to help you better.
If you like what you read please scroll down at the end of this page and subscribe to Athens By Locals so next time to receive more articles like this straight forward to your email. Join us on Facebook for comments, photos, and other fun stuff. If you enjoy this article please share it with your friends on Facebook.