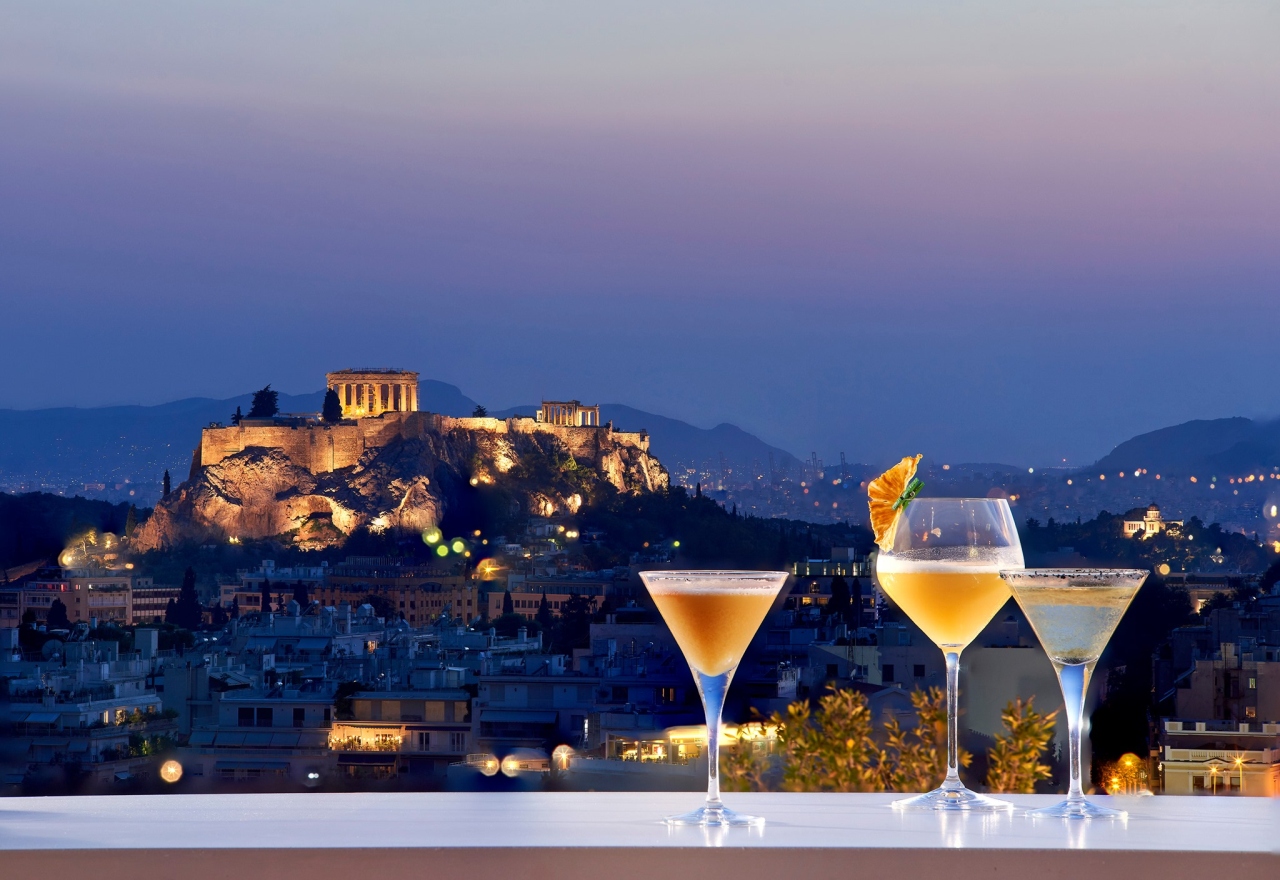 Athens Nightlife for Tourists: Explore the Greek Capital After the Sun Sets
Last Updated on: May 9, 2021
Featured image courtesy: Galaxy Bar and Restaurant - Hilton Athens
Please read first:
Please bear in mind that due to Covid-19 the information that we present in our articles regarding the timetables of public transportation, hotels, restaurants, etc. may be subject to change. We highly advise you to double-check before proceeding with any bookings. Rest assured that we here at Athens By Locals are doing our best to keep up with these turbulent times and provide you with up-to-date travel information. Do not hesitate to reach out for any questions, we'll be more than happy to help!
Athens' nightlife scene is one of the main reasons, the Greek capital lures every year millions of tourists of all ages as well as millennials and Erasmus students. Classy nightclubs, underground music venues, stylish rooftop bars, and cozy pubs dot the streets in the city center composing a diverse and vibrant atmosphere.
This guide introduces Athens' nightlife scene to tourists eager to explore the Greek capital after the sun sets.
Monastiraki – Psirri – Thissio
Monastiraki with its rooftop cocktail bars, Psirri, the area home to the hip Protogenous street, and the scenic Thisseio with the charming café-bars are indisputably the cream of the crop of the Athens nightlife scene.
Here you'll find a wide range of bars and clubs and a mixed crowd of locals and tourists of different styles and ages.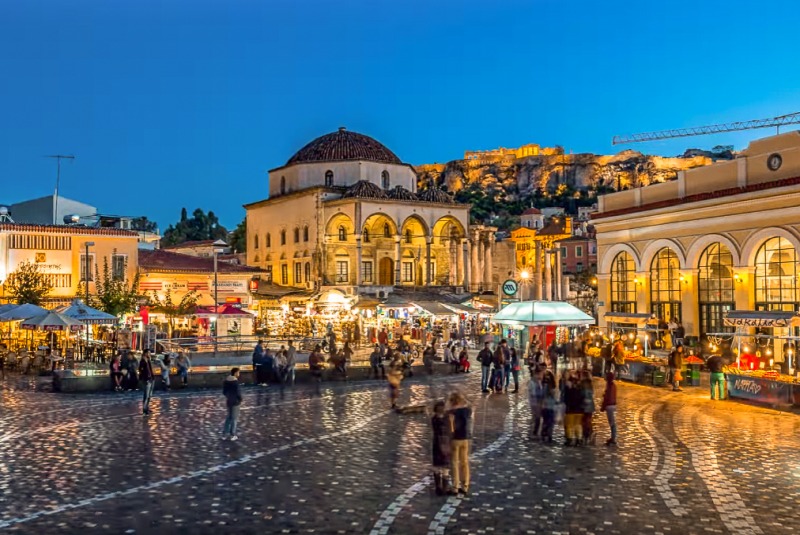 Monastiraki
During summertime, A For Athens and 360 Cocktail Bar in Monastiraki attract the crowds to their magnificent rooftop terraces.
Savoring a delicious cocktail while enjoying a breathtaking view of the surrounding areas is the perfect way to start your evening.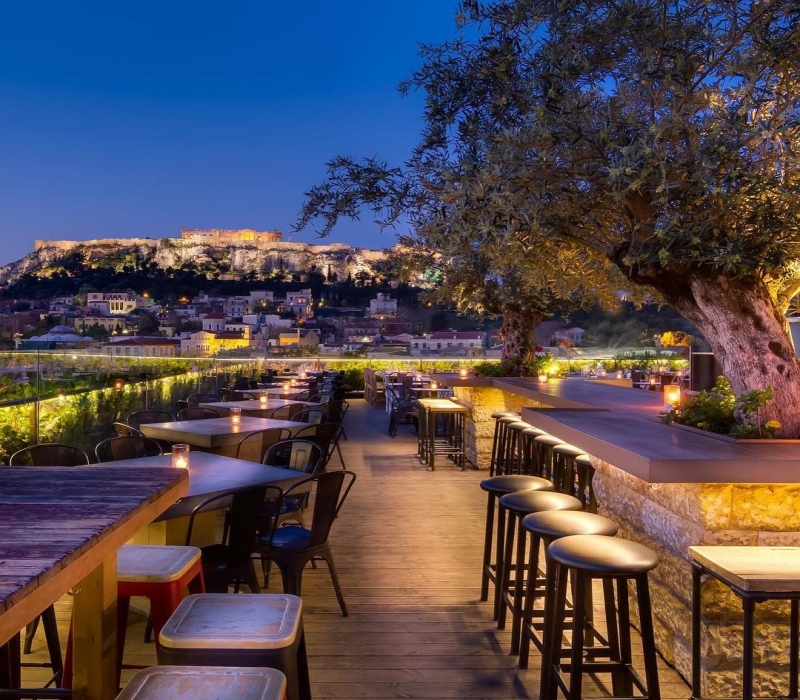 Leave Monastiraki Square and Ermou street behind and dive into the area's narrow alleys. Every street around Monastiraki hides a secret gem that will help you experience Athens' nightlife like a local.
The Clumsies in Praxitelous street, The Bank Job in Kolokotroni Street, Monk wine bar at the bustling Agias Irinis Square are only some of the places worth visiting.
Psirri
While Psirri has an abundance of bars and local taverns, the city's hipster crowd gathers at Protogenous street (map).
The stylish Barrett and the bustling Tranzistor fill the alley with music tunes all day long. Weather permitting, the bars' habitues choose to sit at the outdoor tables or just hang out on the pavement, creating a vivid atmosphere.
If however, you're in the mood for a traditional meal or a delicious local dessert, head to Psirri square and take a walk in the scenic alleys around the neighborhood.
This part of the district brims with restaurants, takeaways as well as cozy bars and cafés.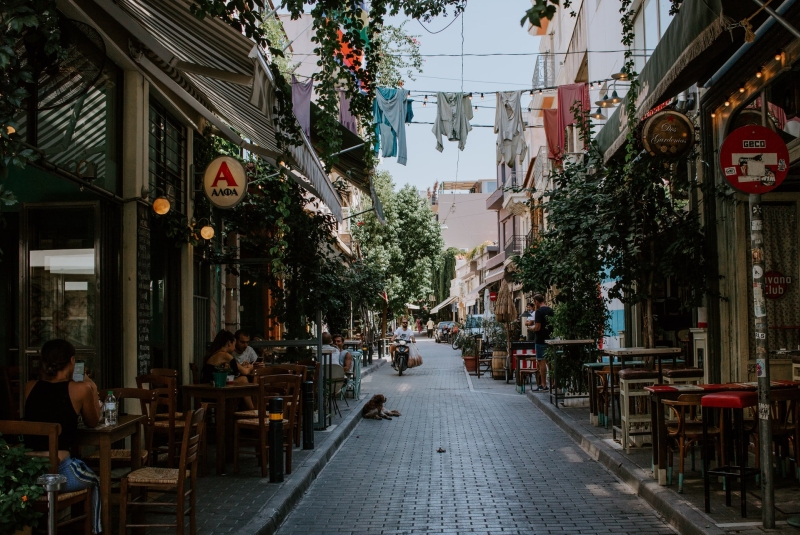 Thissio
Being one of the most beautiful neighborhoods in Athens, Thissio or Thiseio usually occupies the top of tourists' lists with the must-visit places.
Apostolou Pavlou, the area's main street is lined with charming cafés and bars overlooking the Acropolis.
Even though Thissio is particularly known for a lazy walk on a Sunday morning it offers plenty of choices for a relaxed night out as well.
Discover its hidden alleys and enjoy a cocktail at Underdog or an ice-chilled beer at BEERman.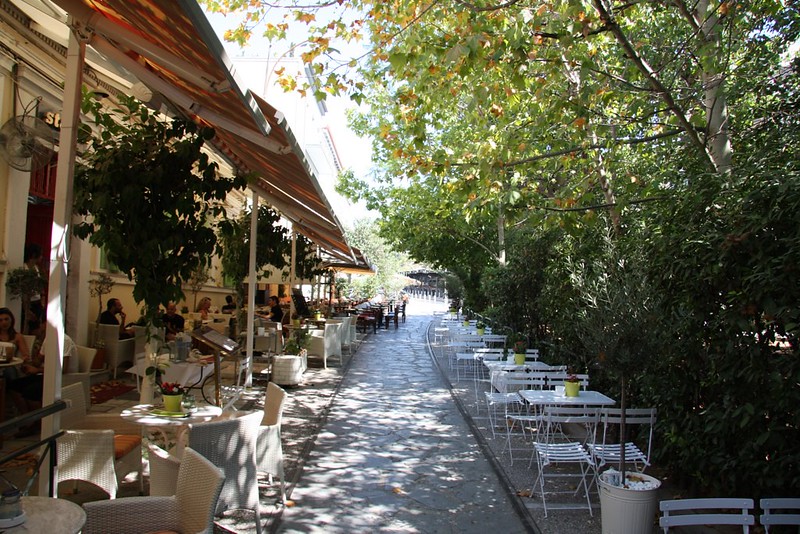 Koukaki
Over the past few years, numerous cafés, bars, and local taverns have popped up in the area of Koukaki transforming it into a hotspot in Athens' nightlife scene.
Locals and tourists head here for brunch at Monsieur Barbu, an early drink at Bel-Ray bar, or a cocktail at Meerkat Cocktail Safari.
There are so many choices around Koukaki that no matter your age, style, and budget chances are you'll find more than one places that suit your taste.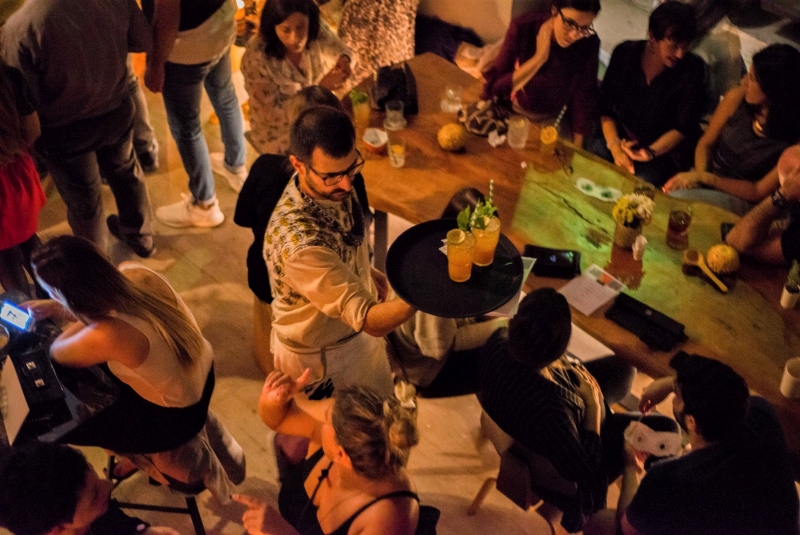 Gazi
Known as Athens' LGBTQ-friendly district, Gazi brims with bustling gay-friendly nightclubs and cocktail bars open until the wee hours.
Boiler Room Secreto, Lohan and S-Cape are some of the most well-known nightclubs in the area attracting a mixed crowd of millennials and people in their early 30s.
And even though Gazi is particularly popular for those looking for a place to dance the night away, it also offers many choices for a relaxing drink or a romantic dinner.
Gazarte with its magnificent rooftop terrace, the elegant Afrikana Jazz Club, and The Lazy Bulldog Pub serving a wide range of beers and delicacies are among the top choices.
The area's vibrant atmosphere completes Technopolis, an old gas factory that has now been transformed into a cultural center hosting concerts, festivals, flea marketers, and other events.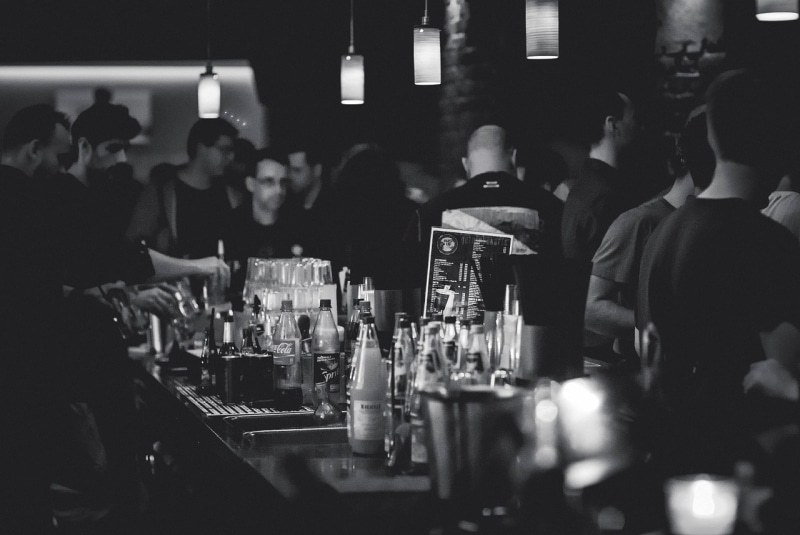 Exarchia
Exarchia, the city's alternative neighborhood couldn't be missing from our 'Athens nightlife for tourists' guide.
Home to numerous bars and local taverns serving raki and the traditional 'meze', Exarchia is a hangout spot for students in Athens and the city's bohemian crowd.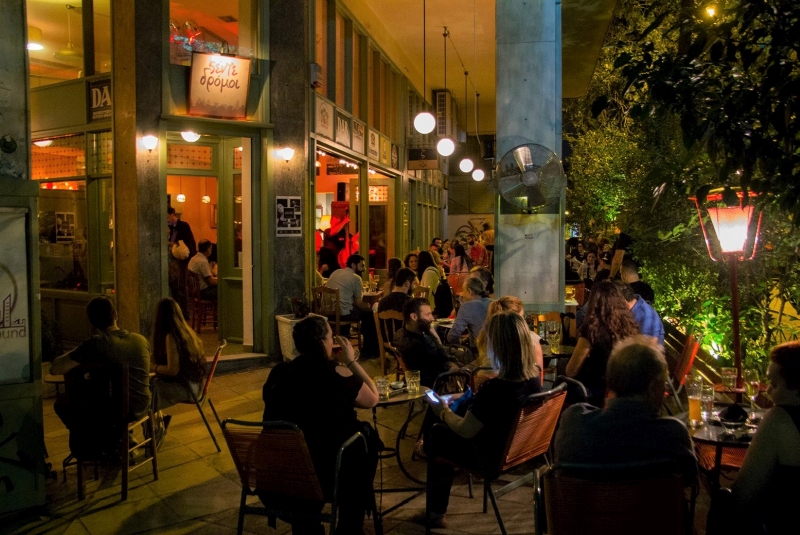 As soon as the sun sets, the area's streets are filled with Athenians taking a stroll or savoring a drink at the outdoor tables.
Exarchia's nightlife scene runs the gamut from modern bars such as 5 dromoi, Mavros Gatos, and Alexandrino to restaurants such as Salero and music venues.
Metaxourgio
Adjacent to Gazi, Metaxourgio is another well-known area part of Athens' nightlife scene.
Even though it isn't as vivid as the rest of the districts, Metaxourgio has many hidden gems in its dark alleys.
Most locals and tourists head here for the local taverns where raki and traditional delicacies are served at low prices.
Cabezon, Louis and Sabir are some of the area's most popular places to eat. All of them feature outdoor tables, making them a great choice, especially during the summer months.
Metaxourgio is also home to Latraac, a hip skate cafe that attracts the city's younger crowd.
Kolonaki
With its elegant bars and high-end restaurants, Kolonaki, Athens' upscale neighborhood attracts the city's upscale crowd.
Nestled among Lycabettus Hill, Syntagma Square, and Exarchia, Kolonaki has its own unique atmosphere.
In Kolonaki Square, the neighborhood's central point stylish cafés are lined with luxurious boutiques introducing visitors to the area's style.
Here you'll find Mayor and Clown Dogs, two of the most popular bars in Athens' city center serving mouthwatering cocktails.
However, Kolonaki is much more than the part you'll find around the square. As you walk along Skoufa Street, Tsakalof and Voukourestiou you'll find out what makes this district stand out.
It isn't without a reason that Athens' nightlife scene has gained a worldwide reputation and manages to captivate visitors from all over the world.
Boasting a wide range of places, the Greek capital never fails to satisfy even the most demanding travelers. Dive into Athens' vibrant neighborhoods and let Athens' atmosphere enchant you.
A Quick Reminder:
Remember that Athens By Locals is here to guide you with planning the perfect trip to Athens and help you every step along the way. If you didn't found what you're looking for, or need any recommendations about your trip to Athens, feel free to contact us and we will do our best to help you. Please be as more detailed as possible regarding your subject so as to help you better.
If you like what you read please scroll down at the end of this page and subscribe to Athens By Locals so next time to receive more articles like this straight forward to your email. Join us on Facebook for comments, photos, and other fun stuff. If you enjoy this article please share it with your friends on Facebook.