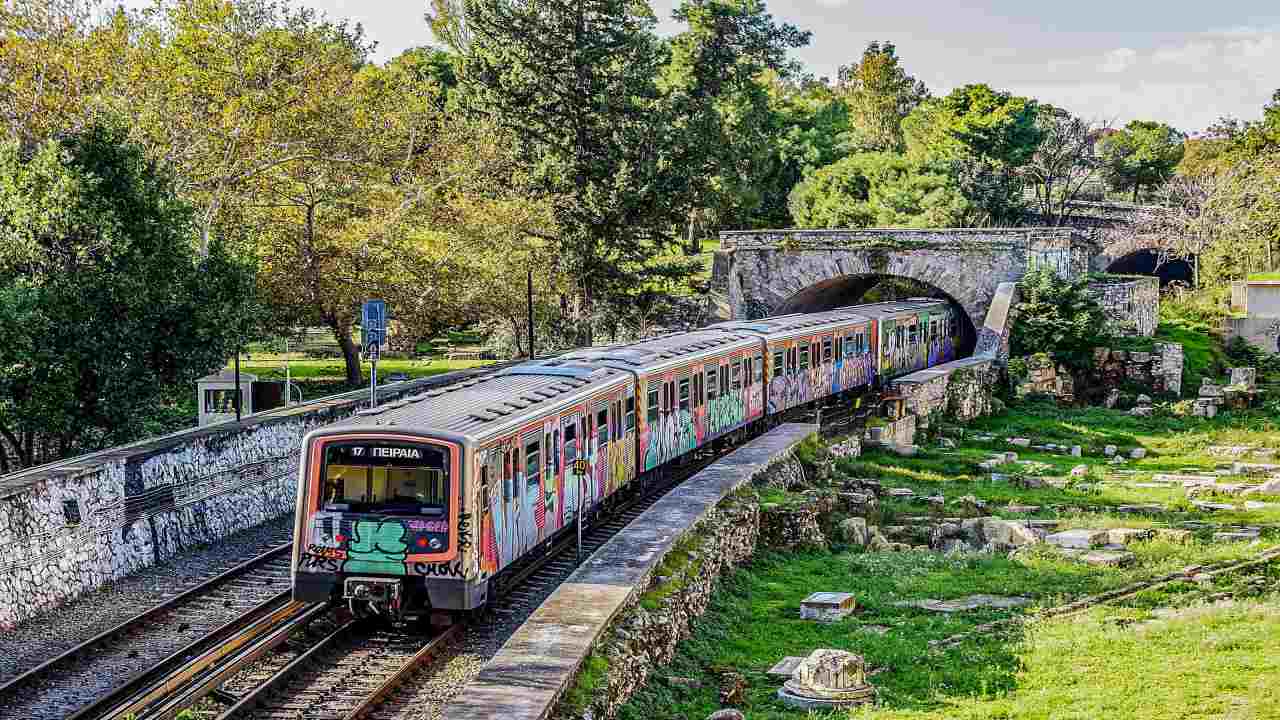 Athens Transportation: How to Get Around Athens
Last Updated on: February 1, 2021
Please read first:
Please bear in mind that due to Covid-19 the information that we present in our articles regarding the timetables of public transportation, hotels, restaurants, etc. may be subject to change. We highly advise you to double-check before proceeding with any bookings. Rest assured that we here at Athens By Locals are doing our best to keep up with these turbulent times and provide you with up-to-date travel information. Do not hesitate to reach out for any questions, we'll be more than happy to help!
This is probably one of the first questions we get from people who visit the city for the first time: How to get around Athens?
Even though Athens' transportation system is quite simple to us locals, for newcomers it can sometimes feel confusing. Unlike other metropolitans in Europe, Athens doesn't have the right infrastructures for moving around the city by bike.
Therefore locals usually use public transportation or move around on foot.
This guide aims to present to you the means of public transportation you'll find in Athens as well as ticket prices for getting around Athens easily.
Metro in Athens City
Featuring only three lines, the metro in Athens isn't difficult to use. In fact, it's the quickest and most convenient way to get around the city.
There are metro stations to all the touristy areas around the city center including Monastiraki, Thissio, and Syntagma.
Metros depart approximately every 5 to 7 minutes from 5.30 am to 12.30 am.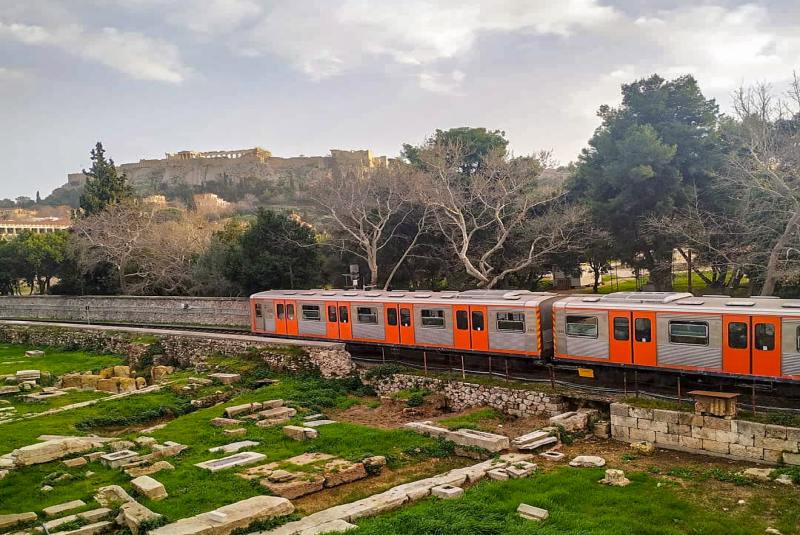 Metro Line 1 (green line or the Electric Railway)
Operating since 1869, Line One (Green Line) is the second oldest underground system worldwide following London's underground.
It connects the city of Piraeus to Kifisia in the northern suburbs covering a distance of 25,7 kilometers.
Metro Line 1 stops in 24 stations in total and passes through the center of Athens with stations at Petralona, Monastiraki, Thissio, and Omonoia.
Metro Line 2 (Red Line)
Metro Line 2 (Red Line) was added to Athens' metro system in 2000 but was extended in 2013.
Nowadays, it has 20 stations in total connecting Anthoupoli in the northwest to Elliniko in the south.
Red Line also runs through the center of Athens with stations at Metaxourgio, Omonoia, Panepistimio, Syntagma, and Acropoli.
Metro Line 3 (Blue Line)
Metro Line 3 (Blue Line) just like Line 2 was inaugurated in 2000.
It is the line connecting the Athens International Airport with the rest of Athens reaching Agia Marina in the western suburbs.
It has 21 stations some of which are in the center of Athens such as Kerameikos, Monastiraki, and Syntagma. Download for free the Airport Metro Map: click here.
Buses and Trolleys in Athens
Athens' bus system can be quite confusing for travelers.
There aren't always frequent routes and not all buses provide a screen with the bus stations translated in English.
Moreover, as traffic is very heavy in the city center especially in the morning hours it may take a long time to reach your destination.
If you have to use a bus though, make sure to have downloaded the OASA Telematics app (Android & iPhone) as it has all of the bus lines and the times of arrival in every station.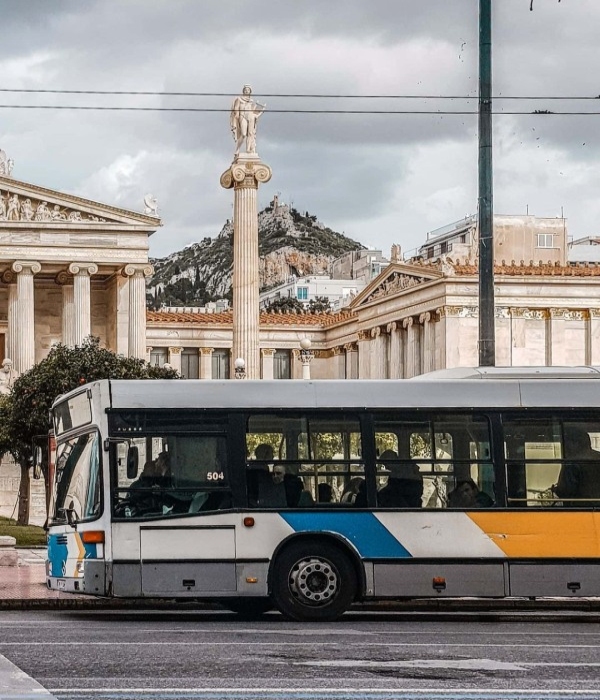 Bus lines connecting the Athens International Airport with the center of Athens
Moreover, there are 4 bus lines connecting the Athens International Airport with the center of Athens (x93, x95, x96, x97) and all of them operate 24-hours a day.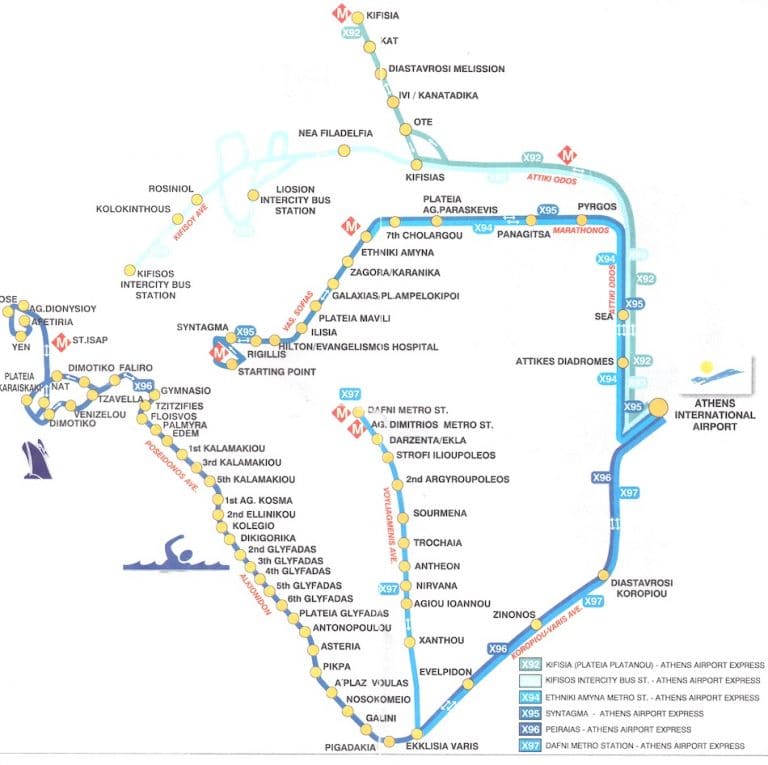 Tram in Athens City
The modern tram system consists of 3 lines and 48 stops in total.
Two of the lines connect Syntagma square with the southern suburbs also known as the Athenian Riviera while line 3 runs only along the coastal side of Athens.
However, since October 2018 tram's operation between Syntagma Station and Kasomouli station is suspended. It is said that the section will open again later this year.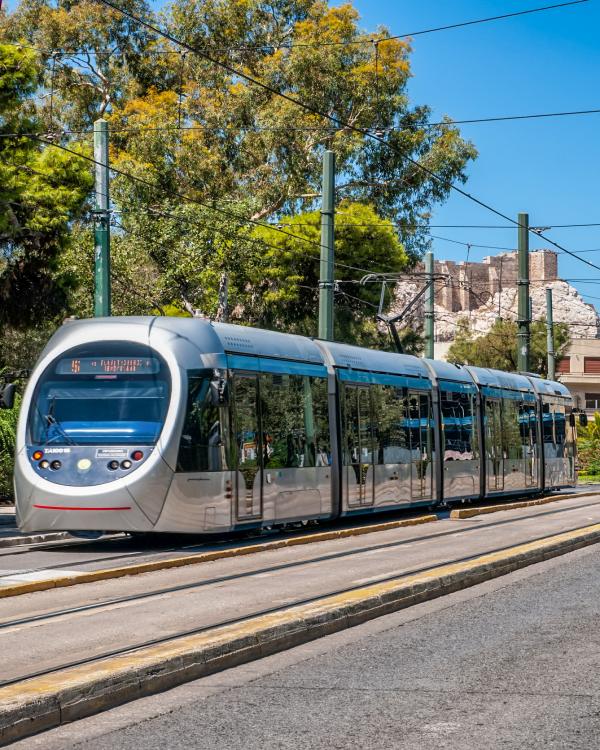 Tramlines in Athens city
For now, tram's line 3 runs from Akti Posidonos to Asklippio Voulas, tram's line 4 from Akti Posidonos to Kasomouli, and tram's line 5 from Kasomouli to Asklippio Voulas.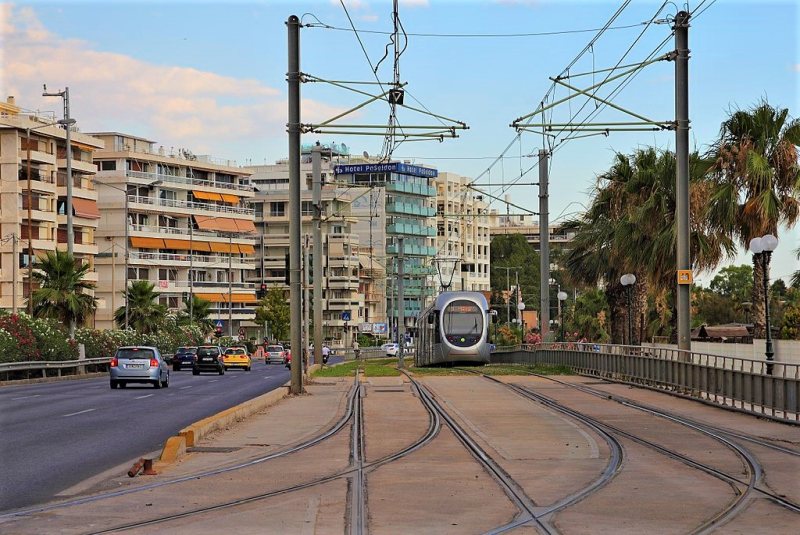 The Suburban Railway
The suburban railway connects Athens International Airport to Piraeus as well as Athens to Chalkida in Evia and to Kiato in Peloponnese.
The suburban railway from and to Athens International Airport departs every hour.
Athens Suburban Lines
The new Athens Suburban Lines include:
Athens International Airport – Koropi – Ano Liosia, and Athens International Airport – Koropi – Athens – Piraeus
Piraeus – Athens – Kiato
Athens – Chalkida – Athens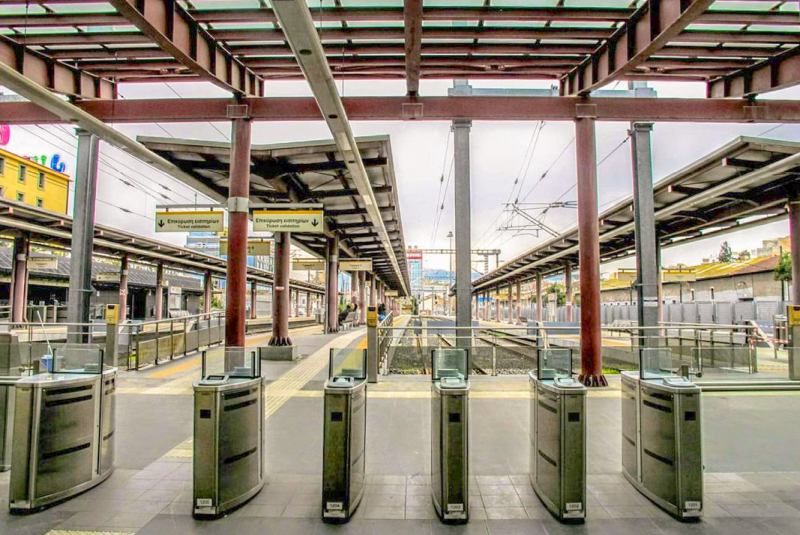 Making stops to every town between Athens and Kiato including Aspropirgos, Megara, and Korinthos, the suburban railway is a great choice for taking a day trip from Athens.
Taxis in Athens City
Even though taxis are much more expensive than transport fares, they are still relatively cheap compared to other European cities. It is quite common among locals to use taxis for commuting, especially at night when only a few buses are still operating.
Taxi fares in Athens city
Taxi fares vary depending on the distance and the daytime of the day. At night from 00.00 – 05.00 taxi fares in Athens are double.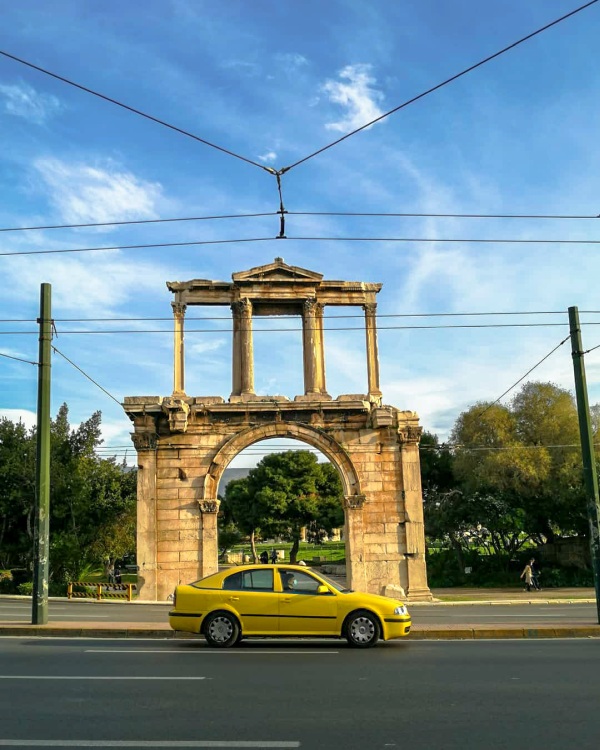 Taxi fares from Athens International Airport to Athens city center
However, from Athens International Airport to Athens city center there is flat fare which is €38 in the daytime and €54.
Taxi fares from Athens International Airport to Athens Port (Port of Piraeus)
From the airport to the port of Piraeus the taxi rate is €47 from 05:00 am to 00:00 and €65 from 00:00 to 05:00 am.
We know what you're thinking: why use the traditional taxis and not just get on Uber and be done with it? Well, the question you really should be asking is this: is Uber available in Athens? Take a look at this article and find out.
Athens Transport Tickets – Ticket prices
There are three types of Athens Transport tickets: The Ath.ena Ticket, the anonymous Ath.ena Card, and the personalized Ath.ena Card.
For tourists visiting Athens for only a short amount of time, it is more convenient to use the paper rechargeable Ath.ena ticket.
This ticket can be purchased at the ticket machines and you don't need a document to get one.
However, those purchasing the Ath.ena ticket can't buy half-priced tickets. It can be used for all of the means of public transportation, it is valid for 90 minutes and it costs €1.40.
Ticket prices from and to the Athens airport by metro
For transfers from and to the Athens airport by metro the ticket costs €10. There are also 24-hour tickets, 5-day tickets, and 3-day (tourist) tickets.
The latter also includes a round trip from and to Athens International Airport by Metro or Express Bus and it costs €22. Children under the age of 6 can travel free while children aged 7-12 and teenagers aged 13-18 are eligible for obtaining reduced-price tickets.
Seniors over the age of 65 can also get half-priced tickets. For more information regarding reduced price tickets please visit this website.
How to Get Around Athens by Car
The truth is that getting around the city center of Athens by car can be quite exhausting. The traffic is heavy and parking close to any of the popular attractions is near impossible.
However, driving around Athens will give you a totally different perspective of the city.
Traveling by car can get you to some places that you normally would not visit like the northern suburbs of Athens or to places that are not so easily reachable by public transportation like the famous Athenian Riviera.
Also, keep in mind that the metro in Athens stops operating after midnight, leaving you with only a few bus lines to get around the city. So, a car would be a great choice if you're planning to experience the vivid nightlife of Athens.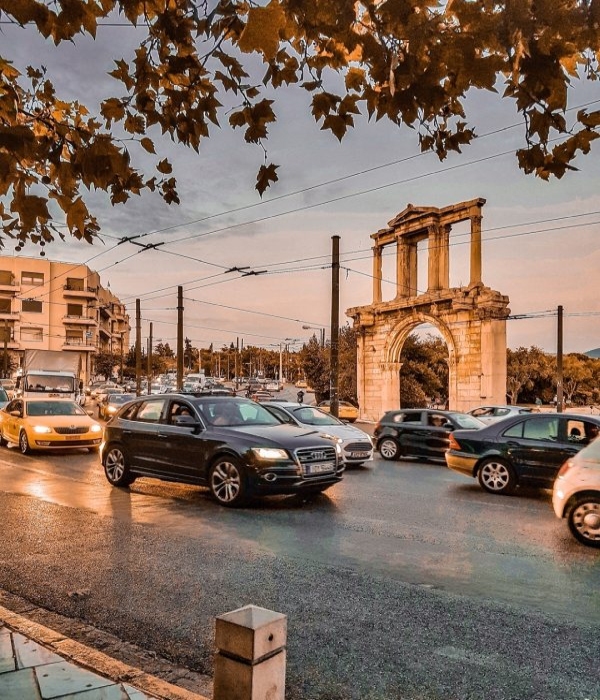 Now, here's a pro tip: Renting a car before you get to Athens is going to be way cheaper than trying one of the rental car services in the city. Also, bear in mind that Athens gets really crowded during peak season, so your options are going to be limited. So, we advise you to think ahead and book your ride well in advance. Luckily for you, we've looked into numerous options and we found some great value for money deals at Rentalcars.com. It's an innovative platform where you can browse and compare rental car companies, vehicles, and prices to reserve the one that suits you best. Click here and visit Rentalcars.com
How to Get Around Athens on Foot
Getting around Athens on foot is probably the most enjoyable way to experience the city.
Athens is a very walkable city and most of the famous sights are located in the city center, making it easy to plan whole days of sightseeing without ever having to get in a car or on public transportation.
The areas around Syntagma, Monastiraki, Plaka, and Thission have long pedestrian streets, perfect for leisurely strolling, shopping, and relaxing at alfresco cafes and restaurants.
The most famous among them is Dionissiou Areopagitou that will take you from Thission all the way to Koukaki, passing by Acropolis Hill.
However, you have to be really careful when walking around Athens. Unfortunately, you'll notice quite a few drivers not respecting traffic lights and pedestrian crossings. Keep an extra eye out for motorcycles!
All in all, even though Athens has an affordable public transport system covering the largest part of the city it is sometimes puzzling to travelers. Hopefully, this guide on how to get around Athens, will come in handy and will make your trip to Athens and all your sightseeing easier and more enjoyable.
A Quick Reminder:
Remember that Athens By Locals is here to guide you with planning the perfect trip to Athens and help you every step along the way. If you didn't found what you're looking for, or need any recommendations about your trip to Athens, feel free to contact us and we will do our best to help you. Please be as more detailed as possible regarding your subject so as to help you better.
If you like what you read please scroll down at the end of this page and subscribe to Athens By Locals so next time to receive more articles like this straight forward to your email. Join us on Facebook for comments, photos, and other fun stuff. If you enjoy this article please share it with your friends on Facebook.