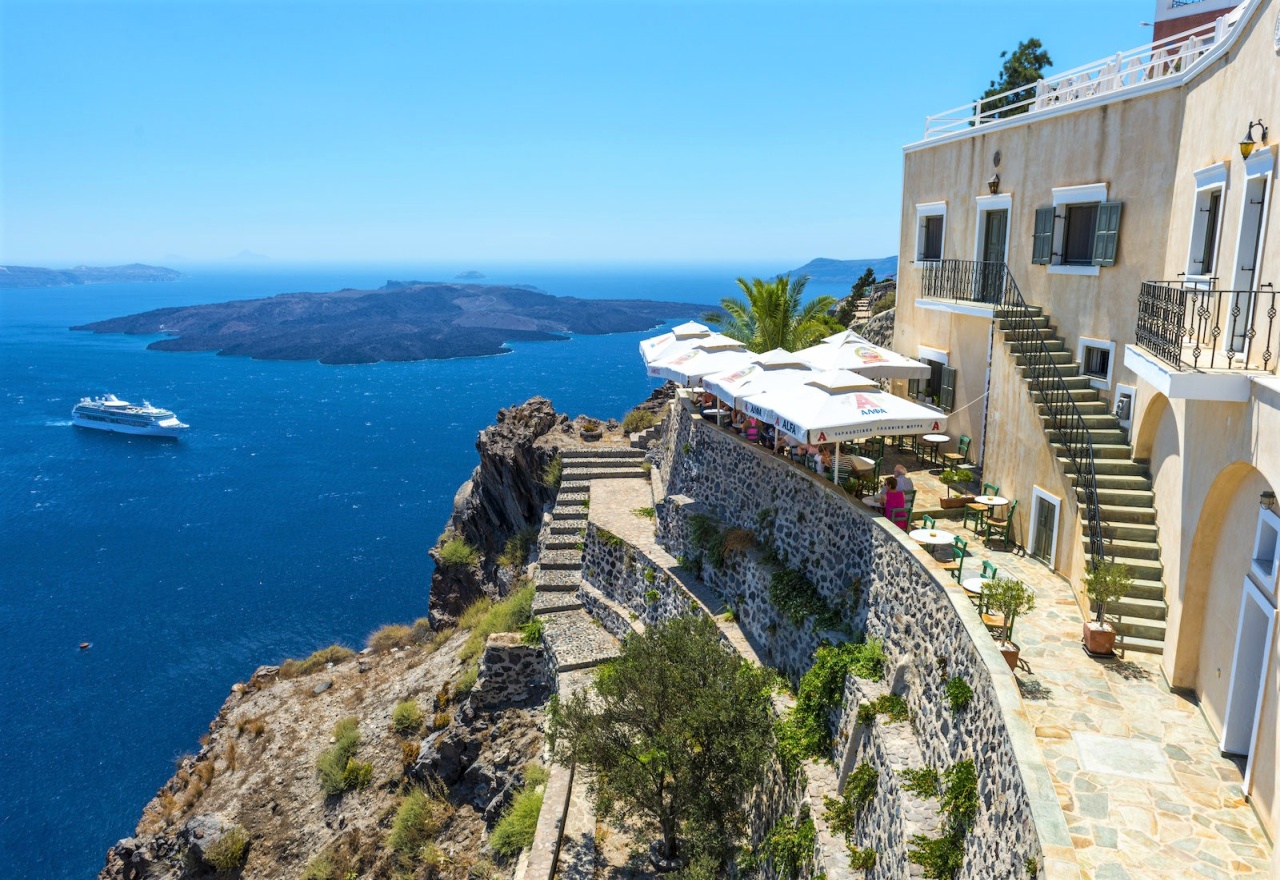 How to Travel From Athens to Santorini [2021 Guide]
Last Updated on: June 30, 2021
Please read first:
Please bear in mind that due to Covid-19 the information that we present in our articles regarding the timetables of public transportation, hotels, restaurants, etc. may be subject to change. We highly advise you to double-check before proceeding with any bookings. Rest assured that we here at Athens By Locals are doing our best to keep up with these turbulent times and provide you with up-to-date travel information. Do not hesitate to reach out for any questions, we'll be more than happy to help!
Are you in Athens? Or planning to be there anytime soon? Then the beautiful island of Santorini definitely needs to be on your bucket list! Doubtlessly, Santorini is one of the most beloved tourist sites to visit in Greece, with its breathtaking views and mesmerizing sunsets.
Apart from it being the most picturesque Greek Island, it is also an ideal holiday location to relax and take in astonishing sunset views. There, you can experience the lively culture and traditional festivities of the Greeks.
However, unfortunately, many tourists are often found misguided and confused in their travel plans regarding Santorini, leading to a significant waste of time and money.
Fortunately, you are at the very right place as here we have gathered a detailed guide, about how to travel from Athens to Santorini and help solve all your queries.
So, keep scrolling explorers!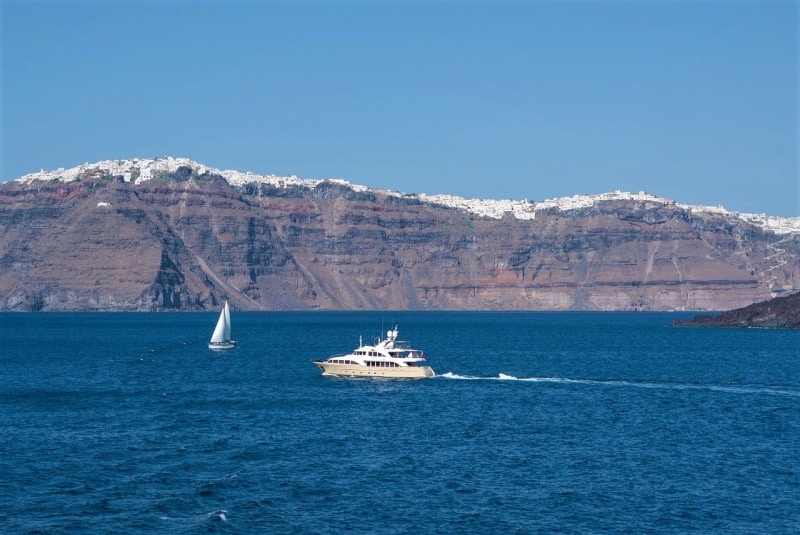 Ferries from Athens to Santorini
Ready for a trip to Santorini? Traveling to Santorini via ferry has been quite popular among tourists for quite some time now.
Luckily, more than 4 or even 6 ferries (during summertime), make round trips from Athens to Santorini on a daily basis, making it super convenient to visit.
When compared with the direct flight to Santorini, ferries are relatively cheaper, yet a bit time-consuming.
However, one thing is certain; traveling by ferry is more enjoyable than a flight, as you will have an incredible opportunity to be mesmerized by the beautiful Aegean Sea, and get glimpses of the surrounding islands of the Cyclades.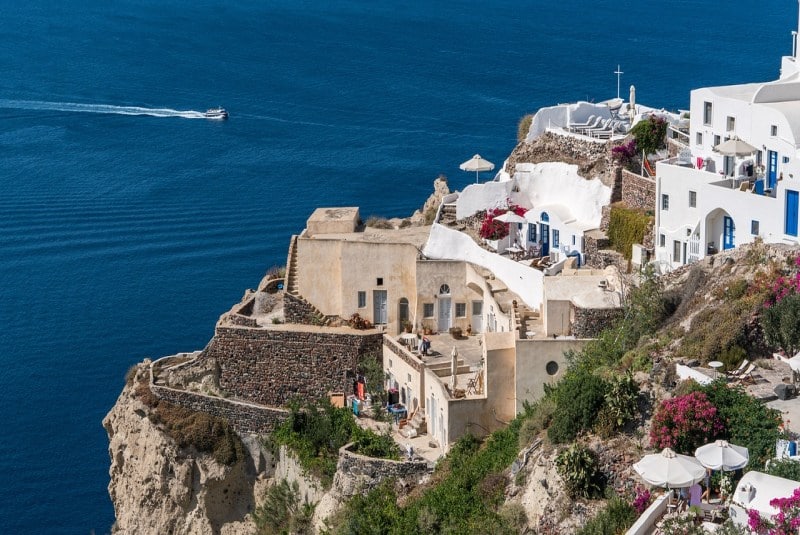 Today, a variety of ferry companies operate from different ports of Athens to Santorini, with each having different timetables, amenities, and facilities for the passengers.
Some among them are high-speed ferries which are relatively smaller in size, with the rest being conventional ones with larger decks.
These ferries have a capacity of transporting up to 2,500 people at once and the best ones offer an optimal range of features and facilities to the passengers including airline-style seating, private cabins, restaurants, bars, and some outdoor sundeck areas.
Among the prominent, the most popular ones are Blue Star Ferries, SeaJets, Hellenic Seaways, and Golden Star ferries.
The departure from Athens is served by Piraeus port and Rafina port. You may choose either according to your personal convenience.
Piraeus port lies very close to the center of the city and is easily accessible by train, thus an ideal option if you are already in Athens.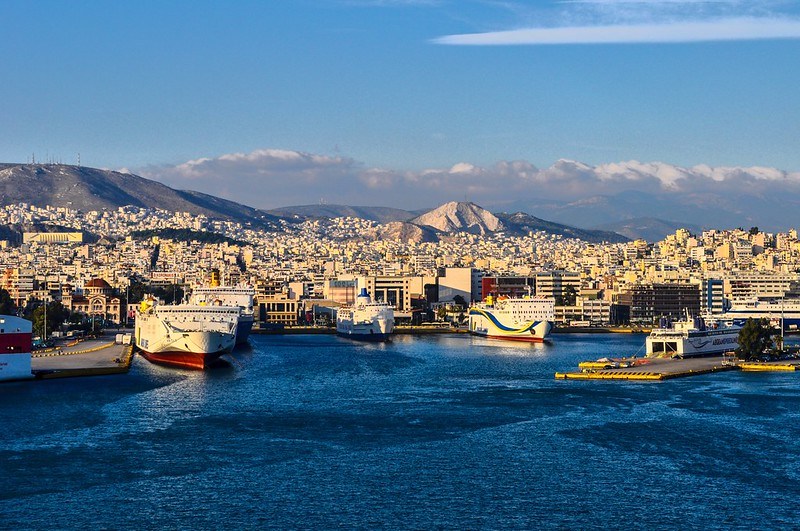 At Piraeus Port, you'll find both conventional and high-speed Ferries of all the major operators, including Blue Star Ferries, SeaJets, and Golden Star Ferries.
The ticket for conventional ferries costs around 35€, while for high-speed ferries and catamarans the price will be approximately 60€.
Tip: Our preferred website to compare and book our ferry tickets is Ferryhopper. Here, you can see all the ferry schedules and easily book your Greek ferry tickets online. Check prices and book your ferry tickets now!
In case you are planning to visit Santorini immediately after landing in Athens, we'd suggest using Rafina port as it's really close to the airport (El. Venizelos).
Also, if you're looking to make a stop at Mykonos on your way to Santorini, Rafina port should be your definite choice.
Although Rafina Port only serves high-speed ferries and not the conventional ones, it still has all the facilities of a modern port.
At Rafina port, the minimum price for a ferry ride lies around 56€. 
Check prices for ferry tickets for Santorini on Ferryhopper.com
How Long Is the Ferry Ride From Athens To Santorini?
Unlike planes, ferry rides are a bit time consuming and take several hours for a single trip. During the high season, there are 6-9 ferries departing daily from Athens to Santorini.
These range from high-speed catamarans that depart at 7 am in the morning and take almost 5 hours to arrive at Santorini to conventional ferries which may take up to 9 -9 ½ hours to reach the destination.
Usually, these ferries are always on time. However, high-speed ferries may be delayed in rare cases due to unsuitable weather conditions.
Trip duration from Piraeus Port to Santorini
Sea Jet Ferries(fastest) – 5 hours
Golden Star Ferries – 5 hours
Blue Star Ferries – Up to 8 hours
Zante Ferries- up to 10 hours
Trip Duration from Rafina Port to Santorini
Golden Star Ferries(high speed) – 5 hours
Golden Star Ferries(conventional) – 9 hours
Cost of Ferries from Athens to Santorini
The price of a ferry ride from Athens to Santorini varies depending on the facilities the vessel provides to the passengers (including the class of traveling for e.g. economy, business, etc.), and the duration.
Plus, it is greatly affected by respective seasons as well. As a rule of thumb, conventional ferries are cheaper than high-speed catamarans; however, the ticket price may vary accordingly.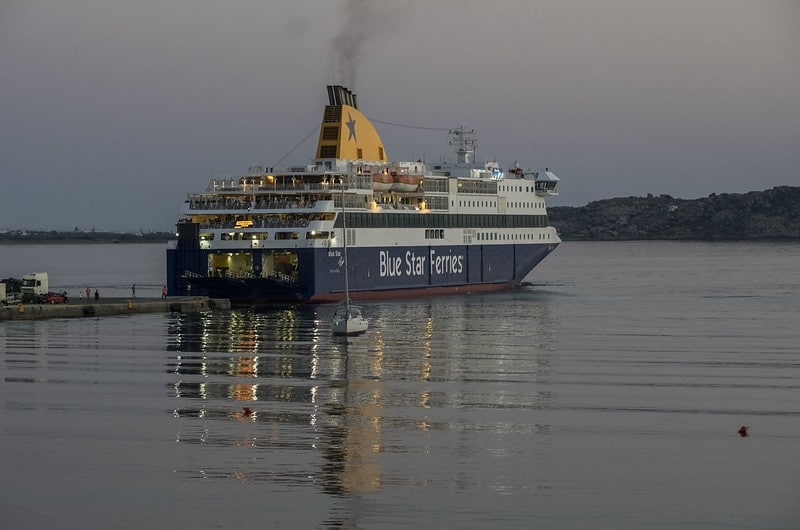 The estimated price ranges of the ferries are mentioned below:
Blue star Ferries- €33 – €119.5
Sea jets – €56.5 – €109.7
Golden Stars Ferries- €55 – €68
Zante Ferries- €39.5 – €88.5
Book online your ferry tickets to Santorini. Insert your travel dates, and get the best prices
Choosing a high-speed ferry or a conventional one depends on the traveler's needs.
If you enjoy sunbathing on the boat and prefer large boats over smaller ones, then you should choose a conventional one. 
On the other hand, you should opt for a high-speed ferry if you wish to arrive at Santorini as fast as possible.
Although the ferry tickets for Santorini are available easily year-round, during summer seasons it would be ideal to buy them beforehand to avoid any inconvenience.
The tickets can be bought either online on the respective websites of the ferry operating companies, or even through local agents' offices which can be easily found at Piraeus and Rafina Ports.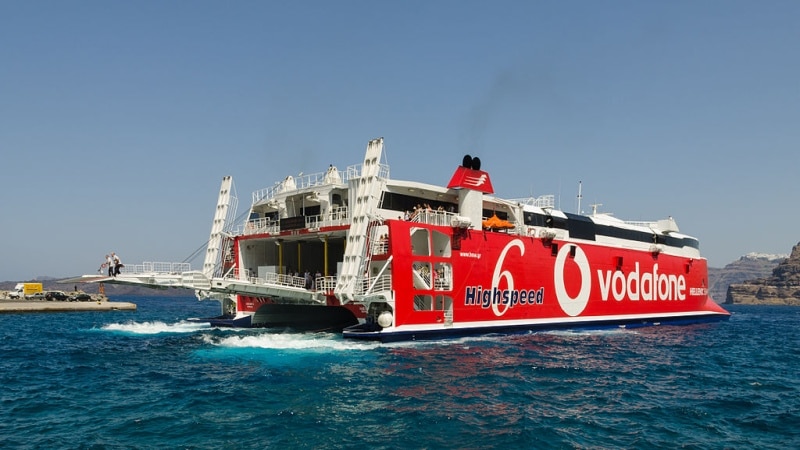 What one must know about Economy, Business, VIP, and Cabin ferry classes when traveling to Santorini from Athens?
Economy Class: The economy or the deck class varies significantly in large ferries like Blue Star ferries, and small ones like SeaJet ferries. In large carriers, an economy class ticket gives you access to all indoor and outdoor seating as well as all restaurants, bars, and cafes. In contrast, the economy class is quite crowded (and hot) in small carriers and definitely not recommended.
Business Class/VIP class: If traveling comfortably is your ultimate priority, without a doubt you should go for the business class. Both the large and small ferries provide passengers with a less crowded and less noisy environment. In conventional ferries such as Bluestar, a lounge with sofas and waiter service is also available. Although it might be slightly more expensive compared to the deck-class, it is definitely worth it!
Cabins: Cabin class is only available in large conventional ferries, where private cabins with 2 or 4 bunk beds are available. In most cases, they need to be reserved beforehand, as there is a limited number of cabins. The best part about these cabins is their external window that that offers views of the beautiful Aegean Sea.
Blue Star Ferries to Santorini
Blue Star ferry is one of the most renowned ferry operating companies, which serves itineraries from Athens to Cyclades islands including Santorini.
Luckily, the ferry transports passengers 365 days a year, so even if you are traveling during the off-season, you don't have to worry. There are daily two ferries departing from Piraeus port, one in the morning and one in the evening.
No one likes a bumpy cruise! Fortunately, with Blue star ferries you can forget about bumpy rides, as it's the most stable among all other ferries. So, even if the wind goes wild, you wouldn't feel much!
On a Blue Star ferry, you are allowed to travel on board and enjoy the magnificent sea and fresh sea breezes.
The cheapest ticket is priced around 30 Euros, while it may go up to 120 Euros depending on the class the traveler chooses.
As far as the schedule is concerned, the Blue Star ferry departs early in the morning at 7:25 am daily, from Athens, and stops at other islands as well including Syros, Paros, Naxos, and Ios, before arriving at Santorini at 14:55.
It takes approximately 8 hours for the complete trip.
Book online your ferry tickets to Santorini. Insert your travel dates, and get the best prices
During the high season, Blue Star also operates evening departures.
The ferry leaves Athens at around 6:00 pm and arrives at Santorini at 12:35 am.
If time isn't a big concern for you; Blue Star Ferries will truly provide you with an exceptional experience!
BLUE STAR FERRIES
Address: 1-7 Lysikratous & Evripidou Street
17674 Kallithea, Athens, Greece
Phone: +30-210-8919800, Fax: +30-210-8919829
e-mail: [email protected]
Seajet Ferries to Santorini
Seajet Ferry is generally preferred by the tourists who are short on time, as this ferry just takes 5 hours to travel from Athens to Santorini.
Quite simply, the ferry sails at an incredibly high speed but unlike conventional Ferries, these do not have large open decks but rather closed compartments with airplane-style seating.
These are relatively costlier as well, with a minimum price ranging from 55 Euros to almost 110 Euros.
It must also be known that high-speed ferries like Seajet lack the cabin class due to limited space.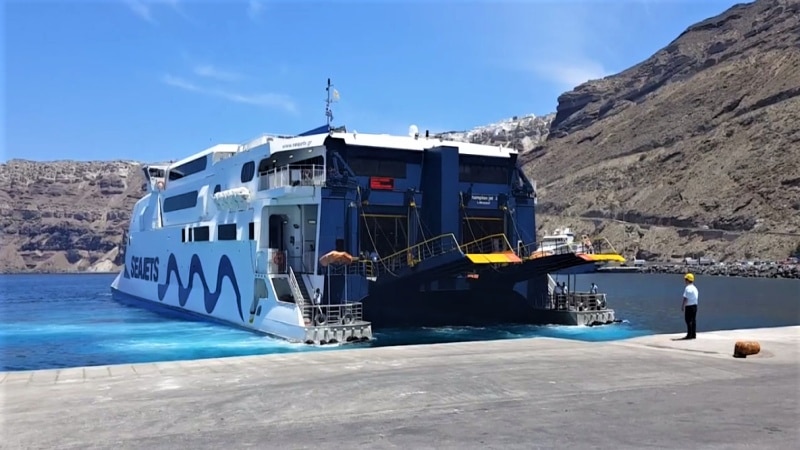 The biggest concern regarding Seajet and similar high-speed ferries is that they are often canceled due to unavoidable weather conditions.
Every day almost 3 trips are operated from Athens to Santorini.
Seajet ferries are only great if time is a concern for one, otherwise one must go for the conventional ferry rides only.
SEAJET FERRIES
Address: 2, Astiggos & Akti Tselepi
18531 Piraeus
Phone: +30 210 7107710, daily 06:00 – 22:00
e-mail: [email protected]
How To Get From Athens To Piraeus Ferry Port To Catch the Ferry To Santorini
The Piraeus ferry port is located very close to the center of Athens and all the well-known hotels in the city, and luckily it's super simple to reach there.
If you are in downtown Athens, you can easily access the Piraeus Ferry port via train (green line).
Taking the train service from Monastiraki station or even Omonia Station can easily get you to Piraeus within 20-30 minutes.
Not just that, the metro runs continuously from 5:30 am in the morning to midnight, with short intervals of 5-10 minutes. Plus, they only cost €1.40, so you can go easy in your pocket.
If you like to learn more about how to get around Athens, please read our detailed guide here.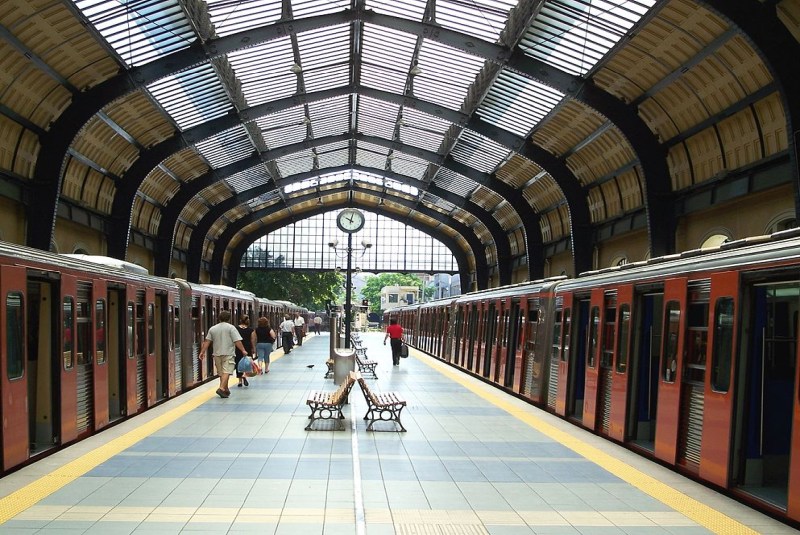 Piraeus Ferry Port can also be accessed by taxi or cab service. To help you more to make the right choice, we suggest you click on this page, scroll down to the transfers section, and select one of the services we have already tried for you! Pick some, read their reviews, and book anyone you like, so simple.
Top Recommended Hotels Near the Piraeus Ferry Port
Most of the ferries operate early in the morning, thus many prefer to stay near Piraeus Port the previous night.
For a tourist, it might be a bit complicated to find the perfect and budget-friendly hotel, but you certainly don't need to worry as here we have mentioned our top picks for hotels near the Piraeus Port that you will truly love:
Eva Apartments
Set up at an optimal distance of 700 meters from the Piraeus port of Athens, it provides guests with free-wifi service.
Phidias Piraeus Hotel
Conveniently located in the center of Piraeus (1.3 km from Piraeus Port), it offers guests free shuttle service and extremely comfortable rooms.
Aegean Windows
Situated right next to the Piraeus Port at a minimal distance of 300 meters. It offers all the modern amenities including free wifi and large screen T.V. Some deluxe rooms also offer a direct port view.
Ports Little Gem
A luxury yet affordable hotel located within 1 km from Piraeus Port, with all the modern amenities of a luxurious hotel.
Piraeus City Hotel
Located just 50 meters from the port, and in the range of the bus stop for the airport bus (X96), it is surely one of the best hotels in the entire city of Athens.
How To Get From Athens Airport To the Ferry Port
The best way to get to the Piraeus Ferry port from Athens International Airport is to take a bus, which isn't just super cheap but very convenient as well.
The X96 Bus service serves the route between the Airport and Piraeus and will get you to the port within 90 minutes.
The bus ticket only costs 6€ and operates throughout the year (even on off-seasons). The X96 bus departs at an interval of 30 minutes from the airport. You can easily find the information/ticketing counter from Exits 4 and 5 of the airport (El. Venizelos).
In case your ferry leaves from Rafina port, you may take a direct bus to the Rafina port which only takes 30 minutes to arrive at the port.
Fortunately, the ticket only cost 3€ and you can easily buy it from the bus driver.
These buses can be found easily between Exit 2 and Exit 3 of the airport. To help you more we suggest you visit our Athens maps page and download for free the Athens Airport Bus and Airport Metro Map
You may also take a taxi or cab service to reach the Piraeus port. Usually, taxi drivers charge around 50€ to 60€ from the airport to the Piraeus port and it would approximately take an hour to reach it.
For Rafina, you can easily reach it in no more than 15 minutes and expect to pay around 25€ and 35€.
Book now a private transfer from Athens International Airport to the Piraeus ferry port. Best price you can get and free cancelation!
Flights from Athens to Santorini
Indeed, air travel is the quickest way to reach Santorini. Although it is relatively expensive, you can definitely reach Santorini airport in just 45 minutes. During summertime, there are more than 20 daily flights operating on this itinerary.
Heads Up: Aviasales searches travel and airline sites to help you find cheap flights at the best prices. Search for tickets with 728 airlines and leading ticket offices and get the best prices on flights.
Every 2 hours, a flight leaves from Athens Airport for Santorini, from morning 5:15 am to 11:35 pm at night.
In the high season, every plane that lands on Santorini depart back towards Athens just after an interval of 40 minutes, thus you can be sure that flights between the two destinations are quite frequent.
A variety of local and International Airlines serve this route including:
Olympic Air (Aegean Air) – During peak season, these airlines operate up to 9 flights a day from Athens to Santorini. The tickets can be easily bought online from Aviasales. They operate various flights ranging from Dash 8 prop planes (70 passengers) to Airbus 320 (168 passengers).
Ryanair- It only functions for a specific period of time. Starting 26th March, it has 1 flight per day (at 7:15 am) which ends by October 24th. During peak season, they also run an evening flight (at 11:10 pm), from 1st of June up till 30th September.
Ellinair
Volotea
Sky express
In the wintertime, the flights from Athens to Santorini are reduced to 3-4, as there aren't many tourists during the off-season.
Apart from these many International flights also have a direct route from European cities to Santorini that skips the interval at the Athens Airport (El. Venizelos).
Find cheap flights at best prices to every destination! Latest flight deals.
How Far Is Athens From Santorini by Plane
Athens and Santorini are separated by a distance of 235 km (or 145 miles), and air travel is the fastest way to cover this distance.
Within 45-50 minutes, you can reach the Santorini airport (JTR) from the Athens International Airport (ATH).
Santorini airport is relatively very small and can often be found over-crowded during peak season.
Unfortunately, there's only a single baggage carousel operating at the Santorini airport, thus you must be mindful of your baggage.
In any case, it's best to pre-book a rental car or bus service, in case you haven't, you can easily find numerous buses and taxis just outside the airport.
The average time duration of respective flights are mentioned below:
Sky Express (every day) – 53 minutes
Olympic Air (every day) – 45 minutes
Volotea (every day) – 56 minutes
Ryan Air (every day) – 50 minutes
How Much Does It Cost To Fly From Athens To Santorini
The price range of air travel between Athens and Santorini varies depending on the season. The ticket price is extremely cheap in winters, and quite pricey during the high season.
The flight usually costs anywhere between $40 and $175 (37€ -162€). You can get a phenomenal deal and discounts if you book your ticket well in advance (4-5 months).
During peak season, Ryanair is considered to be the most affordable among all.
To give you a clearer idea, below we will list the estimated price range of the specific flight on Athens to Santorini itinerary:
Sky Express – $55 – $380
Olympic Air – $45 – $240
Volotea – $50 – $340
Ryan Air – $28 – $190
(For more accurate information kindly visit the respective websites of the flights.)
Aviasales searches travel and airline sites to help you find cheap flights at the best prices. Search for tickets with 728 airlines and leading ticket offices and get the best prices on flights!
Top Recommended Hotels To Stay in Santorini Island
Santorini Island is loaded with numerous tourist spots, so it certainly deserves a visit for at least a few days.
The most enchanting feature of Santorini is its ultra-luxurious hotels and villas that offer remarkable hospitality and a spectacular view of the island.
Here we have gathered the top picks for hotels in Santorini Island:
Irene City Villas
Located at Fira's city center and at a distance of 2.3 km from Exo Gialos Beach, an ideal accommodation with luxurious, clean, and nicely decorated rooms.
Abelis Canava Luxury Suites
Offers exceptional luxury to the guests with a seasonal outdoor swimming pool, a garden, and a terrace. Also, the hotel offers free private parking and phenomenal room service to all guests.
La Bellezza Eco Boutique Hotel
Each room is served with a flat-screen TV with satellite channels and a coffee maker machine. It's situated in the best-rated area in Kamari and has extremely hospitable staff.
CAPE 9 Villas & Suites
Features a phenomenal view of Caldera from the hotel. Also, it offers beauty and massage services for individuals or couples. The best part is that the bus stop can be reached within 100m from the hotel, while Santorini Airport is just 8 km away.
Cavo Tagoo Santorini
Provides personalized services and mesmerizing sunset views. It includes 5-star accommodation with ultra-luxurious rooms. It's located at a distance of 5 km from Fira and 6 km from Oia.
Simply put, the island of Santorini is one of the most incredible and mesmerizing sites to visit in Greece.
Today, it has become one of the most popular tourist spots in the country. People from all over the world visit it and are left wonderstruck by its beauty.
They are astonished by the splendors of the island which truly reflects the culture and vibrancy of the Greek lifestyle.
Once you get there, you'll fall in love with the place!
Tips and Useful Information on Traveling From Athens to Santorini
Traveling from Athens to Santorini is one of the topics most discussed among our readers and especially among those who haven't visited the island before.
In this final part, we'll go over some of the most frequently asked questions that arrive in our inbox and give you some tips to start planning your own trip from Athens to Santorini.
Is Santorini or Mykonos better?
Mykonos is the starlet of the Aegean Sea, an island with international fame for its nightlife, high-end hotels, and flashy crowds. Nevertheless, the magnificent sunset views, the black sand beaches, and the romantic atmosphere make Santorini an island that is truly one of its kind.
Is it better to fly or take a ferry from Athens to Santorini?
Obviously, it's much more convenient and faster to fly from Athens to Santorini even though it can be quite more expensive. However, we strongly recommend that you travel to Santorini by ferry and get the chance to enjoy a relaxing cruise and marvel at the views throughout the Aegean Sea.
Is Santorini expensive?
Santorini is quite expensive compared to other islands in the Aegean Sea or Athens. There's a reason Santorini attracts more than two million tourists each year — the white-and-blue washed island in the Greek Cyclades is basically heaven on earth. But it's also about twice as expensive as Athens, with hotel prices in the summer climbing to $250, on average, per night.
How much money do you need for a week in Santorini?
The average hotel price in Santorini for a couple is €109 or ($133). So, a trip to Santorini for two people for one-week costs on average €1,524 or ($1,853). All of these average travel prices have been collected from other travelers to help you plan your own travel budget.
How easy is it to get around Santorini?
Santorini is quite a small island and getting around town or the nearby beaches on foot or with the public buses should not be a problem. You can get a KTEL bus from Fira to many seaside destinations around the island and back with a small fare.
Do you need a car in Santorini?
If you're planning to stay around the main touristy spots and not drift away from all the traditional sights then buses and public transportation should be enough. Nevertheless, we recommend renting a car so that you get the chance to see all the hidden gems and the secluded beaches of Santorini.
Is Santorini a party island?
Santorini boasts a vibrant nightlife but not the kind that made Mykonos famous. It also has luxurious nightclubs and bars with amazing views but the atmosphere here is quite more laid-back and relaxing.
Is it better to stay in Oia or Fira?
Both Oia and Fira are amazing places to stay during your trip to Santorini. They both offer luxurious accommodation and high-end gastronomy. Yet, Oia is known as the most luxurious area of the island while Fira is considered to be more traditional and romantic.
Is Santorini safe at night?
Like all the popular tourist destinations in Greece, Santorini is absolutely safe any time of the day. Nevertheless, you should always keep an eye out for your belongings while you're out at night or when you are on the beach.
To sum it up, there are two ways to get from Athens to Santorini island; by plane or a ferry.
If you are exploring Greece for the very first time, we'd suggest traveling by ferry.
You'll be flattered by the charming blue color of the Aegean Sea and these ferries would be perfect for some fascinating Instagram pictures.
On the other hand, if it's not your first time, you may take a direct flight to Santorini and utilize the time saved in exploring the island. It's definitely a win-win situation in both cases!
We hope this detailed guide about how to travel from Athens to Santorini has solved all your queries and will make the trip easy and convenient for you!
A Quick Reminder:
Remember that Athens By Locals is here to guide you with planning the perfect trip to Athens and help you every step along the way. If you didn't found what you're looking for, or need any recommendations about your trip to Athens, feel free to contact us and we will do our best to help you. Please be as more detailed as possible regarding your subject so as to help you better.
If you like what you read please scroll down at the end of this page and subscribe to Athens By Locals so next time to receive more articles like this straight forward to your email. Join us on Facebook for comments, photos, and other fun stuff. If you enjoy this article please share it with your friends on Facebook.