Cheap Hotels in Athens: Budget Friendly Places to Stay in Safe Areas
Last Updated on: September 1, 2021
Please read first:
Please bear in mind that due to Covid-19 the information that we present in our articles regarding the timetables of public transportation, hotels, restaurants, etc. may be subject to change. We highly advise you to double-check before proceeding with any bookings. Rest assured that we here at Athens By Locals are doing our best to keep up with these turbulent times and provide you with up-to-date travel information. Do not hesitate to reach out for any questions, we'll be more than happy to help!
Browsing the web for the best deals on cheap hotels in Athens might not be as fruitful as you would expect before finding out just how many hotels are located in the city center. Perhaps that's why you ended up reading this article; and we'll make sure not to disappoint you in helping you find an excellent, budget-friendly hotel in Athens for your next trip.
Known the world over for its cultural heritage, vibrant nightlife, and modern gastronomy scene, Athens has rapidly become one of the most popular European destinations, attracting hundreds of thousands of visitors every year.
Naturally, the most famous areas of Athens teem with hotels of all kinds, ranging from five-star resorts to budget-friendly hotels and hostels. The options are virtually countless.
However, choosing a luxurious hotel for your trip is practically a matter of taste, whereas picking a cheap hotel without some local insight can go terribly wrong.
So let's cut to the chase. After all, you're probably here because you're looking for a cheap hotel in Athens for your trip.
That's why we created this list of the best cheap hotels in Athens that will certainly come in handy. These centrally-located, value-for-money hotels guarantee to offer you a pleasant and comfortable stay in the heart of the Greek capital.
Where to Find Cheap Hotels in Athens
Most of the hotels in Athens are located within the city center and there is an especially large number of accommodation options in the areas around Acropolis Hill, where some of the most popular neighborhoods of the city lie. These include Koukaki, Syntagma, Thission, Petralona, Monastiraki, and Plaka, just to name a few.
Naturally, these are also the areas where the most expensive hotels are located.
Having said that, it's not impossible to get a good deal for a mid-range hotel or even find a budget-friendly hotel in the city center.
Provided that you follow our tips and book well in advance, you just might be able to strike gold.
Which Areas to Avoid in Athens
Athens is a fairly safe city, ranking quite high on the list with the safest European capitals.
Due to a dense population, large tourist crowds, and a nightlife that goes on until early morning, the city center is especially safe all around the clock.
That being said, there still are a few areas that we recommend you avoid. Be warned: given that you will be looking for cheap hotels in Athens, they will often be popping up as options and they might initially seem like an intriguing choice.
Yet, the truth is that there are a few spots in the city that are a bit less safe and charming than the rest.
These include Omonoia Square, Metaxourgeio, Vathis Square, Amerikis Square, and the areas around the central railway station of Athens (Larisa Station).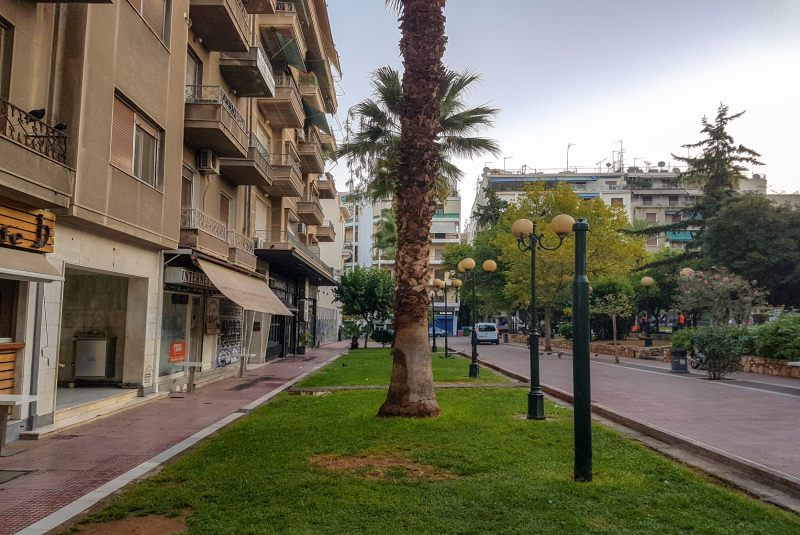 Now, we don't want to scare you; Staying in any of these areas won't mean that you will be unsafe or in danger but only that you will have to be extra careful.
The Best Cheap Hotels in Athens
Here you will find our selection for the best cheap hotels in Athens. All of the hotels on this list are located in downtown Athens only minutes away from the city's top attractions.
Bear in mind that this list was carefully screened by the team of Athens By Locals to guarantee that our recommendations are always on point.
We have personally stayed in and examined each and every one of them. After all, we are travelers just like you and we take a lot of pride in helping out to make every trip to Athens unforgettable.
Athens Center Square
Located in the center of Athens just 300 meters from Monastiraki square, Athens Center Square is within walking distance from all the major landmarks.
The cozy hotel features 54 elegantly decorated rooms all of which are equipped with modern amenities that guarantee a comfortable stay.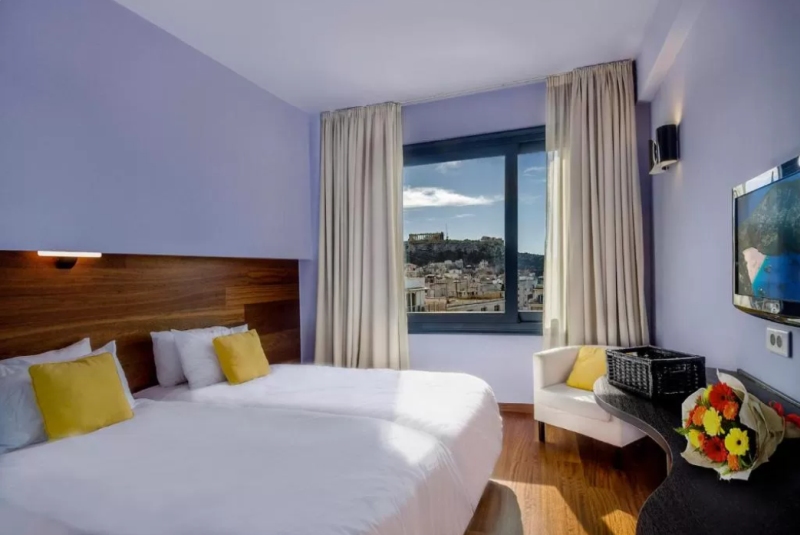 A rich breakfast buffet is available for guests on the hotel's first floor while the rooftop bar offers a unique view of the Acropolis.
Don't miss to check the Athens Center Square on Booking.com
Centrotel
Centrotel Hotel is a newly built value-for-money hotel located in the center of Athens, just 300 meters from Viktoria metro station.
Spanning for 7 floors, Centotel features 50 spacious rooms and suites as well as three underground parking spaces. 
Every room is equipped with all the necessary amenities and all of them have a private balcony. 
Centrotel it's very close to the city center and to Athens' major attractions. Guests can reach the center of Athens by metro or on foot.
Victory Inn
Centrotel's partner hotel, Victory Inn is another excellent choice for those looking for budget-friendly accommodation in Athens.
The 2-star hotel is situated in a short jaunt from the Pedion tou Areos and the National Archaeological Museum of Athens and is within walking distance from the city center.
All of the 34 rooms are fully refurbished and most of them feature a private balcony.
Metropolis Hotel
Featuring 22 rooms, Hotel Metropolis is a cozy 2-star budget-friendly hotel in Athens boasting a warm atmosphere.
Set in the heart of the historic center, in the Plaka neighborhood, Metropolis Hotel's rooftop terrace overlooks the Acropolis.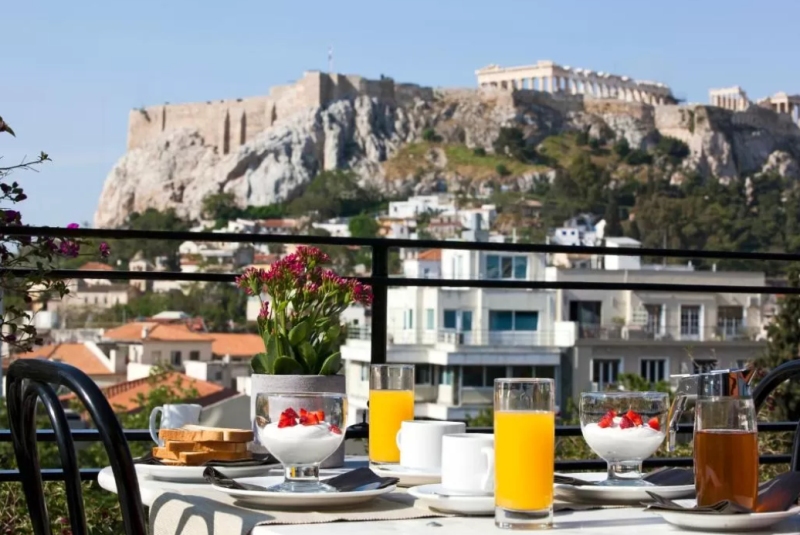 Here you'll find a wide range of rooms. From a double economy room to a family room furnished with two double beds. 
Its modern amenities and simple yet elegant decoration make it one of the best cheap hotels in Athens.
Phaedra Hotel
Phaedra Hotel is situated within walking distance from the Parthenon and Odeon of Herodes Atticus as well as close to the city's major sites.
Even though the rooms aren't very big, they all feature the necessary amenities for a comfortable stay and most of them have a private balcony with a view over Adrianou street.
The hotel's cozy rooftop terrace is a great place for some moments of relaxation at night and for taking your breakfast in the morning.
Prices vary depending on whether you'll choose a budget room (budget single, budget twin, and budget double) or a standard room (standard twin and standard double).
However, regardless of the type of room, the hotel's prices are overall budget-friendly which in combination with the hotel's privileged location makes Phaedra Hotel a top choice if you are looking for a cheap hotel in Athens.
Areos Hotel
Areos Hotel is a small budget-friendly boutique hotel conveniently located right next to the big public park, Pedion tou Areos, and close to the city center.
The hotel has 40 rooms in total divided into the following categories: single, double, and triple rooms, as well as double rooms with balconies and suites.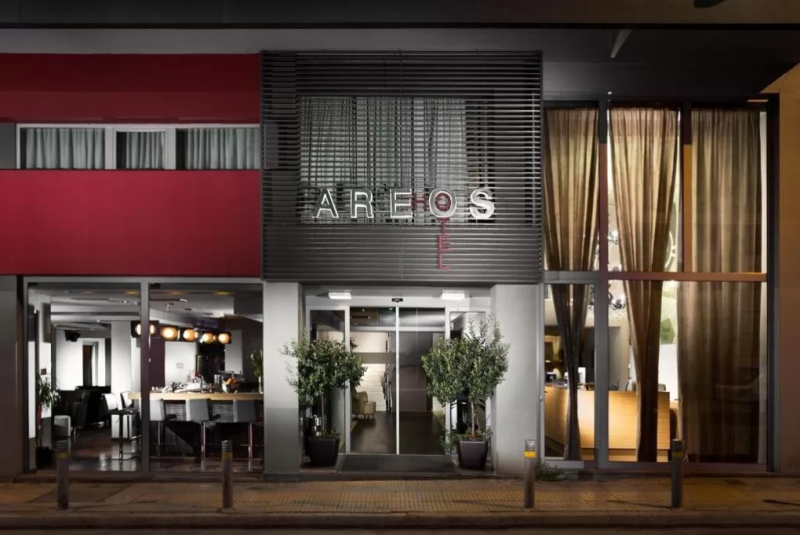 Areos Hotel also features a café bar that is open throughout the day serving breakfast, snacks, beverages, and sweets.
Hotel Philippos
Situated a block away from the Acropolis Museum, Hotel Philippos enjoys one of the city's greatest locations.
The 3-star hotel features 50 rooms in total and fully-equipped meeting rooms ideal for travelers on a business trip. 
The hotel's newest addition is the 'Belvedere Terrace,' a majestic rooftop terrace with a view over the Acropolis Museum and the surrounding area.
A rich breakfast buffet filled with local delicacies is available to the hotel's guests.
Hotel Faros
If you're heading to the Greek islands or just returned from your summer holidays and you're looking for a budget-friendly hotel to spend the night close to Piraeus port, Hotel Faros is an excellent choice.
The 2-star hotel is situated close to the Piraeus port and within walking distance from the center of Piraeus. Faros II offers 27 fully furnished rooms of different types including family rooms, economy double rooms, and triple rooms.
The Best Cheap Hostels in Athens
There are some who believe that hostels may be cheap but tend to provide services of lower quality in terms of facilities, comfort, or cleanness. But that is not necessarily true. And it's certainly not true for the city of Athens.
In Athens, you can find amazing modern hostels with great design and awesome locations that are not only fit for hardcore backpackers but also for every kind of budget traveler.
The options are many, but you're in luck.
We have personally screened and selected the best hostels in Athens exclusively for our readers and we list them below.
City Circus Hostel
City Circus is a modern hostel housed in a late 19th-century building that has been declared a historical monument.
The hip hostel offers a wide range of room types, including 4, 6, or 8-bed dormitories and double and twin rooms.
Its privileged location in the vibrant Psirri area is another reason City Circus is a favorite among backpackers and enthusiastic travelers from all over the world.
At the neoclassical building's ground floor lies the stylish Greek bistro & wine bar, Zampano which serves Greek cuisine dishes made with fresh local ingredients.
Athens Backpackers
As the name suggests, Athens Backpackers is a budget-friendly hostel attracting young travelers visiting the Greek capital.
It's located in the center of Athens just a stone's throw away from the Acropolis metro station.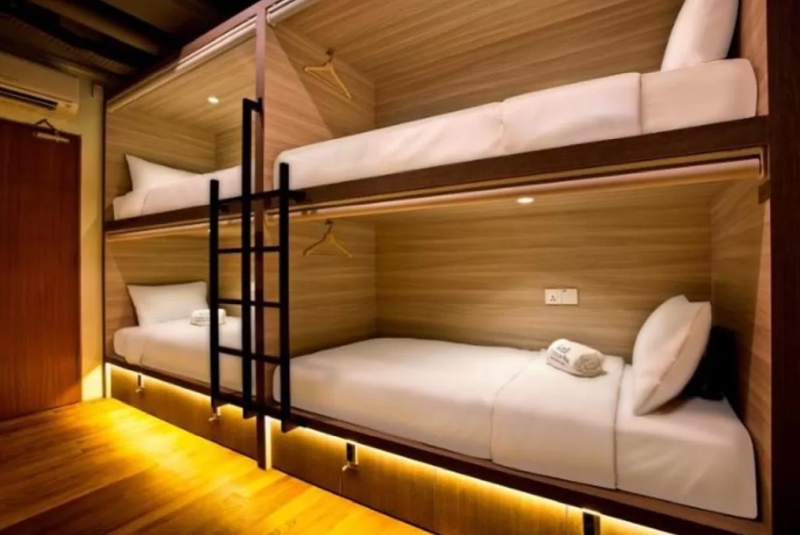 The modern hostel features a wide selection of room types including 6-bed mixed dorms, 3-persons private studio, and private apartments for four and six persons.
Bedbox Hostel
Featuring 4-bed and 6-bed dormitory rooms, the Bedbox hostel is the ideal choice for those looking for a place to mingle with other travelers.
The modern youth hostel is situated in the city center, 300 meters from Monastiraki square and Ermou shopping street.
All of the rooms offer a shared WC and shower while guests can choose among mixed and same-sex dormitory rooms.
Why Choose Monastiraki and Psirri for a Budget Stay in Athens
The area around Monastiraki and Psirri brims with restaurants, bars, pubs, and street food joints as well as nightclubs that remain open until the first signs of sun come up in the morning.
Most of these attract younger crowds, meaning that you will be able to wine and dine at quite low prices and easily keep your spending budget under control.
To top it off, it's an area that's great for socializing and blending in with the locals.
What's more, choosing to stay in a hotel in Monastiraki or Psirri means that you will be within walking distance from popular attractions like Hadrian's Library, the Roman Agora, and the Ancient Agora.
Finally, Monastiraki has its own metro station (green line and blue line) which also connects downtown Athens to the port of Piraeus.
The Best Cheap Hotels in Monastiraki and Psirri
Monastiraki and Psirri are two of the most sought-after areas in Athens for tourists.
Having said that, booking a cheap hotel in Monastiraki or Psirri is far from impossible. And it's probably one of your best options.
Here's a rundown of the best cheap hotels in Monastiraki and Psirri. Click on the links to find out more on Booking.com.
Why Choose Koukaki for a Cheap Hotel in Athens
One of the most beautiful neighborhoods in Athens, Koukaki blends tradition and modernity in a charming mix of gastronomy, culture, and nightlife.
Its privileged location -only a few minutes away from Acropolis Hill– is only one of the reasons why you should be looking at Koukaki for your trip to Athens.
Even though Koukaki is considered to be an upscale area of Athens, this notion is not confirmed by the prices of the restaurants, pubs, and bars that lie on its busy pedestrian streets.
The hub of Koukaki is far from a tourist trap like the ones you've seen in major European cities and staying there will cause no real blows to your budget.
Last but not least, Koukaki is located right between two metro stations: the Acropolis station (red line) and the Syggrou-Fix station (red line).
The Best Cheap Hotels in Koukaki
Due to its location, the area is full of all kinds of hotels for all kinds of tastes. Discovering a budget-friendly hotel in Koukaki, however, might prove to be a challenging task.
Luckily for you, we've already done all the hard work.
Here are our top choices for cheap hotels in Koukaki. Check out the links on Booking.com and book the hotel that suits you best.
Why Choose Syntagma for a Budget-friendly Hotel in Athens
The most well-known area of Athens, Syntagma is not only home to the Greek Parliament and the National Gardens but also to countless shops, bars, pubs, and restaurants.
It's also the place where the most famous shopping street of Athens, Ermou street begins.
Staying in Syntagma will mean that you can check all the boxes on your sightseeing list in a quick and cheap way, simply by walking around. In addition, Syntagma has a metro station (red and blue line) located on Syntagma Square.
The Best Cheap Hotels in Syntagma
Being the most famous and the most central spot of the city, Syntagma is naturally home to a wide range of hotels.
And even though it has a reputation as being one of the most expensive areas of Athens, you just might be able to strike a great deal with a cheap hotel for your trip.
Are you asking how? Just check out our selection below and follow the links to Booking.com to reserve your stay at the best prices.
Why Choose Thission for a Cheap Stay in Athens
Thission is one of the most popular neighborhoods of Athens located between Monastiraki and Koukaki.
It's nearly impossible to visit Athens without walking at least one time down the famous pedestrian street called Dionysiou Aeropagitou that connects the narrow alleys of Monastiraki to the Acropolis Museum, right under the Parthenon.
Choosing Thission for your stay means that you will be close to attractions like the National Observatory of Athens, the Philopappos Monument, the Theater of Dionysus, and, of course, the Acropolis Hill.
The best way to get to and from Thission is by the Thission metro station (green line), the Monastiraki metro station (green and blue line) or the Acropolis metro station (red line).
The Best Cheap Hotels in Thission
The location of Thission makes it ideal for a stay in Athens no matter how short.
On the other hand, it's the location that makes finding a budget-friendly hotel in Thission seems like a difficult task.
No need to worry. We here at Athens By Locals have got you covered. Below you'll find a list of the best cheap hotels in Thission. Just click on any link to see more information on Booking.com
Why Choose Piraeus Port for Cheap Accommodation in Athens
Most travelers that choose Athens for their vacation seem to believe that Piraeus is only a good option for those that are on the final day of their itinerary in Athens and planning to travel to one of the Greek islands via Piraeus Port on the next day.
Well, this is only partly true.
Indeed, the port of Piraeus is the main reason why tourists choose to stay here, but the small town does have its own charm.
It also has a wide array of budget-friendly hotels. And being only 25 minutes away from Athens downtown means that you can easily go back and forth.
The easiest way to get from and to Piraeus is by the Piraeus train station (green line). Whatever the reason you're looking into Piraeus is, we are here to make sure that the hotel you choose will be worth your time and money.
The Best Cheap Hotels in Piraeus
Even though Piraeus is home to the largest and busiest port of Greece, there aren't as many hotels to be found in the area as you would expect.
Booking a cheap hotel in Piraeus is not as easy as it sounds. But here at Athens By Locals, we love a challenge.
This is our selection of the best cheap hotels in Piraeus. Click on any link and see more information on the services and prices on Booking.com
Tips, Questions and Answers for the Best Cheap Hotels in Athens
In this final section, you'll find a few tips on how, where and when to look for the best deals on cheap hotels in Athens. We'll also answer a few of the questions that arrive in our inbox most frequently.
Are there any cheap hotels near Acropolis?
There are quite a few cheap hotels in Athens located close to the Acropolis. The areas of Koukaki and Thission that are the closest offer a wide array of options. However, remember that not every hotel deal is worth your money. Always check our guides for useful tips and information.
Is it cheaper to book a hotel in Athens in advance or walk in?
Simply walking into a hotel to make a reservation in Athens can prove to be disastrous for your vacation. Firstly, if you're traveling on or near the peak tourist season, chances are that you won't be able to find any rooms available in downtown Athens. Even if you do, the prices are probably going to be twice as high as booking a few months before. That's why we always recommend that you book your stay in Athens well in advance; it's safer and much cheaper.
Where is the cheapest area of Athens to book a hotel?
There are cheap hotels all around Athens. It's not so much a question of where but when. If you book your hotel in advance you can get great hotel deals even in the most upscale areas of Athens like Syntagma, Monastiraki, and Koukaki.
Do cheap hotels in Athens have air-conditioning?
Yes. Athens can get very hot during summertime and air-conditioning has become a very basic amenity for the local hotels. Most hotels offer air-conditioning included in the price. Of course, we recommend that you always check beforehand.
When should I book a hotel for the best price?
We strongly recommend booking your stay in Athens well in advance, especially if you are planning to travel during summertime and if you are traveling on a budget. If you want to find a cheap hotel in the city center of Athens, consider booking at least 4 or 5 months prior to your arrival.
Can you negotiate hotel rates in Athens?
There was a time when tourists could negotiate rates at small hotels in some of the Greek islands, but that time is long gone. You can't negotiate rates at any hotel in Athens. After all, the vast majority of tourists book their hotels months before they get to Greece.
Is it better to book with hotels directly?
The short question is no. Booking platforms like booking.com are always cheaper than booking with the hotels directly. Plus, they're much safer in terms of the security of online transactions.
Why are hotels cheaper on booking com?
All in all, finding a comfortable and cheap hotel in Athens, can sometimes be difficult. That doesn't mean, however, that there aren't plenty of choices for tourists traveling on a budget.
Athens city center is home to numerous value-for-money hotels and hostels that will offer you a great stay in the Greek capital. Find the one that suits your needs and style best and explore Athens on a budget.
A Quick Reminder:
Remember that Athens By Locals is here to guide you with planning the perfect trip to Athens and help you every step along the way. If you didn't found what you're looking for, or need any recommendations about your trip to Athens, feel free to contact us and we will do our best to help you. Please be as more detailed as possible regarding your subject so as to help you better.
If you like what you read please scroll down at the end of this page and subscribe to Athens By Locals so next time to receive more articles like this straight forward to your email. Join us on Facebook for comments, photos, and other fun stuff. If you enjoy this article please share it with your friends on Facebook.