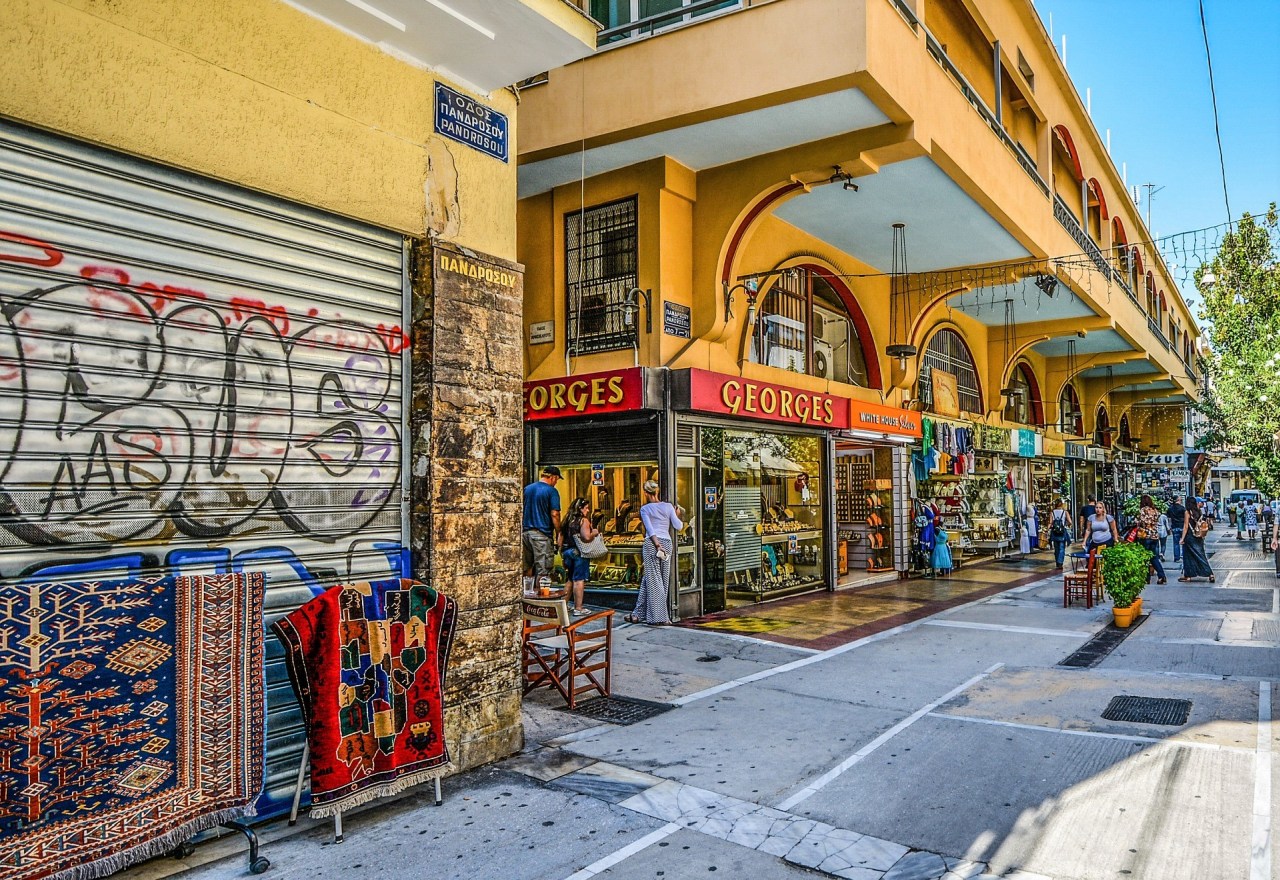 Athens Local Products: A Complete List of All the Local Greek Products You'll Find in Athens
Last Updated on: October 22, 2021
Please read first:
Please bear in mind that due to Covid-19 the information that we present in our articles regarding the timetables of public transportation, hotels, restaurants, etc. may be subject to change. We highly advise you to double-check before proceeding with any bookings. Rest assured that we here at Athens By Locals are doing our best to keep up with these turbulent times and provide you with up-to-date travel information. Do not hesitate to reach out for any questions, we'll be more than happy to help!
Travelers that visit Athens rarely go home empty-handed. There are so many kinds of traditional local Greek products to be found in the streets, shops, and flea markets of Athens that trying to get a taste of all or fitting all your finds in your suitcase to take back home is going to be impossible.
To make your life easier and your trip a bit more delicious, we have put together a list of all the local Greek products you'll find in Athens along with the best places to buy them and a few local tips for places that will become the highlights of your trip.
Keep reading and get your shopping lists ready!
Arts and Crafts Products in Athens
Athens has a long tradition in arts and crafts of all forms. Be it music, pottery, carpentry or jewel-making, traditional or modern, there's absolutely no doubt that you will find what you are looking for in the streets of Athens.

You just have to know where to look. Walking through the flea markets and busy shopping streets may sometimes be overwhelming if you don't know what to expect beforehand.

So here are all the local arts and crafts products you should be looking out for when visiting Athens.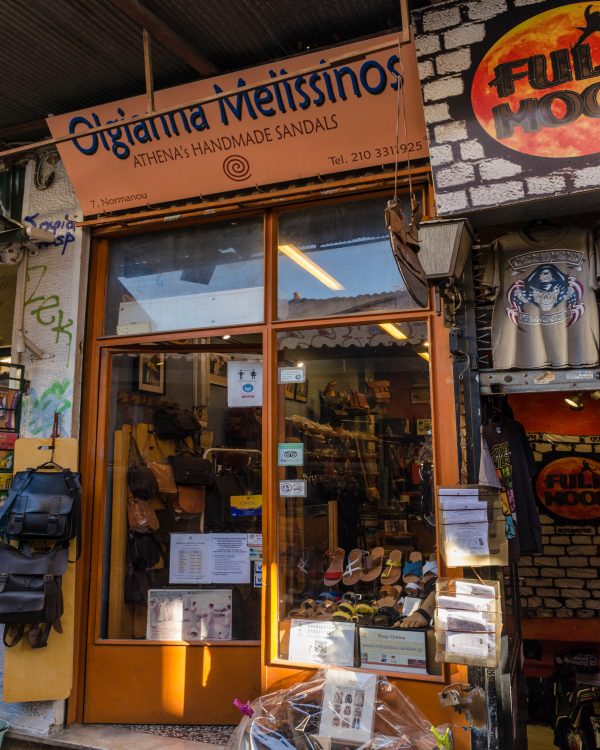 Carpets and Rugs
The art of making carpets and rugs is deeply rooted in the Greek tradition.
For centuries, locals have been making all kinds of carpets to protect their homes from the harsh conditions of cold winters, especially in northern Greece.
A good example of carpet-making in Greece is the traditional "flokati", a colorful rug that is traditionally made using hand-woven sheep or goat wool in the mountainous, colder regions of the country.
Handmade carpets and rugs are still common throughout Greece today.
The areas famous for producing the most impressive carpets include Lefkada island, Karditsa, Tripolis, and Metsovo.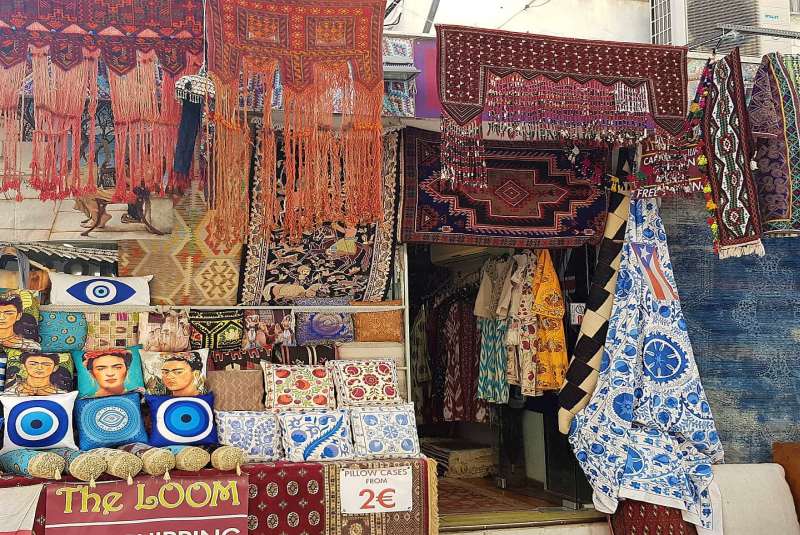 Of course, these are later on imported to the capital city of Athens and are available for sale in the most famous tourist areas for a wide range of prices.
Where to buy traditional carpets and rugs in Athens
There are plenty of carpet stores in the area of Plaka.
Just browse through the hanging exhibits and you'll be amazed. Make sure to pay a visit to "The Loom", an exceptional carpet store located on Adrianou 94.
Leather Products
Greek leather products are probably the most famous local products among travelers and the ones chosen as souvenirs most often.
Greece is known for producing quality leather and locals are no strangers to the art of turning it into high-end fashion items like handbags, purses, gloves, shoes, and sandals either.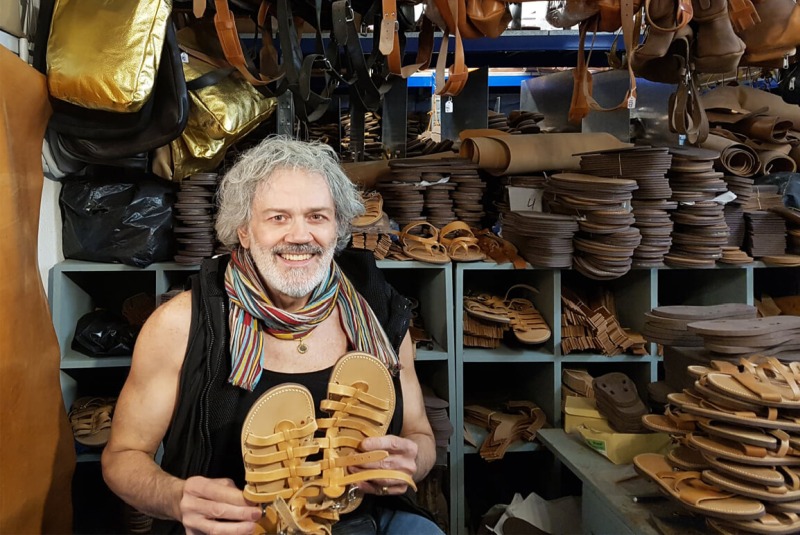 The latter being of course the most widely sold leather product in Athens.
Prices for leather accessories can range from a few euros for a simple souvenir to hundreds of euros for a designer's handbag.
Where to buy leather products in Athens
If you are looking for affordable leather clothing and accessories, the neighborhood of Psyrri, the famous flea market of Monastiraki, and Ifaistou street will be your safest bets.
For high-end fashion, stroll through the shopping streets of Kolonaki or Ermou street.
Local's tip: Make sure to pay a visit to the workshop of Stavros Melissinos, the internationally acclaimed poet-sandal maker of Athens, located on Normanou street 7, Monastiraki.
Musical Instruments
If you have already visited Athens and had the chance to go for a walk through the popular nightlife areas of the city, you might have come across the peculiar sounds of "the rebetika", traditional Greek folk music from the 20s and the 30s, played with traditional Greek musical instruments.
Music lovers will be delighted to know that you can actually purchase all kinds of musical instruments in Athens along with music records, books, and teaching material.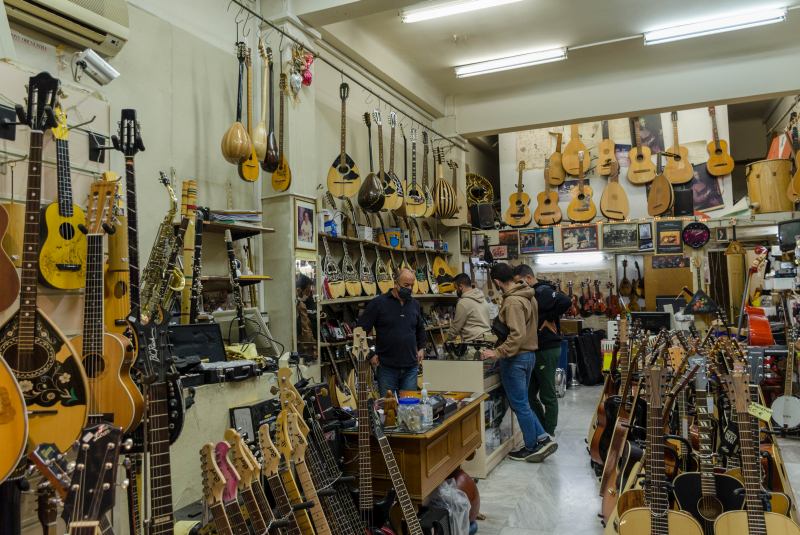 Here are a few examples of Greek musical instruments you'll find in Athens:
Bouzouki (the popular 3-string "lead" instrument of rebetika)
Laouto (a guitar-like string instrument)
Flogera (a version of the flute)
Klarino (a variation of the clarinet)
Santouri ( a traditional hammered dulcimer)
Tsabuna (the Greek version of the bagpipe)
Lyra (an ancestor of the violin)
Where to buy Greek musical instruments in Athens
You can find most of the instruments listed above in the flea market of Monastiraki, in small stores in Plaka, and in specialized music stores in Exarchia.
Jewelry
Jewelry is often overlooked when it comes to exploring the local products of Athens. Yet, local shops feature impressive collections with all kinds of jewelry for any kind of budget.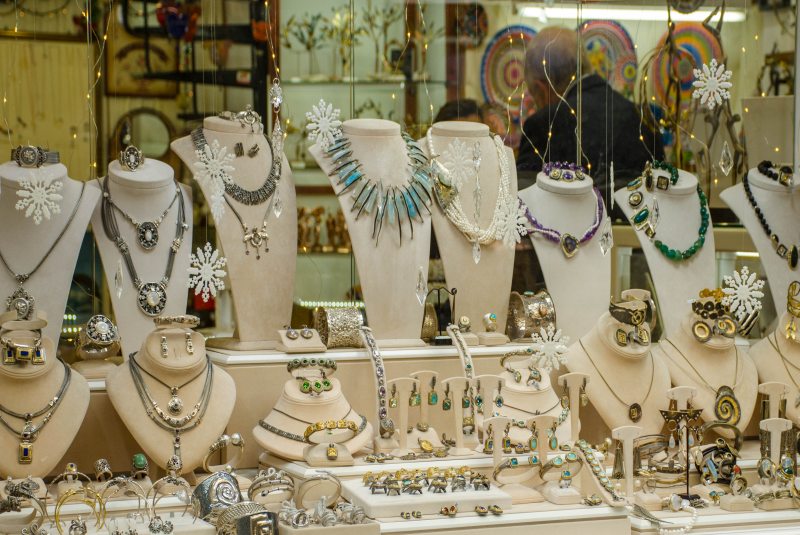 You can find impeccable gold designer pieces in the shopping streets of Syntagma and Kolonaki as well as affordable silver jewelry in the stores of Plaka and the street vendors in Thission and Monastiraki.
Local's tip: If you're looking for something really special to take back home, make sure to check out the museum souvenir shops for replicas of ancient Greek jewelry and other gems. Check out the collections at the Benaki Museum, the Cycladic Art Museum, and, of course, the Ilias Lalaounis Jewelry Museum.
Where to buy jewelry in Athens
For high-end jewelry, head for Ermou street, the famous shopping street that runs through Syntagma or the main streets of Kolonaki.
Make sure to pay a visit to the most famous jewelry designer stores in Athens: Kessaris, Ilias Lalaounis, and Bvlgari in Syntagma.
For more affordable options, browse the street vendor stalls on Dionysiou Aeropagitou street.
Other Handicrafts
We're not done here yet. There are all kinds of unusual artifacts, souvenirs, and knick-knacks that you will see on stalls and store windows in Athens.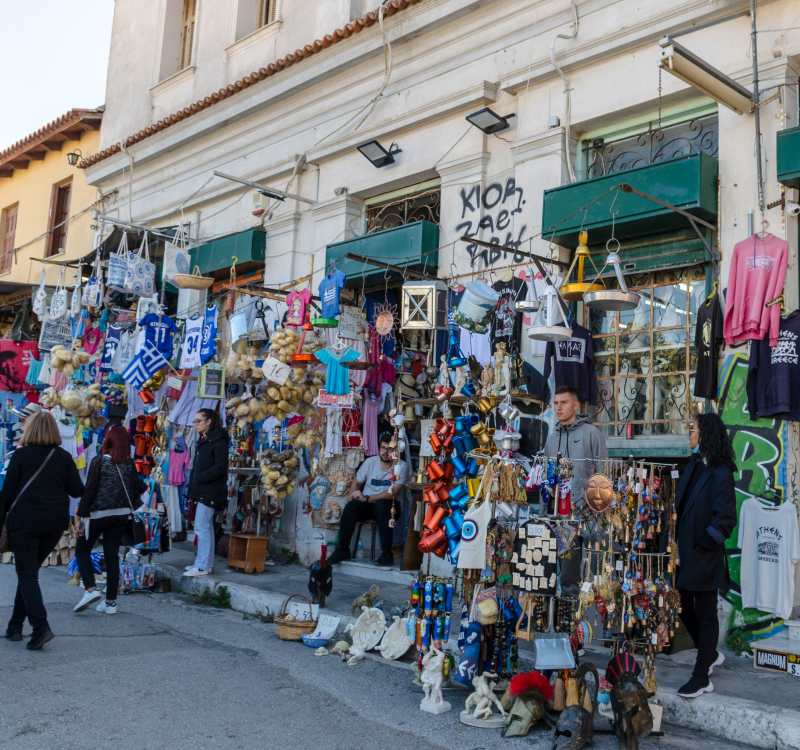 We are going to list a few below to save you some time asking the vendors what each one is.
Ceramics: Just walk through the streets of Monastiraki and you'll notice tens of souvenir shops offering all kinds of ceramic pots, pans and ornaments, with designs that were in circulation centuries ago.
Religious artifacts: The Orthodox religion is deeply rooted in Greek culture. Coming across Byzantine icons, incense burners and other ceremonial objects in Athens is more common than you might think.
Shadow puppetry: Greece has a long tradition in shadow puppetry. There was a time when whole towns would gather to watch the best performers. Karagkiozis is the name of the most popular hero of local folklore that appeared in almost every single play. Today, you can still find shadow puppets and other kinds of figurines on sale, inspired by the adventures of Karagkiozis.
The Evil Eye and the Wise Owl: Two of the most prominent symbols of local culture. The evil eye refers to any kind of eye-shaped object (usually a talisman) that can protect the bearer from curses. The wise owl is a small figurine that symbolizes wisdom (the owl was the spirit animal of Goddess Athena) and brings luck.
Replicas of Ancient Artifacts: Locals use metal, bronze, iron, wood, and stone to recreate impeccable replicas of ancient statues, jewelry, and vases that make for the most amazing souvenirs to take home from your trip
Food and Drink Products in Athens
Food in Greece is a serious matter.
It's more than just having an enjoyable meal; it's a whole culture. Greek gastronomy is famous the world over for its incomparable tastes and unique local products.
Luckily for you, you can easily find all kinds of food and drinks throughout Athens in street stalls, food markets, small eateries, delis, and restaurants.
Your only problem is going to be which ones to sample first.
In fact, your options for local food and drinks in Athens are so many, that we have decided to put together the list below to help you out.
Local's tip: If you only have a few days or even hours in Athens, make sure to visit the Athens Central Market for a full-blown culinary experience: here you'll find the most popular local food products to taste on the spot or take back home as a souvenir.
Greek Olive Oil and Olives
Let's kick it off with the classics.
Olive oil is the foundation of traditional Greek cuisine and it's used in almost every single dish.
In fact, Greece is the third largest producer of olive oil and olives in the world and locals are extremely proud of their olive oil.
Olive oil is generally classified into three categories: pure, virgin, and extra virgin, depending on the quality and purity.
Look for extra virgin olive oil produced in Kalamata, Crete, Pelion, or Amfissa – the areas known for making the tastiest olive oil in Greece.
Where to buy olive oil in Athens
You can buy olive oil pretty much everywhere in Athens, especially in the historic center. Check out the shops with local products on Evripidou street.
Greek Coffee and Tea
Locals can be divided into two groups: those that prefer tea and those that prefer coffee.
The latter is significantly larger, but both Greek tea and coffee are very popular and can be found all around Athens.
Greek coffee is made with finely ground and roasted coffee beans slowly boiled in what is called "briki", a tiny pot used exclusively for making coffee.
It's served hot in small cups and can be enjoyed anytime in the day. There's a wide range of blends and varieties to choose from.
The same can be said about Greek tea. There are so many different varieties to choose from. The most famous (varieties) are "mountain" tea (ironwort) and sage tea.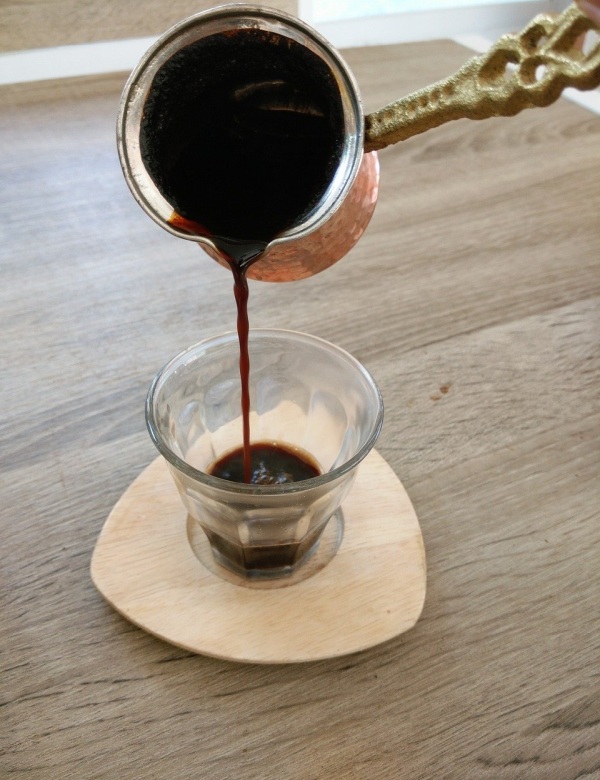 Where to buy Greek coffee and tea in Athens
For a complete Greek coffee experience, visit the Loumidis store just a few meters off Omonoia Square. With over a hundred years in the business, Loumidis is one of the most popular coffee producers in the country.
If you're a tea lover you have to check out "O Dromos tou Tsagiou" (The tea route) on Kapsali Street in Kolonaki. There, you'll find more tea varieties than you ever thought existed.
Greek Cheese and Cold Cuts
Dairy products and cold cuts are a very important part of Greek cuisine and Greek culture in general.
We're certain you're already familiar with feta, the famous Greek white cheese, but what you probably don't know is that there are virtually countless different kinds of Greek cheese, each one with its distinct aromas and flavors.
The same goes for cold cuts, even though they are not as famous as the local dairy products.
Below you'll find two brief lists with all the must-eats for your visit to Athens.
Local Greek Cheese
Feta
Graviera from Naxos or Crete
Metsovone from Metsovo
Ladotyri from Mytilene
Xinomyzithra from Crete
Formaela from Arachova
Katiki from Domokos
San Mihali from Syros
Manouri from Epirus
Arseniko from Naxos
Local Greek Cold Cuts
Salami from Lefkada
Ham from Evritania
Pastrami from Drama
Apaki from Crete
Kavourmas from Thrace
Sygklino from Mani
Nouboulo from Corfu
Lountza from Mykonos
Where to buy Greek cheese and cold cuts in Athens
You'll find most of the above all over Athens but make sure to visit Roumeli, the legendary dairy food store called "Roumeli" on Panormou street in Ambelokipoi, and the popular delicatessen called "Karamanlidika tou Fani" (which is also an amazing tavern) on Evripidou street, a minute away from Athens Central Market.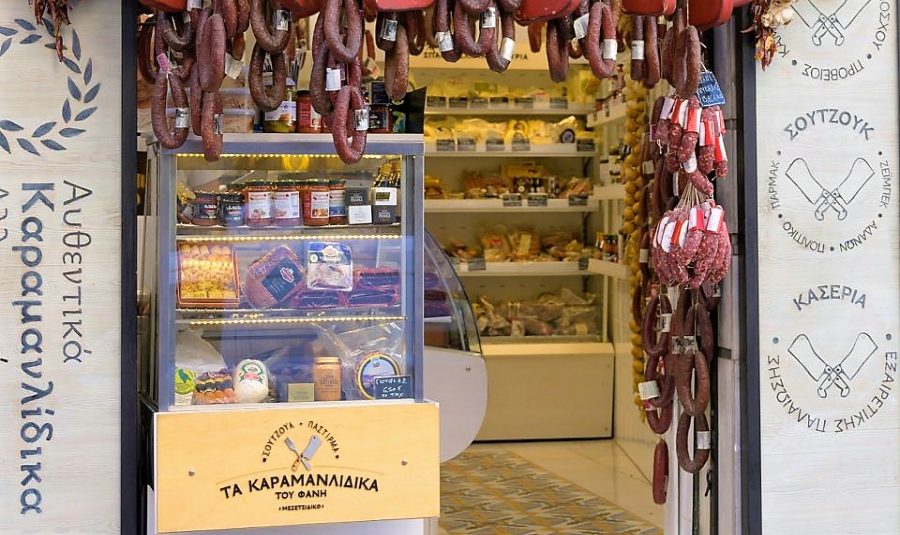 Dried Fruit, Nuts and Vegetables
The Mediterranean climate of Greece favors the production of a wide range of delicious fruit, vegetables, and nuts that are often the main reasons why local cuisine is so tasty.
Some are famous, like the pistachios of Aegina, the fava beans of Santorini, or the oranges of the Peloponnese, but you can also dig deeper to uncover hidden culinary gems like the aubergines of Leonidio, the apples of Zagora, the black cherries from northern Greece, the white figs of Kymi and many more.
Taste them on the spot or get a vacuum-sealed pack to amaze your friends back home.
Where to buy dried fruit, nuts, and vegetables in Athens
You'll have no trouble finding fruit and nuts in the streets of Athens in all kinds of delis and plain supermarkets.
However, if you're looking for some real high-end stuff, visit "Greek Luxury Products" on Vasileos Konstantinou Avenue (right next to Athens Hilton Hotel) or "Era Nuts" on Patriarchou Ioakim street in Kolonaki.
Greek Herbs and Spices
Local herbs and spices are the most popular options among travelers when it comes to edible souvenirs in Athens.
Just a spoonful of a mixture of Greek spices will be enough to remind you of your trip every time you cook a meal back home.
Stock up on oregano, thyme, saffron from Kozani (one of the most valuable Greek spices which is said to have been used since ancient times), cumin, cinnamon, dried garlic, and rosemary, and your trip to Athens will have the most pleasant aftertaste.
Where to buy Greek herbs and spices in Athens
Head for Evripidou street in Athens downtown, a narrow street that brims with all kinds of small shops that offer local products, herbs, spices, and much more, and browse through all the different kinds.
While there, make sure to pass by the Athens Central Market for a completely unique shopping experience.
Greek Wines and Spirits
What's a good meal without a glass of wine or a chilled bottle of raki to accompany it?
Alcoholic drinks play an important part in everyday life in Greece.
And while we're certain that you'll get the chance to try out a few of them while eating out in restaurants and tavernas in Athens, we're also quite sure you'll decide to get a bottle or two with you when leaving.
Your top picks should include ouzo, the famous anise-flavored drink from Mytilene, raki from Crete, tsipouro from Volos, masticha liqueur from Chios, Metaxa (the Greek version of brandy) as well as wine and retsina.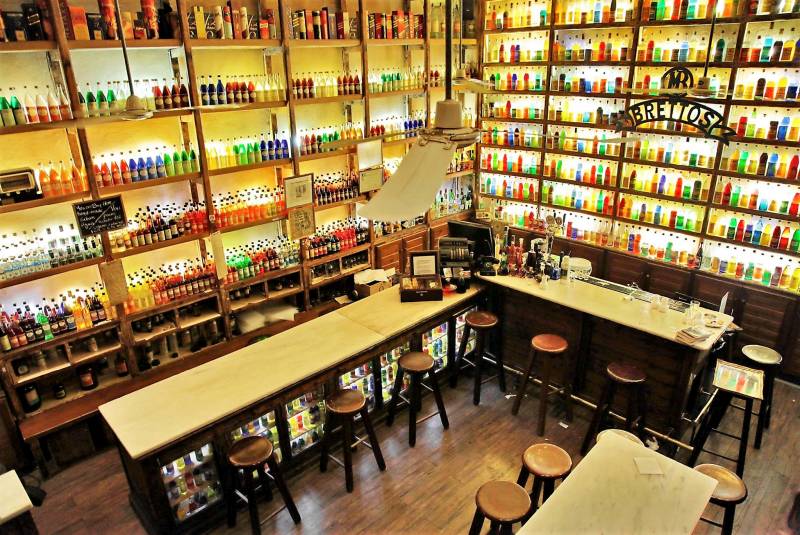 Where to buy Greek wines and spirits in Athens
The short answer is everywhere. Before you do, however, you might as well consult with a few bartenders around town – the real experts.
Try Brettos Bar on Kidathineon Street in Plaka for example; it's one of the oldest bars in town that features an impeccable collection of spirits and wine labels.
Other Local Culinary Wonders
We're far from over with listing all the gastronomical delights that you can find in Athens.
Apart from all the above, there are still plenty of things that you can't miss out on during your trip to Athens.
We will list some of our recommendations below to give you a few ideas but we suggest that you always keep an eye out for unusual treats when roaming Athens; the city will surely surprise you.
Greek Honey: Beyond the traditional thyme honey and pine tree honey, you can also find red, white and black honey, honey mixed with several kinds of nuts, oak tree honey, and many more kinds.
Pasta and Wheat Products: Greek pasta is not exactly what you would expect but it definitely makes for a unique gastronomic experience. Try the egg-based hilopites or trahanas, a special kind of pasta that can be sweet or sour and is usually served with milk or yogurt.
Cretan Products: The cuisine of Crete is quintessentially Greek but it also features elements and ingredients that are hard to come by in mainland Greece like snails, pickled onions and garlic, olive oil rusks, and several varieties of raki.
Greek Yogurt: It comes in all kinds of tastes, textures and forms, made in almost every region in Greece, using any kind of milk – goat, sheep, or cow.
Greek sweets and Confectionery: You've probably heard of the famous baklavas but that's not the only Greek dessert worth your attention. Try "loukoumi" (similar to Turkish delights) that are traditionally served with Greek coffee, "pasteli" (bars of sesame and honey), the different flavors and textures of "halvas", as well as "kourampiedes" and "melomakarona" if you are visiting Athens during Christmas.
Mastiha-made Products: Mastiha is a kind of resin produced by a tree that grows exclusively on the island of Chios and its taste is extraordinary. Locals use mastiha to make all kinds of products like liquor, chewing gum, drops, and more.
So there you have it. A complete list of all the local traditional products you will come across in Athens.
Whether you're looking for unique souvenirs, extraordinary tastes or you're just in the mood for a shopping spree, just follow our tips and make sure you tick off all your boxes on your shopping list before packing your suitcase.
A Quick Reminder:
Remember that Athens By Locals is here to guide you with planning the perfect trip to Athens and help you every step along the way. If you didn't found what you're looking for, or need any recommendations about your trip to Athens, feel free to contact us and we will do our best to help you. Please be as more detailed as possible regarding your subject so as to help you better.
If you like what you read please scroll down at the end of this page and subscribe to Athens By Locals so next time to receive more articles like this straight forward to your email. Join us on Facebook for comments, photos, and other fun stuff. If you enjoy this article please share it with your friends on Facebook.