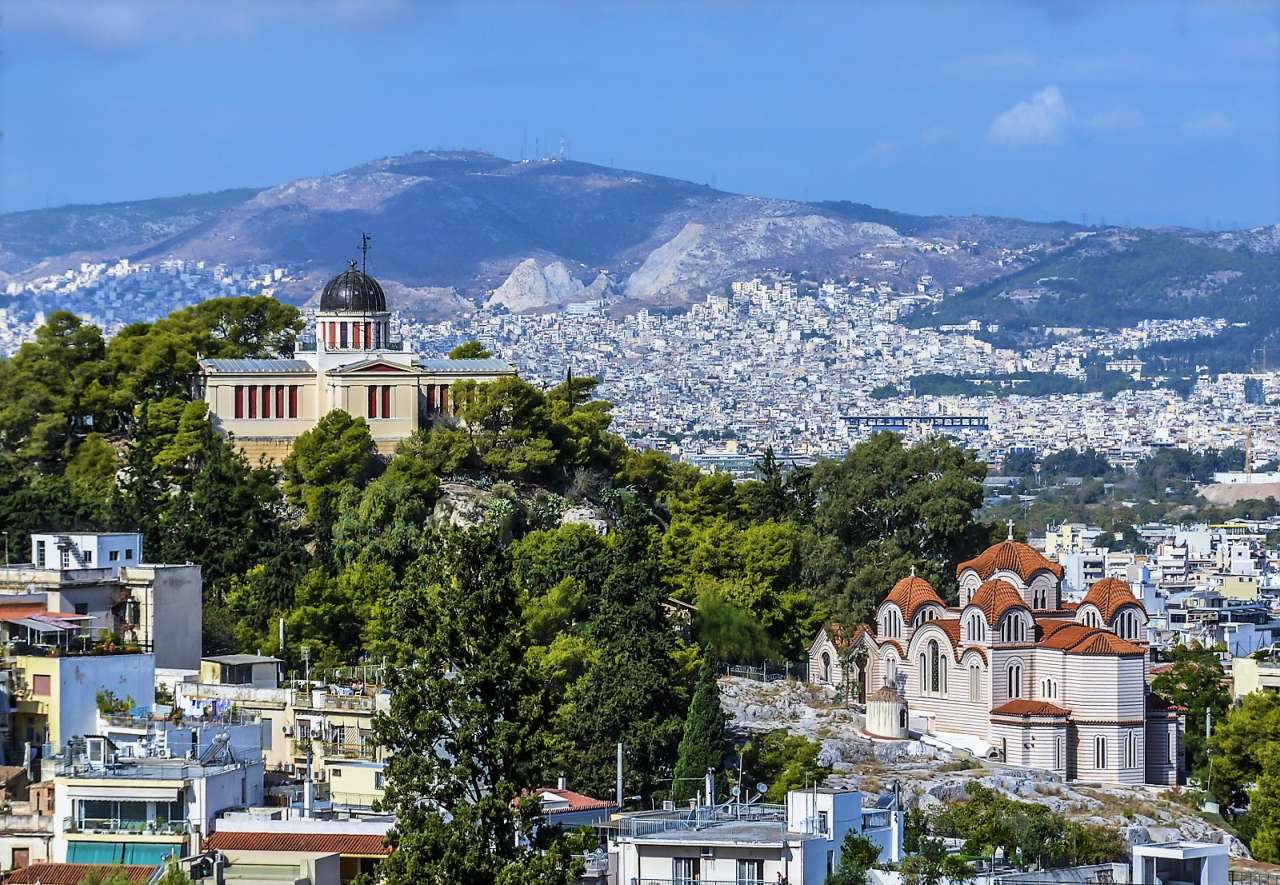 Athens off the Beaten Path: 16 Unusual Places to Explore
Last Updated on: July 20, 2021
Please read first:
Please bear in mind that due to Covid-19 the information that we present in our articles regarding the timetables of public transportation, hotels, restaurants, etc. may be subject to change. We highly advise you to double-check before proceeding with any bookings. Rest assured that we here at Athens By Locals are doing our best to keep up with these turbulent times and provide you with up-to-date travel information. Do not hesitate to reach out for any questions, we'll be more than happy to help!
Every city has its hidden gems and Athens is no exception. In fact, there are so many lesser-known attractions and secret spots in the city that you are going to have trouble choosing which ones to fit into your itinerary.

If you've already visited Athens' ancient sites and tourist areas or just looking for a more authentic experience in the Greek capital keep reading. This list with 16 unusual places to explore is all you need to visit Athens off the beaten path and explore the city like a local.
Akadimia Platonos (Plato's Academy)
Akadimia Platonos is rarely included in the top things to do in Athens' lists, yet is a place of great historical significance.
In this neighborhood that lies in the northwestern part of Athens' city center, the renowned philosopher Plato founded its academy in 380BC.
Nowadays, there is an archeological park signifying the place the historical figure used to teach his students as well as a small interactive museum.
Here visitors can learn more about the philosopher's life and ideas and the entrance is free.
Punctuated with trees and benches, the park is also a hangout for people living in the neighborhood as well as locals from other areas.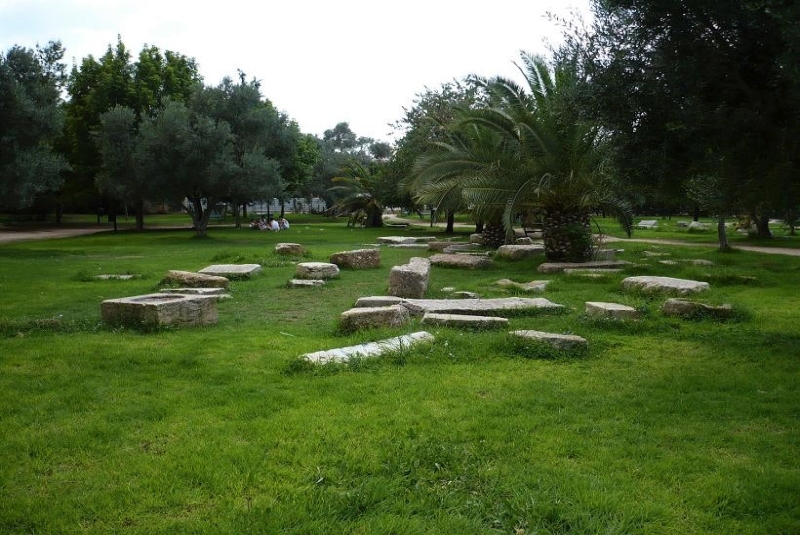 How to get to Plato's Academy: You can walk from Metaxourgio metro station (red line) or get on buses A15 or B15 and get off at the "Opap" stop.
Museum entrance fee: Free
Museum opening hours: Every day from 09:00 to 16:00. Closed on Mondays.
Poulopoulos Hat Factory
Located close to Thissio, the industrial building that once housed the oldest hat factory in the country is one of Athens' best-hidden spots in plain sight.
Founded in 1886 by Ilias Poulopoulos, the renowned factory remained open for half a century and closed its doors a few years after the end of World War II.
Boasting magnificent industrial architecture, the stone building has declared a monument and was restored by the government in 1988.
The remaining part of the former factory has now been transformed into a cultural center, which hosts permanent and temporary exhibitions.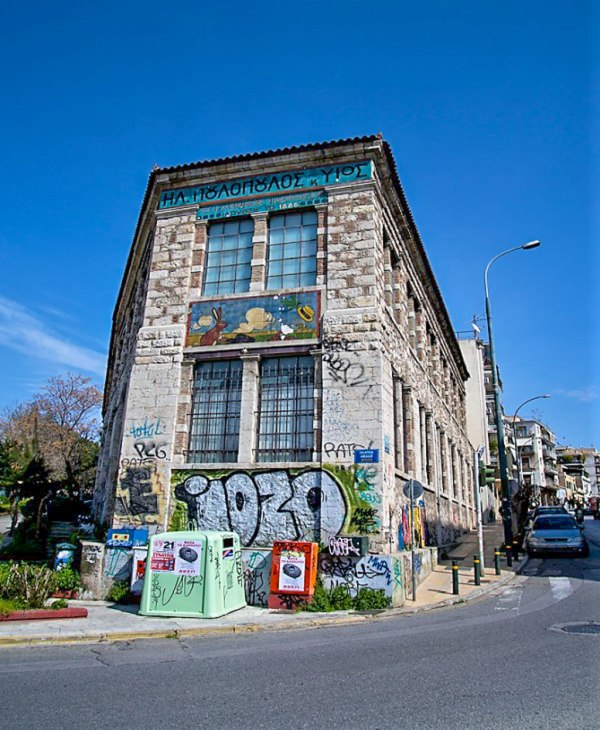 How to get to Poulopoulos Hat Factory: Get off at Thissio metro station (green line) or the Kerameikos metro station (blue line).
Entrance fee: Free
The Queen's Tower
The Queen's Tower (Pyrgos Vassilissis) in Attica's western suburbs is one of the most overlooked landmarks in the Greek capital.
The Gothic architecture building was designed by the French architect Florimond Boulanger and its construction was completed in 1854.
A spectacular garden, which spans in front of the small-size tower is decorated with statues and fountains.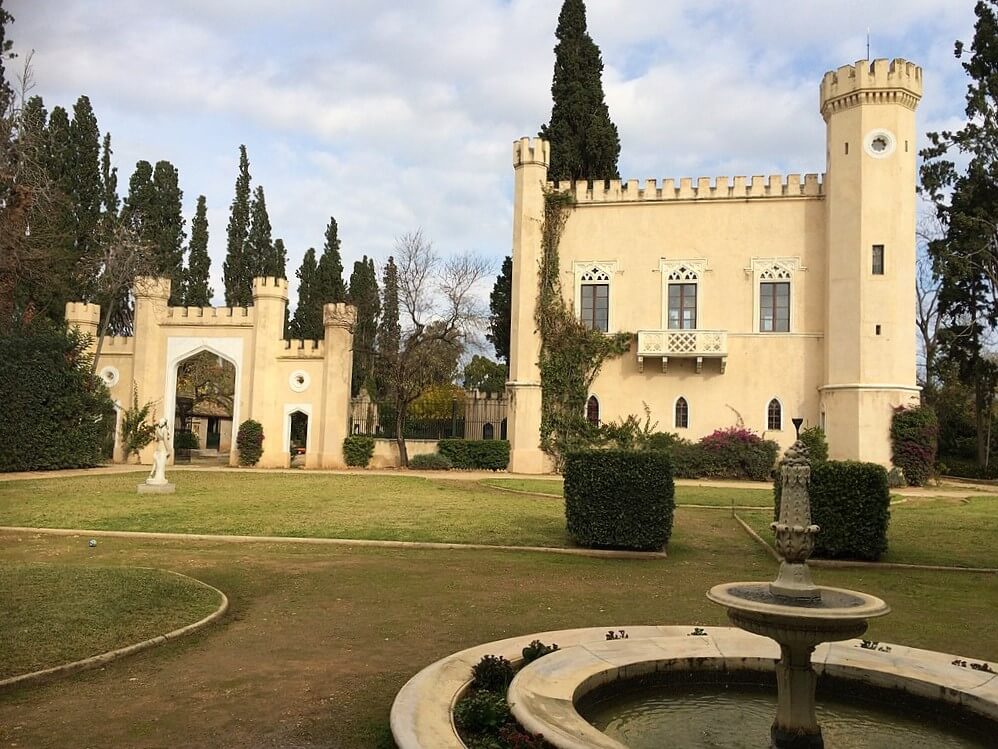 How to get to the Queen's Tower: Get on bus B12 or B10 from Attiki Square and get off at "Peuko" stop.
Entrance fee: Both the garden and the tower are open to visitors and tours cost €5.
The Gennadius Library
On Souidias Street 61 (map) in the upscale Kolonaki district lies one of Athens' most important hidden gems: the Gennadius Library.
Founded in 1926, four years after Joannes Gennadius donated 26,000 documents and volumes, Gennadius Library is considered one of the most important libraries worldwide.
Nowadays, it houses over 138,000 book volumes as well as artworks, manuscripts, and archives. Aside from its remarkable collection, the Gennadius Library is well-known for hosting cultural events, concerts, and exhibitions.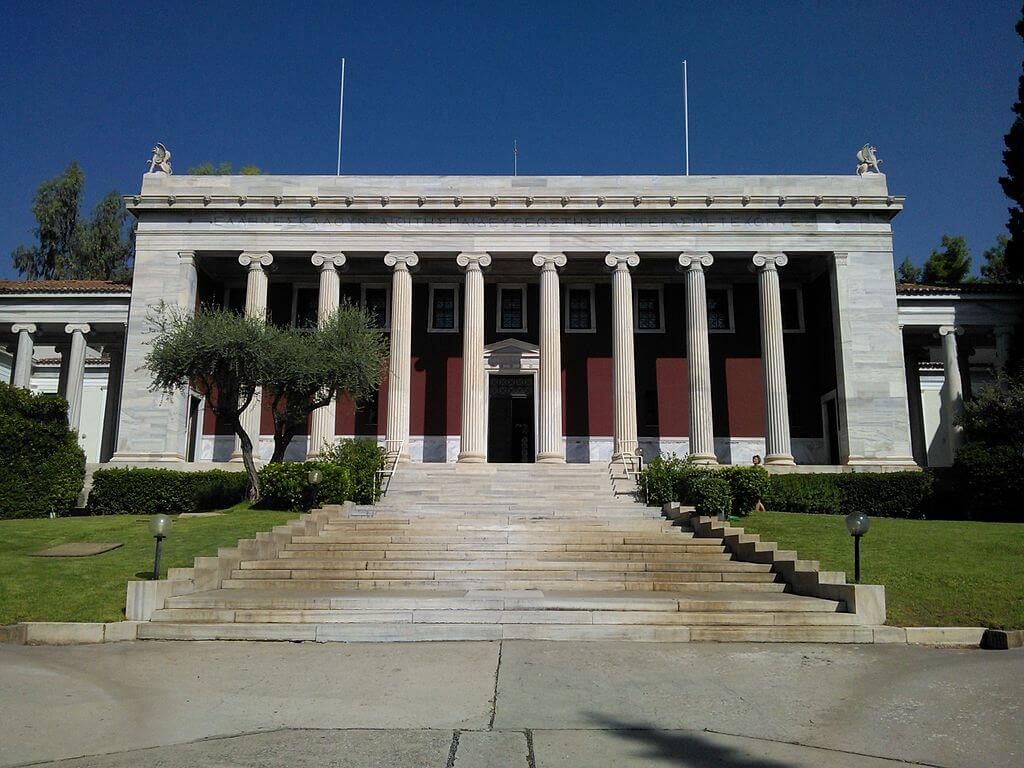 How to get to the Gennadius Library: You can easily walk there from Syntagma Square.
Entrance fee: Free
Athens Botanical Garden (Diomidous Botanical Garden)
Athens Botanical Garden is often falling under tourists' radar as it's the National Gardens of Athens right next to Syntagma square that draws all the attention.
And while no one can argue that the National Gardens is a sight to be missed, Athens Botanical Garden has its own unique beauty.
Situated at Attica's western suburbs in the Haidari area, (click for map) Athens Botanical Garden spans for 186-hectares.
Home to over 500 species of flora including native plants mentioned in Greek mythology, the majestic garden is one of the largest of its kind in the Eastern Mediterranean.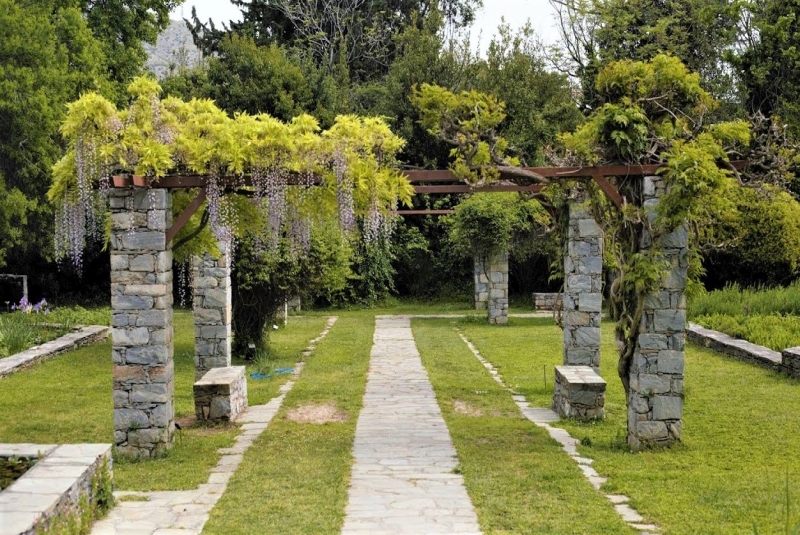 How to get to the Diomidous Botanical Garden: Get on bus A15 from Achilleos street (close to Kerameikos metro station) and get off at the bus stop called "Strofi"
Entrance fee: Free
Strefi Hill
When you're thinking of the hills that you must visit on your trip to Athens chances are that the first to come to mind are Lycabettus Hill and Philopappos Hill.
These are unquestionably two of the most beautiful places in the Greek capital and both of them are drenched in history.
If however, you're looking for a peaceful place away from the tourist crowds you must look a bit further. And more precisely to Exarchia neighborhood where the beautiful Strefi Hill stands 150-meter above sea level.
Dotted with trees, paths, and benches, Strefi Hill is the perfect spot for a tranquil walk away from the city's hustle and bustle. Plus, the view from its summit is wonderful.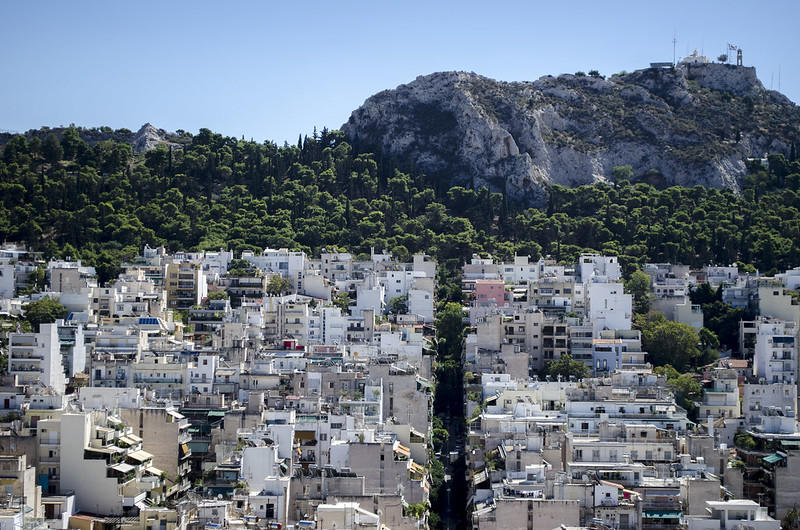 How to get to Strefi Hill: Get on bus 230 from Syntagma Square and get off at the "Tsimiski" stop.
Entrance fee: Free
National Observatory of Athens
Those fascinated by astronomy should definitely add the National Observatory of Athens to their to-do list.
The National Observatory of Athens features three visitor centers located in Penteli, Kyronerion, and Thission. The latter is located on the Hill of the Nymphs in a building designed in the mid-19th century by the Danish architect Theophil Hansen.
A Geoastrophysics Museum and the library of the Observatory are open to visitors eager to explore the long history of Greek astronomy.
Different types of scientific instruments dating to the 19th and 20th century as well as the first optical telescopes of Greece are also displayed in the observatory's hall.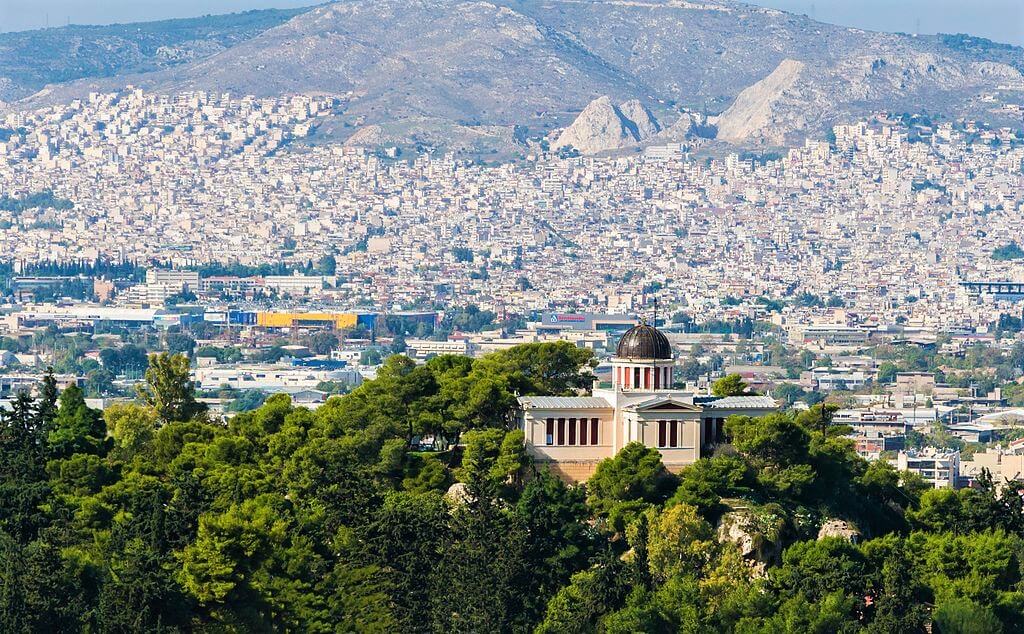 How to get to the National Observatory of Athens: Reach Thission metro station (green line) and walk down the pedestrian street called Apostolou Pavlou.
Opening hours and entrance fee: The visitor center in Thissio is open from Monday to Friday (9 am- 2 pm) and the entrance fee is €5.
Hadrian's Reservoir
Even though many people have passed by Hadrian's Reservoir few have noticed it or even know that it is an ancient hydrological landmark.
Set in the Kolonaki area at the western base of Lycabettus Hill, Hadrian's reservoir nowadays sits beneath the outdoor Cinema Dexameni.
When it was built though, in the 2nd century AD it was the largest infrastructure project to date providing water supplies to the area. Today, only two column bases remain at the site, and visitors are not allowed to enter the reservoir building.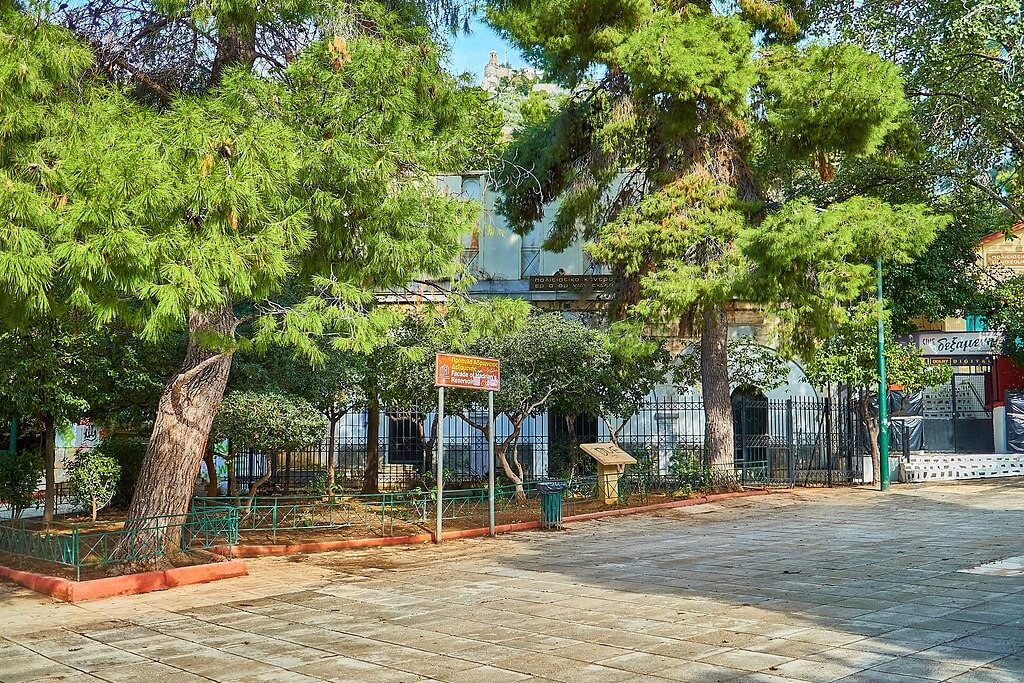 How to get to Hadrian's Reservoir: You can easily reach it by foot from Syntagma metro station via Pindarou street.
Lycabettus Hill
Often overlooked as an attraction, Lycabettus Hill is one of the highest points of Athens, standing at 277 meters above sea level in the upscale neighborhood of Kolonaki.
To get there, you can either walk or up the circular path or choose to get on the funicular railway that goes all the way to the top – but unfortunately in a closed tunnel so you won't be able to enjoy the view during the ride.
If you choose to walk, bear in mind that the path is quite steep and that climbing all the way up the hill can prove to be a challenge, especially in the summertime when the sun is hot.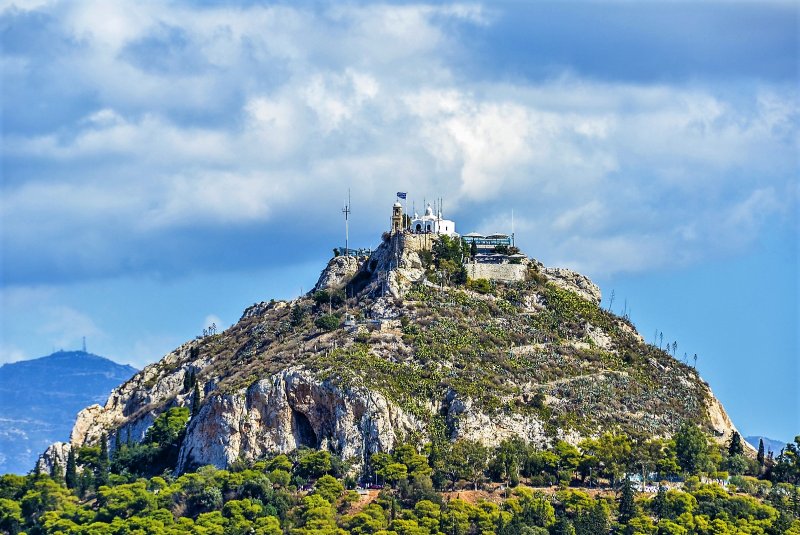 Nevertheless, the amazing views from the hill upon Athens and some of the most famous attractions like the Panathenaic Stadium and the Acropolis will surely compensate you.
On the top, you will also find the charming church of Agios Georgios (St. George), a small cafe and Orizontes, a luxurious restaurant with impeccable views.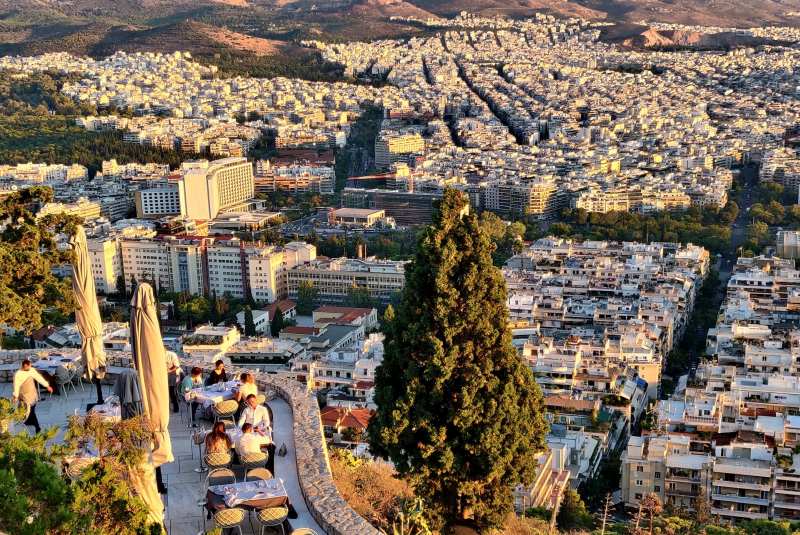 How to get to Lycabettus Hill: Walk up Sina street from the Panepistimio metro station (red line)
Agios Nikolaos Ragavas Church
This is one of the hidden gems of Athens that tourists sometimes pass by without ever realizing. This 11th-century Byzantine church is located in the most famous area of Athens, the renowned Plaka.
It's a quintessential example of Byzantine architecture and a monument that reflects the erstwhile glory of the city in an era long gone with lavish decorations and gold artifacts shining bright on its walls.
Surprisingly enough, the church is still functioning and ceremonies still take place there. If you're lucky you might even witness a traditional Greek wedding ceremony while visiting.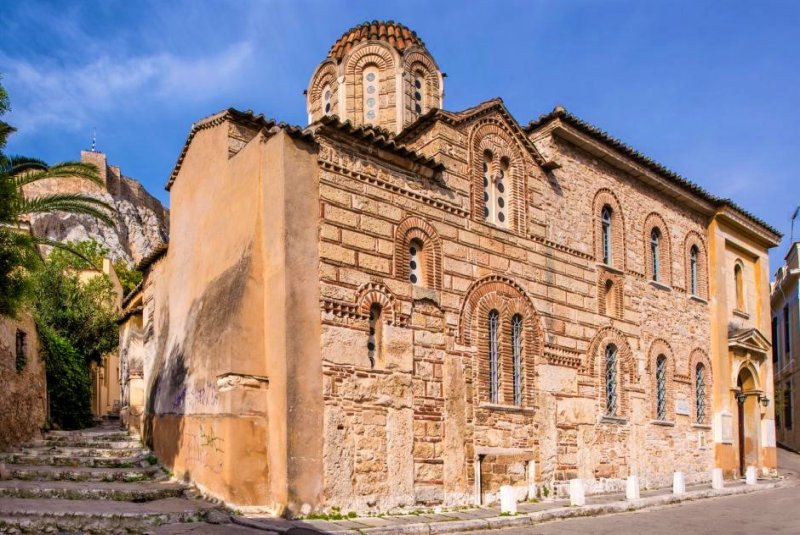 How to get to Agios Nikolaos Ragavas Church: You can easily walk there from Syntagma Square via Iperidou street.
Numismatic Museum
Is a museum dedicated to coins really worth a spot on this list? Well, we really think it is.
The Numismatic Museum is located right between Syntagma Square and the Academy of Athens and it's ideal for a quick pitstop and a quick tour of the exhibits.
It features several different currencies from different periods of the city as well as fascinating jewels, mints, gems and seals.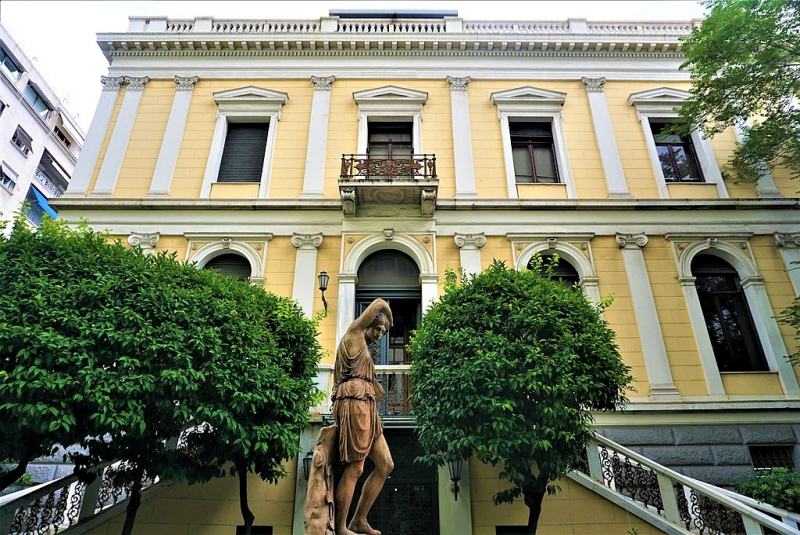 And the best part? Right outside the museum, you will find a small cozy cafe that is like a tiny oasis in the hustle and bustle of the busy city center where you can relax and catch your breath under the cool shade before resuming your sightseeing itinerary in Athens.
How to get to the Numismatic Museum: Walk up Panepistimiou street starting from Syntagma Square
Entrance fee: €6 for an adult ticket and €3 for a reduced ticket.
Opening hours: Every day from 09:00 to 16:00. Closed on Tuesdays.
The Zoumboulakis Gallery
Located just a few minutes away from Kolonaki Square, the Zoumboulakis Gallery was founded in the mid-'70s and has been one of the most prominent art spaces in Athens ever since.
Through the decades, it has hosted exhibitions of great historical importance by both Greek and foreign artists.
Today, its recently renovated building houses contemporary art exhibitions by local and internationally established artists in several different viewing rooms with unique themes.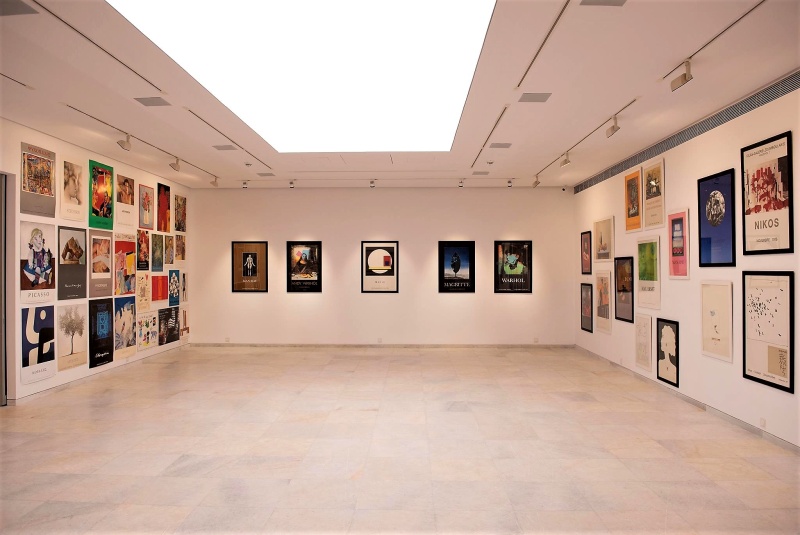 How to get to the Zoumboulakis Gallery: Walk up Vassilisis Sofias Avenue from Syntagma Square and turn left at Koumpari street.
The Tholos Tomb of Acharnes
This is an attraction that you will not easily find featured on online guides and magazines unless you are prepared to dig deep.
The Tholos Tomb of Acharnes (or the so-called tholos tomb of Menidi) is located in the suburb of Menidi that lies approximately 30 minutes away from Syntagma.
The tomb was discovered in the 19th century by German archaeologists and it remains to this day one of the best-preserved tombs of Greece, even though it dates back to the 13th century BC.
This impressive monument is tucked away in a lush park and, in order to get inside, visitors get to walk the 28-meter entrance of the tomb before entering the awe-inspiring burial chamber.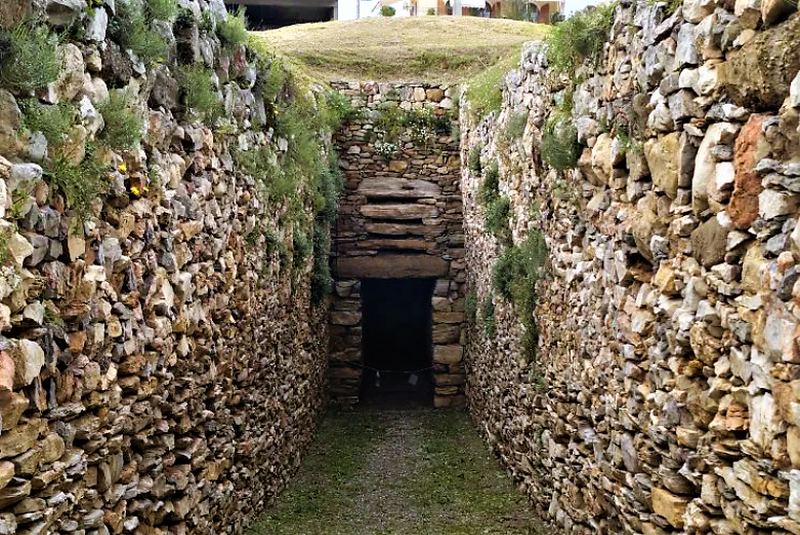 A significant amount of the archaeological finds from the tomb can also be found in the National Archaeological Museum of Athens.
How to get to the Tholos Tomb of Acharnes: Get on trolley number 3 from Panepistimio metro station (red line), get off at the "Kanake" stop, then get on bus 755 and get off at "Tholotos Tafos" stop.
Entrance fee: Free
Opening hours: Tuesday through Sunday from 8:30 to 15:00.
Wax Museum of Andreas Syggros
This is an attraction that is definitely not recommended for the faint of heart.
This peculiar wax museum is located inside the Andreas Syggros hospital of dermatological and venereal diseases in the area of Agios Nikolaos.
Naturally, it is dedicated to the science of medicine and it features over 16 thousand pieces and wax models depicting skin conditions and STDs, based on the symptoms observed on the hospital's patients during a period of more than forty years.
The exhibits were originally used as training material for new doctors until it was transformed into one of the strangest museums of Athens.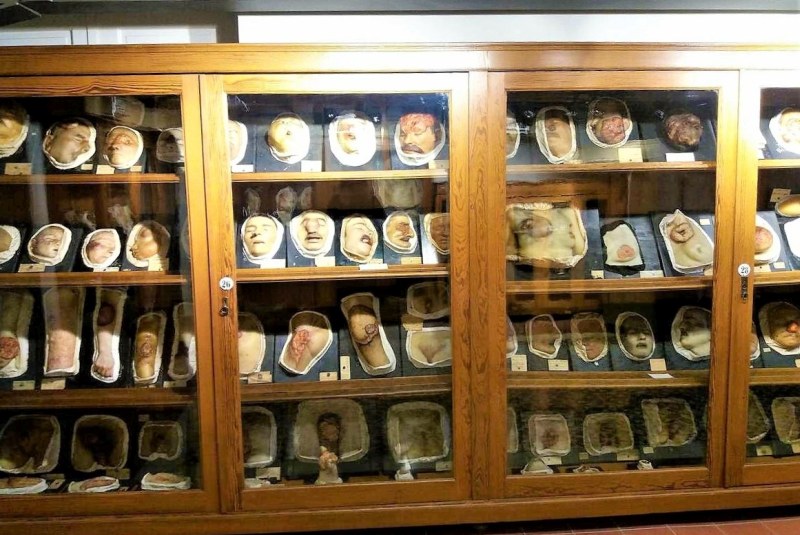 How to get to the Wax Museum of Andreas Syggros: Via Evangelismos metro station
Opening hours: Tuesday and Thursday from 09:00 to 13:00.
The First Cemetery of Athens
Founded in 1837, a few years after Greece gained its independence and the modern state was born, the First Cemetery of Athens is the city's official and oldest cemetery.
It's located very close to the Panathenaic Stadium and the Temple of Olympian Zeus, which is probably the reason behind the misconception that the cemetery also dates back to ancient times.
The First Cemetery of Athens is the final resting place of popular politicians, artists, musicians, poets, and other prominent figures of the modern Greek culture.
It boasts majestic Neoclassical and Romantic architectural elements as well as a few famous sculptures.
The most famous among them is "I Koimomeni" (The Sleeping Girl), which depicts a dead young girl crafted by Yannis Chalepas, an artist whose tomb is also found in the cemetery.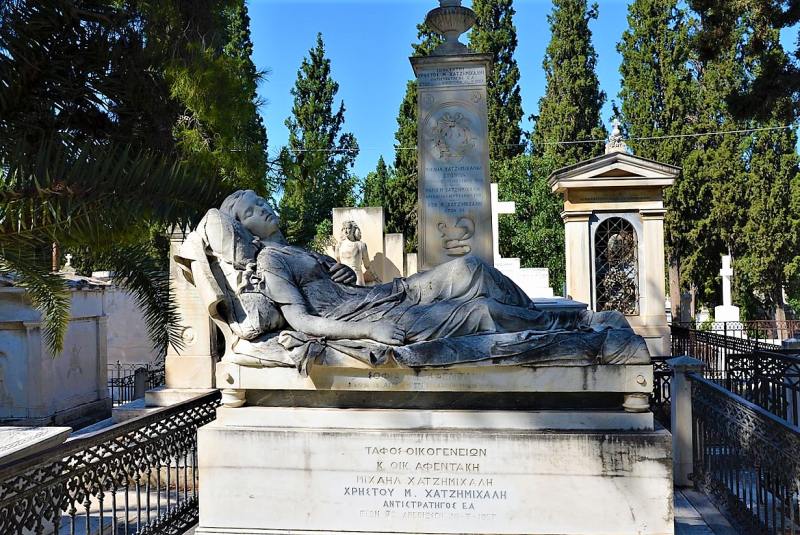 How to get to the First Cemetery of Athens: Get on bus A3 from Syntagma Square and get off at "Bariote" stop.
Opening hours: Every day from 08:00 to 20:00
Tower of the Winds
The Tower of the Winds is not like the other attractions you'll see in Athens.
Most of the monuments you'll find in the city center like the Acropolis or the Temple of Olympian Zeus bear a cultural and religious significance.
Yet, the Tower of the Winds was built in the 2nd century BC for an altogether different purpose. It's one of the very few scientific buildings that survive to this day in the city.
You'll find it within the Roman Agora and you'll immediately notice that it's more than a decorative tower.
It features sundials, a weather vane, and an hourglass water clock that make it the very first meteorological station in the world.
The octagonal building is made from the famous Pentelic marble with each side representing a different direction (much like a compass) and gets its name from one of the eight ancient Greek Gods of wind.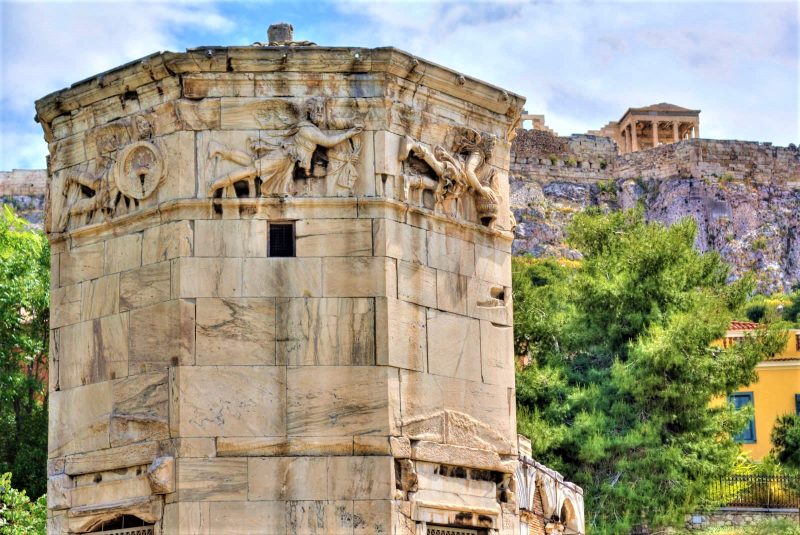 How to get to the Tower of the Winds: Walk down Ermou street from Syntagma Square and turn left at Aiolou street.
While Athens' popular landmarks and hip neighborhoods should definitely be on your to-do list, there are numerous secret attractions that are worth your attention.
From peaceful gardens to architectural masterpieces, these unusual places are definitely going to impress you and show you how is Athens off the beaten path. Plus, it's always nice leaving the tourist crowds behind for a while and seeing the city like a local.
A Quick Reminder:
Remember that Athens By Locals is here to guide you with planning the perfect trip to Athens and help you every step along the way. If you didn't found what you're looking for, or need any recommendations about your trip to Athens, feel free to contact us and we will do our best to help you. Please be as more detailed as possible regarding your subject so as to help you better.
If you like what you read please scroll down at the end of this page and subscribe to Athens By Locals so next time to receive more articles like this straight forward to your email. Join us on Facebook for comments, photos, and other fun stuff. If you enjoy this article please share it with your friends on Facebook.