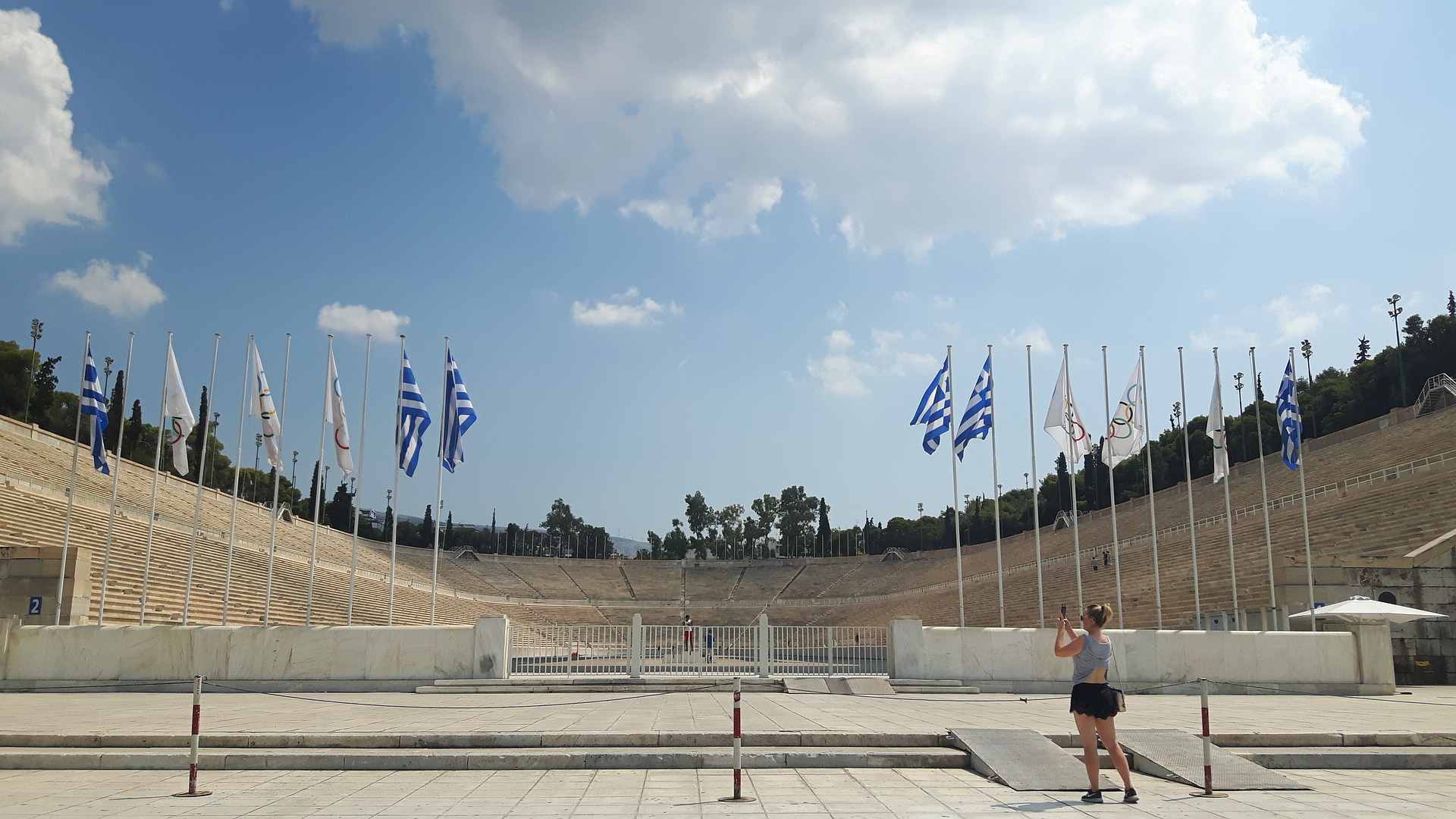 Athens in October [Tips – Weather – Things to Do]
Last Updated on: February 9, 2021
Please read first:
Please bear in mind that due to Covid-19 the information that we present in our articles regarding the timetables of public transportation, hotels, restaurants, etc. may be subject to change. We highly advise you to double-check before proceeding with any bookings. Rest assured that we here at Athens By Locals are doing our best to keep up with these turbulent times and provide you with up-to-date travel information. Do not hesitate to reach out for any questions, we'll be more than happy to help!
You might be surprised to find out that Athens in October is just as mind-blowing as any other time of the year, even though most travelers think of Athens primarily as a summertime destination.
During the past few years, more and more visitors decide to visit Greece in October and head to the capital city in search of a relaxing short autumn break.
Upon arrival, most travelers are pleased to realize that October temperatures in Athens are much closer to a northern European summer than autumn. Especially during the first days of the month, the weather in Athens is quite warm with low chances of rain, making it an exceptional destination for a fall city break.
Here are all the reasons why we invite you to visit Athens in October to skip the crowds and experience the city's charms the same way locals do.
Is October a Good Time To Visit Athens?
By visiting Athens in October you'll get the chance to witness a totally different city, without hordes of tourists roaming the streets and all the best attractions.
So, is October a good time to visit Athens?
Things will definitely be slower than they are during the busy summer months but that doesn't mean that the city will be empty or dreary.
On the contrary. Greece doesn't just shut down in October. All the top tourist attractions of Athens remain open in October but there are way fewer people visiting.
That means that you can visit the city's archaeological sites, monuments, and museums without having to worry about booking your tickets way in advance or spending countless hours waiting in queues.
It is highly unlikely that you will run into too many people when visiting even the most famous attractions in Athens like the Acropolis or the Acropolis museum.
What is more, you'll find that the prices of tourist services and hotels in Athens are significantly lower compared to busier months.
All in all, there are always exciting and unique things to do in Athens no matter what time of the year you choose to visit. And October is indeed a great time to visit Athens.
Weather in Athens in October
In general, the weather in Athens in October is fairly cooler than in the previous months.
Chances of rain are still low and there is still a lot of sunshine during the daytime but nights start becoming colder as the month of October reaches its end.
During the past years, however, a slight shift in temperatures has been observed with the early summer months getting a bit milder and October getting progressively warmer by the year.
The average temperature of Athens in October is 19°C and the average amount of daily sunshine is a little over five hours.
Can you still swim in Athens in October?
The question that travelers who are planning to visit Athens during the fall ask the most is if it's possible to swim in Athens in October.
If you are also wondering, you'll be delighted to know that the answer is yes.
When the weather is warm it's possible to go for a swim at any of the beaches in Athens and enjoy the sunshine and the crystal-clear waters.
After all, there are plenty of people that swim on the beaches of Athens all year round. The average sea temperature in October is about 22°C.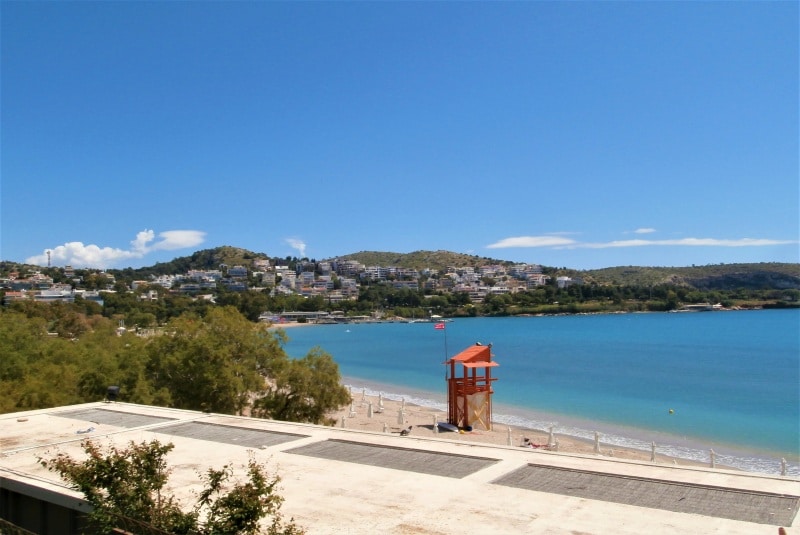 Even if that's not warm enough for you, we still suggest visiting a beach to sunbathe on the fine sand and take in the astonishing views that the coast of Athens offers. A good place to start is the famous Athenian Riviera.
What clothes to pack for Athens in October?
If you're wondering what clothes to pack for Athens in October, we recommend you pack mostly summer clothes and get ready to enjoy the sunny days.
However, make sure to leave some room in your suitcases for a light jacket, an autumn raincoat, or an extra pair of shoes just in case it rains.
Rainfalls are rare and usually don't last long but it's best to be prepared for any kind of weather.
Unless you are extremely unlucky, you will most certainly not need to pack any heavy winter clothes such as coats, scarves, or gloves.
In fact, it would not be surprising if you visit Athens in October for a vacation and you spend all your days soaking up the sun and enjoying the excellent weather.
Do not forget to pack a swimming suit as well.
On the hottest days of the month and especially on weekends, many locals head to the beaches in Athens and you will see plenty of people swimming.
Where to Stay in Athens in October
If you're looking for places to stay in Athens in October, chances are that you'll be able to score a good deal and find a few budget-friendly hotels.
Whether you're looking for a hotel with a view of the Acropolis, (check this one on Booking.com) a great luxury hotel in one of the best areas of Athens, or a budget-friendly hotel near to a trendy neighborhood, you will surely find something to suit your needs.
There are virtually no hotels in the city that stop operating after the peak tourist season.
Catering to fewer visitors, however, means that you will have way more accommodation options for your stay.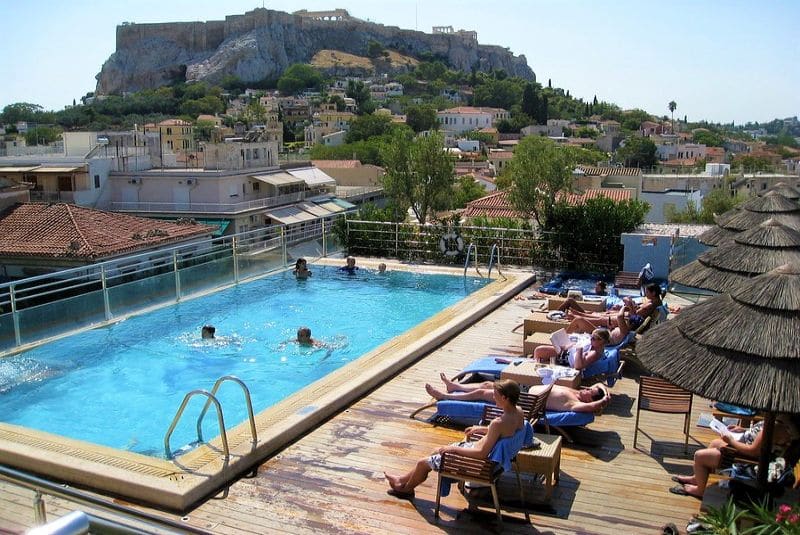 Finding Hotels in Athens in October
Booking a hotel in Athens in October is relatively easy.
Hotels that are popular with travelers and which are usually booked months in advance will now be among your options for an unprecedented stay in the Greek capital.
Here are a few of our recommendations for hotels in Athens for you to choose from:
The Athens Gate Hotel
The Athens Gate Hotel is an elegant, eco-friendly hotel located in downtown Athens, only a few minutes away from the popular neighborhood of Koukaki.
It's an excellent choice for those that want to stay close to a few of the most popular attractions of Athens like the Acropolis Museum and the Museum of Contemporary Art.
The hotel's charming rooftop restaurant makes it ideal for a very romantic dining experience in Athens.
Central Athens Hotel
Central Athens Hotel is one of the city's most luxurious hotels with a view from the Acropolis.
Located only 200 meters away from Syntagma square, it's a perfect choice for business trips or leisure travelers that want to stay in the heart of the city.
Its rooms are recently renovated and feature an elegant design and tasteful decorations.
Electra Metropolis Hotel
Electra Metropolis Hotel is a 5-star hotel located right next to Syntagma square. It boasts 216 fully equipped luxury suites and rooms with views of Plaka and Acropolis hill.
But this hotel offers much more than luxurious rooms.
It features an alluring atrium lined with restaurants and cafes, a modern spa, and an extraordinary roof garden with amazing bird's eye views of the beautiful city of Athens.
Athenaeum Grand Hotel
The brand-new Athenaeum Grand Hotel is located only a few minutes away from the historic center of Athens and the popular Koukaki neighborhood.
Apart from spacious and stylish rooms, Athenaeum Grand Hotel also offers two dazzling penthouse suites with luxurious amenities and amazing vistas over the city of Athens as well as a chic bar and a high-end restaurant that will make your next stay in Athens unforgettable.
Hermes Hotel
Hermes Hotel is an ideal option for those looking for a more budget-friendly hotel for their stay in Athens.
It's located just a breath away from both the Panathenaic Stadium and Pnyx.
It offers graceful recently renovated rooms, a free jacuzzi, and spa sessions as well as a beautiful garden terrace with a shared lounge.
Well, did any of these hotels catch your eye? If not, have a look at this article below and explore a large collection of hotels for your next holiday in Athens in October.
What to Do in Athens in October
Every month and every season in Athens has a special charm.
And October might just be the best time to visit Athens if you want to experience the city as locals do. All the main streets are a lot quieter and the traffic is much more tolerable giving the city a laid-back vibe that is hard to come by during summertime.
Getting around Athens with public transportation is also much more painless as the metros, trams, and buses are less crowded. For more info about how to get around Athens, please read our detailed guide here.
Here is a rundown with our recommendations for the best things to see and do in Athens in October:
Visit one of the world-class museums of Athens
The month of October is a great time to visit any of the popular museums in Athens. The city features an abundance of museums for all tastes.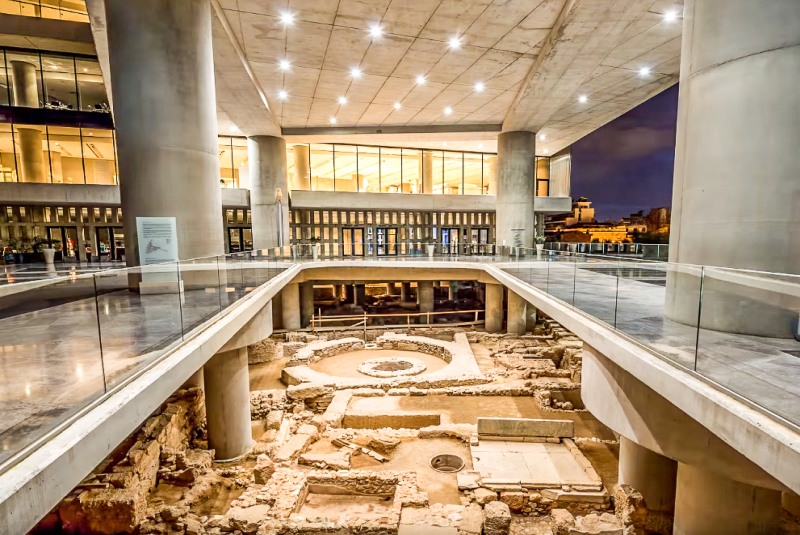 Moreover, a visit to a museum is a great option for a rainy afternoon.
Start with the city's crown jewel; the world-famous Acropolis Museum. This museum is normally packed with visitors during the high season even on weekdays.
In October though, even the most iconic attractions will be easy to visit and much more enjoyable.
If you have already visited this one, consider visiting the National Archaeological Museum to learn about the city's glorious past and the history of ancient Greece.
Take advantage of the time you save by skipping the lines and exploring other museums that are often overlooked by tourists such as the Museum of Cycladic Art, the Benaki Museum, or the Byzantine and Christian Museum.
Explore the most important historical sites
No trip to the Greek capital can ever be complete without witnessing the splendor of the famous historical sites of Athens that are spread throughout the city.
Apart from a great chance to learn about the city's history and get the first-hand experience of the rich cultural heritage of Greece, strolling through these sites will give you a pretty good idea of what the city center looks like.
A guided sightseeing tour will take you through most central points and important monuments in downtown Athens.
If you're looking for some more tour options, we suggest you click on this page, scroll down to the sightseeing section, and select the one that is best for you!
As is the case with the museums, you'll find fewer people touring the sites and monuments of Athens in October.
Your starting point should of course be the hill of Acropolis and the Parthenon, the most iconic landmark in the city.
Next, head over to any of the impressive outdoor archaeological sites of Athens like:
This way you'll have an interesting learning experience while you enjoy the beautiful weather.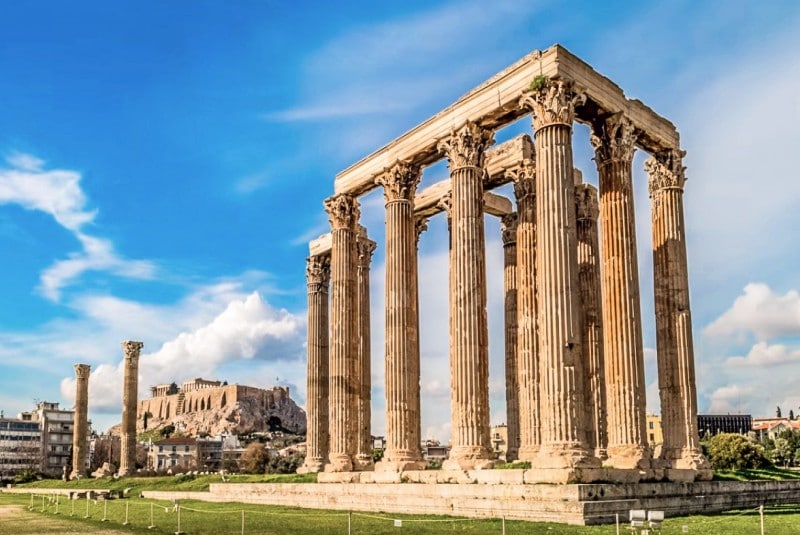 Take a day trip from Athens
All of the popular destinations that are located within a day's reach from the city are welcoming guests in October.
Athens in October might be much more calm and quiet than in summer, but it's still a good idea to take some time away from the city.
No matter what your tastes are, you can plan the most magnificent day trip from Athens.
Take a day trip to Delphi if you're a history buff looking for insight into the country's complex past or mix history, gastronomy, and amazing ocean views on a relaxing day by the sea with a half-day sunset tour to Cape Sounion.
Read here how to organize a perfect day trip to Cape Sounion.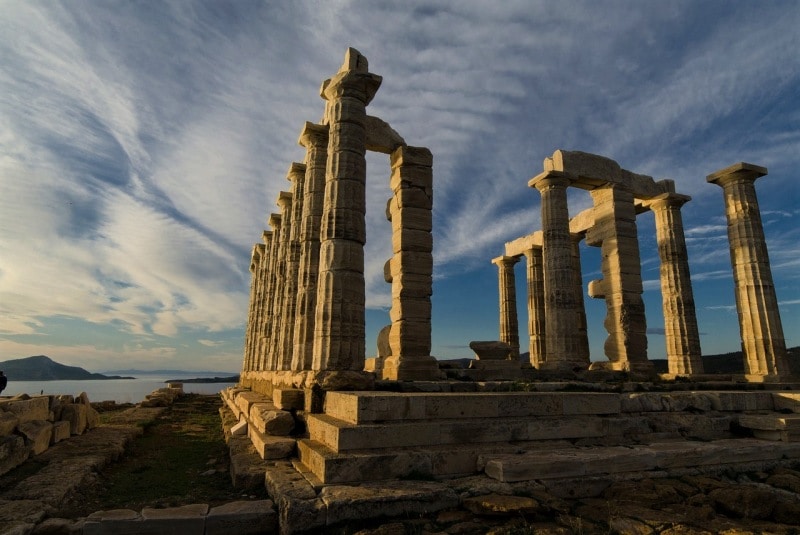 Another great option you may have is a day trip to Nafplio and Ancient Epidaurus.
If you're looking for a more adventurous escapade away from the busy downtown of Athens, plan a trip to Meteora to combine sightseeing with long hikes and beautiful routes.
Finally, if you just want to soak up some sun and enjoy the natural beauty of Greece, board a cruise to the Saronic Gulf Islands.
Discover the fabulous Greek islands of Hydra, Poros, and Aegina on a scenic full-day trip from Athens.
If you're still unsure about which trip will suit your tastes, read the article below, and discover the best day trips from Athens.
Spend a day at one of the beaches in Athens
It's not too late to go for a swim if you're visiting Athens in October and it is never too late to visit one of the beautiful beaches in Athens even if you end up not swimming.
The region of Attica where the city is located is surrounded by water and there are several stunning beaches you can visit from Athens by car and by bus.
Most of the beaches are only half an hour to forty-five minutes away from the city center.
You'll find the most popular beaches in Athens along the Athenian Riviera, stretching from the southern suburbs of the city all the way to Cape Sounion.
Head towards the beaches of Glyfada or Vouliagmeni for a quick dip in the aquamarine waters and a long sunbathing session on the sandy shores.
Explore the neighborhoods of Athens with an e-bike tour
Exploring Athens in October with a sightseeing electric bike tour is an exceptional opportunity to enjoy the areas and neighborhoods of the city that are jam-pacκed with people during the high season. Discover an eclectic mix of modern and ancient sights on a 3-hour electric bike tour of Athens. Enjoy amazing views from Pnyka and Filoppapos Hill. Glide down the picturesque streets of Plaka, and discover some of the city's legendary archeological sites.
Downtown Athens transforms from a hectic metropolis to a quaint and peaceful city center. Yet, the most central neighborhoods are still lively.
You can start by taking a long stroll through the famous area of Plaka to enjoy the serenity of the cobblestone streets and the cozy cafes.
Then, marvel at an extraordinary view by riding through the narrow maze-like alleys of Anafiotika that are rarely seen without swarms of tourists.
If you're looking for more than a bike ride through the city center, head towards Monastiraki for some souvenir hunting and some of the most outstanding street food in Athens.
There you will find the Monastiraki flea market which is undoubtedly the most famous flea market in Athens, with shops offering clothes, vintage knick-knacks, and all kinds of memorabilia.
Finally, we recommend that you finish off your day with a delicious dinner at an alfresco restaurant in Syntagma or Thission.
Festivals and Events in Athens in October
There are several festivals, concerts, and events taking place in Athens in October.
In fact, there are more happenings in the city in autumn than there are during summer since locals usually spend the summer holidays in rural areas or the Greek islands.
Before you visit, make sure to check for any upcoming concerts and festivities that could be taking place during your trip dates, especially for those that take place in the Odeon of Herodes Atticus.
Watching any kind of performance in the ancient theater is an extraordinary experience. In any case, there are a few events that you shouldn't miss if you're traveling to Athens in October.
National Holiday: Ohi Day (28th of October)
Ohi Day is one of the two most famous national holidays in Greece.
The name of the holiday translates to "No" day and its purpose is to commemorate the anniversary of Greece turning down Italy's ultimatum in 1940 and consequently entering World War II.
Ohi Day is celebrated nationwide with thousands of people attending school parades and military parades.
If you happen to be in Athens, Greece on Ohi Day make sure to head downtown to watch the celebrations and the largest parade of the country that takes place in the city center and passes right in front of the Parliament building in Syntagma.
Most public services and a few businesses might be closed on Ohi day but the majority of cafes and restaurants in the city center remain open.
Buses, metros, and other means of public transportation operate normally though you should expect all routes to be a little delayed.
Halloween in Athens
During the past few years, the celebration of Halloween has been gaining popularity in Greece.
If you visit Athens in October you'll see many people dressing up to celebrate Halloween in Athens and there are many bars and clubs throwing Halloween-themed parties with all kinds of fun activities.
Halloween is a great way to mingle with the locals and get to know what nightlife in Athens is all about.
Trick or treating is not quite popular in Greece yet, but if you find yourself longing for some candy, make sure to visit one of the pastry shops in the city center. It might be a good chance for you to get a sweet taste of Athenian gastronomy.
Local Tips for Your Trip To Athens in October
Our readers are asking and we here at Athens By Locals are more than happy to answer. In this section, we'll provide some useful insight into what traveling to Athens in October is like and what you should expect on your city break.
Is October a good time to travel to Greece?
October is actually one of the best times of the year to visit Greece. The summertime crowds are gone and hotel prices are significantly cheaper not only in Athens but also in the popular island destinations like Mykonos, Santorini, Crete, and Corfu.
How many hours of daylight does Athens have in October?
Athens is quite sunny and bright, even in October. The length of the day in Greece in October is just over 11 hours with around 5 hours of sunshine on average.
Which is the hottest Greek island in October?
Unsurprisingly, the highest temperatures in Greece in October are traditionally recorded in Crete, the large island in the southernmost part of the Aegean Sea.
How many days do you need in Athens?
That really depends on how many attractions you want to cross off your bucket list during your trip to Athens. In general, 3 or 4 days are enough to get a taste of what the city is about and visit the most iconic monuments like the Parthenon. Luckily, if you're planning to visit Athens in October, you'll be able to cover much more ground due to the tourist crowds being gone.
Is October a good time to visit Santorini?
Yes. Even though Santorini is most visited during the summer months, the hordes of tourists make enjoying the island quite difficult. Visiting Santorini in October is a viable alternative that will guarantee that you get the most out of your trip. You can even reach Santorini from Athens by plane or ferry for a short excursion.
Is Athens expensive?
Compared to other popular European capital city destinations, Athens is fairly cheap. For example, a three-course meal at a mid-range restaurant in Athens costs around 40 euros and a drink at a typical Athenian bar in the city center would cost around 7 euros.
How much money should I take to Greece for a week?
If you're planning to travel on a budget, a sum of around 50 euros per person per day should pretty much cover your expenses. If you're looking for mid-range hotels and restaurants then an average of 200 euros per person per day will most probably be enough. If you're planning to visit any of the islands in addition to Athens, bear in mind that the budget needed will be significantly higher.
To sum it up, no matter what kind of vacation you are after, a trip to Athens in October is definitely going to amaze you and leave you craving for more.
Autumn is when you can experience the city to its fullest when authenticity takes over the reins from the summer's contrived exorbitance when Athens shows its true colors.
A Quick Reminder:
Remember that Athens By Locals is here to guide you with planning the perfect trip to Athens and help you every step along the way. If you didn't found what you're looking for, or need any recommendations about your trip to Athens, feel free to contact us and we will do our best to help you. Please be as more detailed as possible regarding your subject so as to help you better.
If you like what you read please scroll down at the end of this page and subscribe to Athens By Locals so next time to receive more articles like this straight forward to your email. Join us on Facebook for comments, photos, and other fun stuff. If you enjoy this article please share it with your friends on Facebook.